March: Prince McCoy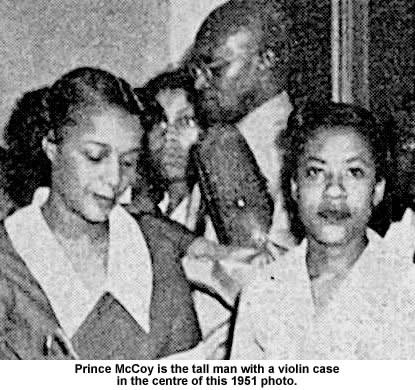 A big PlanetSlade thank you goes to Lisa O'Donnell, the North Carolina journalist who I met while researching murder ballads in Winston-Salem a few years ago. She'd just been reading my new book, Black Swan Blues, and had some fresh information to add.
"Here's a very cool connection," she writes. "You pulled a quote from WC Handy's book, where he writes about silver dollars raining down on the dance floor at a show in Cleveland, Mississippi." This was the night around 1900 when Handy's orchestra found itself blown off stage by a ramshackle local string band, whose music sent the crowd wild where his own had left them distinctly lukewarm. "They had the stuff the people wanted," Handy writes in his 1944 autobiography. "It touched the spot. Their music wanted polishing, but it contained the essence. Folks would pay money for it."
Handy doesn't identify the band he saw that night, saying only it was "a local colored band" comprising guitar, mandolin and bass, led by "a long-legged chocolate boy" – but he does credit the gig as providing a crucial epiphany in his own growing appreciation of the blues. Without that encounter, Handy may never have adopted blues music and taken it to the world as he did.
What I didn't know until O'Donnell's letter arrived is that earlier, unpublished drafts of Handy's manuscript names the string band's leader as a Delta musician of that era called Prince McCoy. She tells the full story in this 2017 clipping from the Winston-Salem Journal.
"For all his influence on Handy, little is known about McCoy," O'Donnell writes. "He was born Prince Albert McCoy in Louisiana in 1882 and moved to Greenville, Mississippi, with his mother. At some point, he became a musician, leading an orchestra that played dances, civic functions and even the Alabama-Old Miss football game in 1910. In 1927, he left Mississippi for Winston-Salem and married the former Carrie Young of Chester County, SC. He and Carrie first show up in the city directory in 1934, where he listed his occupation as a musician, living on East Eighth Street."
Jim O'Neal, a researcher for the Mississippi Blues Trail, discovered that McCoy was part of an eight-piece orchestra travelling with Maxey's Medical Show to entertain the crowd with vaudeville songs. "This was a big show on the scale of the larger minstrel shows with a fleet of vehicles carrying people around," he tells O'Donnell. "It was a free show and Maxey would make his money trying to sell tonics to the crowd." One surviving ad for Maxey's troupe shows they toured as far north as Boston.
Prompted by O'Donnell's's letter, I had a ferret round in the newspaper archives myself and found an August 1920 story from North Carolina's Forest City Courier saying Maxey's troupe had just spent a week in city. "They gave good clean performances and sold quite a lot of their preparations," it reports.
McCoy seems never to have made a record or to have published any of his own compositions. Somewhere around 1943, he gave up his musical career to take a job as a janitor at Winston-Salem's Bowman Gray School of Medicine, where librarians later discovered the newsletter photo above showing him at the staff's 1951 Christmas party. He'd "proved his ability as a violinist" at that party, the newsletter adds.
McCoy died in February 1968, aged 85, and was buried at Winston-Salem's Evergreen Cemetery. The Mississippi Blues Trail gave him his own marker in his childhood home of Greenville in 2017.
*****
March 2, 2022. Michelle Wallace of Boston, Massachusetts writes:
"I found your essay on Pretty Polly and wondered if I could pick your brain about the character of Willie. I have learned some old folk songs on mandolin and started to pick up on a running theme of the name Willie. This name shows up in The Banks of the Ohio as the brutal killer there. Obviously, it's there in Pretty Polly, and again in Beautiful Brown Eyes.
"My question here is whether it would be possible for these to be all the same Willie? The story arc of killing his true love because she would not marry him (Banks of the Ohio), the chilling premeditated murder (Pretty Polly), and then the result of drinking oneself to death (Beautiful Brown Eyes) feels like a compelling story arc.
"We know Pretty Polly is likely the oldest tune here, but when was Willie first introduced to the lyrical content? The first recordings of both Banks of the Ohio and Pretty Polly seem to be in 1927. Beautiful Brown Eyes comes 10 years later in 1937 as far as I can find out. I'd love to hear your thoughts on this!"

Paul Slade replies: Thanks very much for getting in touch. I like the idea of there being a single character behind all these songs, but unfortunately I don't think it stacks up.
The problem is that Willie (or sometimes William) is a generic name used in dozens, if not hundreds, of old English folk songs no matter whether it has any factual basis or not. Molly plays a similar role as a generic name for female characters. Do a quick search for either of those names in The Full English database and you'll see what I mean. This tradition was so firmly embedded in ballad writing by the time recorded discs came along that you still find it everywhere in folk music today.
Often, these same two names would feed through to the US adaptions of old English folk songs, which I think explains why so many versions of the songs you mention call their killer Willie. The source song for Pretty Polly, for example, is an old English ballad sheet called The Gosport Tragedy, which dates back to 1750 or before. The British Library has a printed copy of this ballad sheet which identifies the killer and his victim as William and Molly respectively. But there's no reason to think either of these names bear any relation to the two real individuals whose bloody encounter inspired the song.
Banks of The Ohio is essentially a variant of Knoxville Girl, which sources back to an old English folk song called The Berkshire Tragedy. A printed version of this song from about 1744 identifies the killer as John (and parish records show he was actually called Francis) but almost every version on Knoxville Girl happily calls him Willie nonetheless. There is one real murderer called William Simmons, whose 1892 crime is sometimes linked to Knoxville Girl, but that's much too late in the song's history to be more than a co-incidence. I set all this out much more fully in my murder ballads book.
I don't think any of this information should prevent you playfully presenting Polly/Banks/Eyes as a little song cycle which you like to imagine as telling the tale of a single individual. This is folk music, after all, which should always be treated as a living thing and open to constant reinterpretation. Just don't over-promise in claiming there's any concrete evidence for the link!


*****
March 16, 2022. Roger Mahoney of The Gambols and (until recently) Andy Capp writes
"Thought you might like a copy of the email I sent to the editor of the Daily Cartoonist in the States yesterday. I'm hoping this clears up the mystery of my disappearance from the Andy Capp cartoon strip. It was a bit of a shock to read that I had retired as I certainly intend to draw cartoons until I drop.

'Dear Daily Cartoonist,
'Just for the record, I must tell you I have most definitely NOT retired from cartooning. I was very reluctantly dropped from drawing the Andy Capp cartoon strip by the UK's Daily Mirror due to the effect of Covid-19 on the finances of that newspaper. They considered having to pay three cartoonists to produce the strip was too expensive.

'I am still writing and drawing The Gambols cartoon strip for The Mail on Sunday in the UK and am currently working on new cartoon projects. Am I retired? No such word in my vocabulary!
'Very best wishes,
Roger Mahoney.'"
[Mahoney, who'd been drawing the Mirror's Andy Capp strip from scripts by Lawrence Goldsmith and Sean Garnett since 1999, asked me to run his Daily Cartoonist e-mail as an open letter here to set the record straight. Andy's strip in the Mirror is now handled by Goldsmith and Garnett alone, with both men scripting and Goldsmith doing the art.
Garnett confirmed for me that it was budget cuts which led to Mahoney's departure. "We both miss him as his brilliant artwork often rescued a poorer script," he said. "Lawrence has taken over drawing duties and is doing a sterling job. He has picked up Roger's panache for boosting the scripts with his artwork. Lawrence is also still co-writer and we still produce a new toon a day."
Goldsmith has a long track record as a cartoon artist in his own right, with strips like Canaryman, The Care Bears and Masters of the Universe to his credit. I'm a harsh critic when it comes to this stuff, but I think he's captured the Andy Capp strip's established look well. You can see the Mirror's latest Andy Capp strips here.]
*****
February 15, 2022. Dan Schreiber of the Show Us Your Shit video podcast writes:
"I messaged a few weeks ago about the Masquerade hare. Hope you're well.
"I was chatting to the grand-daughter of the owners of the hare the other day, and I just wanted to ask: when you put out that call from Mike Barker out at the end of [the Radio 4 doc], did you think in your wildest dreams that it might actually be heard by the owners? And how did it feel once you found out the family had actually heard it?
"What I find remarkable is that it was only heard by one family member, who was listening to Radio 4 at a time she never usually listens to it, and who didn't even know what the hare was, but recognised it from the description."

Paul Slade replies: I guess we must have known Mike's call-out was a long shot when we included it in the programme, but there seemed no harm in trying. It struck a nice note in the continuing mystery of the hare anyway, so we thought it earned its place in the programme on those grounds alone.
My assumption at the time would have been that the hare was probably still in the UK, so there was always a chance the new owner would either hear the programme - or if not that, at least hear about it. The Beeb's got an amazing reach - far more so than any commercial operator - so it never seemed completely impossible we'd hear something.
It was actually the producer I'd worked with on the Radio 4 programme who first heard about the response, but I can't remember now if she got a call direct from the hare's owners or from the producer of the BBC TV documentary about it which was already in the works. I've just dug out our e-mail exchange when she passed the news on to me, and I see my first words on hearing about it were "Holy shit!" I imagine her own reaction had been much the same.
It was this initial contact prompted by our humble little wireless programme which allowed the TV people to get the hare sent back to the UK long enough for them to film its reunion with creator Kit Williams and give it a brief exhibit in London. It was more luck than judgement in the end, but I'm just grateful it all worked out.

[Dan's e-mail followed a Tweet he'd sent me earlier with this video clip showing Kit Williams' golden hare in close up. It has audio too, which meant it let me hear the tinkling of the hare's bells for the first time. "I was doing a lockdown show on Instagram where I got interesting people to show me the best stuff they owned, and someone I convinced to come on was the owner of the hare," Dan explained. "The owners aren't on screen, so we didn't get much out of them except a confirmation that it's in the Far East."]


*****
March 19, 2021. Larry Benade of Virginia writes:
"Have you seen this? The Baddest Man in Town - The American Scholar.
"Here are links to two murder ballads I participated in recording. You've probably heard of Bradford Bishop, a fugitive [wanted for] murdering his family in suburban Washington DC in the '70s. Here's my bluegrass band Coup de Grass playing the first cut of our 1978 album Rhythm & Bluegrass; Ballad of Bradford Bishop, a song written by friends of a friend. And here's me with a recent video trying to do justice to Doc Watson's version of Tom Dooley."

Paul Slade replies: Thanks so much for sending a link to that amazing Stagger Lee article. It's absolutely packed with new information, and so much of it first hand too. Anyone interested in the song should definitely give it a read. I'm grateful for the music links too: I hadn't heard of Bradford Bishop's case before but I love the song. "Bradford was never a family man," has just that touch of witty understatement I always enjoy in a murder ballad. I see he's still on the FBI's Most Wanted list too.