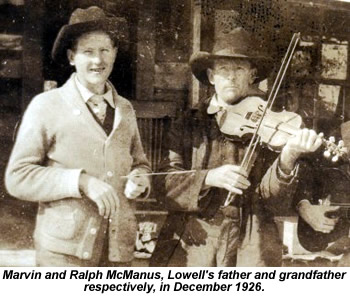 January 23, 2011. Lowell McManus of Eagle Pass, Texas, writes:
"While going through the papers of my late father, I found an old manuscript of a poem or song that I'd never seen before. A Google search led me to your web site and its exhaustive history of The Knoxville Girl, which I found very interesting.
"In the section of that history on the 1892 murder of Mary Lula Noel in Missouri, you write: 'I've got no proof for this, but I like to think the Mary Noel story's most enduring legacy is to give Knoxville Girl's killer his modern name. Arthur Tanner's 1925 record has the line "Willie dear, don't kill me here / I'm not prepared to die", and that's the name that's stuck ever since. Tanner's is the earliest version I've been able to find using this name, and I'm content to believe it was the William Simmons case which inspired it. All it would take to scupper this theory is a single pre-1892 version using the name Willie, but so far I haven't found one.'
"While I cannot date the manuscript or the introduction of its story into my family's possession, I can state two clear facts: (1) The setting of the song in my manuscript is Oxford, mentioned three times, not Knoxville or Pineville, and; (2) The victim calls her killer "Willie" as she begs him for her life, as does his mother when she inquires as to the blood.
"This manuscript is written in lead pencil on six sheets of lined tablet paper that is extremely yellowed. I strongly believe it to be in a youthful version of my father's handwriting with youthfully unskilled spelling. He was born in 1910 in rural western Louisiana. His father was born in the same place in 1883.
"The latter (my grandfather) played the fiddle and was a collector of old fiddle tunes and songs. He was also a lawman, to whom this murder story would have appealed. On the bottom of one of the pages are a few words and some letters written in my grandfather's unmistakable hand - as if he were showing his son how better to form his letters. In case you should wonder, my paternal line descends from a McManus ancestor who emigrated from County Roscommon at the time of the famine.
"I believe that the juvenile writing places the manuscript well before my father's adulthood. Thus, it could possibly be before 1925. In any case, I don't know how my family could have heard that year's Arthur Tanner record. There were very few radio stations then in South, and I don't know when they acquired their first battery radio. I know that they acquired a gramophone at some point, but I rather doubt that it was that early. Electricity did not arrive in their rural area until 1950.
"Although this version has the killer living in Oxford, the victim an Oxford girl, and the body found in the water at Oxford, the killer's flour mill was in quite another place. Unfortunately, its name is not clear from the manuscript, but it is clearly not Oxford. It appears to be 'the city of Mico', although that makes no sense to me."

Paul Slade replies: The main thing that strikes me about your manuscript is how close it is to The Berkshire Tragedy's wording of 1744 - which is pretty amazing when you consider that there's 175 years and half a planet separating the two songs. Verse three is particularly striking:
The Berkshire Tragedy (England, c1744): "I called her from her sister's door, / At eight o'clock at night, / Poor creature, she did little dream, / I owed her any spite."
McManus Manuscript (USA, c1920): "I called at her sister's house, / At eight o'clock that night,/ But little did that fair girl think,/ I owed her any spite."
This suggests your transcript was produced from a very old version of the song - perhaps a version of The Oxford Girl or The Wexford Girl which your family brought with it from Ireland to the States.
There's American influences there too, though, most notably the switch from servant to mother in verse nine. That's generally agreed to be an American invention, introduced after the song was first customised into 1810's The Lexington Miller for US audiences. The Lexington Miller itself still has a servant in this role, but every other American version I've seen uses the mother.
The other obvious point of comparison is The Oxford Tragedy, which Cecil Sharp collected during a visit to Kentucky in 1917. Like your manuscript - which seems to date from just a few years later - this song mentions both Oxford and a second town. In that case, the second town is Knoxville itself, and the killer's called Johnny.
This is a real long shot, but there's another British version of the song called Ekefield Town, and I wonder if "Mico" might be a sound-alike corruption of that? It could be someone's half-remembered transcription of the word he thought he heard when the song was performed: Ekefield/Meeko. Or maybe not...
Until I saw the full transcript, I wondered if the written word might have been intended as "mill", We know mills figure heavily in this story, after all, but that interpretation clearly doesn't fit the wording or handwriting you sent me. I see there's a town called Mico near San Antonio in Texas, but I think that's just a co-incidence.
Your manuscript's mention of Willie could still be inspired by the Mary Noel case, I think. Pineville, Missouri (where Mary died in 1892) is only about 520 miles from even the furthest point of Louisiana, and it's quite possible that a travelling musician could have carried the song that far.
Your manuscript certainly looks to be older than Arthur Tanner's recording, which may make it the earliest version we have using Willie's name. The Penguin Book of Folk Ballads has a Nova Scotia version of Wexford Girl calling him Willie, but doesn't say when it was collected.

January 25, 2011. Lowell McManus writes:
"I can't buy Ekefield for 'mico'. I think that my family would have written 'meco' or 'meeco' if they had intended something pronounced me-ko. 'Mico' would have been pronounced my-ko, which takes it even farther from Ekefield.
"I've actually been to Pineville, Missouri, though not in relation to the song. It is 471 miles from Leesville, Louisiana, near which my family lived.
"I have found a sample of my father's handwriting in a third-grade textbook (about 1918), which is much more childish than that in the song manuscript. So, he must have been a bit older when he wrote the latter. That is to say, his motor skills had advanced, but his language skills were still juvenile.
"I have given additional thought to my father's mysterious word 'mico' with a possible eye to whether I am reading it correctly. The 'm' is identical to several other initial 'm's throughout the song. The 'i' is undotted, but so are most of the 'i's in the document. The 'i' and the 'c' are disconnected, but that is also the case in the midst of the word 'voice' in verse eight. The 'c' is tall and has a loop at the top, but it matches many other 'c's. The 'o' is unmistakable. Thus, the intended word is, without doubt, 'mico' - but I still don't know what to think of it."
*****
February 4, 2011: Terry Beatty of Minneapolis, Minnesota, writes:
"You've probably already heard this from many readers - but in case you haven't, that Avengers King-size Special #3 cover is by John Buscema, not Jack Kirby."

Paul Slade replies: You're dead right, of course - and looking at that Thor figure again, I can't imagine how I made the mistake in the first place. My only excuse is that Buscema's brief at Marvel in those days was essentially to look as much like Kirby as possible!
The Superheroes in Court piece has been up online for months, but you're the first person to give me a heads-up about this error. I'm always glad to have a chance to correct stuff like this, so thanks for letting me know. I've replaced it with the genuine Kirby cover now, and amended the caption accordingly."

[Comics fans will already know who Terry is. For the rest of you, here's an extract from his biographical note on www.terrybeatty.com: "Terry is the artist and co-creator (with Max Allan Collins) of the long-running private eye comic book series, Ms. Tree. Collaborations with Collins also include Mike Mist, Mickey Spillane's Mike Danger and Johnny Dynamite. Collins and Beatty are currently at work on Return to Perdition, a graphic novel sequel to Road to Perdition, for DC's Vertigo Crime line."]
*****
January 9, 2011. Judith Vandenbergh Green of Adelaide, South Australia, writes:
"I have read your work on broadsides with interest and delight because I am writing an account of the Vandenbergh family, and JV Quick, [the Victorian broadsheet printer] is one of my people.
"John Vandenbergh Quick was a grandson of bookseller Simon Vandenbergh (c.1728-1808) and a nephew of the notorious John Vandenbergh (c.1760-1811), a member of a 'desperate gang of housebreakers' who operated in the Westminster area in the 1780's. Members of the gang included Francis Fleming 'the walking fence', Billy the Trap, William Harding (alias 'Spot'), and a chimney sweep known as 'Shock'. John Vandenbergh, a goldbeater, had his crucible at the ready to melt down stolen gold and silver.
"Their most daring exploit was to rob Westminster Abbey. John (my great great great grandfather) buried the Abbey treasures in his backyard, but his talkative wife told a neighbour who informed on the gang. I found this account in the December 10, 1787, issue of World:
"'John Vanderburgh [...] was a pawnbroker on the ruins near Dean's Yard, where he has lived for some years, and most probably, has as long practised the trade of receiving stolen goods. Being a married man, he entrusted his wife with the secret of his having received the plate stolen out of the Abbey, and that he had concealed it in a hole dug in the garden.
"'His wife communicated the intelligence to a female friend. Some little time after, the wife quarrelled with the husband of her female friend, who, to be revenged, disclosed some circumstances relative to that transaction, which led to the discovery of the whole gang. [...] Vanderburgh and his wife were just sitting down to a sumptuous dinner, when the officers from Bow-street entered their house, and took them away.'
"On the more respectable side, JVQ's cousin, another John Vandenbergh, wrote plays, pantomimes and comic songs performed at Covent Garden and Drury Lane.
"JV Quick was a printer/engraver, and had a bookshop and circulating library. He set up a printing press in the Thames Tunnel when it opened in 1843, and invented many Victorian amusements, such as peepshows, dioramas, pop-up books, flap books and cardboard cut-out models. He lost all his money when he attempted to educate the great unwashed by printing world literature in penny installments. His first effort was History of the Jews by Flavius Josephus, so I am not surprised.
"JVQ's nephew William Michael Roberts Quick (1838-1927) was engraver for the Illustrated London News and his best work was when he engraved arcane drawings of Frederick Carter and AO Spare (two followers of Aleister Crowley).
"An interesting sidelight to street ballads is that they were collected by Frederic Madden, keeper of manuscripts at the British Library, a scholar and aesthete, who had to venture into Seven Dials and other seedy locations in search of them. The Madden Collection of 30,000 street ballads, including some printed by JV Quick, is at Cambridge University. Harvard's library has a magnificent collection of execution broadsides, some by JV Quick and copies can be downloaded."

Paul Slade replies: That's one heck of a family you've got there! It makes perfect sense that JVQ would have relatives in printing, book-selling and street crime, as these are the three trades which he brought together so wonderfully in his gallows ballad business.
*****
January 7, 2011. Alice Moore of Stamford, Connecticut writes:
"Regarding your piece on Fredericksburg's Easter Fires, I just have to say Thank You. I'm still laughing.
"I'm doing dissertation work on Fredericksburg and was just tooling around for information on the 1946 pageant. I'm still trying to figure out exactly when Easter Fires became conflated with the Fredericksburg history pageant. The history pageant was first written in 1929 by Esther Mueller and doesn't appear to have included bunnies, drunk or not."

Paul Slade replies: Everything I know about the pageant is included somewhere in that essay, so I'm afraid I can't shed any more light on when the bunnies first appeared. I was hoping to make people laugh with that particular piece, though, so I'm very glad you enjoyed it.
*****
December 29, 2010. Sharon Kaighin from the Isle of Man writes:
"Just come across your excellent site and in particular the piece on Masquerade. I was a huge fan and can't believe it was 30 years ago!
"Just thought I would let you know I came across the 1982 Omnibus programme on Youtube today, and it has in it the interview with 'Ken Thomas' behind frosted glass. You may have already seen it but thought I would let you know.
"I thought the Radio 4 documentary and subsequent programme on BBC Four were excellent - but a sad end in a way to such a great hunt."

Paul Slade replies: Thanks so much for that. As I explain in the piece, that segment of the report is missing from the BBC's own archive copy, and I hadn't seen the frosted glass testimony since it originally went out all those years ago.


*****
Message board round-up

The sources for my latest collection of blurbs ("Plenty pundits praise Planet's peerless prose") can be found below. Sometimes there's quite an interesting discussion attached.

Authonomy
http://www.authonomy.com/books/14848/murder-ballads/

BBC Radio 4
http://www.bbc.co.uk/dna/mbradio4/F2766774?thread=7629637

Cyclechat
http://www.cyclechat.net/topic/73330-friday-night-is-songs-with-death-in-them-night/

Deceptology
http://www.deceptology.com/2010/11/first-radio-hoax-was-not-war-of-worlds.html

fRoots
http://froots.net/phpBB2/viewtopic.php?t=5638&highlight=dooley

Metafilter
http://projects.metafilter.com/2867/Tom-Dooley-The-Full-Story

Music Radar
http://www.musicradar.com/forum/showthread.php?t=74321&highlight=PlanetSlade

QI
http://www.qi.com/talk/viewtopic.php?p=762697&highlight=dooley#762697