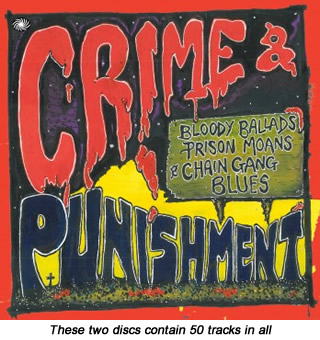 Those nice people at Fantastic Voyage Records have sent me three copies of their new double CD compilation Crime & Punishment: Bloody Ballads, Prison Moans & Chain Gang Blues to give away as competition prizes.
It's a deliciously deadly deluge of blues, country and folk songs, covering the period 1925-1960 and including tracks from Johnny Cash, The Everly Brothers, Woody Guthrie, Billie Holiday, John Lee Hooker, Lightnin' Hopkins, Paul Robeson and Sonny Boy Williamson. The selection's been made by ZigZag's Kris Needs, who also supplies some useful and informative sleevenotes.
As far as murder ballads are concerned, Needs includes Frank Hutchison's Stackalee, Mississippi John Hurt's Frankie, The Louvin Brothers' Knoxville Girl and The New Lost City Ramblers' Tom Dooley. Not to mention The Murder of the Lawson Family by The Carolina Buddies, Duncan & Brady by Dave Van Ronk and Down on the Banks of the Ohio by The Blue Sky Boys. There's some new discoveries there too - at least for me - including Homer Harris' I'm Gonna Cut Your Head Momma and Jimmie Patton's rather wonderful Okie's in the Pokie.
You'll find a full track list at the link above. All you have to do to win a copy of this tantalisingly transgressive treat is answer the following question:

Frankie Baker killed her pimp boyfriend in: (a) St Louis (b) St Lucia (c) St Leonards

Send your answers to PlanetSlade, using the e-mail link here. I'll draw three entries at random from all those received by midnight on August 31 (London time), notify the winners by e-mail and get their CDs in the post next day. I won't pass your contact details to anyone else, although I may use them to send you five or six PlanetSlade e-mails a year announcing new content on the site. If you'd rather I didn't do that either, please just let me know.
It's a good compilation, this, so don't miss your chance to win a copy.


*****
Letters to Planet Slade: August 2012
July 18, 2012: George Gierer of Westchester County, New York, writes:
"Hey, Paul. I hope this finds you well. This is George from
South County
. I contacted you awhile back on the
No Depression
forum about doing a version of
The Execution of Nathaniel Mobbs
.
"I
do have the chord progression, chorus and melody worked out. I'm now trying to pare down the verses to a manageable number and length. I checked out your link to the actual court transcripts of the case, which are wild to read all these years later. I might draw from that and use multiple witnesses and singers. I'll have to see how feasible that is, so that's where we are.
"Since
I contacted you, we released our second album and I wanted to share a track with you. It's called
Nellie Cane
, and it was inspired by Gillian Welch's
Caleb Meyer
. Jon Sternfeld (lead vocals) and I came up the idea from the song years ago and finally got a chance to record it. I think it's right up your alley. Great story of getting what you deserve. Here's the link:
http://southcounty.bandcamp.com/track/nellie-cane
"Let me know what you think."
Paul Slade replies:
Thanks very much for getting in touch again, George. It's great to know South County is still planning to do
Nathaniel Mobbs
, and I can't wait to hear the result.
They've
got a fantastic selection of transcripts on that Old Bailey site, haven't they? The church pictured on my own
Nathaniel Mobbs
page is still standing just opposite the Bailey in London, and I visited both that site and the street where he'd lived when researching the tale. Goodman's Yard is just a busy traffic junction now, but it's still an odd feeling to think you're standing on the very spot where the murder was committed.
I
dug out my copy of Welch's
Hell Among The Yearlings
to listen to
Caleb Meyer
and remind myself of the story before I listened to your own track. It's a sort of answer song, isn't it, really? I started off thinking we were just seeing the events from Caleb's angrier perspective, then after three listens I started to wonder if he'd actually wanted Nellie to kill him all along. The musical saw is a nice, eerie touch - I thought it was a woman's keening voice for a second - and that guitar solo at the end's a bit of a scorcher too. Excellent stuff.
For
the past couple of days I've been reading
The Outlaw Album,
Daniel Woodrell's new collection of short stories. He's the guy who wrote the novel
Winter's Bone
was filmed from, and the stories are set in precisely the same world that all these dark bluegrass songs inhabit. My favourite one so far is a story called
Uncle
, and that's the only name its lead character ever gets. Caleb could be him as a younger man, and old age has made him even more disturbing. The book's well worth investigating for anyone who's enjoyed PlanetSlade's Murder Ballads coverage, and you'll find more details on the publisher's website.
*****
May 18, 2012. Roisin Power of Kildare, Ireland, writes:
"I'm doing a musical theatre exam later this year and was wondering if you knew of any ballads that came from musicals or music hall?
"I
thought picking a theme of horror would be more original than the more typical love theme that most people do. But one of the songs must be from before 1920, of which I know none.
"Thank
you for your time and I also would like to say that I found your website very interesting. Victorians had a very twisted sense of enjoyment I guess."
Paul Slade replies: Thanks for your letter Roisin, and I hope the exam goes well. I can think of many pre-1920 songs with a murderous theme, and a few post-1920 ones from musicals which fit the same bill. It's finding something that matches both your criteria that's tricky.
I
would suggest you try something from Stephen Sondheim's
Sweeney Todd
, but he wrote that in 1979. Cole Porter's song
Miss Otis Regrets
concludes with a lynching, but that dates from a 1934 show.
What
else? Well,
Mrs Dyer The Old Baby Farmer
(1896) was certainly sung as a music hall song, and you'll find plenty about that on PlanetSlade. Elsa Lanchester's recording (linked here) is sung in full-blown music hall style, so you should certainly hear that. There's full details of the song and the true story that inspired it my Broadside Ballads section, but it's pretty bleak stuff so don't read it if you're prone to nightmares!
John
Gay's 18th century work
The Beggars' Opera
has a character called Macheath, who Bertolt Brecht and Kurt Weill turned into
Mack The Knife
(a sort of Jack The Ripper figure) for their 1928 musical
The Threepenny Opera
. Macheath (and therefore Brecht's character too) was based on a notorious London crook called Jack Sheppard, who lived from 1702-1724. The people of London idolised Sheppard for his daring prison escapes, and turned out in huge numbers to wish him well when he was finally hanged at Tyburn.
Mack The Knife
is quite a well-known song, of course - Bobby Darin took it to the top of the UK charts in 1959 - but I guess it's a bit too recent for your purposes. I don't know
The Beggar's Opera
very well, but I think Macheath gets a couple of his own numbers there, so maybe that would be worth investigating?
Finally,
for horror of an altogether different kind, try some of the darkly satirical songs the poor bloody infantry sang in the trenches of World War I.
Hanging On the Old Barbed Wire
is a particular favourite of mine. It's a genuine soldiers' song from that period, the humour's black as pitch, and it has a very powerful sting in the final verse. Chumbawumba has a splendid cover version on YouTube here.
That's
all that springs to mind at the moment - hope it helps.
*****
May 27, 2012: Diarmid Mogg of Edinburgh writes:
"I've just finished your
Tom Dooley piece
, which is - like all the articles on the site that I've read so far - an exemplary piece of research and presentation. Loved it.
"I
thought I should let you know that I spotted a few errors that you'll probably want to fix. Pages 9 and 11 have 1837 instead of 1867, and page 10 has 1957 instead of 1857. I've done exactly the same thing myself - probably countless times. Last month, someone emailed me to ask whether I meant to suggest that a guy I'd written about was three years old when he went to jail. Very funny.
"Anyway,
thanks for publishing all those great stories online. I look forward to reading the rest of the site, and any new pieces you put up. Absolutely fascinating stuff."
Paul Slade replies: Glad you're enjoying the site, Diarmid, and thanks also for your own excellent work on Small Town Noir. It's one of those sites I don't dare dip into too often, because that'd be half the day gone, but anyone who likes PlanetSlade should definitely check it out.


I've

now fixed the three errors you mention. As you say, that 1800 / 1900 mistake is so bloody easy to make - at some point your fingers just type what they're used to typing whether your brain's actually giving them that data or not. I can't explain how I let the 1837 date slip past me, because Dula wasn't even born then, let alone being sung about.


Still,

one of the great things about the 'net is that stuff like this can be corrected, and I'm always very glad when a letter like yours gives me a chance to do so. Give me a few more years of this process, and I might just manage to purge the site of typos altogether!
[Diarmid's site reproduces dozens of police mugshots from New Castle, Pennsylvania, all of which date from the period 1930-1960. Someone rescued them from the trash when the town's police department threw them out, and Diarmid has pieced together the story behind each one by studying back issues of the town's newspaper. All human life is there.]
*****
June 11, 2012. Nia Ashley of New York writes:
"I've been given a grant to write a musical screenplay telling the story of Harry Pace, WC Handy and Black Swan Records. I came across
your article
and the subsequent letters, in my research, and would love to get in touch with you to discuss this incredible story.
"You
have a unique, well studied perspective on this man and his life that has completely altered the way I feel I must tell his story. Please get in touch at your earliest opportunity."
Paul Slade replies:
Wow - what a great project! I interviewed the producer behind
Five Guys Named Moe's
Broadway run once for another story, and he got very excited about the prospect of a Harry Pace stage musical. Nothing ever came of that, but there's definitely a great opportunity there.


I've

always envisioned one scene where an idealistic young black musician talks his way into Harry's office, and is excited to hear the band he knows as Ladd's Black Aces playing behind the door of an adjacent studio. Suddenly, the music stops, and Harry makes a flustered effort to get rid of his visitor. The lad begs and pleads to stay just long to glimpse his heroes, then the studio door opens, and out file The Original Memphis Five - every one as white as snow! The young musician is crushed, disillusioned, shocked and appalled! How could Harry betray him like this...


Well,

something like that anyway.


I

also met Harry's great-grandson in San Francisco a few years back, who was telling me about the whole experience of having his family's true racial identity revealed after so many years and the struggles this set off in his own mind. He was shooting some video interviews with older members of his family and hoping to eventually turn these into a documentary, but I don't know where that project stands at the moment. Feel free to drop me a line at this address any time. I'd be glad to help in any way I can.
*****
July 4, Stuart Mason of Los Osos, California writes:
"I stumbled upon your link in the
No Depression
community. Your site is wide and deep, with lots of interesting content to explore.
"I
too have a fascination with old-timey murder ballads. I just thought I'd inquire if you might want to do a short review of my new CD for fRoots? You can listen to it here:
http://stuartmason.bandcamp.com/album/barn-dance
. I'm happy to mail a hard copy if you like what you hear."
Paul Slade replies:
Thanks for getting in touch, Stuart. I take it you saw my
No Depression
thread asking for contributors to PlanetSlade's Gallows Ballads Project?
If
so, please do consider tackling one of the ballads with Little Black Train or one of your other bands - I'm very keen to get both some full band recordings and some US contributors at the moment, and you'd be ideally qualified on both counts. You'll find more details on the PlanetSlade pages here and here, so please have a think about it, and spread the word to any musician friends you think might be interested. Solo versions are welcome too.
The
rules on
fRoots
dictate that I can only review those CDs allocated to me by the editor, I'm afraid. Without that, I guess they'd get a lot of duplication and problems with conflicts of interest. Your best bet of getting a review there would be to send a copy direct to the magazine itself, sticking to the guidelines it spells out here.
In
the interests of helping musicians to earn a living, I splashed out $10 on your Little Black Train album, and I must say I like it a lot. If I were to review it, I think the first two words I'd jot down in my notes would be "sprightly" and "charming". I loved your
Fair Molly
comic too, which reminds me of the comics Jeffrey Lewis sometimes includes with his own CDs.
*****
Message board round-up
You'll find the sources for all our latest blurbs ("Justly jubilant journals...") below. Sometimes there's quite an interesting discussion attached.
Casebook
http://www.casebook.org/intro.html
Kronsell.net
http://www.kronsell.net/endofstoryII-b.htm
Mudcat
http://www.mudcat.org/thread.cfm?threadid=145383&messages=7
http://mudcat.org/thread.cfm?threadid=143241&messages=74
PG Music Forums
http://www.pgmusic.com/forums/showflat.php?Cat=0&Number=368373&an=0&page=0&gonew=1
West Ham Online
http://westhamonline.net/forum_flat.php?6184232%7C%7C1%7C%7C
Weenie Campbell.com
http://weeniecampbell.com/yabbse/index.php?topic=8541.msg70158;topicseen