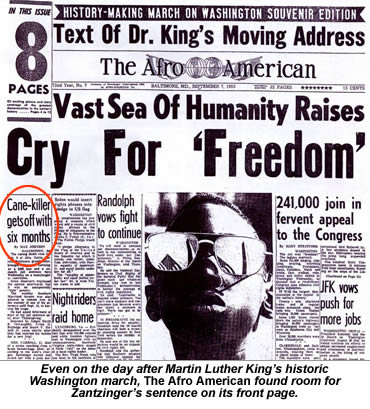 Dylan could hardly have been more involved with Broadside at this point. He was spending all his time in New York and contributing new songs to every issue of the magazine. The March 1963 issue which contained West's Ballad of Hattie Carroll had Dylan's Train a-Travellin' on its front page, a song he'd recently demoed at Broadside's offices earlier . It's fair to assume he would have been seeing every issue of the magazine at this point, if only to check out his own work there and keep a wary eye on the competition. (21)
As we'll see in a moment, Broadside's Wood clipping became one of Dylan's prime sources in writing The Lonesome Death of Hattie Carroll. Whether you view the more colourful aspects in Wood's account as deliberate distortions or justifiable hyperbole, they played a key role in shaping Dylan's composition and, through that, Wood continues to influence the way we all think of the case to this day. The host of tiny decisions he made sitting at his typewriter in February 1963 cast a longer shadow than he could ever have imagined.


Zantzinger's criminal trail finally began on June 19, 1963, in Hagerstown's 19th Century courthouse. There's no mention of a jury anywhere in the coverage, which presumably means Zantzinger's lawyers had won their bid to have his case decided by a panel of judges alone. The three-man panel was headed by Judge David McLaughlin, who shared the bench with Judges Irvine Rutledge and Stuart Hamill. The Afro sent reporter James Williams along to set the scene for its readers.
"When the trial opened, Wednesday, 9:30am, every seat in the small courtroom was occupied," Williams writes. "In the front, off to the right of the judges, sat the accused man and his wife. He was dressed in a dark summer suit, while his wife wore a blue striped linen suit, white blouse and white shoes. Their chairs were directly behind the table occupied by their attorneys. If they were disturbed, it did not show in their faces." (6)
Most of the spectators waiting to see this drama unfold were white, Williams notes. "The 'aristocracy' of Maryland was represented in the courtroom through the guests at the ball who had been summoned as witnesses," he adds. "Many of them wore rather shame-faced expressions, as if they were embarrassed to be involved in a trial of this nature."
It's now taken for granted that Zantzinger's trial must have been fixed to ensure him lenient treatment, but that's not a view the Afro's man took as proceedings began. "The state has obviously gone all out to make the case stick against Zantzinger by bringing to Western Maryland some 30 witnesses and using its top legal talent in Baltimore city to prosecute the case," Williams says approvingly. He also praises McLaughlin, reminding Afro readers the judge was chief justice of Washington County, saying he was held in great respect there, and noting the "calm and impartial manner" he brought to Zantzinger's trial. (1, 6)
O'Donnell and Moylan - the "top talent" Williams had mentioned - certainly don't seem to have pulled their punches. O'Donnell called Zantzinger "the lord of the manor, lord of the plantation" and Moylan claimed he had never been able to accept the South's Civil War defeat and the end to slavery which that brought.
The two prosecutors questioned Patterson, Shelton and Burrell as they built their case, hearing more of the testimony from the three women quoted above. They saved Petty, the doctor who'd carried out Carroll's autopsy, for their final witness, questioning him on the Thursday as they prepared to close the prosecution's case. Moylan asked him whether he believed Zantzinger's blow with the cane had caused Carroll's fatal stroke. "Yes," Petty replied. "My opinion is there was a definite relationship. The assault occurred some minutes before the onslaught of the symptoms. I feel there is a definite cause and effect between the two."
The defence team produced two doctors of its own, who both testified that Carroll's stroke could have been caused by something other than Zantzinger's behaviour, and a series of character witnesses to speak on his behalf. They did all they could to draw attention to Carroll's history of health problems and painted their client as an honest, hard-working man.
'A review of this case discloses it was involuntary manslaughter,' the judge announced
The defendant himself gave evidence on Friday. "When Zantzinger took the stand, it was in an effort to portray himself as a dirt farmer who went to Baltimore just to 'cut up' a bit, and drank so much that he had no recollection of striking Mrs Carroll," Williams reports. It was this claim which gave the Afro its next banner headline. "Cane-Killer Forgets," its front page screamed incredulously. "He can't remember fatal blow." (6)
The defence closed its case on Friday and then broke for the weekend, leaving only Monday morning's final arguments before the three judges could begin considering their verdict. That came on Thursday, June 27, when McLaughlin walked back into the courthouse to announce Zantzinger's fate.
"We find that Hattie Carroll's death was not due solely to disease, but that it was caused or hastened by the defendant's verbal insults, coupled with an actual assault," he said. "And that he is guilty of manslaughter." McLaughlin also announced that Zantzinger had been found guilty of the three assault charges, but all anyone was interested in was his manslaughter ruling. What did it all mean? (1)
"The court accepted medical testimony that the caning itself was not enough to cause death," next day's New York Times explained. "But the combination of shock, produced by Zantzinger's abusive language and the blow with the cane were sufficient to cause a sudden blood pressure increase and fatal brain haemorrhage. [...] The verdict involves a possible maximum sentence of ten years in prison and a $500 fine." (22)
In fact, sentencing was going to have to wait. Zantzinger's lawyers quickly lodged an application for a new trial, claiming that the medical evidence left room for reasonable doubt on the cause of Hattie Carroll's death. Sentence could not be pronounced until this application had been considered and the probation office completed its report. In the meantime, Zantzinger was left to go free on his existing $25,000 bail because, as McLaughlin noted in his judgement, this was a busy time of year on the family's farm.
The same three judges who'd presided at Zantzinger's trial dismissed his defence team's application to re-try the case and, by the end of August, they were ready to announce a sentence. "A review of this case discloses this was involuntary manslaughter, similar to manslaughter by automobile," McLaughlin announced. "We don't feel that Mr Zantzinger is an animal type. Our problem is to view this case from the type of punishment Mr Zantzinger should have." (23)
Reviewing Zantzinger's probation report, McLaughlin remarked that he had never shown any remorse about Hattie Carroll's death. Later, asked by the judge if he had anything to say before hearing his sentence, Zantzinger whispered "I'm very sorry it happened". These words, the Afro's Max Johnson reports, came in "a barely-audible light voice".
Finally, the sentence was announced: six months in jail and fines totalling $625. The jail time, McLaughlin added, would not start until September 15, a dispensation again designed to let Zantzinger finish gathering in his farm's crops. "Zantzinger accepted sentence without visible emotion, but his wife wept silently," Johnson says. "His mother, sitting with several friends, including two clergymen, appeared stunned."