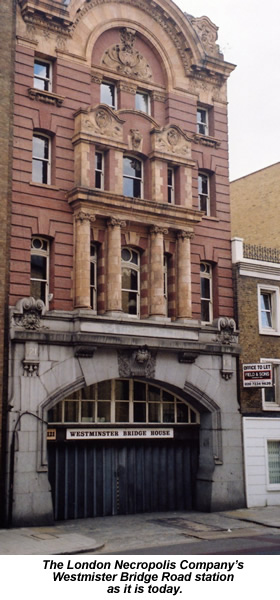 The next big change in the service came when L&SWR realised that the LNC's York Street terminus was severely restricting its passenger services' access to Waterloo by creating a bottleneck there. If the growing rail company was going to build the extra passenger lines it needed at Waterloo, it would have to demolish York Street terminus first. But the LNC had a 999-year lease on the property, and that gave it the whip hand in all the negotiations that followed.
L&SWR did eventually persuade LNC to give up York Street, but only after agreeing to build a replacement station for the company, give it a new 999-year lease at a peppercorn rent, pay £12,000 in compensation for LNC's inconvenience, supply a new train for the Necropolis line and agree to accept LNC tickets for travel back to London on L&SWR's other, more expensive, services.
The discrepancy in ticket prices had arisen because LNC's fares were fixed by the 1854 Act which created the company, and not increased again until 1939. By 1902 - the year in which LNC's replacement terminus opened - this had produced a situation where a first-class return ticket from Waterloo to Brookwood cost eight shillings on L&SWR's normal service, but only six shillings on the Necropolis trains. Golfers travelling from London to West Hill Golf Club, which stood right next to Brookwood's grounds, sometimes took advantage of this, dressing up as mourners to ride the Necropolis train down, and so pay a lower fare. The remains of a rough footpath from Brookwood Station to West Hill's clubhouse can still be seen at the cemetery, and Clarke believes it was cheapskate golfers who originally tramped it down.
Some West Hill golfers dressed as mourners to qualify for the Necropolis train's lower fares
The site selected for LNC's new London terminus was just behind Waterloo Station at 121 Westminster Bridge Road. Like York Street, the building was equipped with two mortuaries, caretaker's accommodation, waiting rooms of various classes, workshops and all the usual station facilities. In the case of Westminster Bridge Road, however, L&SWR's enforced largess also made it possible to also give the station its own mortuary chapel, where bodies could be laid in state for a while or funeral services arranged for mourners unable to make the trip to Brookwood. The new station opened for business in February 1902.
As the Twentieth Century began, then, the Necropolis Railway looked like it was in pretty good shape. But, even in the first 20 years of its operation, the number of people using Brookwood never came close to the hordes LNC had envisaged. Between 1854 and 1874, the cemetery averaged only 3,200 burials a year, accounting for less than 6.5% of London's deaths at the time. Many of the "missing" bodies would have gone instead to one of the 32 new London cemeteries opened during the same 20-year period.
The first sign of the disappointing demand for graves at Brookwood came in October 1900, when the Necropolis Railway dropped Sunday services from its timetable. The frequency of the service declined steadily from that point onwards until, by the 1930s, it was running only once or twice a week. The London authorities which provided all those new cemeteries must take part of the blame. The introduction of the motor hearse, which made its English debut in 1909, did not help either. When the Necropolis Railway's final death blow came, however, it was neither of these factors that delivered it. That task fell to the German Luftwaffe.


April 16, 1941, was one of the worse nights of the London Blitz. Thousands of high explosive and incendiary bombs rained down on the city that night, starting over 2,000 fires and costing more than 1,000 Londoners their lives. Westminster Bridge Road, where the Necropolis train was berthed in its siding overnight, did not escape. By next morning, all that remained of the terminus was its platforms, first class waiting rooms and office accommodation. The mortuary chapel, the workshops, the caretaker's flat and the station's entrance driveway were all destroyed. Reports written the day after the air raid describe the Necropolis train itself as being "wrecked" or "burnt out". LNC closed the station down, stopped running the Necropolis trains and waited for the end of the war to decide whether it should rebuild.
LNC looked at the service again in 1945, but soon concluded that it was no longer a commercial proposition. Even with compensation from the War Damage Commission, rebuilding the Westminster Bridge Road Station would have been expensive. Replacing the rolling stock destroyed or damaged in the raid would have cost money too, as would getting the cemetery's now-neglected line back up to scratch. Demand for the trains had all but disappeared even before the air raid, and it was clear this amount of investment could not be justified. The Necropolis Railway had breathed its last.
Although the Necropolis trains themselves ended in 1941, there is some evidence that single coffins continued to be conveyed to Brookwood by rail well into the 1950s. The most likely procedure seems to be that the coffin would be loaded into the luggage space of a passenger service's brake car, the mourners would travel down in reserved compartments on the same train and everyone would transfer to waiting cars at Brookwood for the remainder of the ceremony.
Transporting the dead in this way was much more common than we now imagine, and many passenger rail services around the country sometimes carried coffins in their brake vans. This led to a particularly grisly spectacle on June 21, 1912, when a passenger train travelling from Manchester to Leeds was derailed near Hebden Bridge. A coffin containing the remains of Charles Horsfield was ejected from the brake van and its contents spilt on to the track. The next day's Halifax Courier reported: "The coffin was found all splintered and the corpse, though unmarked, was pinned under the debris and partly exposed". A rumour at the time - apparently untrue - insisted that Horsfield's body was one of those recovered after the sinking of The Titanic just ten weeks earlier.
It was not until 1988 that British Rail announced it would no longer carry coffins. "There's been a sea-change in how funerals operate," says Clarke. "The railways were used for carriage of coffins until relatively recently. Now, I think it's virtually impossible to transport a coffin by rail."