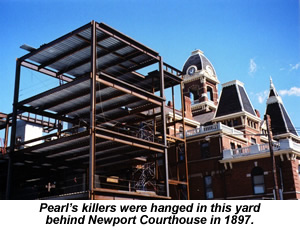 Bit by bit, the police pieced together the independent evidence they needed to confirm most of Walling's story. A cab driver called John Belli told them he'd picked up a girl matching Pearl's description from Cincinnati's Grand Central Depot at about 7:30 on the evening we know she arrived there. "She asked to be taken to the dental college and, when we got there, she sent me upstairs to ask for Scott Jackson," Belli said. "I couldn't find him, and then she had me drive her to the Indiana House at 139 West Fifth Street". Examining the hotel's register for that night, police found Pearl had signed herself as in Mabel Stanley, her sister's married name. (17)
The next witnesses to come forward were workers at the John Church Music Publishing Company, which had its shipping office at the corner of Fourth Street and Elm, directly on the route between Indiana House and Grand Central Depot. Church's workers told police they'd heard a furious row in the street outside on Friday, January 31, the day Pearl would be killed. They were just starting their lunch break at the time, and the office's windows were open, so they had both the time and the opportunity to sit back and enjoy the show.
A woman was shouting at two men in the street, threatening them that she'd go back to Greencastle if they didn't sort themselves out. "The gist of her ultimatum was that she was taking the noon train, that she would tell her brother who was responsible for her trouble, and that he would see the wrong was righted," Crim says. "Witnesses identified the three as Pearl Bryan, Scott Jackson and Alonzo Walling." Returning to the incident in a later interview, Crim adds: "Witnesses heard her tell Jackson, 'I'm going back home and tell my folk'. Jackson knew too well what the penalty would have been."
Eventually, Jackson and Walling managed to calm Pearl down, and Church's workers watched as they led her away from the station again. Many people assume the row must have started because Pearl had just discovered that Jackson had an abortion in mind for her rather than a wedding, but Wood's earlier testimony seems to rule that out. It's equally possible that Jackson had gambled away Pearl's Cincinnati stake, or let slip that the promised abortion was likely to be a more squalid affair than she'd imagined.
The bar's porter saw Jackson slip something into Pearl's drink while she wasn't looking
Pearl was next spotted that evening at Wallingford's, where both David Wallingford, the owner, and Allen Johnson, a black porter, told Deitsch they'd seen her. Wallingford said he was certain it was Pearl because he'd since seen her photo, and that Jackson led her into the back sitting room where female patrons generally sat. He had a tan leather bag with him, which he seemed to be carrying for his lady friend. Jackson ordered whisky for himself, and a sarsparilla for Pearl. Something in their manner drew Johnson's attention, and he saw Jackson slip something into Pearl's drink while she wasn't looking.
Jackson and Pearl left the bar in a carriage together, Wallingford said. Johnson added he'd recognised the carriage driver as Fred Albin, a Cincinnati barber who'd known Walling for about two years and Jackson for the past four months. He was also adamant that he'd seen Walling outside the bar with Jackson and Pearl when the carriage drove away. Albin denied ever having been at Wallingford's that night. Walling's account of his own actions was muddled, sometimes admitting he'd been at the saloon on Friday night, and sometimes denying it.
It was no small matter for a black man to accuse any white man of a crime in 1896 America - let alone one as serious as aiding in a murder - but Johnson was fearless. "You know you were there Friday night, and there is no use you denying it," he told Walling. "You lie, and you know you are lying." Albin continued to insist he'd never been at Wallingford's that night and Walling, after his initial confusion, settled his own story on a denial too. (18)
Caldwell's request to the Postmaster at South Bend produced an intercepted letter from Jackson to Wood, which he'd mailed from Cincinnati on Wednesday afternoon, a few hours before his arrest. That fitted with the story Deitsch had from Walling, who'd already revealed that Jackson had gone to the Palace Hotel to write some letters that day. "I asked him who he was going to write to, and he said to Wood," Walling told police. "He said he was going to enclose a letter purporting to be from Pearl Bryan to her mother, and he was going to have Wood send it. [...] He said he was going to do this to throw Mrs Bryan off the track."
Jackson had evidently decided to let Wood compose the fake letter rather than doing so himself, but otherwise it was just as Walling had said. Knowing how incriminating the letter would be if police ever saw it, Jackson mentioned Pearl only by her nickname of "Bert" and switched her pronoun from "she" to "he" throughout. He also abbreviated Indianapolis to a more cryptic "I" and signed the letter only with a "D" to indicate his own nickname of Dusty.
"Hello Bill," the letter began. "Write a letter home in Bert's name telling the folks that he is somewhere and going to Chicago or some other place - has a position etc - and will advise later about it. Say tired of living at home or anything you want. You know about the way he writes.
"Send it to someone you can trust - how [about] Will Smith at La Fayette. Tell the folks that he has not been at I. but at La Fayette and travelling about the country. Get the letter off without one second's delay, and burn this at once. Stick by your old chum Bill, and I will help you out the same way sometime. Am glad you are having a good time - D." There was a brief postscript: "Be careful what you write to me". (19)
When Deitsch confronted him with this letter, Jackson had his usual ready answer. "Walling told me to write it," he claimed. "He said that something had to be done, and I did it."
So, let's recap. Deitsch knew now that Pearl had been pregnant, and that she'd arrived in Cincinnati on the Monday evening, looking for Scott Jackson. He had Wood's testimony that Jackson had hoped to arrange an abortion for Pearl, and Walling's that Jackson had talked of killing her instead. Jackson himself admitted to buying cocaine a few days before Pearl was killed, and that was the same drug Carothers had found in the dead girl's stomach. Wallingford and Johnson had seen Jackson with Pearl in the tavern a few hours before her death, where Johnson had also seen him slip something into her drink. The post-mortem had already confirmed Pearl had no needle marks on her body, so it made sense to assume Jackson had administered the cocaine orally rather than using his syringe.