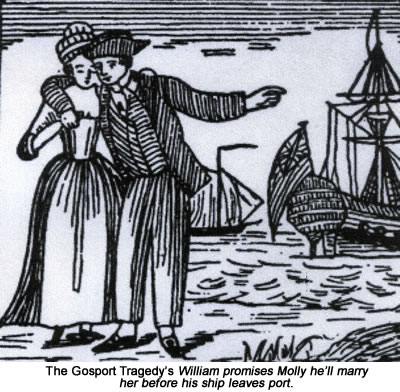 There's another 56 lines of the Roxburghe Gosport to go at this point, but we'll come back to them in a moment. What's clear from the seven verses above is that just about every key element of Pretty Polly was already there in The Gosport Tragedy almost 300 years ago.
The Roxburghe Gosport alone gives us the walk to a secluded spot, the passage through hills and valleys, the girl's growing suspicions leading to tears, the grave her killer has already prepared, the knife as his chosen weapon, her blood spilt on the ground and his casual disposal of the body. The English ballad has the same mix of narrators who later appear in Pretty Polly too. Willie's given the slightly more formal name of William, and his victim is Molly rather than Polly, but these are the tiniest of changes.
All that's missing is the striking moment when Polly first sights her "newly-dug grave with a spade lying by". That enduring image appears nowhere in the Roxburghe Gosport itself, but researchers have traced it back to other English ballad sheets printing the same song just a few years later. Some date the grave-and-spade stanza to between 1750 and 1800, but the earliest example I've been able to find comes from an eight-page chapbook printed by the Paisley bookseller George Caldwell in 1808. He makes The Gosport Tragedy his lead song in the book's selection and includes this couplet:

A grave and spade standing by she did see,
And said: "Must this be a bride-bed for me?"


Every key element of Pretty Polly was present in The Gosport Tragedy 300 years ago
Many early sheets suggest The Gosport Tragedy's lyrics be sung to an old English tune called Peggy's Gone Over Sea, but the fact that its lyrics follow a ballad's structural rules means many other tunes fit just as well. Pretty Polly follows ballad rules too, of course, so all we need do to make the original British words fit the American tune we know today is add a few repetitions and tidy up the scansion a little. The first couple of verses, for example, could easily be rendered like this:

He said: "My dear charmer, thou must go with me,
He said: "My dear charmer, thou must go with me,
Before we are wedded, a friend for to see."

He led her through valleys and groves so deep,
He led her through valleys and groves so deep,
At length, this poor maiden began for to weep,

I doubt if any single version of Pretty Polly includes every one of the ideas in the first Gosport Tragedy extract I gave here, but all survive somewhere in the American song's tangled branches.
"Heavens reward thee when I'm dead and gone" - here used to mean "punish" rather than "reward" in the modern sense - is echoed on Pretty Polly discs stretching all the way from BF Shelton in 1927 to The Coal Porters in 2010. Peggy Seeger's 1964 version has Willie declare that "killing Pretty Polly will send my soul to hell", and Queenadreena's 2000 recording makes the same point when it reminds us there's "a debt to the devil Willie must pay".
Molly's appeal to William that he should "let me go distress'd if I'm not thy wife" has its equivalent in Pretty Polly too. The Stanley Brothers' were the first artists to have Polly beg "let me be a single girl if I can't be your wife", but that plea's been echoed by Judy Collins in 1968, Patty Loveless in 1997 and many others besides.
Molly's "lily-white hands" have never quite gone away either, attaching themselves to Polly's arms in versions by Dock Boggs (1927), The Iron Mountain String Band (1975) and Angela Correa (2004). Molly's astonishment that William could "murder one that loves you so dear" is given to Polly on discs by John Hammond in 1927, Pete Seeger in 1957 and Sweeney's Men in 1969.
The killer's determination to hurry things along - "There's no time disputing to stand" - is dotted through Pretty Polly's whole recording history too. It's book-ended in my own collection by Hammond's "There's no time for talking, there's no time to stand" in 1927 and Beate Sampson's almost identical wording 82 years later. As in The Gosport Tragedy's original couplet, this line is almost invariably followed by one which both mentions the knife and uses "hand" as a convenient closing rhyme. Uncle Sinner's verse from his 2008 recording is just one of many examples:

There's no time for talkin', there's no time to stand,
There's no time for talkin', there's no time to stand,
I drew up a hunting knife in my right hand.

Looking at all the evidence above, only one conclusion is possible: Pretty Polly comes from The Gosport Tragedy. All we have to do now is figure out where The Gosport Tragedy came from and the answer to that question lies in a Florida folklore journal published 30 years ago. (8)

As soon as Molly's dead and buried, the Roxburghe Gosport turns its attention to William's life on board the Bedford. He's lying in his bunk one night, when he hears Molly's ghost calling him:

"Oh, perjur'd villain, awake now and hear,
The voice of your love, that lov'd you so dear,
This ship out of Portsmouth never shall go,
Till I am revenged for this overthrow."

She afterwards vanished, with shrieks and cries,
Flashes of lightning did dart from her eyes,
Which put the ship's crew into great fear,
None saw the ghost, but the voice they did hear.

Molly's spirit seems to hope that William will confess to the murder and turn himself in. When he refuses to do so, the ghost decides to appear directly to the crew as well:

Charles Stuart, a man of courage so bold,
One night was going into the Hold,
A beautiful creature to him did appear,
And she in her arms had a daughter most fair.

The charms of this so glorious a face,
Being merry in drink, he goes to embrace,
But to his surprise, it vanished away,
So he went to the captain without more delay.

And told him the story which, when he did hear,
The captain said "Some of my men, I do fear,
Have done some murder, and if it be so,
Our ship in great danger to the sea must go."