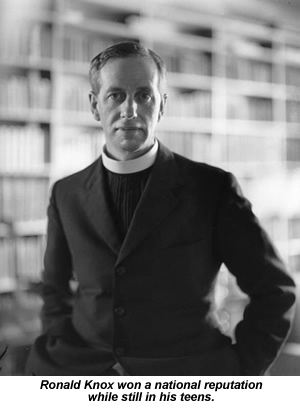 Bourke summed up reactions to the broadcast for a 2005 Radio 4 documentary I helped to make. "The immediate impact was really dramatic," she told presenter Ray Snoddy. "All over the country - particularly in rural areas and isolated areas - people became very, very frightened. [...] Newspapers were delayed that day, because there was heavy snow in London, and so lots of people didn't get their newspapers. This all seemed to confirm their belief that something must be terribly, terribly wrong." (7)
The Sunday newspapers may not have got through, but Monday morning's did, and many carried news of the broadcast on their front pages. Only then did some listeners discover that the BBC account of London's weekend riots had been a hoax dreamed up by a mischievous Catholic priest.


Ronald Knox was born in 1888, the son of a clergyman who went on to become Anglican Bishop of Manchester. His maternal grandfather was a Bishop too, and his eldest brother went on to edit the satirical magazine Punch.
Knox quickly established himself as a brilliant scholar, publishing his first collection of verse at the age of 18 and establishing what the Dictionary of National Biography calls "a nationwide reputation" by the time he left Eton for Oxford's Balliol College in 1907. He was elected president of the Oxford Union two years later, after winning many prizes for his Greek and Latin verse there. He left the university with a first in Greats and an even higher reputation for brilliance than he'd had before. In 1912, he became an Anglican priest and, later that year, the Chaplain of Oxford's Trinity College.

Knox had a wicked sense of humour, and often brought this to bear in his writing projects
Knox would sometimes exercise his formidable brain by setting himself additional little challenges in the writing he produced. Two of his earliest publications were theological works criticising modernist trends in the Church of England, which Knox spiced up - if only for his own benefit - by writing one in the style of Dryden and the other of Swift. Anything less, it seems, would have left him bored by the childishly simple task of detailed theological argument.
He had a wicked sense of humour too, and often brought this to bear in his writing. Growing irritated with conspiracy theories that insisted Shakespeare could not possibly have written his own plays, Knox concocted a few cryptograms from Tennyson's In Memoriam and used these to prove conclusively that the poem had been written by Queen Victoria.
This mischief showed again in his 1911 lecture Studies in the Literature of Sherlock Holmes, where Knox set out to parody the German School's influential Biblical analysis by applying its methods to a piece of popular entertainment. The German School picked apart the text of the Bible to fret over questions like why both Matthew and Mark's gospels choose to relate John the Baptist's death as a flash-back and ask what this implied about their authorship.
Knox mocked this approach by using minor inconsistencies in the Holmes canon to conclude that Dr Watson had clearly fallen prey to drink after Holmes' death at the Reichenbach Falls. No longer able to chronicle his friend's real-life adventures, Knox argues, Watson took to making up inferior new tales by stealing plots from authors like Guy Boothby (Dr Nikola), Edgar Allan Poe (The Gold Bug) and EW Hornung (Raffles).
"Watson has been a bit of a gad-about," he argues from evidence in the stories. "His brother, so Holmes finds out by examining the scratches on the keyhole of his watch, was a confirmed drunkard. He himself, as a bachelor, haunts the Criterion Bar. In The Sign of Four, he admits to having had too much Beaune for lunch. [...] What happens? His Eligah is taken away from him; his wife, as we know, dies; he slips back into the grip of his old enemy; his practice, already diminished by continued neglect, vanishes away: he is forced to earn a livelihood by patching together clumsy travesties of the wonderful incidents of which he was once the faithful recorder." (8)
By drawing such a fanciful conclusion from highly selective evidence - and resolutely ignoring Arthur Conan Doyle's role in the stories' declining quality - Knox hoped to make the German School's method look equally silly. Instead, many Holmes fans simply took the lecture at face value, making it a foundation stone for their own obsessive study of the stories. Even Doyle seemed to miss the joke, writing to Knox a few months after the lecture was published to take up its criticisms over four excruciating pages.
Thirty years later, Knox was still assumed to be an authority on Holmes, and was regularly approached by editors hoping he'd agree to review the latest Sherlockian tome. "I can't BEAR books about Sherlock Holmes," he replied to one such request. "It is so depressing that my one permanent achievement is to have started a bad joke." (9)
Knox taught at Shrewsbury school for a while during World War I, and then began working for the War Office. In 1919, he left the Church of England to become a Roman Catholic priest. The BBC launched its first radio broadcasts in November 1922, and Knox began his own radio career with a few short sermons the following year.
British radio in those days was regulated by the Post Office, which depended on the newspaper industry for much of its income. This gave newspaper owners the leverage to ensure the BBC's news service was severely curtailed. No news summaries were allowed before 7:00pm, to prevent broadcast news competing with the evening papers, and the BBC was banned from giving any sporting results for the same reason. As late as 1926, its live broadcast of the Derby went out only on the strict understanding that it must not reveal who won.
Despite these restrictions, and despite the fact that only a single station was available, radio quickly became a popular medium. In 1923, the BBC started producing Radio Times, a magazine listing its exact schedules for every day of the coming week, producing an extra surge of interest in the service. The following year's broadcast of cello player Beatrice Harrison dueting with a nightingale in her garden began an annual series which produced over 50,000 fan letters for her.