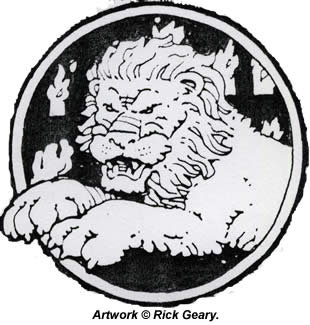 "The giant girl, Anna Swan, was rescued with the utmost difficulty," the New York Tribune reported. "A portion of the wall was broken off on each side of the window, the strong tackle was got in readiness, the tall woman was made fast to one end and swung over the heads of the people in the street, with 18 men grasping the other extremity of the line, and lowered down from the third storey amid enthusiastic applause" (13).
The animals at the museum - lions, kangaroos, bears, tigers - were not so lucky. Those unable to escape into the streets of New York either turned on each other or died horribly in their enclosures. The Tribune estimated that 40,000 people gathered outside the museum to watch it burn and see the bedlam all around it. "Barnum's was always popular," the paper said. "But it never drew so vast a crowd before."
The fire cost Anna $1,200 in gold from her savings, a lot of cash and most of her belongings
The fire cost Anna $1,200 in gold from her savings, plus a substantial sum in cash and most of her other belongings. Barnum sent her home to New Annan to rest while he set about building a replacement venue. In September 1865, Anna returned to New York with an improved contract at Barnum's new American Museum, giving her 10% commission on the sale of all photographs, souvenirs and books carrying her likeness.
Anna hadn't been back in New York long when Barnum's new building was destroyed by a fire of its own in March 1868. This time, the panicking animals woke his stars quickly enough for them to adjourn across the street to an all-night tavern and wait for the fire department there. They were fighting another blaze already, and so took an hour to arrive at Barnum's, by which time they found that night was so cold the water froze in their hosepipes and the building was lost. We know some of the animals escaped this time, because a New York cop later shot a tiger he found stalking round the streets.
Anna had to work while reconstruction continued again, but knew her contract meant she'd have to pay Barnum a hefty royalty for any performances outside Nova Scotia and New Brunswick. In October 1868, she set off to tour the Nova Scotia towns of Albian Mines, Amherst and New Glasgow with a 3' 6" Scottish dwarf called Robert Bruce Jr as her support act.
As part of the show, Anna would wrap a tape measure round her waist, and then invite a woman in the audience to do the same. The length of tape required to circle Anna's waist just once would go three times round the average woman's waist. She was internationally famous by now, and drew big crowds everywhere she went. At one stop of the tour, people followed her to milliners, where they were amused to see Anna sit down while the assistant stood on another chair behind her to adjust the hat she'd chosen.
Anna was back with Barnum's operation in time for the 1869 US shows which led to her first meeting with Martin, then had Barnum book her on an eight-month European tour. A London diarist called Arthur Munby paid a shilling to attend her reception at the Egyptian Hall in Piccadilly on March 15 that year. "She sat like a Colossos among the crowd, taller by a head than the men who stood around her; and when she rose there seemed no end of the rising," he wrote. "I looked up at her and spoke to her with great interest. Even thus, it seemed, one might speak with some creature of a larger species from another world; not human, yet belonging to a like grade of being" (14).
The British Library has a poster advertising Anna at the Egyptian Hall in what may well be the same show (15). This shows her as a solo act, billed "The Largest Woman in the World" and headlining above Chang and Eng, the original Siamese twins. The twins were big stars in Victorian London, and it's a measure of Anna's drawing power that she could force them from the top of the bill. Just two years later, she'd return as part of a double act with her equally impressive husband, and put even that fame in the shade.


Martin and Anna left England for the last time on July 2, 1874, sailing to Nova Scotia. They spent some time with Anna's family in New Annan, where a ten-year-old girl joined the crowd outside their house. "They came out and mingled among the people in a very friendly manner," she later remembered. "When they returned to the house, not only did they have to stoop to get inside, but they had to turn sideways as well."
The next stop was Seville in Ohio, where Martin bought 120 acres of prime farmland. Anna had been diagnosed with consumption by this time, and they hoped Seville's lakeside site would help her condition.
The Bates' stay in Europe had been a lucrative one, and they arrived in Seville with a lot of money to spend. They set about designing a custom-built house where everything could suit their size and engaged local builders to begin work. The house, built from yellow pine on a timber frame, was completed in 1876. It had 14-foot ceilings, 8½-foot doors and giant furniture for Martin and Anna's use. After a lifetime of frustration at living in a world where everything seemed built to three-quarters scale, they finally had a home which suited their own bodies.
Lee Cavin describes the house in his 1959 book There Were Giants on the Earth! "From a side view, the house seemed to be built in stair steps," he writes. "The front portion, with high ceilings, doors and windows was for the use of Captain and Mrs Bates. It had two side entrance doors and a porch across the front. An open stairway and fireplaces with mantels of imported marble graced this portion. Sliding doors between rooms were panelled in rare woods. Toward the back, the house, which was in four sections, each nearly square, dropped in height. Local explanation for this was that rear portions were used exclusively by servants, and Captain Bates saw no need to waste ceiling space on people who didn't need it" (16).
Martin, who had supervised the construction personally, stocked the surrounding farm with Percheron horse and shorthorn cattle. The carriage he and Anna had built was pulled by two huge Clydesdales, each 18 hands high. In the winter, they pulled the couple's sleigh instead.