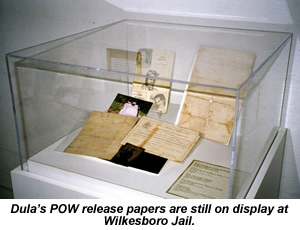 But there was evidence on the other side too. The same paper allowed that Tom had fought gallantly on the Confederate side and won a reputation for bravery there. At least one other Company K veteran, his friend Washington Anderson, was prepared to swear in court that Tom had conducted himself well as a soldier.
Tom's rank changed from private soldier to musician at the beginning of 1864, indicating that he'd become a drummer, responsible for beating out the charge or retreat in battle and setting the rhythm for marching drills back at camp. He saw quite a bit of action in the year that followed, fighting at Cold Harbour, Petersburg and Kinston. That last engagement proved his undoing, leading to Tom's capture as a POW in March 1865, and three months' stay in a Yankee prison.
The Civil War ended a month or so after Tom was captured, but he remained a POW until June 11. Already, his own regional pronunciation of the family name was causing confusion, and he found the oath of allegiance he was required to sign to the newly-restored USA listed him as "Dooley". He put his mark to that spelling rather than risk his release, but could not resist scrawling "Dula" above it as well.
As hostilities wound down, many of the less enthusiastic Confederate soldiers in Tom's part of the country had fled their regiments to the mountains around Elkville to hide from the former comrades who now wanted to shoot them as deserters. The continuing presence of these men in Wilkes County's hills added to the lawless atmosphere there, and Tom must have wondered what other changes he'd find when he returned home.
None of this merry bed-hopping would have mattered if not for the fact that Pauline had syphilis
The end of slavery meant Happy Valley's aristocrats were a good deal less wealthy than once they'd been, though still a substantial cut above their hill country neighbours. Times were hard in the uplands, with society in ferment at every level, old Civil War resentments still playing themselves out nearby, and starvation a very real prospect for the poor. People in Elkville and a dozen other small communities like it began to replace former slaves on the big plantations, becoming sharecroppers or tenant farmers there, but continuing to live in their own ramshackle settlements.
One of those tenant farmers was Wilson Foster, who shared his own cabin with his daughter Laura. Folklore describes Laura as a beautiful girl with chestnut hair and blue - or green, or brown - eyes. She had very distinctive teeth, slightly larger than average, and with a noticeable gap between her two central incisors. Her mother's death between 1860 and 1866 may explain why Laura had started to run a little wild. By the ripe old age of 22, she'd secured a reputation for "round heels" - a local phrase denoting the ease with which she could be toppled onto her back - and it wouldn't be long before Tom sought her out.
Wilson first found his daughter in bed with Tom in March of 1866, and later testified that the young man had come calling on Laura about once a week. Often, he spent the night with her, alternating his visits there with his now-customary trips to Ann's bed. It was also in March 1866 that Ann's cousin Pauline arrived from the next-door Watauga County to work as a live-in housekeeper at the Meltons' place. Pauline's heels were even rounder than Ann or Laura's, and it wasn't long before Tom was screwing her too.
"I slept with Dula for a blind at Ann Melton's insistence," Pauline said when questioned about this in court. "I [also] stayed out at the barn with him at his request." Pauline was "remarkable for nothing but debasement," the Herald's reporter declared. Foster West calls her "depraved, immoral and promiscuous," adding that she may also have been an alcoholic.
So, let's review for a moment. In the Spring of 1866, Tom was sleeping with Ann, Laura and Pauline. Ann was also sleeping - at least occasionally - with her husband, and quite possibly a couple of other men as well. Pauline, we know, slept with Ann's brother Thomas, and was said to have bedded her own brother Sam too. Tom's the only bedmate of Laura's we can put a name too, but her reputation suggests there were others.
None of this merry bed-hopping would have mattered much if it hadn't been for one awkward fact. Pauline had syphilis.


Pauline had contracted the disease before leaving Watauga County, and come over the border to Wilkes in search of medical treatment. George Carter, the only doctor for miles around, lived in Happy Valley, and Pauline had taken the housekeeper's job to pay him for the blue mass, blue stone and caustic he prescribed. "I admit I have this venereal disease," she testified years later. "I came to James Melton's to get cured, and worked with him for money to buy medicines." Ann and James agreed to pay Pauline $21 (about $300 today) to stay with them and work throughout the Summer, but she told no-one the real reason for her visit.
It takes about three weeks from catching syphilis to the first appearance of its tell-tale chancre on the penis, and Tom presented precisely that symptom when he visited Dr Carter in the Spring of 1866. "About the last of March or the first of April, the prisoner applied to me for medical treatment," Dr Carter said. "He had the syphilis. He told me he caught it from Laura Foster."
That's probably what Tom believed himself, but he would have known nothing about Pauline's infection. She'd arrived in Wilkes County on March 1 and, assuming a week or so passed before she and Tom first slept together, the timing would be about right for the disease to have come from her. Meanwhile, of course, Tom was still screwing both Ann and Laura, each of whom had other sexual partners of their own.
Soon, Ann and Laura were showing symptoms of syphilis too, and Ann claimed she'd also passed it to James. The local name for this infection was "the pock" and Lord knows how many people may have eventually been caught up in Pauline's chain of disease. Challenged about her health by Ann a few months later, Pauline angrily replied "We all have it!"
For now, though, Pauline's pock was known only to her and Dr Carter. Tom still believed Laura had given him the disease, and told a neighbour in the middle of May that he intended to "put through" the woman responsible. The neighbour, knowing this regional phrase meant Tom planned to kill her, tried to dissuade him.
A week later, Tom visited Laura and spoke privately with her for about an hour. They had another, equally intense, conversation on May 23, leading Laura to tell one of her own neighbours that Tom had promised to marry her. "Very possibly, Laura Foster was pregnant," Foster West says.
On Thursday, May 24, Ann took Pauline to one side, told her Tom had caught the pock from Laura and said that she - Ann - now had it too. Ann told Pauline she was going to kill Laura in revenge, and threatened to kill Pauline too if she ever reported this conversation.
Later the same morning, Pauline was alone at the Melton house, when Tom turned up. He said he'd met Ann on the ridge, and she wanted Pauline to give him some alum for the sores on his mouth and to lend him a canteen. Pauline handed the two items over, and Tom gave the empty canteen to a man called Carson McGuire, telling him to fill it with moonshine liquor.