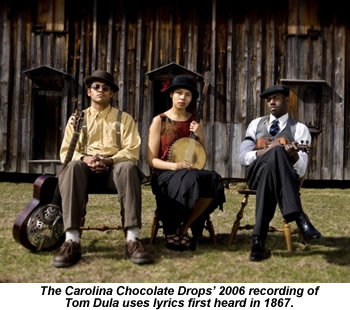 It's also unclear whether Sutton's three verses comprise the whole of the song as she found it, or just the first half. The 1867 verses she quotes, though, still survive almost untouched in many modern readings of the song. The Carolina Chocolate Drops, for example, open their 2006 recording of Tom Dula with these 12 lines:

"Hang your head Tom Dooley,
Hang your head and cry,
Killed poor Laura Foster,
And now he's bound to die.

"You took her on the hillside,
Where you begged to be excused,
You took her on the hillside,
Where you hid her clothes and shoes.

"You took her on the hillside,
For to make her your wife,
You took her on the hillside,
And there you took her life." (10)

Sutton seems to have seen this coming. "The story is just the kind to be written in a ballad and sung for generations," she wrote in her letter to Brown. "It has all the ballad essentials: a mystery death, an eternal triangle and a lover with courage enough to die for his lady."
Six months till the next trial meant six months more life, and why waste a chance at that?
The third ballad she contributes is the one which folklore insists Dula composed himself, and sang to the waiting crowds on his way to the gallows. We'll come to the Herald's comprehensive report of Tom's execution a bit later, but it certainly doesn't mention any incident like that.
Sutton's third ballad also opens by giving Tom an instrument no one in the historical record ever mentions him playing:

"I pick my banjo now,
I pick it on my knee,
This time tomorrow night,
It'll be no use to me." (9)

The remaining five verses, all narrated by Tom in the first person, tell us that the banjo's helped him pass the time in jail, that Laura used to enjoy hearing him play it, and he was too much of a fool to realise how much she loved him. It's only the opening verse that still survives today though, sometimes with the instrument corrected to become a fiddle before it's allowed a place in the main ballad. Banjo or fiddle, the sentiment remains constant, as in this verse from The Elkville String Band's 2003 recording:

"You can take down my old fiddle boys,
And play it all you please,
For at this time tomorrow,
It'll be of no use to me." (11)

By 1867, then, we've already got much of the ballad we know today. The chorus The Kingston Trio made famous is already 90% complete, and at least one of their three verses is substantially finished too. As Tom waited in Statesville jail for news of his appeal, the balladeers were still at work, and it wouldn't be long before they had the song's remaining elements in place.


North Carolina's Supreme Court ruled that Buxton had been wrong to admit some of the evidence he'd allowed his jury to hear, and granted Tom a new trial as a result. The new trial date was set for April 17, 1867, and Tom had to wait in jail with Ann until that day arrived.
In fact, he had to wait a lot longer that that. When the Supreme Court gathered on April 17, three of the subpoenaed witnesses failed to turn up. Vance argued that these three individuals' testimony was crucial to his client's case, and persuaded Judge Robert Gelliam to postpone the trial till October 14 as a result. The court then met only twice a year - Spring Term and Fall Term - so this was simply the next date available.
There's a hint of opportunism in Vance's actions here, as one of the missing witnesses was FF Hendricks - presumably a member of the same family that had gossiped about Tom's guilt back in Happy Valley. It's hard to imagine that his testimony would have done anything but hinder Tom's case, so perhaps Vance simply seized on any opportunity to win his client a delay. Six months till the next trial meant six months more life for a man so close to execution, and why waste a chance at that?
When October 14 came round, it was the prosecution's turn to object. This time, the missing witnesses were James Simmons, Lucinda Gordon and James Grayson, each of whom the court fined $80 for failing to attend. Caldwell won his bid for another continuance, but this time the court decided on drastic action. It would set up a special Court of Oyer et Terminer ("hear and determine") to clear the state Supreme Court's growing backlog, and that court would hear Tom's case on January 20, 1868. By that time, Laura would have been dead for 20 months.
The new court convened on time, with Judge William Shipp presiding. Shipp had been a member of North Carolina's General Assembly before the Civil War and a signatory to the state's secession ordinance. He'd raised a Confederate company during the war, acting as its captain in battle, and been a state senator since 1861. He'd been a judge for about six years when this final Dula trial began, and practiced law since 1843.
Another jury was selected and sworn in on the court's first day, and the trial proper began on Tuesday, January 21. The evidence presented was much the same as that heard at Tom's first trial - presumably without the inadmissible stuff Buxton had allowed - and the new jury found Tom guilty all over again.
Shipp set Tom's nominal execution date for February 14, but granted Vance's request to appeal his Oyer et Terminer court's decision. On April 13, 1868, North Carolina's Supreme Court ruled there was no error in Shipp's proceedings, and set yet another execution date for Tom. This time the date - May 1, 1868 - would stand.
Eliza Dula, Tom's sister, arrived at Statesville jail with her husband on the night before the hanging. Ann was still in jail too, waiting for her own trial, but Tom refused to say anything that would either implicate her in Laura's murder or clear her from it. Eliza passed Tom a note via his jailers, which contained his mother's plea that he should at last tell the full story behind Laura's death. Only this, Mary Dula said, would give her the peace of knowing once and for all whether her son was a murderer or not. Tom asked the jailers if he could speak to Eliza in person but, when this was refused, opted to say nothing more.