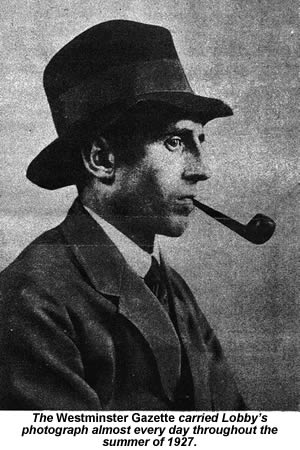 "For half an hour, I had been skirmishing in and out of Aldwych and along Kingsway, through the densest crowd I have ever encountered since I became a Missing Man. It stretched all the way from Holborn to the Strand and beyond; it overflowed into all the side streets; it eddied and swirled in one vast mass under Bush House, Shell Corner and the Air Ministry. It chased 'doubles' this way and that, who endured their sudden and surprising publicity with typical London sangfroid and good humour. Everyone was smiling and laughing."
- Lobby Lud, Westminster Gazette, September 16, 1927.


It's Mr Henderson's friend I feel sorry for. This poor fellow, wandering innocently round South London's Elephant & Castle district one rainy Tuesday afternoon, was challenged 20 times in the space of an hour by Londoners determined to claim the Westminster Gazette's cash prize. They had mistaken him for Lobby Lud, the paper's "mystery man", who it dispatched to a different London neighbourhood each day, printing his photograph and description in the paper and challenging readers to spot him as he followed his published rounds. Anyone who looked even vaguely like Lobby found themselves chased relentlessly by Gazette readers, who often refused to believe their most vehement denials.
Henderson, who detailed his own adventures in a letter to the Gazette next day, does not give us his friend's name. But we can make an intelligent guess that he must have been about 5 feet 3 inches tall, aged about 35, and clean-shaven, with dark hair and perhaps a mole on his right cheek. That's the description of Lobby which the paper regularly gave its readers, printing the details beneath a profile photograph of a dapper young man in a suit and tie, wearing a felt fedora and with a pipe clenched between his teeth. Henderson's friend may not have looked precisely like that, but the resemblance was evidently close enough to make his passage through Elephant & Castle a trying one.
"We had no sooner taken shelter from the rain under the canopy of a tobacconist's shop when four persons took up their positions near us and openly stared at my friend," Henderson says. "Realising it was a case of mistaken identity, we crossed the road to the doorway of a large store. We were presently joined by a youth who had followed us. He was trembling with excitement and asked: 'Are you Mr Lobby Lud?' The youth was not satisfied he had made a mistake, for he followed us about for the remainder of the time we were in the vicinity." (1)
The two men tried to escape by boarding a 4A bus for the City, not knowing that was one of the routes the Gazette had advertised Lobby would ride that day. There were immediate cries of "There he is!" from four girls inside the bus, so Henderson and friend fled to the upper deck. "They followed us to the top of the bus," he reports. "But, although they and the rest of the passengers were satisfied that Lobby Lud was amongst them, they could not summon up enough courage to challenge my friend. A smart youth who boarded the bus at Blackfriars Bridge, however, challenged my friend whereupon, despite the negative reply given, two other challenges, more comprehensive, were delivered.
At first, the Gazette presented Lobby as a fugitive, casting its readers as the pursuing detectives
"We left the bus as it was going up Ludgate Hill, and turned into Amen Court. We glanced round in time to find our fellow passengers on the bus in full chase. So we took to our heels and were soon back to the common ground after a very eventful hour."
Henderson's companion was not the only Lobby lookalike having trouble that day. Mr H Campbell's business took him to Brixton - another of Lobby's advertised stops - where he found a huge crowd waiting. "The next minute, someone slapped me on the shoulder and said 'You are Lobby Lud. I claim the Westminster Gazette prize'," he says. "Later, I was challenged five times and, outside the Bon Marche, two young women and a man made a run for me. I decided to go and drown my sorrows in a café, and dash it if I wasn't challenged there too."
While all this was going on, the real Lobby was visiting Camden Town Tube station, Brixton's branch of Woolworth's and Elephant & Castle's Express Dairy, but reports not a single challenge. The crowds, however, were gratifying. "I could hardly move about the Elephant for the Lobby hunters who packed every pavement and overflowed across the roads," he says. "All seaside records were broken."


Lobby had started his career as a hunted man six weeks earlier, 112 miles north east of London in the seaside resort of Great Yarmouth. The Gazette launched him on the world in its July 30, 1927, edition, renaming its reporter Willy Chinn after the telegraph address used by its Lobby correspondents at Ludgate Circus. The paper printed Lobby's trademark photograph for the first time, gave a brief description of his appearance and listed the clothes he'd been wearing when last seen. He'd be touring Britain's seaside resorts throughout the summer, it announced, starting with a Bank Holiday visit to Great Yarmouth on Monday, August 1.
Any Gazette reader with a copy of that day's paper who challenged him with the precise words "You are Mr Lobby Lud - I claim the Westminster Gazette prize", would win £50. That prize would climb to £100 if Lobby remained undetected for one week, £150 after two weeks, and £200 after three weeks. Two days later, this was amended to say that only the first successful challenger each day would get a prize, but otherwise the competition's core rules remained unchanged.
In this first shaping of the idea, the Gazette presented Lobby as a fugitive, casting its readers as the pursuing detectives. The £50 was described as a "reward" for their "detection" of what the paper called "a Missing Man".
"Now and again, the newspapers report the disappearance of well-known persons," it continued. "It is noteworthy that - despite the published details concerning the missing individual - he or she sometimes manages to avoid detection for a considerable time, even when the period of disappearance is spent amid surroundings much frequented by the general public. [...] The most amazing case of the kind in recent years was the disappearance of the novelist Mrs Agatha Christie." (2)
Christie, who has been out-sold only by William Shakespeare and the Bible, had already published six of her 80 detective novels when she disappeared in December 1926. The first three of her Hercule Poirot novels were already on the shelves, including The Murder of Roger Ackroyd, then in the best-seller lists and still considered her masterpiece. She was known to suffer from depression, however, her mother had died earlier that year and, on the night of December 3, she quarreled with her husband Archie over the affair he'd admitted having with a woman called Nancy Neele. (3,4)
After the row, Archie left the couple's Berkshire home to spend the weekend with Neele in the next-door county of Surrey. Christie announced she was going for a drive, leaving a note saying she intended to visit Yorkshire. Next morning, her car was discovered abandoned a few miles away, with assorted clothing and documents scattered around inside. Surrey police received a letter from Christie - posted before her disappearance - saying that she feared for her life, and a missing persons hunt was launched.
The press went into overdrive at this point, speculating that the well-known crime author had been murdered, committed suicide or simply hit on an original publicity stunt. Her car, they pointed out, had been found within a quarter-mile of Silent Pool, a Surrey lake. Police had the lake dredged and recruited 15,000 volunteers to search the surrounding countryside. The faithless Archie quickly became a murder suspect, with the police tapping his phone and keeping a close eye on his movements.
This went on for 11 days, at which point Christie was discovered at a Harrogate health spa, where she had signed in on December 4 under the name Teresa Neele. Her picture was appearing regularly in the newspapers throughout this period, and several of the spa's other residents claimed to recognise her there. But Christie always laughed off what she insisted was a purely co-incidental resemblance, and it was not until someone at the spa contacted police directly that the whole affair drew to a close. Archie was brought to Harrogate, where he confirmed Christie's true identity, and the family went into seclusion while all the fuss died down.
Eventually, they announced that Christie had been suffering from amnesia brought on by grief over her mother's death. Christie divorced Archie in 1928, and later married the archaeologist Max Mallowan. She never referred to the episode again. (5.6)
'In order to provide holiday-makers with the thrill of a real hunt, Lobby Lud will similarly disappear'
Christie's disappearance was still a fresh memory when Lobby made his debut in July 1927, and it was her case which directly inspired his adventures. "For more than a week, while hundreds of police and volunteers were scouring the Surrey Downs for her body, she was leading a perfectly normal life in a big Harrogate Hydro," the Gazette reminded its readers. "In order to provide holiday-makers with the amusement and thrill of a real missing-man-hunt, Mr Lobby Lud, the Westminster Gazette Missing Man, will similarly 'disappear'."
Lobby got off to a slow start at Great Yarmouth, reporting encounters there with a beach photographer, a lifeboat veteran, a mounted policeman and a coronet player on the bandstand. Several Gazette readers stopped to stare at him suspiciously as he passed, comparing his profile to the handbills the paper had already distributed around town, but none plucked up the nerve to challenge him. In his dispatch the following day, Lobby makes the most of every "narrow shave" and "lump in my throat" he could concoct, but the overall tone is of someone trying to make an unremarkable day sound more dramatic than it really was.
"I started out that Monday morning at Great Yarmouth not having the least idea of how it was going to turn out," Chinn later recalled. "I knew I had to carry out the engagements and provide, as far as I could, evidence that I had been where I was supposed to be. And, secondly, make sure that it made a useful holiday season story." (7)
Lobby made his way round the south coast of England for the rest of that week, stopping for a day at each big resort as he went. In Clacton, he found himself sharing a small boat with a complete stranger, who their companions challenged while leaving him untouched. In Southend, he inspected a chalk reproduction of his Gazette mugshot on the pier, in Margate he lunched directly opposite the posters bearing his likeness, and in Folkstone he gave the barber an extended opportunity to study his face by getting a haircut. Lobby reported steadily-growing crowds at each new town he visited, but still no-one had challenged him. Each day, he reported his progress round another town, giving just enough details to prove that he'd actually been at each spot and met the people he mentioned there. He also took care to throw in a few good-natured taunts at the opportunities for easy money they'd missed. One week in, and the prize was now £100, but still there were no takers.
The only sign of the mayhem to come was the trickle of stories from harassed Lobby "doubles" which the Gazette now started to run. The first of these, signed only "a husband from Cambridge", detailed an awkward encounter on Clacton seafront. "Married life in these days is a big enough problem without being taken for Mr Lud," he complained. "I was sitting peacefully on the front in a deck chair when a fashionably-dressed young girl came up to me smiling. I looked the other way. She pushed a Westminster Gazette into my hands and asked me for £50. It took her some time to explain to my wife." (8)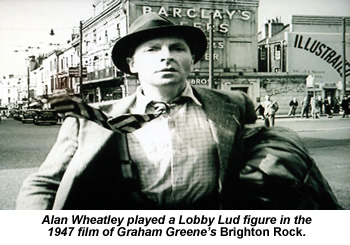 Mr FH Watkins of Tooting wrote to the Gazette saying he'd been stopped "every few minutes" by Lud-hunters, and ended their pursuit only when he thought to remove his hat. He had enough of a sense of humour about the incident to sit for a Gazette photo, posed and dressed exactly as Lobby himself, and this appeared as the first in a series of Lobby doubles whose pictures the paper ran. Any one of them could be the real thing.
By Tuesday, August 9, someone at the paper was evidently starting to worry that Lobby would never be found, and that people would therefore lose interest in the promotion before it had properly begun. That day's paper carried a much more detailed description of Lobby's planned itinerary than had previously appeared, announcing that he would be passing Eastbourne's Wish Tower at about mid-day, and would be on the pier at 3:00pm. Lobby himself seemed glad people were being given this information, lamenting his solitary progress round Hastings and its people's infuriating inability to find him. "This is a lonely life," he wrote. "If only some really charming seaside girl would approach me and say 'You are Mr Lobby Lud, I claim the Westminster Gazette prize,' I believe I should propose to her on the spot." (9)
In fact, that's slightly misleading. Lobby's reports were always phrased to suggest he travelled alone, but he actually had two regular companions on the tour. Elfreda Heywood and Trevor Allen, two other Gazette employees, went everywhere with Lobby, Heywood to deal with any successful claimants and Allen to help him keep notes throughout the day and write up his adventures for the paper. Heywood, then in her early 20s, would sometimes stroll around town on Lobby's arm, providing a useful distraction for anyone assuming he'd travel alone.
'It has been the most astonishing day of my life,' Lobby told his Gazette readers
Even with Allen's help, Chinn knew that he's sometimes need a moment's peace to take some discrete notes of his own, so he took to studying each new town's map in advance to seek out quiet spots where this might be possible. "There's a library there, there's the Post Office there," he later explained. "If a cemetery was anywhere near the ground I was on, just for a few minutes to get my memory into print as it were, I'd use a cemetery. I reckon I've been in more cemeteries in this country than any other journalist."
Prompted by that extra bit of detail about Lobby's movements, Eastbourne's holidaymakers turned out in the biggest crowds yet, packing the area round the Wish Tower and the pier at noon and 3:00pm respectively. "It has been the most astonishing day of my life," Lobby told Gazette readers. "Everyone went about challenging everybody else. Some innocents who bore a resemblance to me were pulled up six times. Every few seconds, someone would be mobbed by a crowd which scuttled and surged this way and that with every false alarm. Some men were heavily mobbed, and I saw one sitting in despair on the grass in the midst of a challenging crowd, because he could not convince them he was not the elusive Lobby Lud."
It was the same story on the pier, where Lobby witnessed "sensational scenes unparalleled in the history of Eastbourne". His doubles were now not only being hunted, but pursuing other doubles themselves. "Possible 'Lobbies' who were themselves searching for me were followed about by huge crowds," Lobby wrote. "One fellow who bore a resemblance and wore a type of hat shown in my photograph had to take refuge in the Skeeball alley and then on the tier balcony. [...] Another little fellow, in a waterproof cape at 4pm, when he had a very rough hour, had to solicit the assistance of a police sergeant to extricate himself from the crowd - which he did laughingly." (10)
So, we were off and running at last. Lobby spent two hectic days in Brighton, fending off challenges there only by seeming to join the hunt himself. "Fifty times today, I escaped by seconds and inches," he writes. "A tall fellow on the pier went about challenging everybody, saying 'I mean to get him'. When he fixed me with a glare, I hurried off and challenged the first small man I could find. I am convinced that I only contrived to survive today's inquisition by searching diligently for myself."
Lud lookalikes were having a rough time of it in Brighton too, with one man reporting he had been accosted seven times in just 20 minutes - despite the fact that he was nearly a foot taller than the real Lobby. "The road outside Lyons chief branch is practically impassable," he complained. "I shall have to adopt a disguise to reach home safely." Another Lobby double boarded the bus, where the conductor promptly seized his left hand to show that he - like Lobby - wore a ring on its middle finger. It was only when the inspector grabbed this innocent's face and discovered no mole on his cheek that he was allowed to escape. (11)
The weariness Lobby had felt in Hastings was now forgotten, replaced by his evident exhilaration at the fuss he was causing and some relief at escaping Brighton in one piece. "My two days in Brighton - the most exciting of my life - are over," Lobby reported. "When I came off the Palace Pier this afternoon, I did not know whether to laugh or weep. I was in a state bordering on collapse. [...] The psychology of this man-hunt was beginning to grip me like a drug." (12)
The Gazette's August 13 issue took an opportunity to sum up the scheme's first fortnight, boasting that about three million holiday-makers had now had a chance to find Lobby, and that not a single one had succeeded. "Professional detectives, even the intelligence departments of local police forces, have joined it," the paper claimed. "Municipal authorities await eagerly a visit from the Mystery Man who will bring such crowds to their holiday towns." Local councillors in Blackpool, Scarborough, Harrogate, Torquay, Aberdeen, Llandudno and a dozen other towns had all realised that the influx of Lud-hunters meant extra income for the town, and couldn't wait till their turn came for his attentions. Letters poured in too from individual residents of the towns round Britain's coast, anxious to have a crack at the prize themselves.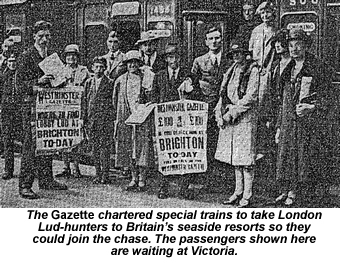 Meanwhile, Lobby himself was causing a stir in Southsea, where he found crowds every bit as keen as those in Brighton. His unwilling doubles had been joined by a handful of what we'd now call Lobby wannabes. Our hero spotted the first of these specimens near Southsea's South Parade Pier. "He went out of his way to look as much like me as possible," Lobby reports. "Cocking his pipe at the correct angle, and exulting in the turmoil he was creating. Another double, complete with mole and ring - the mole on the wrong side - sat on a side seat, with a huge crowd holding an inquest on him, detail by detail."
Southsea was followed by a two-day stop in Bournemouth, where even a spell of heavy rain failed to dissuade Lobby's pursuers. Writing up his first day in the town, he seemed to feel the hounds were drawing uncomfortably close, and that the next afternoon's scheduled visit to Bobby's Stores would be his undoing. As things turned out, he never got that far.


Lobby's second day in Bournemouth - Monday, August 15 - began with a visit to Boscombe Pier, where the Gazette had promised he would appear between 10:00am and 11:00am. When he reached the pier, he found only one of its entrance turnstiles working, forcing holidaymakers to enter one by one in a slow, manageable queue. Stationed next to the turnstile was George Rowley, a partner in a Tottenham building firm who was holidaying in Bournemouth with his family, challenging every likely candidate as he passed through.
When he reached Boscombe Pier, Lobby found only one of its entrance turnstiles working
"My rendezvous at Boscombe Pier this morning was too, too, precise," Lobby reported in the next day's paper. "I didn't stand a chance." He approached the turnstile just before 10:30am, Rowley duly challenged him with the Gazette's precise form of words, Lobby congratulated him on his find, and that was that. "He smiled a bland £150 smile," Lobby reports. "We linked arms quietly and strolled on to the pier together through the crowd." Seconds later, two other hopefuls came up and challenged Lobby , who confessed his identity, but told them they were too late. "We left quietly, my captor and I," he says. "But I have been told since that the news spread with a lightning flash over the pier, through the crowd at the entrance, along the undercliff promenade and into the town itself." (13)
Rowley gave the paper his own version of the story in that afternoon's interview. "I followed the daily excitements of your tour in the paper, from Yarmouth onward, day by day, and decided to have a good go at you if you came to Bournemouth," he told Lobby. "When I saw in the paper this morning that you were to be on Boscombe Pier between ten and eleven, I decided at once to challenge every man of near your height who passed through. There was another fellow opposite me doing the same, but he seemed to get a little tired of tackling everyone.
"At ten o'clock, I first made a thorough search of the pier, to make sure no-one of your description was already on it. When you came along, I had already challenged about half a dozen people. I never troubled about the mole or anything of that sort."
Asked what he planned to do with the £150 - worth over £6,700 today - Rowley said he planned to fit out the new house he had just built for his family. He confirmed also that Lobby's photograph and description in the paper were both perfectly accurate, and called the whole competition "a very fair and sporting thing". The Gazette cancelled Lobby's planned visit to Weymouth the next day so that he could stay on in Bournemouth for the mayor's presentation of Rowley's cheque, which was carried out with great fanfare on the pier's bandstand. "I am proud that a Bournemouth visitor won the prize after all the others failed," Mayor Thwaites told the crowd. "I have always said that invigorating air and delightful surroundings produced clarity of vision, which enabled one to be detected at once." Mr Hardaker, the Gazette's circulation manager, agreed that Bournemouth's air probably had a lot to do with it. (14)
Anxious to keep the pot boiling, the Gazette announced that Lobby would resume his tour with Wednesday's visit to Torquay, resetting the clock to £50 at that point, moving on to Shrewsbury on Thursday, and Blackpool for Friday and Saturday. A special train, christened The Lobby Lud Express, would run from Euston to Blackpool in the early hours of Saturday morning, depositing London visitors in the north-west resort at 6:25 in the morning, ready for a full day's hunt.
The train was packed when it left Euston, with the passengers equipped for every conceivable weather and carrying enough food to sustain them till the return journey at 11:45 that night. "We crammed every seat on the train," said the Gazette's man on board. "Hundreds of us, full of vim and resolve."
Many passengers had dressed up as Lobby Lud for the journey. "I might be mistaken for him, see?" one lookalike explained. "That'll give me a good laugh to begin with, and put the other chap off, knock one competitor out. Then old Lobby'll tumble across me and be so surprised at meeting himself that he'll give himself away!" (15)
Even this optimist could not have guessed that Lobby would have the nerve to meet the hunters' train as it arrived at Blackpool station. This, as Chinn later explained, had been Hardaker's idea. "I pointed out to him the risk that could be, but he was quite prepared for it to happen," Chinn said. "So this train was due in, and there I met it. On the side of the engine was a big, bold sign 'The Lobby Lud Express'. And actually, as the people got out of that train, they could have challenged me straight away. But I suppose it never occurred to them."
Special trains were booked again from Victoria a few days later, when over 50,000 people from towns all over Southern England were expected to flood into Brighton for Lobby's return visit there. In the event, the booked trains were not enough and special relief services had to be added at the last moment. Later visits to Margate, Hastings, Bournemouth (again) and the Isle of Wight were also given their own trains.
Lobby continued his adventures round Britain's coastal resorts for another three weeks, reporting the usual collection of near-misses, harassed doubles and colourful encounters. He had his photograph taken with a lady midget on his knee at the top of Blackpool Tower, drew massive crowds in Brighton and noted familiar faces in some towns as he realised a handful of particularly determined Lud-hunters were following him from one destination to the next. On his return visit to Great Yarmouth, he found the town beset by rumours that local CID men were searching for him on the pier, and allowed a little paranoia to creep into his thinking. Who was that suspicious fellow in plus-fours, he wondered in one column. Hadn't he seen him before?
The prize had climbed to £150 again by the time Lobby reached the Isle of Wight on Saturday, September 3, and that's where he was captured for the second time. His downfall this time came at Ryde's New Pavilion, which Lobby later called "a perilously small and self-contained place". Still, the paper had promised he would be there between 2:00pm and 4:00pm and so, at the appointed hour, Lobby steeled himself and walked in. "A few seconds later, I found myself looking into a face on which I have never seen grim resolution writ so large," he reports. "It was Mussolonic in expression. It paled perceptibly, fixed me as a basilisk might its prey, seemed to imply that I had sinned against its ancestors, heirs and assigns, even unto the third and fourth generation." (16)
That face belonged to Percy Maskell, a 30-year-old unemployed decorator from the Isle of Wight, who thrust a copy of the Gazette at Lobby and made a successful challenge. He had been out of work for six weeks, and relied on 29 shillings a week unemployment benefit to support himself, his wife and his three children. He told Lobby that he'd come up from Shanklin on the train that morning with his six-year-old son. His wife, Maskell confided, thought he was mad, but he'd been determined to join the hunt. After calling at a Ryde builders he knew to see if there was any work going - which there wasn't - he'd hurried off to the seafront to join the crowds.
The Gazette's special car paraded Percy Maskell through Ryde in a seat fixed to its roof
"I stopped at least a dozen likely chaps on the front this morning," he chuckled. "I kept on looking at your photo sideways, so as to try and get an idea of what the front view would be like. For lunch, I had sausage and mashed at an eating house and challenged a fellow there. Then I saw you cross the road and enter the Pavilion. You were dark, the right height and looked like the man. First I went to one door and didn't like to go in because I had nothing to spend and I thought the waitress would object. Then I went to the other and you were just inside it. I recognised the likeness at once."
The £150 prize - equivalent to two years' worth of the unemployment benefit he was then receiving - would be "a godsend" Maskell said. He was surrounded by delighted crowds as soon as he and Lobby stepped out of the Pavilion, who congratulated him on being such a worthy winner and expressed their pleasure that a local man had won. The Gazette had a special Lobby Lud car by this time, which paraded Maskell through the town in a seat protruding from its roof while a Gazette man inside broadcast his triumph through the car's megaphone.
Lobby returned to the fray on Monday with a day in Brighton, but confessed that the stress of constant scrutiny was starting to get to him. "This morning I was in the trough of what the weather people call a deep depression," he wrote. "The inevitable reaction, I suppose, from five weeks' constant strain. If my tactics today were apathetic, and I shirked the risks which are normally my daily tonic, I ask your indulgence, and promise you the usual sensational run for your money tomorrow." (17)
Perhaps that promise was still in Lobby's mind when he reached Eastbourne two days later, making him just a fraction too reckless there. Whatever the reason, he allowed a woman called Jane Connolly to nab him in the town's Devonshire Park just two minutes before the day's 4:00pm cut-off. This came less than a week after Maskell's triumph, so Connolly won just £50 against his £150. But she still seemed delighted by the result. Connolly lived in Hove, within easy reach of the south coast towns Lobby had concentrated on, and she'd been pursuing him for several weeks.
"I hunted you all the six days at Brighton," she told him. "And followed you up at Hastings and Southsea. I realise now that I saw you in Western Road, Brighton, at the Preston Park Police Sports, and again at Brighton Station when you changed from the Hastings train to the Portsmouth one. [...] I had practically decided today that I could not afford to spend any more fares or time on the hunt and must give it up." (18)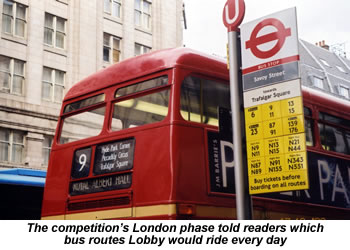 Connolly's secret, she revealed, had been to tape a copy of Lobby's picture to her dressing table mirror, where she could study it every morning and read the reports of his latest escapades. "I concluded that you were much more likely to be on the edge of the crowd instead of actually in the thick of it," she added. "I went round to all the Brighton people mentioned in your reports and cross-examined them in the hope of getting a clearer idea of what the rest of you was like to supplement the photographs. They all remembered you, and wanted to kick themselves for letting you slip through their fingers."
The Gazette carried Connolly's story in its September 8 issue, leading on her determination and the scientific methods she had applied. Next to this was another story, announcing that the competition would now enter a new phase. "LOBBY LUD FOR LONDON," its headline screamed. "OMNIBUS HUNTS FOR ALL."


The new contest, as that headline suggests, was built around London's buses. Each edition of the Gazette would list the numbered bus routes Lobby had to ride that day, specifying exactly which portion of the journey he'd do and the hours he'd be there. His first day in London, for example, would be Monday, September 12, when he would ride the number 9 from Barnes to Liverpool Street, the 11E from Shepherd's Bush to Liverpool Street, the 27 from Highgate to Hounslow and the 27A from Highgate to Twickenham. He would board the 11E near Shepherd's Bush between 8:00am and 10:00am, and then travel all four routes until 12:30pm. After lunch, he'd board a number 9 near the Strand or Fleet Street at 2:00pm and travel all four routes again until 5:00pm.
The base level for the new prize was set at £100 instead of £50, rising by another £50 every week Lobby remained undetected to a maximum of £250. Bus conductors and drivers were barred from entry, but promised £25 each if Lobby was caught on their bus and one or both could produce a copy of that day's Gazette. No challenges would be accepted before 8:00am, after 5:00pm, or between the hours of 12:30pm and 2:00pm, when Lobby must have hoped to get a bit of peace and quiet for his lunch.
The change in routine seemed to reinvigorate Lobby. The Gazette had given him a few days off before starting his London career, and he hit the capital full of mischief. He spent his opening Monday there teasing various bus conductors and, whenever necessary, challenging his fellow passengers so as to put others off the scent. On Saturday, the Gazette promised, he would be in west London's Richmond Park. "Exceptional opportunities for detection will be given," it promised. (19)
The Bush House crowds were as densely packed together as those at any rock festival
Londoners took to the chase in huge numbers, with Lobby reporting "thousands" of pursuers as early as his second day there. This was the day of Mr Henderson and his friend's persecution in Elephant & Castle, and Lobby reported similar scenes everywhere he went. "Policemen were moved to mirth as the crowds thickened and swirled about them," he wrote. "Bus and tram conductors forgot their fares and leaned overboard to bandy my well-honoured name about; tradesmen's lads swelled the chorus; shopkeepers stood grinning at their doors; postmen dallied, bag over shoulder, to debate London's latest sensation."
Lobby was having fun again, and this prompted him to resume the stunts he'd enjoyed in his early seaside days. On the Wednesday, he visited Scotland Yard to parade himself before Britain's top coppers and, finding no takers there, moved on to Westminster Bridge where he spotted a pavement artist drawing his portrait. At Temple Station, he watched a determined crowd chasing one of his doubles up the steps to street level as two policemen looked on laughing. On Thursday, he gave a daringly precise time for his passage past Bush House - 1:22pm - and then dealt with the matter by scouting the crowds in a taxi, waving and blowing kisses to them as he passed. He then plunged directly into the midst of them, pressing through on foot straight past the building and on up Kingsway.
The next day's Gazette photograph of the Bush House crowds show the wide pavements there crammed solid with people, as densely packed together as the first dozen rows at any rock festival. Many of the men are wearing hats very similar to Lobby's own, not through any deliberate effort to impersonate him, but simply because that was the fashion of the day. One or two have pipes as well. There's a dozen men in that photo alone who could be Lobby, so it's small wonder that his pursuers found it so difficult to distinguish him from the innocent by-standers all around.
The fact that Lobby was not as easy to spot as they had imagined led some Gazette readers to conclude the competition must be fixed. The paper responded by carrying a box declaring it had never employed any decoy Lobbies to distract the crowds, that the real Lobby would always confess his identity if challenged correctly and that all the printed facts about his appearance and his daily schedules were 100% true.
One reader - identified only as RM of Lowestoft - wrote in to say he had come across several people who insisted that Lobby did not really exist at all, but thought this could be explained by simple vanity. "They feel certain they can spot Lobby Lud," he said, "and, when they find on experiment that they can't, the only explanation that occurs to them is that he isn't there to spot." For his own part, Lobby continued to rely on the stock answer he'd developed early in the competition. Anyone who challenged him, but failed to get the Gazette's specified wording right, was told simply: "You are making a mistake". Whether that mistake lay in identifying the wrong man or simply using the wrong words was for them to decide. (7, 20)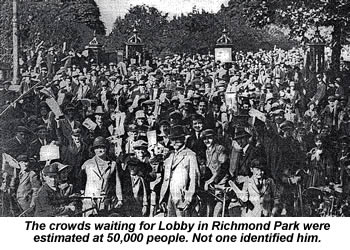 All week long, the Gazette continued to plug Lobby's appointment at Richmond Park, announcing it had laid on special coaches from central London for what it clearly assumed would be the promotion's next big milestone. The paper even carried a map of Lobby's planned three-hour progress through the park, specifying almost minute-by-minute where he would be. He'd enter at Kingston Gate between 1:30pm and 2:00pm, the map revealed, arrive at Queen's Ride at 3:00pm, pass by White Lodge a little after 3:30pm, visit Spanker's Hill Wood at 4:00pm and leave by the Richmond Gate exit between 5:00pm and 5:15pm.
The day did not disappoint, drawing an astonishing 50,000 people to the park, who lined its roadway for a quarter mile from the Kingston Gate entrance. Lobby seemed genuinely awed by what he had wrought. His report on the Gazette's front page next day describes "legions and legions of people trooping from rendezvous to rendezvous as though on a great pilgrimage; the concourse of walkers and cyclists and cars stretching from White Lodge to Spanker's Hill Wood and beyond; the genial, lovable crowds massed at the Kingston and Richmond Gates and the Penn Ponds. [...] I watched them and moved among them, amazed."


Lobby's most memorable encounter that day was with a tramp who approached him as he prepared to enter the park, asking for directions to Kingston Gate and desperate to get there on time. "And off he ran," Lobby says. "Possessed of little more than his Westminster Gazette and his hope of the £100. 'Cheerio,' I shouted after him, adding to myself: 'If anyone is to get that £100 today, I hope it's you'." (21)
In the event, no-one got the £100. Lobby entered the park on foot just before 2:00pm, and watched the crowds challenging every other motorist who entered. He paused to chat with a few people as he followed his prescribed route through the assembled masses, and dropped his calling card off in a parked car, but was never challenged once. After three hours, he was ready to leave.
"A few minutes after five o'clock, when the crush about Richmond Gate was at fever pitch, I passed out by the small left-hand gate unmolested," he writes. "That is to say, I stood by the Lodge for a bit, ambled through and halted again on the other side of it, actually brushing pickets with Westminster Gazettes, who scanned me as I passed."
His captor this time was an unemployed WWI veteran who'd suffered shell shock at Gallipoli
He was not so lucky next day, when a visit to Farringdon Street in Holborn brought his first London capture. The schedule that day called for him to visit St Paul's Cathedral in the morning, walk down Fleet Street at lunchtime and then spend the afternoon at the London Zoo in Regent's Park.
Lobby completed his stroll round St Paul's with half an hour to spare before his Fleet Street appointment at 12:30pm, and slipped away from the main road to kill some time. As he entered Farringdon Street, he realised he was being followed. "I crossed the road and, in desperation, made for a tool and machinery shop, wondering what on Earth I should say when I got inside," he writes. "My hand was barely on the handle when my pursuer closed with me, produced his paper and said, quivering with excitement and gulping his words: 'You are Mr Lobby Lud. I claim the Westminster Gazette prize'." Lobby congratulated the man, and was immediately approached by another hunter, who'd missed the boat by just a few seconds. (22)
The successful captor this time was Herbert Beresford, a 35-year-old unemployed man and a veteran of World War One's Gallipoli campaign. He had been staying at a church hostel for old soldiers and, at the moment he won Lobby's £150, had just five old pence to his name.
"I hunted you all last week," he later explained. "I was at the Bon Marche, Brixton, at the Elephant & Castle, at Gamage's and in Oxford Street - pretty much everywhere except Woolwich and Greenwich. I hadn't the fare for that, so I just went a short way on the bus route you were to travel by. I started out from the church army place with five pence, two slices of bread and dripping and a Westminster Gazette. I hadn't a penny for the zoo, so I thought I'd hunt you up to 1:30pm in Fleet Street, and then throw it up.
"I had just dodged across the traffic when I saw you buy a paper. [...] You were the right height: I thought you looked like the man. All the time I was following you down Farringdon Street, I was trying to get a look at the left hand for the ring. When you crossed the road, and I saw the other fellow following you too, I just made up my mind and ran at you."
Beresford had suffered shell-shock at Gallipoli, and been able to get only occasional spells of casual work since leaving the army. He'd spent the last two years living in hostels and cheap boarding houses. "I never earned more than eight shillings and sixpence in a day," he told Lobby. "You can exist, you know, on three shillings a day. Now I'm going to get some new clothes, take enough money to keep me for a fortnight, put the rest in the bank and look for a job. You can do things when you're decently dressed. I want to get back to my old, regular life, and now I believe I can do it."
Beresford collected his cheque at that evening's ceremony at the Astoria Cinema in Charing Cross Road, where Westminster Gazette editor JB Hobman made the presentation. He was then paraded before the cheering crowds outside in the Gazette's special car, just as Maskell had been two weeks earlier. Lobby himself joined the audience inside the Astoria to watch Beresford get his cheque, but taunted readers next day with the news that no-one had spotted him.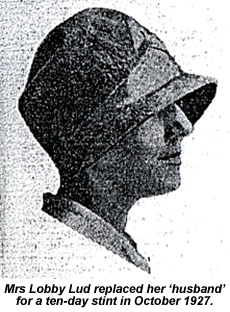 He had a few quiet days after that, witnessing nothing more remarkable than some young men tugging at a pensioner's beard in Wimbledon because they thought he was Lobby in disguise, a deaf and dumb man in Croydon who'd printed the Gazette's challenge on a handy card to aid his own search and a Walthamstow fishmonger who had dressed a cod's head in his window with Lobby's hat and pipe.
On Thursday, September 29, Lobby was back in central London, this time in a rain-swept Leicester Square. The Gazette had announced he'd be outside a store called Stagg & Russell on the north side of the square at 11:50am, and that's where Earnest Greene and John Mears pounced. The two men - both salesmen by trade - had met while hunting Lobby in Richmond Park and decided to work together from that point on, sharing whatever prize they might eventually secure. "They sprang forward, one partner on either side of me, and almost took me off my feet," Lobby says. (23)
Greene and Mears told Lobby they'd actually recognised him at Richmond Park, but not until it was too late to challenge him there. "Since then, we have followed you all round London, on and off," they said. "We were so sure of you that, between then and today, we challenged only one other man." Like Connolly in Eastbourne, the two men had done their homework, retracing Lobby's steps each day from his Gazette reports and questioning anyone he seemed to have spoken to. Along the way, they'd chatted to many well-off Lud-hunters - an Indian civil servant, a City executive, a prosperous restaurant owner - who'd joined the contest just for the fun of it.
Men who thought they'd spotted Mrs Lud had to get their wives or girlfriends to approach her
The two men shared the latest £100 prize, collecting cheques for £50 each at the Rialto Cinema in Coventry Street, where Hobman again did the honours. He used his speech to confirm that Lobby had now been caught five times in the space of nine weeks. "I have often wondered, if I should happen to be wanted by the police, whether I should try to lose myself in the country or in the crowd," Hobman mused from the stage. Lobby's own answer was clear: he believed large crowds were his best form of defence, and rainy days always improved his pursuers' odds by reducing the number of passers-by he could hide among.
Whatever the reason, Gazette readers did seem to be getting the measure of the competition now, with more and more adopting a very methodical approach to deducing Lobby's movements and improving their chances as a result. The word "sleuth" had just been a conceit in the Gazette's headlines when the competition began, but now it seemed much more justified as a description of its readers' tactics. It had taken them 14 days to find Lobby for the first time, and another 19 days before that victory was repeated. Since then, though, the average period between discoveries had fallen to less than nine days, and looked set to fall further. It was time to shake things up again, and what better way to do that than by calling in the wife?


Mrs Lobby Lud's arrival had been foreshadowed in the Gazette on September 24, when an unidentified West Croydon woman wrote to the paper pointing out the difficulties facing any lady who took to challenging strange men in the street. "I am sure many women are deterred from taking part in the hunt by the fear of encountering possible rudeness," she wrote. "May I suggest you give the women a chance by sending out a Mrs Lobby Lud in the near future. One would then merely run the risk of being regarded as a raving lunatic if one accosted someone who did not happen to have heard of your amusing scheme."
Someone at the Gazette evidently took this message to heart and, on Saturday October 8, the paper announced a new quarry would be set loose. Headlining its story "Mrs Lobby Lud on Monday: New hunt for women only," the paper announced that Lobby himself was "at last succumbing to the strain" and about to take a short break. In his place, a 24-year-old woman, five foot three-and-a-half inches tall, with a fair complexion and a ring on her left hand, would be dispatched round London. Mrs Lobby Lud, as she had been named, would visit "all the districts where the principal women's stores are situated". Accompanying the story was a profile photograph of a young woman in a Dorothy Parker hat, her face in shadow and her eyes concealed by the hat's brim. Mrs Lud was played by Elfreda Heywood, the Gazette staffer who'd accompanied Lobby on his seaside tour and handled his successful challengers.
"The reluctance women have felt in challenging a man, despite their keenness in joining the hunt (has) induced the Westminster Gazette to replace the Missing Man by a Missing Woman," the paper explained. The police would surely prohibit any hunt "which afforded men justification for addressing any unknown woman indiscriminately", so only women would be allowed to challenge the new target. Men who thought they'd spotted Mrs Lud would just have to persuade their wives or girlfriends to approach her instead. (24)
In fact, Mrs Lud was not the second member of the family, but the third. As far back as August 13, the Gazette had launched a "cousin" for Lobby called Little Bobby Bud, whose job it was to visit the inland towns which did not qualify for Lobby's own attentions and the seaside resorts he hadn't yet reached. As with Lobby, the Gazette regularly carried photographs and a description of Bobby, who would give out prizes of £10 to the first person who found him each day. He was presented as a cheeky young fellow of 21, who "smokes a cigarette when a Policeman is not looking, and walks with the jaunty air of a lad fresh from college". (25)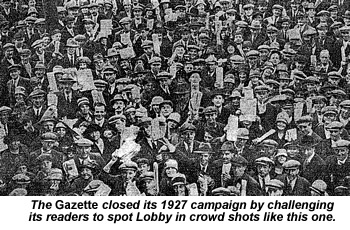 Bobby started his career in Oxford on August 16, moving on to Reading next day. It was Reading which gave him his most exciting day of the whole campaign, producing a hair's-breadth escape when someone challenged him just three minutes after the 4:00pm cut-off point and a large crowd of chasing admirers outside Alfrieda's Restaurant. It was also at Reading that Bobby found the first of his own doubles - a salesman who was forced to take refuge from the pursuing crowds by ducking into a nearby house and then fleeing over the rooftops from its upstairs window. (26)
Unfortunately, it was all downhill from there. Bobby was caught for the first time on his third day and, by the time he completed his stint in Rochester on September 20, he'd been caught nine times in less than five weeks and distributed about £150 in prize money. By the time he finished, Bobby's captors included a schoolboy in Weston Super-Mare, a butcher in Bognor, a postman in Barking, a greengrocer in Eastleigh and a policeman in Rochester. Denied the big crowds which Lobby relied on to conceal him, Bobby was simply too easy to find, and no-one seemed too disappointed when he was quietly dropped. Perhaps he simply didn't have Lobby's flair, either for staging the little stunts that kept each day fresh, or for describing his adventures in the lively way needed to maintain armchair hunters' interest.
With Bobby retired and Lobby enjoying his holiday, Mrs Lud was left to carry the torch alone. She started her tour with appearances in Piccadilly, Gray's Inn Road and Knightsbridge on Monday, October 9, and pulled in her first big crowds at Tooting Beck on the following Thursday. "Policemen, tramsmen, busmen and tradesmen were aghast," she told Gazette readers. "They had never seen so many women, cheek by jowl, packing the pavements in their lives. [...] What was wanted most was one-way traffic for perambulators. Frequently, they met three abreast, both ways at once and jammed. Then some rival would be challenged, and somebody else nearby would say slyly 'Why, she'll never see 24 again!'" (27)
Heywood later recalled her adventures in a Radio 4 documentary. "I remember once, at the end of the day, there was one poor girl in a telephone box," she said. "The crowd outside were sure she was Mrs Lobby Lud - they were certain. I was on the opposite side of the road, so I went into a shop and asked them if I could borrow their phone. They said 'Yes', so I phoned head office and said 'Everything's OK, I've got through the day. Everything's safe'. I thanked them for letting me use the phone, came out and there was this poor girl, still struggling to get out, with me standing there watching her." (7)

Mrs Lobby Lud was caught for the first time opposite what is now Highbury & Islington Tube
Mrs Lud was caught for the first time next day by the Compton Terrace railings opposite what is now Highbury & Islington Tube station. Her nemesis was Ethel Soper, a 35-year-old woman from Sloane Square, who had been hunting her all week. Soper credited a dream she'd had the previous night for securing her the £100. "I dreamt that I went to see the chef of a West End club where I once worked," she said. "I found myself in a room but, strangely enough, there were railings round it. When I went to shake hands with him, he turned out to be you. I could make no mistake, because I'd seen you at Finchley. Then, this morning, when I caught sight of you against the railings, I knew. I thought at once of the dream."
Asked what she'd do with the money, Soper gave an immediate and detailed answer. "New clothes for all the family," she said, "a ton of coal in for the winter, the rest in the bank and a nice holiday for us all next summer." Welcome as the money was, it was not this alone that had kept her motivated. "I became so interested in the hunt for its own sake, whether I was fortunate in winning the prize or not," she said. "I read the articles every day as I would a serial story. I shall still read them. It was like a new interest in life."
We shouldn't underestimate the role this soap opera element played in the scheme's success. There must have been ten or twenty Lud fans who bought the Gazette just to follow his accounts from home for every one who chased the man in person, and they all helped to add to the paper's circulation too. But even the most popular soap needs a constant supply of fresh storylines to hold its fans' attention, and Mrs Lud's introduction turned out to be the last major twist the Gazette's editors could come up with. Lobby himself returned to the stage towards the end of October with a tour of Britain's big provincial towns and cities, but nothing that happened there could match the fuss he'd caused earlier in his career.
On Monday, October 24, the Gazette stated supplementing his personal appearances with a series of daily crowd photographs aimed at his armchair followers. At least one photo per week would include Lobby among the dozens of faces it showed, and anyone able to circle his face correctly would win a share of that week's prize. The amount on offer started at £50, rising by the same sum for every week it stayed unclaimed until it reached a maximum of £500.
Three successful entrants shared the £50 home prize awarded on November 10, but already the writing was on the wall. Lobby made his final personal appearance in Norwich on Saturday, December 3, marking the occasion by enquiring about his own funeral arrangements there. Two days later, the Gazette's pictures were cut back to four a week, and then the scheme was allowed to peter out altogether.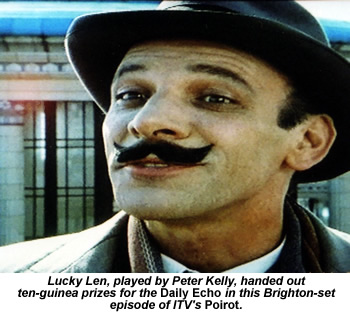 As it turned out, all Lobby's efforts were not enough to save the Gazette, which was taken over by the Daily News in January 1928. The Daily News itself was merged into the News Chronicle two years later. Lobby migrated to each paper's summer campaign in turn, but with steadily diminishing results. Chinn continued to play Lobby until the 1930 campaign was complete, and then handed the role over to another reporter. By the time this replacement reached his 1933 News Chronicle tour, the prize on offer had shrunk to just £10, and the biggest fuss he could report was a few bungled challenges.
We have no reliable newspaper circulation figures before about 1935, when the Audit Bureau of Circulations set up shop, so we don't know exactly the effect that Lobby had on Gazette sales. We do know that the Daily Herald was selling a comparatively modest 300,000 copies a day in the 1920s, and it's safe to assume the Gazette's figure was a good bit lower. "Its comparative low circulation may go some way towards explaining its adoption of special promotions such as the Lobby Lud phenomenon," says Christian Algar of the British Newspaper Library. "Regrettably, there is just no information to establish if it boosted sales." (28)
Lobby's work was not enough to save the Gazette from being taken-over in January 1928
The fact that the Gazette was taken over in January 1928 suggests Lobby's effect cannot have been a spectacular one, but it certainly had some value. Assuming the paper had trademarked Lobby Lud - which seems very likely - that trademark may well have been one of the assets which made the Gazette worth buying. Certainly, the Daily News and its successors thought Lobby was worth persisting with for the next seven years, and they wouldn't have done that if he wasn't earning his keep in extra sales. All the papers involved would have expected their circulations to fall sharply in the summer months, simply because people were less bothered about following the news while on holiday. Lobby's role may have been to cancel out that decline rather than to add brand-new readers, and it wasn't until 1935 that the character was finally withdrawn.
Chinn followed his creation into retirement in due course, and returned to his native Cardiff. That's where the writer Miles Kington found him when preparing a 1983 Radio 4 documentary on the Lobby Lud phenomenon. Willie, by then 91 years old, was happy to share memories of his glory days touring Britain's coast with his friends Elfreda and Trevor.
"We'd arrive at a hotel, perhaps ten o'clock at night, and feel very well-pleased with the day, whether I'd been caught or not," he told Kington. "And the three of us would go for a walk along the front, along the cliffs, getting the feel of the place. When I think of those occasions now, I think what an enjoyment there was in them. The three of us going along, enjoying the lovely seaside air, all expenses paid. If ever there was pleasure in work, or the aftermath of a day's work, it was that."
*****
Appendix I: Mystery Man set to music
Listen to Lobby Lud The Mystery Man
By the time Lobby reached London in September 1927, he was popular enough for the Westminster Gazette to be seeking spin-off schemes to squeeze a bit of extra profit from the competition.
The idea they hit on was an official Lobby Lud song, sold as sheet music through the Gazette's pages, and scored for a ukulele accompaniment. Gramophone records were still a novelty then, but sheet music sold well, allowing families to buy the popular songs of the day and perform them at home.
Lobby Lud the Mystery Man, as the paper called its song, was composed by Fred Sandford and Fred Malcolm and priced at six old pence. Sandford's lyrics begin like this:

"What is this excitement in a paper we have read,
For a man they're hunting with a price upon his head?
Sherlock Holmes, Dick Turpin and Houdini all outdone,
He's evaded capture so far, causing endless fun.
Shush! Shush! Shush! Where is this Bogey Man?
Who still defies detection - just find him if you can.

"Have you seen him? (Who?)
Have you seen him? (Who?)
Have you seen Lobby Lud the Mystery Man?

"You will find his picture in the Westminster Gazette,
A hundred pounds is offered for his capture, don't forget,
Have you seen him? Have you seen him?
Just you look out for this Dapper Dan.
"If you think you are red-hot, just go nice and steady,
Follow the instructions and have your Westminster ready. " (29)
The chorus then repeats, and the song continues in more or less the same vein for its three-minute duration. By September 28, the Gazette's ad assure us, it was "selling rapidly".
Stumbling across that ad made me determined to try and find the sheet music it was flogging and - if humanly possible - hear the song for myself. A search of the British Library's music manuscripts turned up the sheet music all right, complete with a large copy of Lobby's stock photograph on its front cover. As I can't read music or play any instrument, however, the printed manuscript could only get me so far.
The sheet music's cover, just like the Gazette's ad, stated again that the song should be performed "with ukulele accompaniment", so I dug out an address for George Hinchliffe of The Ukulele Orchestra of Great Britain, sent him a copy of the sheet music and - rather cheekily - asked him if he'd like to record a version of it for me. George very kindly did just that and sent me a copy of his home recording on a CDR. It's really just a demo, with none of the polishing-up a full studio recording would involve, but I think he did a wonderful job.
I'd originally hoped to get hold of the recording just for my own interest, but I remembered it when the time came to write this essay, contacted George again and asked if he'd mind me posting it here as a free download. He agreed, so here it is: a PlanetSlade exclusive. Ladies and gentlemen, I give you Lobby Lud The Mystery Man, as recorded by The Ukulele Orchestra of Great Britain's Mr George Hinchliffe. If you have toes, prepare to tap them now...

Listen to Lobby Lud The Mystery Man

To learn more about The Ukulele Orchestra of Great Britain, visit them here: www.ukuleleorchestra.com/
*****
Appendix II: A Lobby Lud for the digital age
January 11, 2010: When I first posted this Lobby Lud article, it led a couple of message board folk to recommend a piece in the December 2009 issue of Wired (the American edition rather than the British one).
The magazine hired a freelance writer called Evan Ratliff to erase or disguise all traces of his digital identity, sent him off on a mystery tour of the US and challenged its uber-nerd readers to locate him by whatever on-line means they could devise. The first person to find him and utter the code word "Fluke" would win $5,000.
Evan managed to stay undetected for a full month, making him the closest thing we have yet to a Lobby Lud for the digital age. When I read the Wired piece, I was amazed by the similarities between his own experiences and Lobby's, so I dropped Evan a line asking if their two stories struck him the same way. Here's what he had to say:

"Many thanks for the note, and the link to the piece. Fantastic, and well told! I'd seen a couple people reference Lobby Lud while I was on the run, and had looked up the basics of it, but your account is wonderful.
"Completely fascinating, and in so many ways similar to what I went through: the false accusations (there were less in my vanishing, but still quite a few I heard about); his standing in proximity to the poster with his photo on it (I did that at a newsstand in Santa Monica, standing there reading the Wired issue with my picture in it); the growing fear on the newspaper's part that nobody would find him (Wired had the same, and started releasing more info as a result); the depression that set in after a while on the "run;" people taping his picture up and studying it (I heard from people who did exactly that for me).
"Many of them also told me how difficult it was to walk up and challenge someone in public. It's a very awkward interaction. And the Mrs. Lobby Lud feature, growing out of women feeling uncomfortable challenging men, is a more extreme period version of that.The parallels, as you say, are uncanny.
"You'd think I'd have heard of Lobby Lud before I started, but I hadn't! If I had, I might have borrowed a few ideas from it. I love the standard reply for someone using the wrong phrase: 'You are making a mistake'. I also had never heard the Agatha Christie story before. Fascinating as well."

You can read Evans full account of his life on the run here at www.wired.com/vanish/2009/11/ff_vanish2/ and his subsequent updates on its aftermath at www.atavistic.org.
*****
Appendix III: Doubles, dentists and a broken pipe
Lobby's progress round London supplied the Gazette with a constant flow of small anecdotes to amuse its readers. Here's a few examples.
* Embankment, September 14: A caller at the paper's Shoe Lane office complains that he's been stopped 40 times while strolling along the Embankment by people who thought he was Lobby Lud. The fact that he was six inches taller than the real Lobby did nothing to discourage them.
* Greenwich, September 16: Lobby stops at a Post Office to send a nonsensical telegram addressed to the Westminster Gazette. Everyone around him is discussing the contest, but no-one thinks to challenge him.
* Woolwich, September 16: A man on the bus boasts "If I see him, he'll never get away," just as he draws his legs in to let a fellow passenger squeeze by. That fellow passenger is Lobby Lud, who delights in reporting the incident next day.
* Richmond Park, September 17: Lobby watches as a scoutmaster in full uniform jokingly challenges every motorist who passes through the park gates - women included.
* Streatham, September 22: A woman refuses to believe the innocent man she's challenged is not Lobby Lud. "I'm getting rather fed up with being challenged," he protests. "I simply dare not get out my pipe and light it."
* Hyde Park, September 26: Robert Confino, a French journalist working in London, is challenged 33 times while walking in the park, once by a man who grabbed him by the shoulders and shook him. This, he insists, is "scrupulously true".
* Walthamstow, September 28: Lobby gets caught up in a crowd of people chasing someone else, and has to rely on a policeman to restore order. When he emerges, he finds the crush has shattered his pipe's vulcanite mouthpiece, and has to buy a new one.
* Stratford, September 27: Lobby ducks into a dentist's office to shake off someone who's been following him. He has to undergo an examination while he's there, but escapes with no fillings.
*****
Appendix IV: Mirror images
Lobby's real career ended in 1935, but his afterlife began almost immediately.
His first new incarnation came in Graham Greene's 1938 novel Brighton Rock. The book tells the story of Pinkie Brown, a teenage gangster in Brighton, who murders a newspaper reporter called Fred Hale in its opening pages. Here's how Greene describes the task Hale's been set for his day at the seaside:
"He had to stick closely to a programme: from ten till eleven Queen's Road and Castle Square, from eleven till twelve the Aquarium and Palace Pier, twelve till one the front between the Old Ship and West Pier and then to the station by the Hove streets. Those were the limits of his absurd and widely advertised sentry-go.
"Advertised on every Messenger poster: 'Kolly Kibber in Brighton today'. In his pocket he had a packet of cards to distribute in hidden places along his route; those who found them would receive ten shillings from the Messenger, but the big prize was reserved for whoever challenged Hale in the proper form of words and with a copy of the Messenger in his hand: 'You are Mr Kolly Kibber. I claim the Daily Messenger prize'." (30)
There's not much doubt where Greene's inspiration for that character came from is there? He even adds a note at the back of the book for his American readers, explaining the real-life versions of Kolly's campaign. He does not mention Lobby by name, but that's clearly the example he had in mind when selecting Hale's alias.
In the Boulting brothers' 1947 film of Brighton Rock, Hale is played by Alan Wheatley, complete with Lobby's trademark hat and pipe. He gives the camera a particularly effective look of horror as he's hurled to his death from the ghost train by Richard Attenborough's psychopathic Pinkie.
The next phase of Lobby's afterlife began in the 1950s, when the Daily Mirror launched a character called Chalkey White, who toured Britain's resorts distributing fivers. The character took his name from Andy Capp's best mate in the Mirror's popular comic strip. (31)
It was Chalkey, not Lobby, who insisted that his challengers add the words "...and I claim my £5". This remains the single phrase that's best-remembered from the whole affair, often still quoted today, and almost always attributed to Lobby instead of Chalkey. For at least two generations of English people, this phrase has entered the language, sparking many take-offs in magazines and television.
In November 1968, for example, the satirical magazine Private Eye marked Jackie Kennedy's lucrative marriage to a certain Greek shipping tycoon with a cover photo of the couple and a speech balloon coming out of Jackie's mouth which read:
"You are Aristotle Onassis, and I claim my five million pounds". (32)
The Mirror continued to use Chalkey on and off for the next three decades. In August 1980, the Guardian sent its reporter Alan Rusbridger to follow him around a rainy Lowestoft. By now, the paper was spelling his name "Chalkie", the magic words changed with each day's edition of the paper, and the prize on offer was back up to £50.
"The Guardian has agreed not to identify him," Rusbridger wrote. "But it can be revealed that he is a 31-year-old Bedford man whose brother stands in for him at places such as Margate, where he is too well-known. Even during such a summer as this, the British holidaymaker takes Chalkie very seriously. [...] 'Last time I was in Lowestoft, three weeks ago,' he said, 'a woman and her husband followed me down to Ramsgate and slept overnight in the car to makes sure they were up early enough to catch me next day'." (33)
Asked about his tactics, Chalkie said he always spent the previous night in a hotel two or three miles from town to avoid being collared by a waitress over breakfast. He added: "After that, you try to look like the rest of the people on the beach - miserable and aggressive".
That's a telling line, because Chalkie's experience in 1980 was clearly a far cry from the cheerful one Lobby had enjoyed 53 years earlier. "Chalkie's life is fraught," Rusbridger reports. "He has often been punched by people who thought he should have won the prize and was once hit over the head with a handbag by a woman who thought it was misleading of him to wear a beard. He has been swept into the sea by a giant wave at Hastings, was arrested for making too much noise at Bognor, and reported to the Press Council for allegedly giving the money to the wrong person. 'People think it's a cushy job but sometimes I hate it,' he says. 'You get this terrible sense of paranoia. Everywhere you go, you think everyone's looking at you.'"
It's tempting to see Chalkie's reception as a parable for the way British people's manners have declined since 1927, but I think it might have just as much to do with the slightly cynical attitude the Mirror seemed to be adopting here. After all, if you discover that the bloke you're looking for in Margate isn't even the same one you've seen photographed in the paper - and that he may well be wearing false whiskers anyway - you're entitled to feel a bit peeved, aren't you?
The real Lobby resurfaced three years later with Miles Kington's Radio 4 documentary, and then we were back to alter-egos again. Faced with the task of adapting Agatha Christie's 1924 short story The Jewel Robbery at the Grand Metropolitan for ITV's Poirot series, the screenwriter Anthony Horowitz introduced a Lobby Lud doppelganger to the story. The episode, first aired in March 1993, uses its Brighton setting to bring in a character called Lucky Len, who works the resort as Lobby had done, and who just happens to look like Poirot himself. The detective gets mistaken for Lucky Len everywhere he goes, providing a bit of welcome comic relief as the plot trundles along.
I asked Horowitz if he'd invented this character as a deliberate nod towards Christie's own role in Lobby's genesis. "I'd love to pretend that I knew about this connection between Lobby Lud and Agatha Christie, but I'm afraid I have to admit that it was just a coincidence," he replied.
"I was always looking for ways to flesh out the stories and Jewel Robbery was a particularly thin one. I thought it would be amusing to have a Poirot lookalike walking the streets, and remembered the old Lobby Lud from somewhere. And that was how he came to be there."


Sources
1) Westminster Gazette, September 14, 1927.
2) Westminster Gazette, July 30, 1927.
3) Wikipedia (http://en.wikipedia.org/wiki/List_of_works_by_Agatha_Christie)
4) Wikipedia (http://en.wikipedia.org/wiki/Agatha_Christie)
5) InfoBritain (http://www.infobritain.co.uk/Silent_Pool.htm)
6) The Straight Dope, by Cecil Adams (Ballentine Books, 1986).
7) You Are Mr Lobby Lud, presented by Miles Kington (BBC Radio 4, May 3, 1983).
8) Westminster Gazette, August 5, 1927.
9) Westminster Gazette, August 9, 1927.
10) Westminster Gazette, August 10, 1927.
11) Westminster Gazette, August 11, 1927.
12) Westminster Gazette, August 12, 1927.
13) Westminster Gazette, August 16, 1927.
14) Westminster Gazette, August 17, 1927.
15) Westminster Gazette, August 20, 1927.
16) Westminster Gazette, September 5, 1927.
17) Westminster Gazette, September 6, 1927.
18) Westminster Gazette, September 8, 1927.
19) Westminster Gazette, September 13, 1927.
20) Westminster Gazette, September 29, 1927.
21) Westminster Gazette, September 19, 1927.
22) Westminster Gazette, September 20, 1927.
23) Westminster Gazette, September 30, 1927.
24) Westminster Gazette, October 19, 1927.
25) Westminster Gazette, August 13, 1927.
26) Westminster Gazette, August 18, 1927.
27) Westminster Gazette, October 14, 1927.
28) Letter from British Newspaper Library, October 29, 2009.
29) Lobby Lud The Mystery Man, by Fred Sandford & Fred Malcolm (Lawrence & Wright, 1927).
30) Brighton Rock, by Graham Greene (Vintage, 2002).
31) Read All About It: 100 Sensational Years of the Daily Mirror, by Bill Hagerty (First Stone Publishing, 2003).
32) Private Eye 180, November 8, 1968.
33) Guardian, August 16, 1980.