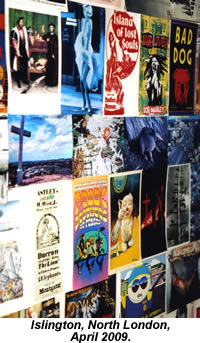 You won't find anything in this section that could comfortably fit into Murder Ballads or Secret London, but aside from that all bets are off.
What you will find includes:

Show Me the Bunny: Easter Fires in Texas. This piece describes my visit to a bizarre Texan festival which aims - in the words of its own literature - to "blend the local fable of the Easter Bunny with the deeply religious facets of Easter". I wrote it back in 2001 as a sample chapter for a travel book that ended up never being published. Fortean Times bought a much, much shorter version of the same story later that year, but this is the first time it's appeared anywhere in its full form.
We had no room to include Pace in that project, so I'm using the material about him here instead
Black Swan Blues: America's first Motown. Harry Pace did everything Motown's Berry Gordy did, but did it 40 years earlier in an even more racist environment. His Black Swan Records was America's first major black-owned label, and the first to record ground-breaking blues artists like Alberta Hunter, Ethel Waters and Fletcher Henderson. I stumbled across Pace's story while researching a blues programme for BBC Radio 4, but we had no room to include him in that particular project so I'm using the material here instead.