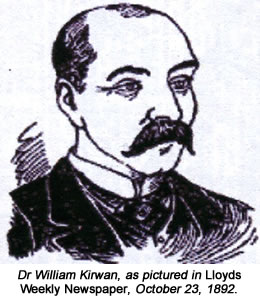 "And the bad boys, the rude boys, they're into the game,
And they keep their eyes open for the halt and the lame"
- Dave Francey, Ankle Tattoo


Southwark's petty thugs must have thought all their birthdays had come at once: a well-dressed toff stumbling round their borough in no state to defend himself, and with an alcoholic street whore as his only companion.
The toff in question was William Kirwan, an Irish doctor then living in Stockwell, South London. He was 42 years old, unmarried, and dressed in a silk top hat, overcoat and suit with a gold watch chain gleaming on his waistcoat. He wore yellow kid leather gloves, and leaned heavily on his furled umbrella as he struggled to stay upright. Many of the witnesses who watched Kirwan's hopeless progress round the streets surrounding Redcross Way that October morning in 1892 assumed he was drunk, and for some that marked him as an easy victim.
The doctor's friends, testifying at the murder trial that followed, described him as a steady, abstemious man who had no money problems, and never drank to excess. Eliza Ardley, his landlady, had seen him out the door of her Brixton Road lodging house at noon the previous day. "He seemed to be in excellent spirits and good health," she said. "He paid me most regular, once a week. I never saw him drunk." (1, 2)
When Ardley last saw him, Kirwan had been on his way north of the river to Canning Town, where he was doing some locum work for a Dr Moire. After completing his afternoon's duties there, he spent from 5:30 till 6:00pm drinking tea at his friend Dr James McLoughlin's nearby home, then went off to dine with McLoughlin's brother. "He was then in the best health and spirits," James said. He saw Kirwan again about 10:00pm, when the two dining companions returned to his house. "He left me about a quarter past ten to go home," James said. "Nothing was taken on that occasion. He was as sober as any man could be."

The police ranked Balch and Waller as two of the most dangerous thieves in all of London
At about 10:45pm, Kirwan walked into a Canning Town pub called The Aberfeldy with an unidentified man. He was a regular there, but the barmaid Emily Taylor testified that he seldom stayed as much as an hour. Kirwan and his companion drank a tuppenny shot of scotch whisky each, and then left together at about 11:15pm. "Dr Kirwan was perfectly sober when he left our house, and his companion also," Taylor said. "He was quite sober when he left."
Kirwan's home in Brixton Road lay about five miles to the south west, but he never made it there that night. Between 11:15pm on Tuesday, October 11, 1892, and 5:30 the next morning, he vanishes, and the mystery of our tale lies in just what happened to him during those six lost hours.
The most direct route home would have taken him straight through Southwark. Stopping there left him still about a mile from home, but that's evidently what he decided to do. He was next spotted at 5:30am on Wednesday, when he walked into a Newington Causeway pub called The Alfred's Head, accompanied by Blanche Roberts. They made an old couple, for Roberts scraped a living at the very bottom of Southwark's social pile, where she combined the roles of begger and whore.
Roberts had been drunk for several days before running into Kirwan, and later testified that she could remember nothing about how they met or what they did during their time together. "I can't remember where I slept on the Tuesday night, because I had been drinking so heavily," she said. "I don't remember anything. I have a recollection of being out all night, but who I was with or where I was, I don't know."
The barman in The Alfred's Head that morning was Edwin Stirling. "About half past five, two persons came into one of the public bars," he said. "They were Dr Kirwan and Blanche Roberts. He asked for a glass of bitter for himself, and tuppenyworth of Irish whiskey for the woman. I served him with it, and he paid for the two drinks. They appeared sober. They stood at the counter. They remained about ten minutes, I heard them talking together [and] they left together." (3)
We lose sight of Kirwan and Roberts again at this point, picking up the trail nearly five hours later, when they entered a flower shop about half a mile away in Great Dover Street.
"About quarter past ten, two people came into my shop," Matthew Thomas, the florist, said. "Dr Kirwan and the girl they call Blanche. I should think they had been recovering from a drink - rather steadying themselves. The woman smelt very strongly of drink, and was very dilapidated. The gentleman seemed rather an aristocratic gentleman. He seemed the most sober of the two.
"She said she wanted a flower. He gave her one: a chrysanthemum. She would not have it - she wanted a rose. He said, 'Let her have what she wants'. He paid for it. He was quite sensible and understood, but he seemed weary and leaned on the counter."


An hour later, Alfred Kelly, who earned his living making bottle-stoppers, spotted Kirwan and Roberts walking along Southwark's Marshalsea Road, and was curious enough to follow them. "The woman seemed drunk and the gentleman not far from it," Kelly said.
He wasn't the only one following Kirwan by this time. Edward Waller, a stoker, Charles Balch, a "general dealer" and James Noble, a costermonger, were all trailing him too. Waller and Noble were both in the mid-twenties, Balch just 30, and both Balch and Noble had lodgings in Southwark's notorious Redcross Way. Balch and Waller both had prison records, and police ranked tham among the most dangerous thieves in London. Their plan was to rob Kirwan as soon as they could get him off the street. (4, 5)
Kelly watched as Roberts briefly left Kirwan to run back and talk with the three men following. She returned to the doctor, broke off again for a second consultation with the men, then led Kirwan into Redcross Way. She stopped him outside the entrance to a run-down lodging house there, and that's when the trio made their move. Noble was first to grab Kirwan's arm and try to push him in through the house's entrance, quickly followed by Balch and Roberts. "Balch got hold of the doctor's arm at the same time the woman did and they tried to shove him in there," Kelly said.
Kirwan seemed to pull himself together at this point, throwing Noble's arm off and swinging his umbrella at Balch's head to drive him away. "The doctor resisting, he immediately let go," Kelly said of Balch. Roberts took Kirwan's arm again, and tried to sooth him as she led him back through Marshalsea Road to the One Distillery pub in Borough High Street, where she persuaded him to buy her another drink.
The three men followed again, this time at a discreet distance, and waited for Kirwan and Roberts to emerge. They were joined outside the pub by a group of local urchins, who'd found the couple entertaining enough to start following them round. Waller, seeing Kelly was also lingering there, asked him, "What the fuck are you waiting for?" and Kelly thought it best to withdraw. He busied himself pretending to look in a nearby shop window, but kept a crafty eye on the pub's entrance too. (6)
It was now about 11:30am, and Lewis Durant was serving in the One Distillery. "The doctor asked for a small lemon and a dash of bitter beer,' he said. "And twopenny worth of whiskey for the lady. The doctor paid. They remained in the house for five or six minutes. They appeared to me to be quite sober. They left together." Durant added that Roberts was "very rough", and that Kirwan seemed ashamed to be seen with her. (7)
Kelly watched the couple come back into the street. "A lot of children standing there laughed at them, and they turned in the opposite direction into Borough High Street," he said. "The three men still followed them into Union Street and so did I, to the second or third turning, then they turned into a small entrance to Redcross Gardens."
The turning they chose off Union Street was Whitecross Street - now called Ayres Street - and the entrance to Redcross Gardens sent them doubling back towards Redcross Way and the lodging house where Waller, Balch and Noble had staged their first assault. Redcross Gardens is a tiny patch of greenery wedged between Whitecross Street and Redcross Way itself, just south of the Union Street corner.
The gardens' caretaker, James Rothwell, was sweeping up there when Roberts and Kirwan arrived, the children behind pelting them with mud and howling abuse. "The children followed through the woman being three parts drunk, and they were calling out 'Tottie Fay!'" Rothwell said. This name was Victorian slang for a street prostitute, and Rothwell added that he thought it was accurate enough in Roberts' case. "I think the woman answered [that description]," he said. "The lower part of her things were dirty. She had on a brown Ulster and her hair was down. (8)