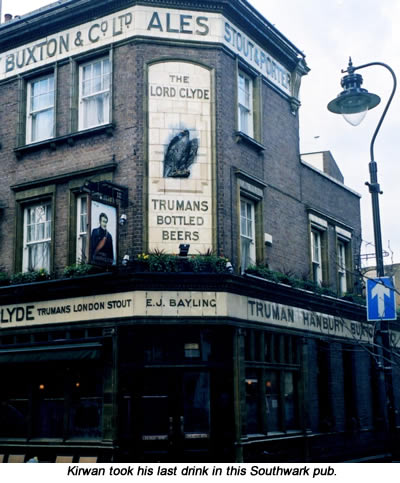 He repeated his conclusions about the injuries to Kirwan's throat, then explained what he'd found in the rest of the body. "The heart was contracted, and on the front of the left side of the heart, there was an extravasation of blood covering an inch by a third of an inch. I discovered no fracture of the spine. The deceased died from asphyxia due to strangulation."
Carling added that he'd found traces of beer and wine in Kirwan's stomach, but no signs that he'd been a regular heavy drinker. There was no hint of any other drug, irritant or poison in his system, and nothing to explain the fact that he'd been seen doubled over in pain when he left The Lord Clyde. Stevenson backed all these conclusions, adding that an attack like the one Waller described to Featherstone could produce precisely the injuries seen inside Kirwan's throat.
Early next morning - Saturday, October 15 - Noble turned up at Southwark police station and announced he was giving himself up. Asked, "What for?" he replied, "For the old gentleman". He was arrested too, and identified by Knight the same day.
The next step was Kirwan's inquest hearing, which began at Southwark Coroner's Court on Monday, October 17. Frances Graham, Kirwan's sister, fainted as soon as she saw his body, so his brother-in-law Richard Egan, a tax inspector, made the formal identification instead.
The coroner, Samuel Langham, had asked special permission from the Home Secretary for the four accused to be present at this hearing so that they'd have an opportunity to question the witnesses. This was not normally done at a coroner's hearing, but in this case the Home Secretary allowed it. Waller, Balch, Noble and Lee were brought handcuffed into the courtroom, surrounded by four warders, and seated behind the jury box, where Balch and Noble were seen keeping notes on the proceedings. (20)
When Elizabeth Knight entered the witness box, Lee questioned her quite aggressively, insisting she was mistaken in thinking he'd entered The Lord Clyde with the other four men. "You kiss the Book on that?" he scoffed, referring to Knight's witness oath. "You are speaking falsely!" But Knight stuck to her guns.
After hearing all the witnesses, Langham turned to instruct the jury. He told them that the case against Lee was far from conclusive, but that the evidence against Waller, Balch and Noble was much stronger. He reminded them that, if they were convinced the three had set out to rob Kirwan, and caused his death by doing so, that was enough for a collective verdict of wilful murder against the whole trio. It would mean they had all been involved in an action which amounted to murder, and all would be guilty of that charge no matter which individual struck the fatal blow.
The coronor's jury retired to deliberate, returning with a decision that Waller, Balch and Noble should face a criminal prosecution for the wilful murder of William Kirwan. They decided a murder charge against Lee would not be justified, but that didn't mean he was in the clear just yet. All four prisoners were then returned to Holloway to await the next stage of the process. (21)


A remand hearing was needed to let police keep the men in custody until their full murder trial could be arranged, and that came at Southwark Police Court on Friday October 28.

Sims set the court ablaze when he announced his new witness had heard Waller confess
By then, the papers had stirred up so much interest in Kirwan's death that the public gallery could not accommodate everyone who wanted a glimpse of the killers. "The court was crowded during the hearing of the case," one newspaper reported. "And there was a still larger crowd outside who were unable to gain admission. A special force of police, in uniform and in plain clothes, in the charge of Inspector O'Dea, was in attendance to guard the prisoners." The magistrate at this hearing was Mr Lushington, and the prosecutor was called Sims.
Featherstone's account of his conversation with Waller had come too late for the coroner's hearing, and Sims caused a sensation in the Police Court when he announced he had a new witness with details of Waller's confession. Featherstone, by then serving his own term in Pentonville, was brought to the witness box by two prison warders, and testified wearing his prison stripes.
Sims ran through all the evidence presented at the inquest, explaining that the coroner's jury had exonerated Lee on the murder charge, but said he intended to prosecute all four men for killing Kirwan anyway. New evidence had come to light since the coroners' hearing which implicated Lee too, he said. Police were investigating reports that Lee's brother had been seen with Kirwan's missing umbrella shortly after the murder, and Sims argued Lee should not be dismissed till that was explained.
All the key witnesses were called again, and described events as I've detailed above. Kelly had managed to avoid the coroner's hearing, but did turn up at the Police Court, and that's where he explained he hadn't alerted the police about Kirwan "because I don't like them enough". Asked why he had waited two weeks before offering any account at all of what he'd seen that day, Kelly replied, "Because I was afraid". The men in the dock smiled at this, knowing that friends on the outside had been busy intimidating witnesses on their behalf.
That, I think, must be why Emma Smith, who'd watched Waller, Balch and Noble shuffling Kirwan along the pavement from her Whitecross Street window, insisted so vehemently in the Police Court that she'd seen none of their faces. The two children, Lizzie Williams and John Wentworth, were braver, describing frankly what they'd seen at every stage, but Wentworth paid a heavy price for his courage.
The 13-year-old-lad, who sold firewood from his donkey cart all round Southwark, relied on that donkey for the only income he had. When he spoke out against Waller, Balch and Noble in court, their friends took swift revenge, mutilating the donkey so badly that it could no longer work. (22)
The murder trial itself finally reached The Old Bailey on November 18, 1892, by which time the rumours about Lee's brother and the umbrella had evidently been dismissed. The murder charge against Henry Lee was dropped, leaving just Waller, Balch and Noble in the dock. Roberts was produced to give evidence at the Old Bailey, the first hearing where she'd done so, but it proved far from illuminating.
Describing herself as "an unfortunate woman", she confirmed she'd had a room in either Blackfriars Road or Southwark Street (both quite close to the murder scene) at around the time Kirwan was killed. Asked about their visit to The Alfred's Head, she admitted she had sometimes used the place, and that Irish whiskey was her preferred tipple there. And that was about it.
"I know I was out all one night," she said. "I have no recollection of being at The Alfred's Head early on Wednesday morning, or being with a gentleman. I have no recollection of being in a florists in Great Dover Street, or being at The One Distillery in High Street. I don't know Marshalsea Road. I don't know Redcross Way exactly. I don't remember taking a gentleman to the door of that house [in Redcross Way] on Wednesday morning, or going into the gardens there.
"I have no recollection of a number of children following or calling after me. I don't remember being with anyone or speaking to anyone. [...] I can't say what I did that day because I was in drink. I don't know what clothes I was wearing on October 12."
Despite this blank in her memory, Roberts was clear about one thing. "I do not know any of the prisoners," she claimed. "I never did speak to the prisoners at any time. I have no recollection of seeing them that day or any other day."
Kelly, who also testified at The Old Baily, repeated that he'd seen Roberts consulting with the three men before their first attempt to mug Kirwan, and that she had helped them try to push him inside the lodging house in Redcross Way. It strains credulity to think the one and only thing Roberts could recall with any clarity just happened to be something that would have cleared her of any responsibility for Kirwan's death, so there's no reason to believe her denial here.
The Old Bailey heard all the evidence I've summarised, and the various parties' lawyers made their final arguments on November 21. Charles Matthews, leading the prosecution, had begun his case by telling the jury that everyone who took part in robbing Kirwan "was guilty of the crime of murder". This was exactly the same advice the coroner had given to his own jury. By the time he summed up, though, Matthews seemed to have changed his mind, telling the Old Bailey jury that a manslaughter conviction might be more appropriate in Noble's case. "His back was turned to the assailants, and he did not himself offer personal violence to the deceased," Matthews admitted. (23)