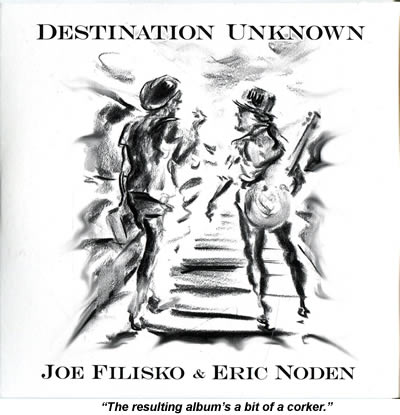 Joe Filisko & Eric Noden: Destination Unknown
A few months ago, these two accomplished Chicago bluesmen shut themselves in a studio with a National Resonator guitar, several harmonicas and a single microphone.
The task they'd set themselves was to record 13 new songs in the style of pre-war pioneers like Sonny Boy Williamson I and Blind Blake, with no overdubs and no messing. Noden played the guitar, Filisko looked after the harmonicas, and they both sang. The resulting album's a bit of a corker.
We kick off with four of its best tracks in quick succession. First up is Anxious Blues, Noden driving the song along with fast, intricate finger picking and a choppy riff, while Filisko's mouth organ dives and swoops around him. Shut It Down follows, taking its jolly style from the Memphis Jug Band and featuring a perky kazoo solo.
Filisko coaxes his harmonica into sounding like a Cajun accordion for Louisiana Song (good to see a namecheck for my beloved Excello Records there), then it's the chugalong boogie of Path You Choose, with Noden conjuring John Lee Hooker and Filisko adding echoey, sleazy harmonica sounds.
There's plenty more to enjoy later on the album too - the showcase slide guitar work on Can't Take The Edge for a start - but I'm sure you get the idea. With their virtuoso playing and a shared grounding in this music's deep history, Filisko and Noden make a fine musical marriage. Someone get them back in that studio soon.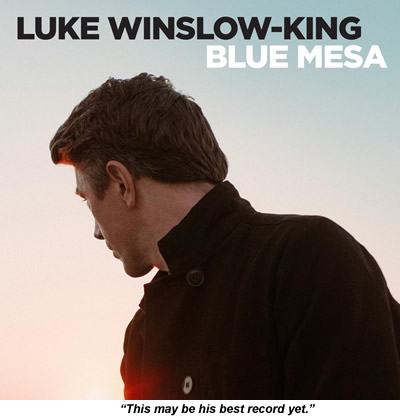 Luke Winslow-King: Blue Mesa
There was something about Winslow-King's last album (2016's I'm Glad Trouble Don't Last Always) that just failed to spark for me. No such problems to report this time, I'm glad to say, as I think Blue Mesa might be he best offering to date.
In large part, the man we have to thank for this is Winslow-King's regular guitarist Roberto Luti. Whether adding a slow, piercing solo to the gorgeously seductive Better For Knowing You, or supercharging Thought I Heard You's much faster pace, he proves himself the album's standout player again and again - yet he's always tight and disciplined too. For all Luti's virtuosity, we're always talking about blues here rather than blues-rock, and that's an important distinction.
Not that Winslow-King himself is any slouch. His songwriting and soft, slightly breathy vocals are both in fine fettle here. There's also some nice guitar interplay between him and Luti on Chicken Dinner, where the addition of a small horn section edges us into James Hunter territory. Elsewhere it's Mike Lynch's churchy organ, the subtle use of female backing singers and the closing track's mournful fiddle which add texture to the disc.
For my money, it's the album's slower, gentler tracks which cut deepest. Better For Knowing You, After The Rain and Farewell Blues are simply beautiful songs, and it's hard to imagine any of them being sung and played better than they are here. I'll say it again: this may his best record yet.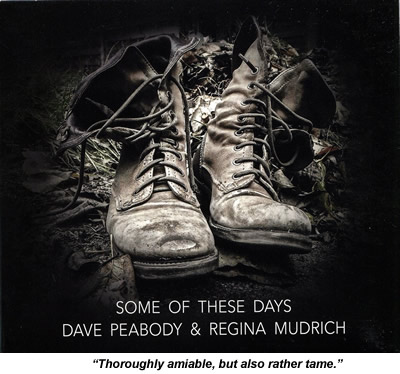 Dave Peabody & Regina Mudrich: Some of These Days.
Veteran British bluesman Dave Peabody and Regina Mudrich, a classically-trained violinist, have recorded together before, but this is their first full album as a duo. It's a thoroughly amiable record, but also rather a tame one.
Peabody and Mudrich never quite achieve either the swing which Reinhardt and Grappelli brought to this guitar/fiddle combo, nor the wild edge Scarlet Rivera's violin gave Bob Dylan's Desire. For all Peabody's talk of Mudrich "flying high" or "ripping through" a song, the sort of exhilarating abandon that implies seems beyond her reach.
All but three of the 17 songs here are cover versions. Peabody uses his deep knowledge of (mostly) 1920s and 1930s blues to revive little-known gems like Tampa Red's irresistible Don't Blame Shorty For That and John Lee Hooker's Little Wheel. These two tracks - both driven along by Tim Penn's rolling barrelhouse piano - provide the album's best moments.
Four of the other covers are much more familiar - Careless Love, After You've Gone etc - and add little to the host of versions we already have on disc. For my money, this space would have been better devoted to more of the forgotten treasures Peabody's been busy unearthing from the archives.
Of the three originals here, the beautifully melancholic Please Don't Tell Me You Love Me shines brightest, guitar and violin locking together to produce a particularly satisfying sound. Picture The Blues is an enjoyable summation of the music's early decades, fleshed out by the sleeve booklet's short but informative notes on each song.

These reviews first appeared in fRoots 423 & 424. For more details, visit the magazine's website here.
fRoots wound up publication of its print magazine with number 425, its 40th anniversary issue, published in the Summer of 2019. Barring a resurrection, which as I write this looks unlikely, these will be my last reviews for the mag.