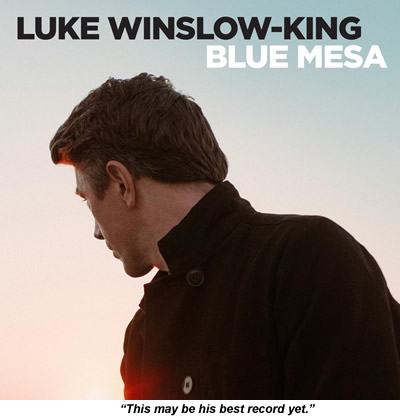 Luke Winslow-King: Blue Mesa
There was something about Winslow-Kingís last album (2016ís Iím Glad Trouble Donít Last Always) that just failed to spark for me. No such problems to report this time, Iím glad to say, as I think Blue Mesa might be he best offering to date.
In large part, the man we have to thank for this is Winslow-Kingís regular guitarist Roberto Luti. Whether adding a slow, piercing solo to the gorgeously seductive Better For Knowing You, or supercharging Thought I Heard Youís much faster pace, he proves himself the albumís standout player again and again Ė yet heís always tight and disciplined too. For all Lutiís virtuosity, weíre always talking about blues here rather than blues-rock, and thatís an important distinction.
Not that Winslow-King himself is any slouch. His songwriting and soft, slightly breathy vocals are both in fine fettle here. Thereís also some nice guitar interplay between him and Luti on Chicken Dinner, where the addition of a small horn section edges us into James Hunter territory. Elsewhere itís Mike Lynchís churchy organ, the subtle use of female backing singers and the closing trackís mournful fiddle which add texture to the disc.
For my money, itís the albumís slower, gentler tracks which cut deepest. Better For Knowing You, After The Rain and Farewell Blues are simply beautiful songs, and itís hard to imagine any of them being sung and played better than they are here. Iíll say it again: this may his best record yet.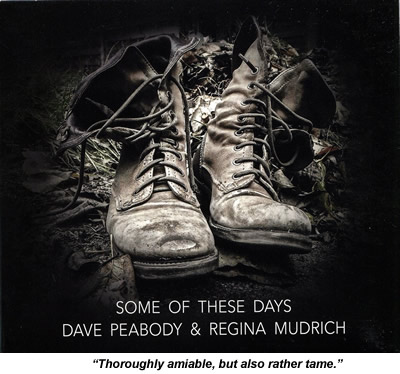 Dave Peabody & Regina Mudrich: Some of These Days.
Veteran British bluesman Dave Peabody and Regina Mudrich, a classically-trained violinist, have recorded together before, but this is their first full album as a duo. Itís a thoroughly amiable record, but also rather a tame one.
Peabody and Mudrich never quite achieve either the swing which Reinhardt and Grappelli brought to this guitar/fiddle combo, nor the wild edge Scarlet Riveraís violin gave Bob Dylanís Desire. For all Peabodyís talk of Mudrich ďflying highĒ or ďripping throughĒ a song, the sort of exhilarating abandon that implies seems beyond her reach.
All but three of the 17 songs here are cover versions. Peabody uses his deep knowledge of (mostly) 1920s and 1930s blues to revive little-known gems like Tampa Redís irresistible Donít Blame Shorty For That and John Lee Hookerís Little Wheel. These two tracks Ė both driven along by Tim Pennís rolling barrelhouse piano - provide the albumís best moments.
Four of the other covers are much more familiar Ė Careless Love, After Youíve Gone etc Ė and add little to the host of versions we already have on disc. For my money, this space would have been better devoted to more of the forgotten treasures Peabodyís been busy unearthing from the archives.
Of the three originals here, the beautifully melancholic Please Donít Tell Me You Love Me shines brightest, guitar and violin locking together to produce a particularly satisfying sound. Picture The Blues is an enjoyable summation of the musicís early decades, fleshed out by the sleeve bookletís short but informative notes on each song.

These reviews first appeared in fRoots 423. For more details, visit the magazine's website here.