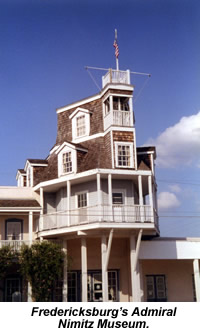 The music I'd chosen for this trip was Nick Cave's new album No More Shall We Part, which had been released just a few days before I'd left London. I'd bought the album the day it hit the shops and taped it, but been careful not to listen to a single note until I arrived in Fredericksburg. I wanted to hear Cave's new songs for the first time as I explored the town on this crucial weekend, and so ensure that the album and the trip became thoroughly intertwined in my mind.
As I'd hoped, Cave's portentous style and Old Testament lexicon proved the perfect soundtrack for strolling round Fredericksburg. God is in the House, one of the album's showcase tracks, suited the town particularly well. The song describes a God-fearing small community with white-painted churches, picturesque market square, a minimal police force and little or no crime. All these elements were there in Fredericksburg. Cave even opens the song with a reference to its townsfolk having "split the wood and stoked the fires" and, given the reason for my trip, I could hardly ask for a more apposite reference than that.
By American standards, the town had a lot of old buildings, including the Admiral Nimitz Museum (1847), the Pioneer Memorial Library (1882) and the octagonal Vereins Kirche church (originally built in 1847, reconstructed in 1934). These were all ranged along the same six blocks of Main Street, which they shared with the mixture of gift shops and restaurants I mentioned earlier.
It was an attractive little town, but undeniably twee. Even the road layout had been co-opted to reinforce this cosy atmosphere. Motorists travelling south-west along Main Street from the centre of town passed a string of intersections whose names had been chosen to spell out the message "All Welcome". First came Adams Street, then Llamo, then Lincoln and so on. Heading the other way past Crockett and Orange streets offered no relief, as this simply produced the alternative message "Come Back".
My first stop was the tourist information bureau, a small room crammed with leaflets, where I explained to the elderly lady behind the counter that I was in town with no transport, and would need details of a local taxi firm if was going to get out to Gillespie County Fairgrounds for the pageant on Saturday night. She jotted down a couple of numbers - office and mobile - for someone named Ray who, she added, was the one and only taxi driver in Fredericksburg.
Nick Cave's Old Testament lexicon made his music the perfect soundtrack for Fredericksburg
Back at the Lodge, I called Ray and successfully booked a trip out to the fairgrounds for 7:00pm on Saturday. I asked him what time the pageant normally ended, hoping to get the return journey booked up too, but he didn't know. In fact, he didn't seem to know anything about the pageant at all. "You got me," he bluffed when I asked about the likely finish time again. "It's different every year." I left it at that and hung up with no great feeling of confidence in the arrangement.
I got some food from a German restaurant across the street, ate it in front of the TV news, and then perched my bureau chair out on the walkway and cued up Nick Cave on the Walkman again. I'd picked up a copy of that week's Fredericksburg Standard, which led its front page with a story headlined "Hop back in time". This gave a detailed cast list for Saturday's festivities, confirming that the characters portrayed would include Father Bunny (played by Heath Crenwelge), Mother Bunny (Michelle Crenwelge), Grandpa Bunny, Grandma Bunny, Dr Jack Rabbit, Baby Bunny and Little Prissy Bunny. The flyer I'd picked up at the tourist office added that the show would "blend the history of the community and the local fable of the Easter Bunny with the deeply religious facets of Easter." This all looked very promising.


Next morning, I rose early and wandered off down Main Street in search of some breakfast. After a couple of false starts, I settled on Pardi's, a big red barn of a place just two doors from the Lodge itself. I knew I'd made the right choice as soon as I walked in. It was a good old-fashioned diner, with a bottle of ketchup placed squarely in the centre of every table, and three short-order cooks plucking orders from the crocodile clips surrounding their serving hatch window. The customers were mostly locals, dressed in faded or dusty work clothes and baseball caps advertising farm machinery or fertiliser companies. One or two wore Stetsons.
The four waitresses on duty - any one of whom could have stepped straight out of an early Tom Waits song - were efficient enough, but already looked exhausted. You could see at a glance that anyone messing them about would instantly regret it. I liked Pardi's a lot, and made a point of eating there every morning while I was in Fredericksburg.
After breakfast, I stopped by at the Lodge's front desk to ask again about the taxi situation. I was still finding it hard to muster much confidence in Ray, and hoped the Lodge manager might be able to miraculously turn up a rival firm the woman at the tourist bureau had missed. I explained the problem, and he immediately started writing down a number.
"We got one taxi driver in town, and he's it," he said, handing me a slip of paper. I recognised the number. It was Ray again.
"So it's this guy or nothing then?" I asked.
"Yep. Call him as soon as you can, because he's a little slow."
"Errm, slow as in ... simple?"
"No, no, he's fine. Just give him plenty of time."
I started to have visions of myself stranded miles from anywhere late on Saturday night, cold, lost and alone. "But he's reliable, is he?" I persisted.
"Oh, yeah. If he says he's gonna be there, he'll be there. Once you can get hold of him."
I slipped the number into my wallet, still far from confident it would do me any good. Ray's one-man business, I noticed, was called "City Cab Company", which struck me as a bit of a cheek. Everyone in Fredericksburg called the place a city, but for my money any settlement with only one taxicab to its name was a town at best.
Fredericksburg's Easter preparations were well underway by this time, and a large banner promoting the pageant had been hung over Main Street. Just about every shop and restaurant in town had sprouted bunnies in its window or on the pavement outside. Some stores had single bunnies, some had couples and some had whole families. There were wooden bunnies, straw bunnies, lace bunnies, bunny balloons, and bunny streamers.