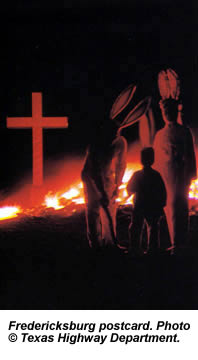 The postcard I bought in Fredericksburg that September afternoon shows a man and a woman dressed in fluffy rabbit costumes, their upright ears protruding a good ten inches into the air. They're standing in a Texas field at dead of night, with an eight-foot cross erected immediately behind them. The man, who seems be holding a large stick, is bending to speak to a small boy wearing a rabbit costume of his own, who listens with rapt attention. The whole scene is back-lit by an eerie red glow from the bonfire flames licking around the cross's base.
I'd read about these cards back in San Antonio, where I was spending part of my 2000 holiday. My Texas guidebook promised I would find the cards both "cheap and hilarious" so, when I found myself on a coach tour which included a few hours stop-over in Fredericksburg, I decided I'd better try to get hold of one. We arrived in the town about lunchtime, the bus decanted us next to a restaurant called Wheeler's, and off I went.
While everyone else ate, I started scouring Fredericksburg's gift shops. The whole town seemed to be crammed into a single street of souvenir stores and restaurants, all clearly aimed at the tourist trade. There were plenty of postcards showing chocolate-box views of the town's older buildings, but that was all. Soon, the only store I hadn't tried was Dooley's, a no-frills five-and-dime stranded in a sea of more upmarket outlets.
I couldn't find anything there at first either, and it was only because I knew this was my last chance that I asked the old dear behind the till if she could help me. She thought for a moment, then led me back to the postcard rack and started digging through the cards at the back of its least accessible section. The card she produced was the one I've just described.
She seemed surprised to see it herself, and insisted on solemnly reading out its explanatory caption before letting me pay. "Easter fires burn each year in Fredericksburg," she intoned. "Legend tells that a pioneer mother whose children were frightened by Indian signal fires on surrounding hills calmed them by telling them they were Easter rabbits boiling eggs." The information seemed new to her, but she evidently didn't think it was anything worth getting excited about.
Was I the only one who saw a burning cross in the Deep South and thought of the Klan?
Back in London, I started investigating Fredericksburg's history and folklore. The town, about 70 miles northwest of San Antonio, was founded in 1846 by German pioneers. Early the following year, colonist John Meusebach led a negotiating party to talk peace with the local Indians, hoping to cement the uneasy truce they had enjoyed so far into a formal and more lasting treaty. One Fredericksburg legend insists that, while these talks were in progress, a pioneer mother back in the town found her children were frightened by Comanche signal fires on the surrounding hills. It was Easter Eve, so she reassured them by explaining that the fires were lit by the Easter Bunny to boil the eggs it would later decorate and deliver to all Fredericksburg's good little boys and girls.
The peace treaty was successfully signed and - according to the legend at least - everyone lived happily ever after. Ever since 1946, Fredericksburg's residents - adults and children alike - have commemorated this story by dressing up in rabbit costumes and setting fires of their own on Cross Mountain, a local landmark, and as many as 21 other hills surrounding the town.
In fact, Fredericksburg's Easter Fires Pageant has its true roots in far older pagan ceremonies designed to herald the rebirth of Spring. About half the pioneers who first settled Fredericksburg came there from the German provinces of Westphalia and Lower Saxony, where Easter fires have been lit on the hillsides since pre-Christian times. These fires would have been dedicated to Eostre, the Teutonic goddess of dawn whose April festival gave the Christian Easter its name, and who is traditionally depicted with a rabbit to symbolise fertility (1). We also know that the real Meusebach treaty talks of 1847 took place a full month before the Easter date which Fredericksburg legend demands - although this proximity may still be close enough to explain why the treaty tale got mixed up with Easter celebrations in later re-tellings (2).
Further research revealed that my postcard's picture had been taken on top of Cross Mountain, that up to 150 bunnies took part in the pageant every year, and that the associated tourist trade increased Fredericksburg's population from 8,000 to 12,000 overnight and contributed over $500,000 a year to the town's economy (3, 4). One US website I discovered awarded the event a maximum ten out ten on its Religious Fervour scale and announced that the whole ceremony "sounds pretty scary to us" (5).
I knew none of this as I stood in Dooley's waiting for my change, but the card already had me hooked. Only small-town America, it seemed to me, could muster the genuine innocence required to conduct Fredericksburg's Easter celebrations with a straight face. The store clerk who was now ringing up my purchase had seen nothing remotely remarkable or absurd about the ritual it described. And yet surely I wasn't the only one who found that a burning cross in America's Deep South made me think of the Ku Klux Klan? Populating that image with a cast of cute bunnies seemed as incongruous as staging a lynching in Disneyland. Obviously, this was a ceremony I had to see for myself.


Six months later, my taxi dropped me off outside Fredericksburg Lodge, a long two-storey building with metal stairs up to an elevated walkway along the building's poolside wall. I checked in, and collected the key to an upstairs room looking out over the pool and the parking lot to a large chilli restaurant opposite. It was late Thursday afternoon by then, and I wanted to make a start on organising myself for Saturday's pageant so I threw my bag in the corner of the room, slotted a tape into my Walkman, and went straight out again to re-acquaint myself with the town.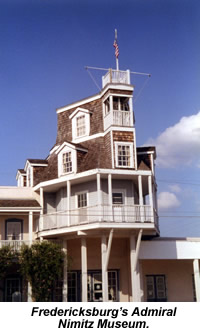 The music I'd chosen for this trip was Nick Cave's new album No More Shall We Part, which had been released just a few days before I'd left London. I'd bought the album the day it hit the shops and taped it, but been careful not to listen to a single note until I arrived in Fredericksburg. I wanted to hear Cave's new songs for the first time as I explored the town on this crucial weekend, and so ensure that the album and the trip became thoroughly intertwined in my mind.
As I'd hoped, Cave's portentous style and Old Testament lexicon proved the perfect soundtrack for strolling round Fredericksburg. God is in the House, one of the album's showcase tracks, suited the town particularly well. The song describes a God-fearing small community with white-painted churches, picturesque market square, a minimal police force and little or no crime. All these elements were there in Fredericksburg. Cave even opens the song with a reference to its townsfolk having "split the wood and stoked the fires" and, given the reason for my trip, I could hardly ask for a more apposite reference than that.
By American standards, the town had a lot of old buildings, including the Admiral Nimitz Museum (1847), the Pioneer Memorial Library (1882) and the octagonal Vereins Kirche church (originally built in 1847, reconstructed in 1934). These were all ranged along the same six blocks of Main Street, which they shared with the mixture of gift shops and restaurants I mentioned earlier.
It was an attractive little town, but undeniably twee. Even the road layout had been co-opted to reinforce this cosy atmosphere. Motorists travelling south-west along Main Street from the centre of town passed a string of intersections whose names had been chosen to spell out the message "All Welcome". First came Adams Street, then Llamo, then Lincoln and so on. Heading the other way past Crockett and Orange streets offered no relief, as this simply produced the alternative message "Come Back".
My first stop was the tourist information bureau, a small room crammed with leaflets, where I explained to the elderly lady behind the counter that I was in town with no transport, and would need details of a local taxi firm if was going to get out to Gillespie County Fairgrounds for the pageant on Saturday night. She jotted down a couple of numbers - office and mobile - for someone named Ray who, she added, was the one and only taxi driver in Fredericksburg.
Nick Cave's Old Testament lexicon made his music the perfect soundtrack for Fredericksburg
Back at the Lodge, I called Ray and successfully booked a trip out to the fairgrounds for 7:00pm on Saturday. I asked him what time the pageant normally ended, hoping to get the return journey booked up too, but he didn't know. In fact, he didn't seem to know anything about the pageant at all. "You got me," he bluffed when I asked about the likely finish time again. "It's different every year." I left it at that and hung up with no great feeling of confidence in the arrangement.
I got some food from a German restaurant across the street, ate it in front of the TV news, and then perched my bureau chair out on the walkway and cued up Nick Cave on the Walkman again. I'd picked up a copy of that week's Fredericksburg Standard, which led its front page with a story headlined "Hop back in time". This gave a detailed cast list for Saturday's festivities, confirming that the characters portrayed would include Father Bunny (played by Heath Crenwelge), Mother Bunny (Michelle Crenwelge), Grandpa Bunny, Grandma Bunny, Dr Jack Rabbit, Baby Bunny and Little Prissy Bunny. The flyer I'd picked up at the tourist office added that the show would "blend the history of the community and the local fable of the Easter Bunny with the deeply religious facets of Easter." This all looked very promising.


Next morning, I rose early and wandered off down Main Street in search of some breakfast. After a couple of false starts, I settled on Pardi's, a big red barn of a place just two doors from the Lodge itself. I knew I'd made the right choice as soon as I walked in. It was a good old-fashioned diner, with a bottle of ketchup placed squarely in the centre of every table, and three short-order cooks plucking orders from the crocodile clips surrounding their serving hatch window. The customers were mostly locals, dressed in faded or dusty work clothes and baseball caps advertising farm machinery or fertiliser companies. One or two wore Stetsons.
The four waitresses on duty - any one of whom could have stepped straight out of an early Tom Waits song - were efficient enough, but already looked exhausted. You could see at a glance that anyone messing them about would instantly regret it. I liked Pardi's a lot, and made a point of eating there every morning while I was in Fredericksburg.
After breakfast, I stopped by at the Lodge's front desk to ask again about the taxi situation. I was still finding it hard to muster much confidence in Ray, and hoped the Lodge manager might be able to miraculously turn up a rival firm the woman at the tourist bureau had missed. I explained the problem, and he immediately started writing down a number.
"We got one taxi driver in town, and he's it," he said, handing me a slip of paper. I recognised the number. It was Ray again.
"So it's this guy or nothing then?" I asked.
"Yep. Call him as soon as you can, because he's a little slow."
"Errm, slow as in ... simple?"
"No, no, he's fine. Just give him plenty of time."
I started to have visions of myself stranded miles from anywhere late on Saturday night, cold, lost and alone. "But he's reliable, is he?" I persisted.
"Oh, yeah. If he says he's gonna be there, he'll be there. Once you can get hold of him."
I slipped the number into my wallet, still far from confident it would do me any good. Ray's one-man business, I noticed, was called "City Cab Company", which struck me as a bit of a cheek. Everyone in Fredericksburg called the place a city, but for my money any settlement with only one taxicab to its name was a town at best.
Fredericksburg's Easter preparations were well underway by this time, and a large banner promoting the pageant had been hung over Main Street. Just about every shop and restaurant in town had sprouted bunnies in its window or on the pavement outside. Some stores had single bunnies, some had couples and some had whole families. There were wooden bunnies, straw bunnies, lace bunnies, bunny balloons, and bunny streamers.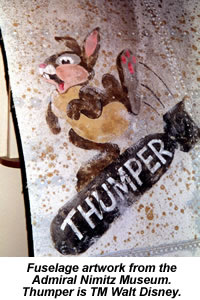 One store had placed a wooden bench outside its window and propped a six-foot stuffed rabbit dressed in a cheerleader costume there, her mini-skirted form sprawled crookedly across the seat. She looked like she'd drunk three bottles of cheap wine, been felt up by a boy bunny she didn't much like, and was just about to burst into tears.
I found more rabbits that afternoon at the Admiral Nimitz Museum, this time in the shape of Bambi's old mate Thumper. These appeared on a piece of fuselage taken from the 870th Bombardment Squadron's command B29 bomber, which flew many missions in the Pacific war. The sign next to the display explained that Walt Disney Corp had authorised the use of its trademark characters for these logos to help boost the airmen's morale and demonstrate the company's wartime patriotism.
There were five Thumpers on the fuselage altogether, each riding a bomb and slapping his left foot up and down in the approved manner. The big one at the front had the character's name on his bomb, but the four smaller bombs each carried the name of a city which the plane (or perhaps its squadron) had attacked. Being bombed must surely be bad enough at any time, but being bombed by a representative of The Happiest Place on Earth somehow seems to add insult to injury.
After the Nimitz Museum, I called in at the Silver Creek Bier Garden for a late lunch, where I found the Hoppy Hopkins Trio playing some sweet, gentle, country and western music in the open air. Hoppy and his pals were getting on a bit - one of them looked like Old Man Steptoe - but smartly turned out in black waistcoats and spotless white Stetsons. They played, among many other selections, Will The Circle Be Unbroken and a version of Route 66 so laid-back that it made JJ Cale sound like Napalm Death. I ate a sandwich, drank a few beers and listened to Hoppy's music merge with the birdsong in the surrounding trees.
Being bombed by a representative of The Happiest Place on Earth seems to add insult to injury
Afternoon drifted into evening, Hoppy's trio was replaced by a solo singer called Gary Wimmer, and I set off to see what else Fredericksburg's live music scene could offer. I ended up at the Double Ox Cantina watching Quincy Harper work his way through an acoustic set of Dylan and Clapton covers. Halfway through Wonderful Tonight, a drunken young cowboy insisted on sitting in my lap so his girlfriend could take our picture, and I decided it might be time to call it a night. "Ah'm pretty too," the cowboy complained as I made for the door.


Saturday morning brought a hangover and the urgent need for some breakfast at Pardi's. The town had filled up overnight, tipping the balance of customers far more towards visitors. The notice I'd seen in the tourist bureau office on Thursday had clearly been right: Fredericksburg was full to bursting.
After breakfast - and an hour's stroll around town to clear the cobwebs from my brain - I returned to the Lodge and settled down to work out what I wanted to do with the rest of the day. My evening would be spent at the pageant, of course, but that still left Cross Mountain, the weekend's other most significant site. I called Ray again, explained I wanted to go out to Cross Mountain for the afternoon, and asked him to collect me at the Lodge after lunch. After some confusion over just where Fredericksburg Lodge was, he cut me off mid-sentence and hung up.
Ray turned up promptly at 2:00pm and beeped his horn to let me know it was him. He was a grizzled old guy in his late sixties, wearing the same baseball cap, jeans and work shirt which every older male in Fredericksburg seemed to favour. Little tufts of white whiskers poked out here and there on his well-weathered face. I climbed into the back seat of Ray's old blue station wagon, and he embarked on a long explanation of how Fredericksburg Lodge had recently changed its name, and that's why he'd been unsure where to find the place. He seemed to feel this confusion was an affront to his professional dignity, because he told me about the name change three times. But, as I soon discovered, minor mix-ups over re-named hotels were the least of Ray's problems.
For one thing, he was deaf, which meant I had to repeat every other thing I said to him. Judging by his driving, he may well have been blind too, because he made a habit of cutting up other road users in the most alarming way. Every time this happened, the other driver would swerve desperately to avoid us and then scream past, blaring his horn. Ray just looked bemused and never seemed to twig that the car horns he constantly (if dimly) heard blasting around him had anything to do with his own god-awful driving. As far as he was concerned, the fact that other drivers seemed to sound their horns a lot these days was just one of those inexplicable facts of modern life. Young people were crazy anyhow. Who knew why they did anything?
We'd been driving for about ten minutes, in what I knew was the right general direction for Cross Mountain, when Ray surprised me by asking: "What's the name where you're going? Where you going out here?"
"What? Now? Cross Mountain."
"Cross Mountain?"
"Yeah."
"Yeah, it's real nice out there. You been out there before?"
I had told Ray two minutes earlier that I had never been to Fredericksburg before - let alone Cross Mountain - because it seemed easier than trying to detail my first trip. I let it go.
"No, I haven't. I've seen the postcards, but that's all."
Ray spotted a road sign at this point, and slowed down to squint at it. "Cross Mountain?" he muttered to himself. "No." He accelerated again.
"I've got a map here," I offered.
"Hah?
"I decided to try shouting. "I'VE GOT A MAP HERE IF THAT'S ANY HELP."
Ray ignored my offer. "Cross Mountain," he muttered again. "Cross Mountain, right?"
"Yeah. I want to go to the top of the mountain and see the cross that's up there."
"Hah?"
"I WANT TO GO TO THE TOP. THERE'S A BIG CROSS THAT'S ACTUALLY SET ON TOP OF THE MOUNTAIN, YEAH? THAT'S WHERE I WANT TO GO."
"OK, Cross Mountain. You got a map?"
"Yeah."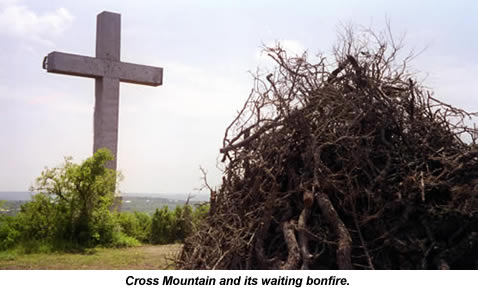 I passed the map forward. For someone who knew it was "real nice up there", Ray didn't seem to have much idea of where Cross Mountain actually was. By now, he'd spotted a turning marked Cross Mountain Drive and steered us into what was evidently a housing estate. Far from moving uphill, we were driving deeper and deeper into a valley. Ray abandoned the map and decided he'd better ask for directions. He pulled up next to a middle-aged woman tending her front garden and called over to her.
"Say, could you tell me where that Cross Mountain . . . cross is? Cross Mountain cross?"
The woman came over, pointed back the way we had come and said: "Go back up the hill there ."
"Yeah."
"Make a left when you come to 965. That's Milam Street. Then you go on a block and you'll see a brown sign that says Cross Mountain, and another left takes you right there."
Ray was determined to save face. "But this is Cross Mountain too, ain't it?" he said. "This is Cross Mountain we're on now, ain't it?"
Our saviour was starting to wish she'd never got involved in this conversation. "What are you looking for?" she asked Ray, warily. I decided I'd better intervene, and leant forward from the back seat towards Ray's open window. "The cross itself," I said.
"The cross itself. That's what I'm telling you how to get to."
Ray turned to me. "You got it figured out now?" he asked.
"I think so, yeah."
She ran through the directions one last time, I thanked her, and Ray started us back up the hill. He turned left into Milam Street as specified, and then started muttering how he couldn't understand where this turning on to Route 965 could be. Even I'd realised that Milam and 965 were the same road, but I could not get this information into Ray's head. Still, it was only a block, and even he couldn't get lost in that distance, so we soon found the Cross Mountain sign. Ray drove straight past it and then, when I protested, stopped dead in the middle of the road, forcing the driver behind us to take evasive action. Ray then did a (possibly illegal) U-turn and piloted us up the track we wanted without further incident.
This took us about halfway up the mountain, where we found a padlocked gate and a stile allowing pedestrians to climb the rest of the way. I left Ray at the gate, hoped that I'd made it clear that I wanted him to wait for me, and set off on foot towards the peak. I found myself on a dirt path which wound its way up the mountain in a lazy spiral, its pale, sandy colour contrasting sharply with the darker vegetation on either side. It wasn't a long climb, but it was steep, and the stones underfoot were loose, which made it easy to stumble.

I was getting used to the symphony of protest which Ray's driving always seemed to provoke
When I reached the top, I found a neat, freshly-built bonfire and a big stone cross encased in graffiti-covered steel. The two rows of lightbulbs along its outward face were protected with wire netting, and the power line feeding them secured with a padlock. The graffiti seemed to be typical teenage stuff. There were several declarations of young love, some of which had been scratched out by jealous rivals, and a few insults which amounted to the Texas equivalent of "Tracy is a slag". Peppered among these were six or seven indentations, each just big enough to accommodate the tip of my little finger. One of Fredericksburg's gun owners had evidently brought a few beers up here one night and used the cross for target practice.


Ray picked me up again that evening at the Lodge, told me he'd already taken one couple out to the fairgrounds, and announced he'd decided to stick around and watch the show for himself. He was obviously intrigued by what he'd seen out there, but still had little idea about the pageant's theme.
"It's some sort of Indian pow-wow, right?" he said.
There was no point in arguing. "Something like that, Ray, yes."
When we reached the turning for the fairgrounds, Ray cut abruptly across two lanes of traffic and made a big SUV behind us swerve violently the other way. The driver blared his horn as he shot past, but I took no more notice than Ray did. I'd started to rather like him by this time, I was getting used to the symphony of protest which his driving invariably provoked, and a few irate motorists seemed neither here nor there. Another week driving with Ray, and I would have been as oblivious to the problem as he was.
Gillespie County Fairgrounds turned out to be a horse race track, complete with little concrete betting offices and a large open-air grandstand where the pageant's 2,000-strong audience would sit. Behind the grandstand there were stalls selling hot food and beer, which people ate at the scattered picnic tables. The Fredericksburg High School Band was tuning up nearby, its bass player showing off with some nimble runs up and down the fretboard.
The racetrack ran straight in front of the grandstand, separating the crowd from the stage area where the pageant would take place. This was laid out with half a dozen Indian teepees, a miniature version of Cross Mountain, and a big bowl on a stick which would provide an Olympics-style torch for the evening's finale. At one end of the arena, a rabbit had been drawn in coloured lights. I could see a couple of floodlight rigs at the rear of the set, which we were obviously going to need because it was already getting dark. Ray, I realised, must have seen the teepees when he dropped his earlier fare off, and concocted his "Indian pow-wow" theory from that.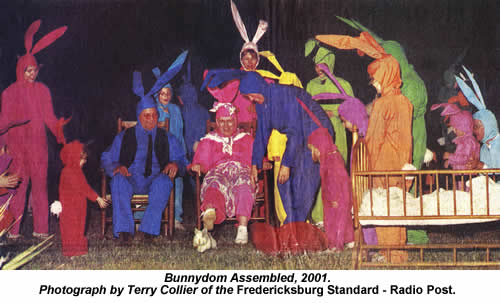 At about 8:00pm, a group of six bunnies appeared, strolled casually beneath the set's silhouetted Cross Mountain and took up position for a group photo call. They were dressed just as the couple on the postcard had been, and sported the same magnificently erect ears. Each costume was a single, strong primary colour of yellow, red or blue. The baggy material, which seemed to be made from some sort of towelling fabric, left a circular hole for the wearer's face to poke out, and stopped dead at ankle level, revealing the cast's own black boots or box-fresh trainers.
We'd all taken our seats by this time, and I found myself sandwiched between two American men, both of whom seemed to have been dragged along to the pageant by their wives. The one on my right had an expensive-looking camera with a tripod and a massive zoom lens, which he couldn't stop fiddling with. There were a lot of pricey cameras in the crowd, most of which I imagine belonged to proud parents with a child in the cast. The bloke on my left clearly didn't want to be there at all, because he kept his arms folded defensively in front of him for the whole evening and let out regular sighs to let us know how bored he was.
The crowd was all white and mostly pretty rural. You could have stripped the whole grandstand naked and not found a single designer label among us. There were quite a few young children there, including one little girl behind me who had a decidedly black sense of humour. "It would be funny if a bunny's tail was to catch fire," she informed her dad. "Then he would have to scoot along the ground like Bugs Bunny does."
The first sign of action on stage came when Mark, our narrator for the evening, started testing out the PA. He ran through the usual repertoire of test phrases, but it was hopeless. We could barely hear him. Mark made a few more adjustments, then asked if we could hear him now. There was a great cry of "No!" from the grandstand and one or two fractious kids started to bawl. Mark started tugging at wires and checking his plugs again, but it didn't seem to make any difference.
A few minutes later, he decided he'd better press on regardless, and started what was supposed to be his formal introduction to the pageant. There was an outbreak of shushing in the grandstand as we all tried to make out what he was saying, and then more shouts.
"Can't hear. CAN'T HEAR!!! LOUDER!!!!!"
There was a stunned silence from Mark. "That's better," someone shouted.
Mark tried again. "Testing. One, two. Check, check. Testing. One, two. Testing, one, two. Check? Check?"
"LOUDER!!!! LOUDER!!!!!"
"Lil' more?"
"YES!!!!!"
The whole evening was threatening to degenerate into farce. The guy on my left gave a disgusted snort. "Typical small town," he said.

We sat patiently through the kiddies' wildflower ballet and then, at long last, it was bunny time
But then something clicked, and Mark's voice was suddenly clear as day. A deafening cheer rang from the grandstand, followed by triumphant whoops, whistles and applause. Mark realised he'd been saved. "Testing, one two - Yeah!!!" he said to more general applause. "OK, let's try it again. Since the beginning of time..."
Everything proceeded smoothly from that moment on, and the initial hiccups served only to create a sort of Blitz spirit among the crowd, who willed the pageant on for the rest of the evening. We were all in this together, and even the spotlight operator's persistent habit of being either five seconds ahead or five seconds behind the main action on stage could not spoil our mood.


The pageant began in the Indian village, where most of the next half hour's action took place. This was very much the playground version of the Old West. The script for the pageant dated back to the 1940s, and seemed to have been left largely untouched ever since. Mark made no attempt to call the villagers "Native Americans" or any other such PC term, but simply referred to them as "Indians" throughout. They wore fringed jackets with feathered headbands, appealed to the "Great Spirits" at every opportunity, and communicated with smoke signals.
We watched a supposed Indian legend being acted out, which involved a little Indian girl saving her people from drought by sacrificing a much-loved doll, sat patiently through the children's wildflower ballet and then - at last - it was bunny time. As Heath and Michelle Crenwelge hopped into view, Mark began telling us about the pioneer mother, deftly folding a little genuine Teutonic folklore into the story as he went.
"She remembered a story told to her as a child in Germany," he said. "A tale that, on a certain night of the year, fairies came out to dance around fires on the hills, signifying the end of Winter and the beginning of Spring. But the mother realised that her children would not understand about on the wild Texas frontier, so she began to make up her own story. It was Easter time, and she wove a tale about the little rabbits that her children had seen as they played in the woods ..."
Heath and Michelle were well into their roles as heads of the Bunny household by now, fussing over a cooking pot and stirring its imaginary contents with two long wooden paddles. Mark cued up some jolly clap-along music, and suddenly the stage was awash with human rabbits. There were 80 bunnies of various ages and sizes taking part in the pageant this year, and all wore the same bright costumes I described earlier. It was a rainbow nation of bunnies, ranging all the way from full-grown adults to babes in arms. There were fat bunnies, thin bunnies, young bunnies, old bunnies, male bunnies and female bunnies. Some were too young to know what was going on and others were already drawing a pension.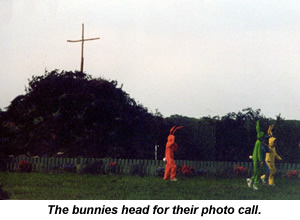 Everyone capered about the stage at full tilt for a while, then paused for a set piece which showed Little Prissy Bunny hatching a real rabbit from a big red Easter egg. Even in the country which gave us the Scopes Monkey Trial, Mark seemed to feel this was slightly hard to swallow, so he moved swiftly on and announced it was time for the bunnies to break for lunch. A sack of stage carrots appeared, and Little Peter Bunny led the family in a short German prayer to bless the food before them.
I took a deep breath and tried to freeze the moment in my mind. There I was, in a Texas field at dead of night, watching 80 yanks in brightly-coloured bunny costumes praying in German, while an illuminated cross beamed above them from a replica hillside. I thought of the ambition I'd formed about three years earlier to find and attend a uniquely odd American entertainment which the rest of the world had yet to discover. "Mission accomplished", I thought.
Back on stage, lunch gave way to another outbreak of mass capering as Ma and Pa Bunny called out all the reserves to ensure Fredericksburg's eggs got decorated before tomorrow morning's deliveries. Oma and Opa (Grandma and Grandpa) Bunny tottered back on stage, prompting Mark to add another twist to his increasingly confused version of Bunny folklore. "Oma and Opa are very proud of the Easter Fires legend," he said. "It permits them to come from the land of make-believe each year to Fredericksburg, where the fires are burning brightly on the hilltops."
This left us with a tale of German fairies replaced by trans-dimensional rabbits, whose nocturnal fires somehow opened a door back into the bunny homeworld, but no-one seemed to mind. Even the bloke on my right had stopped sighing.

In this everyday story of (Hill) Country folk, the Crenwelges were the Archers clan
The pageant's final stages cantered through the successful conclusion of Meusebach's peace talks, the founding of the Vereins Kirche community church and the history of Cross Mountain. The choir gave us a quick blast from Faith of Our Fathers, Mark reminded us to go and see the real Cross Mountain, and then it was time to leave. As we started filing down the grandstand steps, I could hear the pageant's Indian contingent war-whooping and shouting tipsy congratulations to one another.
I found Ray back at the fairgrounds entrance, slid into the back seat, and asked if he'd been in to see the show. He said he'd taken his wheelchair in and watched from under the grandstand, near the picnic tables I'd seen earlier. I asked him what he made of it all, but he just said "Oh, I don't know" and changed the subject. Ray's view must have been somewhat obscured at ground level, and I don't suppose he caught much of the commentary, so I suspect the evening had proved a puzzling one for him.


I got Ray to make a quick stop at Cross Mountain and struggled to the top again, where I found the bonfire burnt down to about 18 inches and surrounded by the boy scouts who'd built it. Then we headed back to the Lodge.
As we sped through the vast American night, it struck me that the way to understand the pageant was to think of it as a Texas version of the Ambridge village pantomime (see Appendix I below). Being a Texas thing, the whole event had to be conducted on an elephantine scale, which explained the cast of hundreds who took part. Like any village panto, though, it was essentially an amateur affair, as witnessed by the PA problems and the spotlight operator's erratic performance. The Lynda Snells of Fredericksburg took the whole thing terribly seriously, and saw their role as a vital contribution to maintaining local heritage. The town's Eddie Grundys - a far bigger group - either ignored the whole thing or treated it as an opportunity to make a little extra cash. They might show up if their kid had a part in the show, but otherwise steered well clear.
I put this theory to the test three weeks later when, back in London, I called Heath Crenwelge to ask how he had enjoyed being Papa Bunny for the night. Crenwelge, a 30-year-old district manager with the Chrysler Corporation in Dallas, belonged to one of Fredericksburg's oldest families. Two German brothers named Crenwelge came to Fredericksburg in the 1850s, and the family had been well-established there ever since. In 2001, the town's tiny Yellow Pages had 60 families and businesses listed under that name. Heath's father sat on the Gillespie County Fair & Festivals Association, which organised the pageant every year. In this everyday story of (Hill) Country folk, the Crenwelges made a pretty fair substitute for the Archers clan. For Heath and Michelle, read David and Ruth.
Heath told me he'd grown up in Fredericksburg, and first took part in the Easter Fires show at age six. He'd performed in half a dozen pageants since then, taking the various roles of Bluebonnet, Indian, Bunny Extra and now - finally - the Easter Bunny itself. Heath and Michelle had been offered the two star roles when the couple who'd played Mr and Mrs Easter Bunny for the past few years dropped out because Mrs Bunny was pregnant. Michelle, an accountant from outside Fredericksburg, had never played in the pageant before. The couple's 19-month-old twins had also been kitted out with bunny costumes, and allowed to join the other toddlers cavorting around on stage, "We had a great time," Heath said.
I mentioned that I'd been surprised how many Fredericksburg locals seemed to know nothing about the pageant, and asked Heath why that was. "In depends on whether they grew up in town, how long they've actually lived here and how involved they are in the community," he said. "We have a lot of people that have lived in Fredericksburg for several generations, are more active in the community and know what's going on. We have a few other people who have maybe lived here 10 years or 15 years that don't get so involved in the different festivals and the things that go on.
"My family has always been in business here, so we've always been involved in a lot of things. It's one of the oldest towns in the state, and there's very few that have the heritage and the history that Fredericksburg has. To be part of acting that out, reliving it, is a special thing."
I asked how his dad's committee went about casting the various roles required. "There are kind of different groups that do different things," he said. "There are certain people that are always bunnies, certain ones that are settlers and so on. There's one group of guys - and girls - who are a little more the wild bunch, and they're always Indians. Every year, there's anticipation as to what they're going to do. Most of the time, they've had quite a bit to drink before they've entered on to the stage."
Heath paused, then thought of one more thing he wanted me to understand. "The bunnies don't get involved in that," he said.
*****
Appendix I: Ambridge & The Archers: A note for US readers
Ambridge is the fictional setting for a BBC radio soap opera called
The Archers
, which has been running almost daily since 1950. In November 2006, it racked up its 15,000th episode
(6)
.
For
many Brits, the programme enters their bloodstream in childhood and becomes a lifelong habit which they then pass on to their own children. It's become such an integral part of British life that even people who've never heard an episode in their lives will be able to hum the theme tune and name a few of the major characters.
Ambridge
is a rural village community, populated largely by farmers, and the programme markets itself as "an everyday story of country folk". Its ruling clan is the Archer family, who have now spread across four generations.
David and Ruth Archer
, a couple in their 40s, took over the reins at Home Farm when David's dad retired in 2001, making them the programme's two central characters.
One
of the village's incomers is
Lynda Snell
, a relentless busybody who organises everything from Ambridge's conservation efforts to the annual Christmas pantomime. Everyone in Ambridge complains about Lynda's nagging, but they know she has the village's best interests at heart and that nothing much would happen there without her.
Eddie Grundy
is a lovable rogue, who's often strapped for cash, but always ready with another questionable scheme to keep his family afloat. If you want some lethal homemade scrumpy, a bit of dodgy beef or a mooning gnome for the garden, then Eddie's your man.
Archers
homepage:
http://www.bbc.co.uk/radio4/archers
*****
Appendix II: Machetes and motorbikes egg on the madness
Fredericksburg was not alone in going slightly mad at this time of year. America, being such a heavily Christian society, takes Easter very seriously, and makes far more fuss about the festival than Britain does. Here's just a few of the Easter stories I saw reported in the San Antonio Express-News during my Fredericksburg stay:
* Police outriders in Fresno, California, wore rabbit ears atop their helmets while providing a motorcycle escort for the town's Easter Bunny (13/4/01).
* Residents of San Antonio, Texas, camped out in the city's Brackenridge Park for three nights just to secure a good table for their Easter Sunday breakfast picnic. One camper remembered being threatened by a machete-wielding lunatic over his spot on a previous Easter weekend (13/4/01).
* Newspapers all over the US refused to print cartoonist Johnny Hart's Easter Sunday BC strip because it showed the candles of a Jewish menorah being extinguished one by one until they formed a Christian cross. Hart was quoted as saying that "Jews and Muslims who don't accept Jesus will burn in hell" (14/4/01).
* Actors portraying Christ in various San Antonio re-enactments of the crucifixion included Roy Juarez (Offerings of Peace Church), Felicito Flores (San Antonio Cathedral) and Brandon Fender (Livingway Christian Church). Juarez spent nine hours tied to an upright cross as part of his own depiction (14/4/01).
* Darryl Schraeder wore a full Easter Bunny costume while using his motorcycle to deliver Easter baskets to a nursing home in Fayetteville, North Carolina (15/4/01).
* A Baptist minister named Fred Phelps planned to picket Easter Sunday services at San Antonio churches which he believed were "queer-friendly". Gay and lesbian groups responded by asking their own supporters to pledge a set sum of money to gay-approved charities for every minute Phelps' protests continued in the city (14/4/01).
* In Washington, DC, President George W Bush spent Easter Monday supervising the annual White House Easter Egg Roll (16/4/01).
A much shorter version of this article appeared in
Fortean Times'
August 2001 issue. After a few years with no Easter Fires Pageant, Fredericksburg is all set to stage the event again in March 2013. Details on the Chamber of Commerce website here.
Sources
1) Brewer's Phrase & Fable, edited by Betty Kirkpatrick (Cassell, 1992).
2) The Handbook of Texas Online (www.tsha.utexas.edu).
3) Austin Chronicle, volume 18, issue 31.
4) Austin American Statesman, March 29. 1997.
5) WhatsGoingOn.com (www.whatsgoingon.com).
6) BBC News (http://news.bbc.co.uk/1/hi/entertainment/6124558.stm)