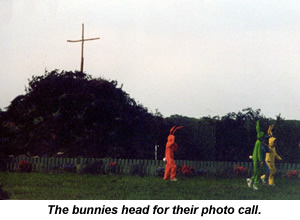 Everyone capered about the stage at full tilt for a while, then paused for a set piece which showed Little Prissy Bunny hatching a real rabbit from a big red Easter egg. Even in the country which gave us the Scopes Monkey Trial, Mark seemed to feel this was slightly hard to swallow, so he moved swiftly on and announced it was time for the bunnies to break for lunch. A sack of stage carrots appeared, and Little Peter Bunny led the family in a short German prayer to bless the food before them.
I took a deep breath and tried to freeze the moment in my mind. There I was, in a Texas field at dead of night, watching 80 yanks in brightly-coloured bunny costumes praying in German, while an illuminated cross beamed above them from a replica hillside. I thought of the ambition I'd formed about three years earlier to find and attend a uniquely odd American entertainment which the rest of the world had yet to discover. "Mission accomplished", I thought.
Back on stage, lunch gave way to another outbreak of mass capering as Ma and Pa Bunny called out all the reserves to ensure Fredericksburg's eggs got decorated before tomorrow morning's deliveries. Oma and Opa (Grandma and Grandpa) Bunny tottered back on stage, prompting Mark to add another twist to his increasingly confused version of Bunny folklore. "Oma and Opa are very proud of the Easter Fires legend," he said. "It permits them to come from the land of make-believe each year to Fredericksburg, where the fires are burning brightly on the hilltops."
This left us with a tale of German fairies replaced by trans-dimensional rabbits, whose nocturnal fires somehow opened a door back into the bunny homeworld, but no-one seemed to mind. Even the bloke on my right had stopped sighing.

In this everyday story of (Hill) Country folk, the Crenwelges were the Archers clan
The pageant's final stages cantered through the successful conclusion of Meusebach's peace talks, the founding of the Vereins Kirche community church and the history of Cross Mountain. The choir gave us a quick blast from Faith of Our Fathers, Mark reminded us to go and see the real Cross Mountain, and then it was time to leave. As we started filing down the grandstand steps, I could hear the pageant's Indian contingent war-whooping and shouting tipsy congratulations to one another.
I found Ray back at the fairgrounds entrance, slid into the back seat, and asked if he'd been in to see the show. He said he'd taken his wheelchair in and watched from under the grandstand, near the picnic tables I'd seen earlier. I asked him what he made of it all, but he just said "Oh, I don't know" and changed the subject. Ray's view must have been somewhat obscured at ground level, and I don't suppose he caught much of the commentary, so I suspect the evening had proved a puzzling one for him.


I got Ray to make a quick stop at Cross Mountain and struggled to the top again, where I found the bonfire burnt down to about 18 inches and surrounded by the boy scouts who'd built it. Then we headed back to the Lodge.
As we sped through the vast American night, it struck me that the way to understand the pageant was to think of it as a Texas version of the Ambridge village pantomime. Being a Texas thing, the whole event had to be conducted on an elephantine scale, which explained the cast of hundreds who took part. Like any village panto, though, it was essentially an amateur affair, as witnessed by the PA problems and the spotlight operator's erratic performance. The Lynda Snells of Fredericksburg took the whole thing terribly seriously, and saw their role as a vital contribution to maintaining local heritage. The town's Eddie Grundys - a far bigger group - either ignored the whole thing or treated it as an opportunity to make a little extra cash. They might show up if their kid had a part in the show, but otherwise steered well clear.
I put this theory to the test three weeks later when, back in London, I called Heath Crenwelge to ask how he had enjoyed being Papa Bunny for the night. Crenwelge, a 30-year-old district manager with the Chrysler Corporation in Dallas, belonged to one of Fredericksburg's oldest families. Two German brothers named Crenwelge came to Fredericksburg in the 1850s, and the family had been well-established there ever since. In 2001, the town's tiny Yellow Pages had 60 families and businesses listed under that name. Heath's father sat on the Gillespie County Fair & Festivals Association, which organised the pageant every year. In this everyday story of (Hill) Country folk, the Crenwelges made a pretty fair substitute for the Archers clan. For Heath and Michelle, read David and Ruth.
Heath told me he'd grown up in Fredericksburg, and first took part in the Easter Fires show at age six. He'd performed in half a dozen pageants since then, taking the various roles of Bluebonnet, Indian, Bunny Extra and now - finally - the Easter Bunny itself. Heath and Michelle had been offered the two star roles when the couple who'd played Mr and Mrs Easter Bunny for the past few years dropped out because Mrs Bunny was pregnant. Michelle, an accountant from outside Fredericksburg, had never played in the pageant before. The couple's 19-month-old twins had also been kitted out with bunny costumes, and allowed to join the other toddlers cavorting around on stage, "We had a great time," Heath said.
I mentioned that I'd been surprised how many Fredericksburg locals seemed to know nothing about the pageant, and asked Heath why that was. "In depends on whether they grew up in town, how long they've actually lived here and how involved they are in the community," he said. "We have a lot of people that have lived in Fredericksburg for several generations, are more active in the community and know what's going on. We have a few other people who have maybe lived here 10 years or 15 years that don't get so involved in the different festivals and the things that go on.
"My family has always been in business here, so we've always been involved in a lot of things. It's one of the oldest towns in the state, and there's very few that have the heritage and the history that Fredericksburg has. To be part of acting that out, reliving it, is a special thing."
I asked how his dad's committee went about casting the various roles required. "There are kind of different groups that do different things," he said. "There are certain people that are always bunnies, certain ones that are settlers and so on. There's one group of guys - and girls - who are a little more the wild bunch, and they're always Indians. Every year, there's anticipation as to what they're going to do. Most of the time, they've had quite a bit to drink before they've entered on to the stage."
Heath paused, then thought of one more thing he wanted me to understand. "The bunnies don't get involved in that," he said.


A much shorter version of this article appeared in Fortean Times' August 2001 issue. After a few years with no Easter Fires Pageant, Fredericksburg is all set to stage the event again in March 2013. Details on the Chamber of Commerce website here.


Sources
1) Brewer's Phrase & Fable, edited by Betty Kirkpatrick (Cassell, 1992).
2) The Handbook of Texas Online (www.tsha.utexas.edu).
3) Austin Chronicle, volume 18, issue 31.
4) Austin American Statesman, March 29. 1997.
5) WhatsGoingOn.com (www.whatsgoingon.com).
6) BBC News (http://news.bbc.co.uk/1/hi/entertainment/6124558.stm)