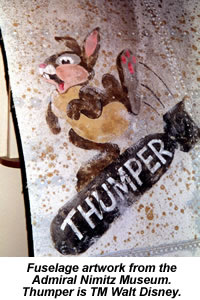 One store had placed a wooden bench outside its window and propped a six-foot stuffed rabbit dressed in a cheerleader costume there, her mini-skirted form sprawled crookedly across the seat. She looked like she'd drunk three bottles of cheap wine, been felt up by a boy bunny she didn't much like, and was just about to burst into tears.
I found more rabbits that afternoon at the Admiral Nimitz Museum, this time in the shape of Bambi's old mate Thumper. These appeared on a piece of fuselage taken from the 870th Bombardment Squadron's command B29 bomber, which flew many missions in the Pacific war. The sign next to the display explained that Walt Disney Corp had authorised the use of its trademark characters for these logos to help boost the airmen's morale and demonstrate the company's wartime patriotism.
There were five Thumpers on the fuselage altogether, each riding a bomb and slapping his left foot up and down in the approved manner. The big one at the front had the character's name on his bomb, but the four smaller bombs each carried the name of a city which the plane (or perhaps its squadron) had attacked. Being bombed must surely be bad enough at any time, but being bombed by a representative of The Happiest Place on Earth somehow seems to add insult to injury.
After the Nimitz Museum, I called in at the Silver Creek Bier Garden for a late lunch, where I found the Hoppy Hopkins Trio playing some sweet, gentle, country and western music in the open air. Hoppy and his pals were getting on a bit - one of them looked like Old Man Steptoe - but smartly turned out in black waistcoats and spotless white Stetsons. They played, among many other selections, Will The Circle Be Unbroken and a version of Route 66 so laid-back that it made JJ Cale sound like Napalm Death. I ate a sandwich, drank a few beers and listened to Hoppy's music merge with the birdsong in the surrounding trees.
Being bombed by a representative of The Happiest Place on Earth seems to add insult to injury
Afternoon drifted into evening, Hoppy's trio was replaced by a solo singer called Gary Wimmer, and I set off to see what else Fredericksburg's live music scene could offer. I ended up at the Double Ox Cantina watching Quincy Harper work his way through an acoustic set of Dylan and Clapton covers. Halfway through Wonderful Tonight, a drunken young cowboy insisted on sitting in my lap so his girlfriend could take our picture, and I decided it might be time to call it a night. "Ah'm pretty too," the cowboy complained as I made for the door.


Saturday morning brought a hangover and the urgent need for some breakfast at Pardi's. The town had filled up overnight, tipping the balance of customers far more towards visitors. The notice I'd seen in the tourist bureau office on Thursday had clearly been right: Fredericksburg was full to bursting.
After breakfast - and an hour's stroll around town to clear the cobwebs from my brain - I returned to the Lodge and settled down to work out what I wanted to do with the rest of the day. My evening would be spent at the pageant, of course, but that still left Cross Mountain, the weekend's other most significant site. I called Ray again, explained I wanted to go out to Cross Mountain for the afternoon, and asked him to collect me at the Lodge after lunch. After some confusion over just where Fredericksburg Lodge was, he cut me off mid-sentence and hung up.
Ray turned up promptly at 2:00pm and beeped his horn to let me know it was him. He was a grizzled old guy in his late sixties, wearing the same baseball cap, jeans and work shirt which every older male in Fredericksburg seemed to favour. Little tufts of white whiskers poked out here and there on his well-weathered face. I climbed into the back seat of Ray's old blue station wagon, and he embarked on a long explanation of how Fredericksburg Lodge had recently changed its name, and that's why he'd been unsure where to find the place. He seemed to feel this confusion was an affront to his professional dignity, because he told me about the name change three times. But, as I soon discovered, minor mix-ups over re-named hotels were the least of Ray's problems.
For one thing, he was deaf, which meant I had to repeat every other thing I said to him. Judging by his driving, he may well have been blind too, because he made a habit of cutting up other road users in the most alarming way. Every time this happened, the other driver would swerve desperately to avoid us and then scream past, blaring his horn. Ray just looked bemused and never seemed to twig that the car horns he constantly (if dimly) heard blasting around him had anything to do with his own god-awful driving. As far as he was concerned, the fact that other drivers seemed to sound their horns a lot these days was just one of those inexplicable facts of modern life. Young people were crazy anyhow. Who knew why they did anything?
We'd been driving for about ten minutes, in what I knew was the right general direction for Cross Mountain, when Ray surprised me by asking: "What's the name where you're going? Where you going out here?"
"What? Now? Cross Mountain."
"Cross Mountain?"
"Yeah."
"Yeah, it's real nice out there. You been out there before?"
I had told Ray two minutes earlier that I had never been to Fredericksburg before - let alone Cross Mountain - because it seemed easier than trying to detail my first trip. I let it go.
"No, I haven't. I've seen the postcards, but that's all."
Ray spotted a road sign at this point, and slowed down to squint at it. "Cross Mountain?" he muttered to himself. "No." He accelerated again.
"I've got a map here," I offered.
"Hah?
"I decided to try shouting. "I'VE GOT A MAP HERE IF THAT'S ANY HELP."
Ray ignored my offer. "Cross Mountain," he muttered again. "Cross Mountain, right?"
"Yeah. I want to go to the top of the mountain and see the cross that's up there."
"Hah?"
"I WANT TO GO TO THE TOP. THERE'S A BIG CROSS THAT'S ACTUALLY SET ON TOP OF THE MOUNTAIN, YEAH? THAT'S WHERE I WANT TO GO."
"OK, Cross Mountain. You got a map?"
"Yeah."