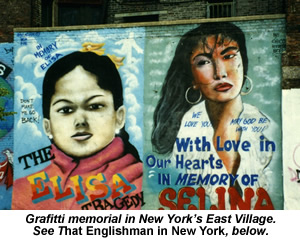 Many of the stories I've already posted on PlanetSlade began life as shorter pieces in magazines like Fortean Times or The Idler. The website's allowed me to expand and update these articles into something far more comprehensive than a printed magazine's format would normally allow, and that's been very satisfying.

These are pieces which would fall to bits if I tried to stretch them past their current length
Other pieces from my print career aren't really suited to this treatment. They cover the same sort of areas as PlanetSlade does, and speak in much the same tone of voice, but would rapidly fall to bits if I tried to stretch them beyond their current length. Instead, I'm presenting them here, exactly as they originally appeared in the newspapers and magazines that first carried them, scanned in from my clippings book as a series of PDFs.
Here you'll find an appreciation of the 1980s' daftest exploitation movies, a six-part series debunking various urban myths, and news of my quest to see all Shakespeare's plays live on-stage. I'm also including a chairman's letter from Claus Industries plc, a selection of surreal money-saving tips and travelogues from New York, Memphis and San Antonio. Johnny and Edgar Winter put in an appearance along the way, as does Cerebus the Aardvark and James, an 11-year-old Devon boy who yearns for nothing so much as a sackful of hand grenades. Something for everyone, in fact.
- Paul Slade, August 2010.
*****
Gnarl, The Wooded Man (2000AD #163, May 3, 1980).
In its early days,
2000AD
would fill the odd page by inviting readers to draw an alien and send it in. The ones they published got £3 each. Gnarl therefore represents a triple first for me: the first thing I ever got into print, my first by-line and my first paycheck from any kind of journalistic venture. Rather embarrassingly, I was 21 at the time.
*****
Alex Masterley profile (Money Marketing, March 2, 1987).
I wrote this piece to introduce a new spin-off incarnation of Peattie & Taylor's
Alex
cartoon strip. For the full story of this project, please see my PlanetSlade essay
The Unknown Alex
.
*****
Trash Videos (Time Out, September 28, 1988).
In the 1980s, I had an unpaid sideline on a small press magazine called
Heartbreak Hotel
, writing reviews there under the by-line Ricky Slaughter. That's what led
Time Out
to commission this piece from Ricky about Troma's splendid range of straight-to-video exploitation movies.
[Note: Working from its advance sell-line alone ("Identical twin gynaecologists become involved with the same woman"), I assumed that Twins would be an utterly ludicrous schlockfest. It was later retitled Dead Ringers and turned out to be rather a good David Cronenberg horror film.]
*****
What They Think We're Worth (Inside Money, February 1995).
I spent a couple of years in the 1990s working for a consumer finance magazine. My debut feature there surveyed a Devon class of 8-11 year olds on their attitudes to money. Asked what he'd spend a sudden windfall of £100 on, young James replied "hand grenades". Photographs by George Brooks.
*****
Money Myths (Inside Money, February - July, 1995).
One of my other jobs at
Inside Money
was to write a monthly column debunking various urban myths from the world of business and finance. It was a lot of fun, but the magazine closed after just six issues. Illustrations by Tony McSweeney.
1) The Cash Cow
The Myth: A disgruntled UK taxpayer in the 1930s paid his taxes with a cheque written on a live cow, which the Inland Revenue was forced to accept.
2) McTerror
The Myth: US burger chain McDonalds makes financial contributions to the IRA.
3) Barcodes From Hell
The Myth: The retail barcodes used on consumer products all contain the digits 666 - the Biblical number of the beast.
4) Bridgework
The Myth: A conman in New York once persuaded an unwary tourist to buy the Brooklyn Bridge.
5) The Kidney Heist
The Myth: A visitor ro a Third World city was mugged there and awoke to find himself missing a kidney.
6) Ronnie Doregan
The Myth: The Japanese stockmarket plunged on rumours that US President Ronald Reagan had suffered a heart attack. It turned out to be Lonnie Donegan.
[Note: In the last of these pieces I say - wrongly - that Donegan had suffered his only heart attack to date in 1992. In fact, he'd had an earlier attack in 1976. That was five years before Reagan came to power, however, so it doesn't make the myth any more credible.]
*****
Dear Shareholder (The Investor, December 1995).
The Investor
was kind enough to give me a humour column for a while. This chairman's report from Claus Industries plc was the best thing I produced for them. Illustration by Jake Abrams.
*****
Clean the Wallpaper with Stale Bread (Sunday Telegraph, January 5, 1997).
Most of the stuff I've written for the nationals is straight-up personal finance copy, which is far too dull to reproduce here. There was the odd exception, though, like this piece mocking the surreal advice in guides to household thrift.
*****
Hero Addicts (Good Times, June/July 1999).
I had a trip to Memphis in August 1998, getting there just in time to witness the bizarre rites marking the 21
st
anniversary of Elvis Presley's death. I spun the visit into an article for
Good Times
when I got back, but the fact that I already had a column there meant the Presley piece had to run under a pseudonym. Photographs by me.
*****
Ghosts of the Wild Frontier (The Independent, October 28, 2000).
When
Guitar Towns
, my proposed travel book, failed to find a publisher, I set about recycling its contents to any market I could find. This piece sprang from my evening's ghost-hunting in San Antonio, Texas.
*****
That Englishman in New York (The Independent, November 18, 2000).
Another piece that began life in
Guitar Towns
, this time describing Quentin Crisp's old New York neighbourhhod in the East Village.
[Note: The spray-can memorials I mention here were dedicated to Elisa Izquierdo, a little girl who was murdered by her crack-smoking mother, and Selena Perez, a hugely famous Tejano singer shot dead by one of her own fans. The same site has since hosted memorials to the Princess of Wales, Celia Cruz and Pope John Paul II.]
*****
It's a Frame Up (Mojo, October 2003).
In 1995, DC Comics published a Jonah Hex story featuring a pair of murderous, half-witted, necrophiliac, pig-fucking albino brothers called Johnny and Edgar Autumn. The Winter brothers sued over this depiction, and lost.
*****
Cerebus The Aardvark (The Idler, Spring 2004).
The Canadian cartoonist Dave Sim set a new standard for independent comics with the 6,000 pages of his self-published
Cerebus
saga. Often, this achievement is over-shadowed by his views on women. All art © Dave Sim and Gerhardt.
[Note: The Idler carried this piece with an infuriating typo, which rendered my mention of "fake Cerebus number 1s" as "fake Cerebus number 11s". I've corrected it here with a blob of Tip-ex before scanning in the page]
*****
Project Shakespeare (Shakespeare Scene #3, Summer 2009).
In June 2004, I worked out that I'd already seen 14 of Shakespeare's 38 plays live on stage, and decided I wanted to see the remaining 24 that way too. Five years later, thanks to a trip to Boulder, Colorado, my quest was complete.
*****
CD reviews (fRoots, July 2011 - Spring 2019).
In the summer of 2011, I started writing occasional reviews of blues CDs and suchlike material for
fRoots
, the UK's best folk music and world music magazine. The deal was that
fRoots
got each review to itself for a full month (two months in the case of a double issue), and then I was free to run it on PlanetSlade too. I took a break from this job in 2014, but normal service has now been resumed. For more about
fRoots
, vist the magazine's website
here
.
2019
Destination Unknown
, by Joe Filisko & Eric Noden.
Blue Mesa
, by Luke Winslow-King.
Some of These Days
, by Dave Peabody & Regina Mudrich.
2018
Great,
by Fred Smith.
The Outsider,
by Ma Polaine's Great Decline.
2017
Down Home Blues Chicago - Fine Boogie,
by various artists.
Folk Hotel,
by Tom Russell.
Material Electrico,
by UnclePhil.
2016
I'm Glad Trouble Don't Last Always
, by Luke Winslow-King.
Seasick Steve
, by Matthew Wright.
Blues for Francis,
by Caroline Beecroft and Howard Rye.
Let The Devil In,
by Uncle Sinner.
Hold On!
, by The James Hunter Six.
Deus Luna,
by The Malingerers and The Destructors.
2015
Free as the Wind,
by Petunia.
Live At Southern Ground,
by Martin Harley & Daniel Kimbro.
Rural Electrification,
by Peter Keane.
Home,
by Fred Smith.
Something in the Water,
by Pokey LaFarge.
Right Now Blues,
by Dave Peabody.
Stumpjumper,
by Charlie Parr.
Vintage Troubadour,
by Steve Brookes.
2013
Chemako
, by Chemako.
2012
The Games People Play
, by Paul Lamb & The King Snakes.
Push Record
, by Mike Stevens & Matt Andersen.
The Teaser
, by Little G Weevil.
2011
The Promised Land: A Swamp Pop Journey
, by The Lil' Band O' Gold.
Middle of Everywhere,
by Pokey LaFarge & The South City Three.
Lucky Devil,
by Meschiya Lake & The Little Big Horns.
River Town,
by Jack Blackman.
The Skinny
, by Ian Siegal & The Youngest Sons.
100 Years of Robert Johnson
, by Big Head Blues Club.
Unpublished
Tribe of One
, by Ruth Wyand.
The Hellhound Sample
, by Charles Shaar Murray.
Darling Oh Darling
, by Miss Tess.
O Dig
, by The Woodshedders.
*****
Features (fRoots, July 2016 - Feb 2018).
Every once in a while, I break out of the reviews reservation at
fRoots
and interview someone for them instead. After a suitable pause, the resulting features go up on PlanetSlade too.
Tom Russell (Jan/Feb 2018 issue).
An extended version of my October 2017 interview with one of America's greatest songwriters. Bonus material includes some photographs and memories from his 2017 UK gigs.
Uncle Sinner (July 2016 issue).
When a gap opened up in the mag's "new artists" section, I was quick to pitch this interview with Canada's finest emerging bluesman. The piece won him some airplay on London's Resonance FM, which pleased us both.