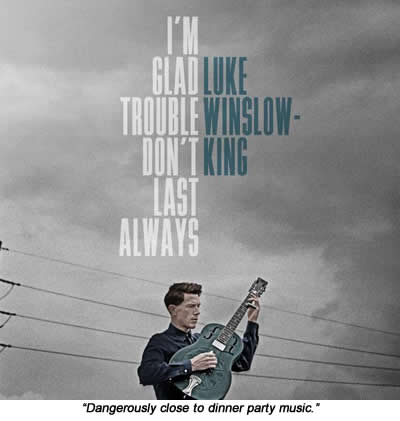 Luke Winslow-King: I'm Glad Trouble Don't Last Always
Luke Winslow-King's fifth album is another confident tour d'horizon of the many blues styles he's mastered. It's a thoroughly enjoyable, polished affair, showing expert craftsmanship in every department, but a little too decorous to really leap out of the speakers and demand your full attention.
The overall sound is driven along by gentle, mid-paced bass and drums, punctuated by short, stinging guitar solos. An organ wash ties everything together beneath, while Winslow-King's slightly mournful vocals give us the standard persona of the world-weary, unlucky-in-love bluesman.
It would be unfair to dismiss so accomplished an album as mere dinner party music, but there are times when it veers dangerously close to that category. For all the publicity's assertion that they've been fuelled by the "deep, dark creative well" of Winslow-King's 2015 divorce, there's nothing in any of these songs that seems to tie them to one individual rather than any other.
On My Way and No More Crying Today bookend the album with a couple of gentle ballads about the search for spiritual renewal, both of which reminded me strongly of Eric Bibb's work. The title track takes a more raucous approach, bringing in a darker, crunchier guitar sound and a throatier growl to the vocals. Louisiana Blues is sinister and brooding, with its military drums underpinning the song's promises of violence to come.
The two best tracks for me are the country-flavoured Heartsick Blues and Act Like You Love Me's sprightly R&B. The first of these takes a stripped-down approach, using just acoustic guitar, fiddle and vocals to tell its tale of love gone wrong, while the second features some enjoyably snakey electric guitar.
As Act Like You Love Me kicks up the tempo on each chorus, swapping organ for piano and adding a frantic cowbell, there's a definite sense the band is having fun at last. Perhaps it's this sudden burst of exuberance which explains Winslow-King's bizarre decision to invite the empty studio to sing along with him as this track nears its close?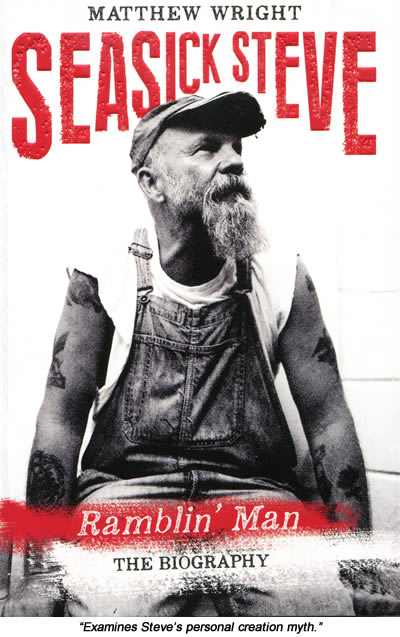 Matthew Wright: Seasick Steve.
There's an interesting story at the heart of this book - albeit one that's buried beneath a mountain of speculation and padding.
Wright examines the personal creation myth his subject's been peddling ever since that breakthrough 2006 appearance on Jools Holland's Hootenanny and demonstrates just how sharply it diverges from the facts. He makes a convincing case that Seasick Steve spent at most two years as a hobo (as opposed to the 11 years he's claimed), and did so in California rather than (again, as he's claimed) Mississippi.
Adding ten years to his age to make room for this supposed decade of riding the rails, he's ruthlessly edited his real past to support the myth ever since.
The curious thing is that Steve's real life turns out to be a good deal more interesting than the caricature he's replaced it with. The book uncovers his time in Haight Ashbury at the height of the hippy era, including a stint with the cult psychedelic band Shanti. Later, he works with Modest Mouse and other bands at his own studios in both Washington State and Notodden in Norway. His home-made CD found its way to Holland's producer with the help of a friendly London DJ.
Wright's main sources for the book are a deep dive into the rock press archives - both here and in Norway - plus an interview with Steve's son Sevrin. But, with no input from the book's subject himself, he's often forced into guesswork and questionable leaps of logic. The phrase "he must have" pops up a good deal.
Although the cover blurb promises walk-on parts in Steve's story for the likes of Jimi Hendrix and Kurt Cobain, these connections prove tenuous at best. In Hendrix's case, for example, the extent of their link is that Steve happened to be in the crowd at Monterey during Jimi's set there. Other big-name connections - such as one journalist's suggestion that Steve helped Joni Mitchell with her 1974 Court & Spark LP - crumble to dust the moment Wright examines them.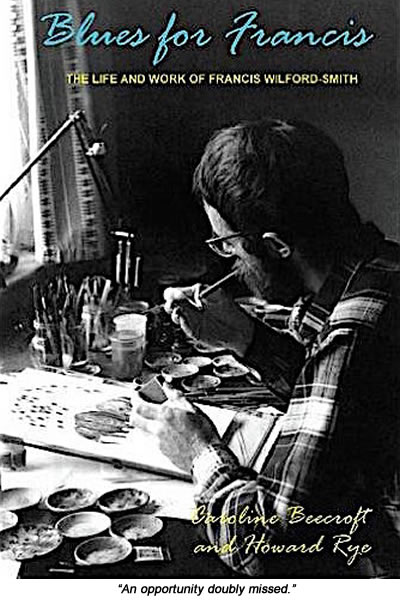 Caroline Beecroft & Howard Rye: Blues For Francis
Francis Wilford-Smith (1927-2009) was a blues collector, specialising in the 78rpm discs of piano blues and gospel made in the 1920s and 1930s. He hosted programmes playing this music on BBC Radio 3 for 25 years, also compiling his favourite vintage records into a series of collections on the Magpie label.
In the early 1960s, many touring bluesmen took the opportunity to stay at Wilford-Smith's Sussex farmhouse for a few days, where he recorded relaxed sessions by the the likes of Memphis Slim, Champion Jack Dupree and Roosevelt Sykes. Whenever the blues loosened its grip on him for a moment, he turned instead to his parallel career as a cartoonist for magazines like Punch, Playboy and The New Yorker.
I'd never heard of Wilford-Smith before picking up this book but, having absorbed his basic biography from the back cover blurb, I cracked it open convinced he must have been a pretty interesting bloke. Given such promising raw material, it's all the more of a shame that Beecroft and Rye's volume turns out to be such a frustrating affair.
Well over half its pages are devoted to simple transcripts of Wilford-Smith's Radio 3 programmes, faithfully reproducing every word he spoke between the discs played. His comments are informative enough, but without the music they were originally intended to accompany, their crucial context is removed. All we're left with is a record show with all the records missing - and that hardly makes for a satisfying read.
By insisting on unedited verbatim transcripts, Beecroft and Rye also make this section of the book difficult to navigate purely as a reference guide to whichever particular discs happen to interest you. It's an opportunity doubly missed.
One solution would have been to compile an online playlist to go with each programme transcript selected. I did this myself for Wilford-Smith's July 9, 1979 show, and it took me less than ten minutes to assemble a Spotify playlist containing all eight discs from that programme. A couple of days' extra work by the editors and this could have been done for every show in the book, allowing readers to reconstruct each show for themselves as they read Wilford-Smith's words. This approach - as my own little experiment proved - snaps his remarks into far sharper focus.
Elsewhere in the book, we find a selection of anecdotes, some told by Wilford-Smith himself, some by his friends and family, but all related in a rather lifeless way. The most successful section comprises seven pages (plus photographs) of Wilford-Smith's own memories of the Sussex farmhouse sessions. Frog Records will soon be releasing a CD extracting the best material from these, which it would be good to see packaged together with this book in any future editions.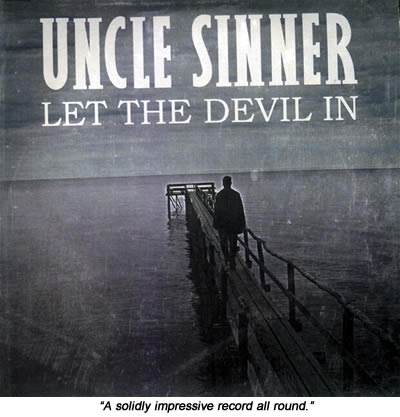 Uncle Sinner: Let The Devil In
Uncle Sinner is Mike Bodner, a Canadian bluesman whose music I've been following online for two or three years now. He's put out CDs before, but this latest album marks a real step up in class. It's the moment when a talented hobbyist suddenly finds everything clicking into place and proves he's ready to contend with the pros.
The disc is mostly a solo affair, populated just by Bodner's deep, throaty roar and his own guitar or banjo accompaniment. Where other musicians do step in, it's only to provide a little basic percussion ("floor, tambourine") or some minimal decoration from the mandolin.
The mood is dark and intimate, full of Old Testament ferocity and with hints of the supernatural creeping in at every song's edge. The Book of Revelations' vengeance can be expected any day now and strange, sinister stuff is happening all over. It's like a madman's whispered gossip: Black Betty's baby was born insane; The Devil's laid a black egg in Winnipeg. Hadn't you heard?
Bodner builds this world on favourite recordings of old blues songs, such as Reverend Gary Davis's Blow Gabriel, Charley Patton's Oh Death and This World Can't Stand Long by the King's Sacred Quartet. Rather than slavishly copying these tracks, he's used them as a jumping-off point, substituting his own arrangements and adding or rewriting lyrics as he goes along.
He's thought his way deeply enough into the old, poor, rural America to achieve these changes in an utterly convincing way. The mood of the original songs is always respected, and often intensified as a result. Bodner's own Let The Devil In - this album's only full original - inhabits the period's fears and superstitions with equal conviction as it details Old Nick's relentless approach through Canada.
Highlights include Bodner's fluent dobro playing on the aforementioned This World Can't Stand Long, the subdued electric boogie of Little Girl In Rome and the fine slide guitar work on that title track. Kokomo Arnold's Milkcow Blues raises the tempo of the music for a change of pace, as does Wabash Blues' nimble banjo instrumental.
This is a solidly impressive record all round, and one which I hope will let us hear plenty more from Bodner in the future. So step into the back room, kids - your Uncle Sinner's got something to show you.

Read my July 2016 fRoots interview with Uncle Sinner here.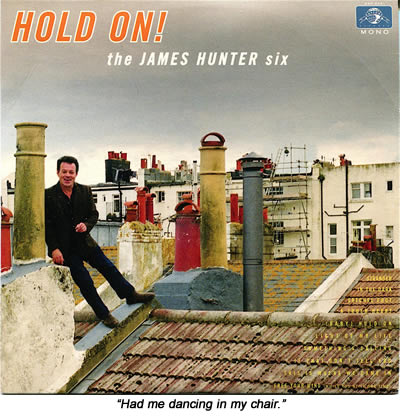 The James Hunter Six: Hold On!
Some things never go out of fashion - and one of them's a first-rate soul/R&B band with a blasting horn section in its engine room and a great singer up front.
Brooklyn's Daptone Records has made this style of music its own in recent years, so James Hunter's recent signing to the label makes perfect sense. With Daptone's Gabe Roth in the producer's chair, the band's sound gains an extra level of precision and punch here which makes it clear they've found the perfect home.
With the exception of keyboard player Andrew Kingslow, the sextet's line-up has remained intact since 2006's People Gonna Talk, giving them the almost telepathic tightness only that long comradeship can provide. From the first snap of track one's opening snare drum, you know you're in safe hands. The driving, staccato horn riffs at the heart of every song are sharp and inventive, underpinned by Kingslow's organ work and a rock-solid rhythm section.
Hackneyed as the comparison is, Hunter's voice really does stir memories of classic soul artists like Sam Cooke and Ray Charles. I know he gets sick of reading that, but really there's no better way of summing up his vocal gifts. He draws inspiration from that era's disciplined approach to recording too: only one song here's allowed to exceed the 3:30 mark, and every solo's kept short and focussed.
There's a Latino sway to some tracks, including This Is where We Came In's tale of a relationship nearing its end. This conjures a ballroom full of elegantly-clad dancers swirling round the foot of the stage as Hunter croons away. Elsewhere, we get more exuberant numbers such as (Baby) Hold On, where Hunter's own guitar duels against Damian Hand's sax, and the full-throated soul of A True Heart.
The party peaks with three consecutive stunners towards the album's close. The sprightly, hook-laden Light Of My Life is surely a chart hit waiting to happen. Stranded proves equally infectious, while the instrumental Satchel Foot soundtracks an imaginary 1960s movie with a combination of groovy guitar twang and those trademark horns. All three of these songs had me dancing in my chair the second they started.
As you'll have gathered, I like this album a lot. My only quibble is that it's a mere 31 minutes long which, given that Daptone's priced it as a full-length CD, seems rather short measure.


The Malingerers and The Destructors: Deus Luna
Not one band, but two, both from Portsmouth and here sharing a 22 minute CD with seven tracks between them. What would you call that? A split EP in CD format, I suppose.
First up are The Malingerers, who use their three tracks to canter through a wide range of acoustic, rootsy styles. Good Time Bottle is a fast, highly danceable garage blues, driven along by Craig Murphy's swirling harmonica. Tim Palmer's fiddle gives just the right maudlin flavour to the Irish folk of Forever The Boy From Fermoy, and a cover of Merle Travis's jaunty country number So Round, So Firm, So Fully Packed wraps up "side one" nicely.
This last number, of course is Travis's sharp repurposing of various 1940s advertising slogans to express his appreciation of the female form. The title phrase, should you be wondering, was originally used to flog Lucky Strike cigarettes.
Kev Murphy's lived-in voice suits all this material well and his guitar's always there in the mix somewhere. Most of the musical spotlight falls on Palmer and Murphy, though, who both acquit themselves well. There's an appealingly good-natured vibe about the whole set, and my sense is that they're a band who'll be worth keeping an eye on. Catch 'em live in the right venue and I bet they'd be great.
The Destructors took a little longer to grow on me, but I learned to love them half way through my fifth listen. On the surface, they're all punked-up electric guitars and angry, shrieked vocals, but a little further study reveals there's certain sly humour at work there too. No coincidence, I fancy, that they chose The Birthday Party's self-mocking Release The Bats as their own cover version.
Gentleman Jack is their best track for me, featuring both Tom Savage's admirably thunderous drums and a nifty little guitar solo from either Dave Colton or Steve Rolls. I had thought I was too old for this stuff, but maybe not .
If it's extraordinary technical ability and an earnest application of craft you're after, then I'm sure there are CDs aplenty in this issue which better suit your needs. What this little blighter has going for it is a sense of two bands having a quite unholy amount of fun - and sometimes that's just the tonic required. Portsmouth, eh? Who knew?

These reviews first appeared in fRoots 392-401. For more details, visit the magazine's website here.