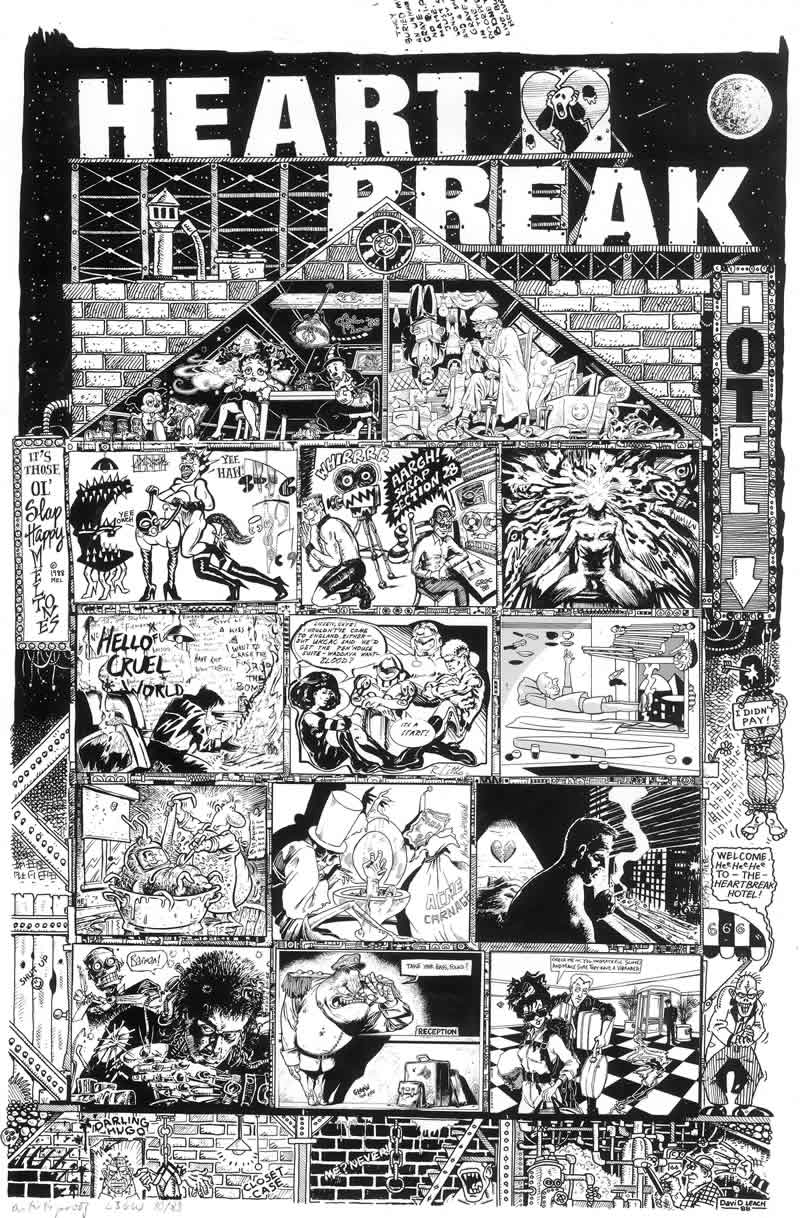 The 1980s was a hugely exciting time in British comics.
The punky 2000AD, launched in 1977, had given the best UK writers and artists a high-profile showcase, and by 1980 the Americans were starting to sit up and take notice. DC Comics, which publishes both Superman and Batman, sent its scouts to London with offers of freelance work on the industry's most iconic characters.
First to make the leap was Brian Bolland, who DC recruited in 1980. He started by producing a string of covers for the company, then got his own book to draw with 1982's launch of Camelot 3000. Dave Gibbons joined him at DC in 1983, starting his own career there with a slot drawing Green Lantern back-up stories.
Alan Moore kicked open the same door for UK writers when he took over DC's Swamp Thing in 1984, and consolidated his reputation there with Watchmen's first publication just two years later. Neil Gaiman and Grant Morrison both made their US comics debuts in 1988 - and that was the year of Heartbreak Hotel too.
This small-press magazine was launched by Lionel Gracey-Whitman and his partner Don Melia, two Americans living in London, who parlayed their own huge enthusiasm and energy into six bi-monthly issues. No-one got paid for their work on HH - least of all Lionel and Don themselves - but still they managed to attract an awful lot of big names.
Each issue of the magazine picked a different genre of music and then found half a dozen writer/artists to adapt a song from that genre into a four-page comic strip. Alan Moore tackled I Can Hear the Grass Grow for the hippy issue, for example, while Mark Buckingham did The Wild Side of Life in the C&W one. They also had a single-page soapbox strip called Spill It!!, which Grant Morrison, Dave McKean, Bryan Talbot and Glenn Fabry all helped to fill. Jamie Reid and Rian Hughes both supplied covers.
I got involved with HH in 1987, when Lionel joined the production desk of Money Marketing, the newspaper I then worked for. He gave me a page in his planned new magazine reviewing comics under the pen name Ricky Slaughter. It was actually one of these HH columns which inspired Time Out to hire me for the Trash Videos piece you'll find here (PDF). My HH column, incidentally, badged Ricky as "The Aggressive Voice of Street-Toughened Youth". Laughably inaccurate as this description was - even back in 1988 - it remains the best bit of bill matter I've ever had.
I helped out with a few other odds and ends on HH too, including my own strip based on the Sex Pistols' Pretty Vacant, and some last-minute record reviews when someone else's copy hadn't turned up. Lionel thanked me for this pinch-hitting with a copy of the artists' proof you see here. Click anywhere on the image above to open a larger version for close examination.
As far as I know, the only place the print has appeared until now is in UKCAC's 1988 convention programme - and the speechballoon in Rory Little's panel suggests that's the home Lionel had in mind for it all along.* UKCAC was the biggest comics convention in Britain at that time, held every September in London. The organisers would pack the programme with art donated by the various professionals attending that year's show, and then sell these originals in a charity auction on the final day.
I don't know if this particular piece was auctioned or not, but if so, Lionel must have prevailed on the buyer to let him borrow it back. The proof's dated October 1988, weeks after the convention was finished, and I think he must have run the copies off so he had something to send the contributors in lieu of their original art. He may also have intended to republish the piece in Jan/Feb 1989's HH#7, but the magazine closed down before that issue ever appeared.

* Since posting this page on July 17, 2013, I've discovered one earlier appearance of the print online. Ben Hansom's Deep Space Transmissions ran a reproduction of it from the 1988 UKCAC programme nearly a month before I did, which my original search failed to uncover. Neither Ben nor I knew anything about the other one's plans when we each decided to post the print, but the end result was that it remained almost unknown for 24 years then got two independent airings in the space of four weeks. Obviously an idea whose time had come!