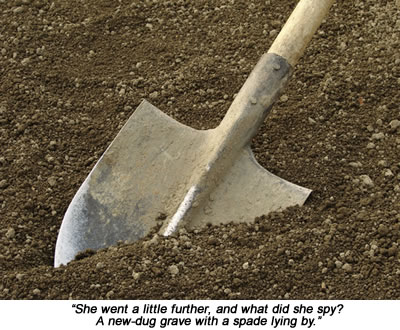 "For the best part of three hundred years the common folk have been unable to shake this melodrama out of their imagination."
- AL Lloyd on the song's English origins.

"America's favourite crime story, the same tale that Dreiser used in An American Tragedy."
- Alan Lomax, Bad Man Ballads.

"The first time you hear Pretty Polly, you giggle nervously. The dark forest flowing with blood, the beautiful girl, the open grave – it makes you dizzy with a strange mixture of horror and delight."
- Rennie Sparks, The Handsome Family.



At first glance, Pretty Polly is just one more "murdered girlfriend" song. Like Knoxville Girl, it has its roots in a very old English ballad telling of a young man who knocks up his girlfriend and then stabs her to death rather than marry her. And like Knoxville Girl, the source ballad emigrated to America with European settlers where it was drastically cut from its original epic length to form a lean, mysterious and brutal folk song.
It's clear Willie was determined to kill Polly long before he suggested their walk in the woods
So far, it's all familiar stuff. But there are two elements which set Pretty Polly apart from any other murder ballad I know, and they combine to make its protagonist one of the most chilling the genre has yet produced. "He, unlike so many murder ballad beaus, does not murder 'the girl he loved so well'," says The Handsome Family's Rennie Sparks. "His love for Polly was always rotten with the desire to kill." (1)
To see why that is, let's start with the moment Polly first glimpses the lonely spot Willie - the young man in question - has chosen for her murder. As he leads her deeper and deeper into the woods, Polly begins to fear this is not the innocent stroll he promised. Estil Ball, in his 1959 recording, describes what follows like this:

They went up a little further, and what did they spy?
They went up a little further, and what did they spy?
A new-dug grave with a spade standing by.

Polly tells Willie she's afraid, and he confirms her worst fears. BF Shelton's 1927 version gives him these words:

"Pretty Polly, Pretty Polly, your guess is just right,
Pretty Polly, Pretty Polly, your guess is just right,
I dug on your grave six long hours of last night."

It's clear now that Willie was determined to kill Polly long before he even suggested that walk in the woods, and that he's calmly prepared the ground for her slaughter. "This is no crime of passion," Sparks points out. "He stayed up all night to dig her grave ahead of time. You can see him there, measuring the hole, straightening the sides, laying the spade just so. He may be a serial killer. He may be completely insane."
There's more evidence for this is in The Stanley Brothers' 1950 recording, which gives Willie a second, equally psychotic, little speech. Realising that he plans to kill her, Polly falls to her knees, swearing to leave town and raise the child alone. If he'll only spare her life, she says, he need never set eyes either of them again. But Willie is unmoved:

"Oh Polly, Pretty Polly, that never can be,
Polly, Pretty Polly that never can be,
Your past reputation's been trouble to me."

In most other versions of the song, Willie stabs Polly just seconds after they reach her grave, but the Stanley boys give him this sadistic little pause first. "He lingers there with his knife, enjoying her terror," Sparks says. "He says he's heard stories. He has suspicions. He's sure that, hiding somewhere under Polly's pure white veils, there is a dirty slut who deserves to die."
Only a handful of the song's later interpreters have had the stomach to include this particular verse, but Angela Correa was one of them. In her 2004 recording, she manages to make it a notch darker yet by having Willie address Polly as "Honey" when he delivers its final line. The way she sings it makes Willie sound genuinely fond of Polly, but no less resolved to kill her anyway.
I've picked out the most striking examples of the particular verses above, but the ideas they contain are present in just about every version of Pretty Polly. All but the Stanley Brothers' coda can be traced directly back to the 18th century ballad which inspired the song, and so can another characteristic which marks Willie as a very modern killer. It's what the music writer Hank Sapoznik calls Pretty Polly's "bleak, shifting perspective". (2)
Unlike any other murder ballad I can think of, Pretty Polly is constantly switching its narrative point of view, forcing the singer to speak as a neutral witness in one verse, as the killer in another, and as Polly herself in a third. To get the most out of the song, performers must constantly be hopping from one persona to the next, and I think the same may be true of the man it depicts.
Real murderers often speak of stepping outside themselves at the moment they killed. Stuart Harling, for example, who stabbed a Hornchurch nurse to death in 2006, said that he'd felt "as if he were watching himself stab someone in a film or a computer game". Dakotah Eliason, who shot his grandfather dead in Michigan four years later, told detectives he'd "felt at if he were watching a movie about himself " when he pulled the trigger. (3, 4)
The thriller writer Boris Starling describes Dostoevsky's Crime and Punishment in similar terms. "It's all about how the murderer disassociates himself from the act of murder," he said in a recent interview. "It's written in the third person, of him watching himself perform the murder. That's what happens." (5)
And it happens in Pretty Polly too. In Dock Boggs' 1927 recording for example, the killer describes his early acquaintance with Polly in frank, first-person terms: "I used to be a rambler, I stayed around in town". But the moment he consigns her body to a shallow grave is left for the witness to tell: "He threw the dirt over her and turned away to go". The same switch of viewpoints appears in many other versions of the song, including Bert Jansch's 1963 recording. "I courted Pretty Polly the live-long night," Jansch sings in his first verse. A few lines later, when the actual killing has to be described, this becomes: "He stabbed her to the heart".
One reading of this is to assume the killer and the witness are the same man, but that Willie feels he's watching the murder itself from a vantage point outside his own body - just as Harling and Eliason report doing. Most recordings give Polly just a single verse of narration, leaving Willie to hop between his two different perspectives for the rest of the tale. Always, it is the goriest passages where he chooses to step back and describe events from the outside.
If that seems too fanciful, then consider this discussion of Ted Bundy and Jeffrey Dahmer on Adam Pearson's Words From The Wind blog. "Both men have expressed in their interviews that they felt themselves torn between a sense of vivid first-person agency and a sense of disconnected third-person spectatorship," Pearson writes. "It seemed at times as if they became mere spectators to their own actions, watching themselves, as if from outside, carrying out the brutal murders of innocent individuals." (6)