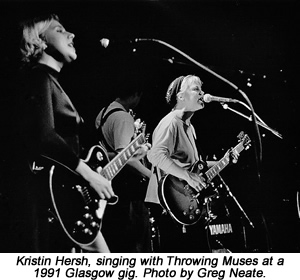 By 1970, the folk revival was just a distant memory, and Pretty Polly found few takers in the rock scene that replaced it. The song remained as popular as ever among bluegrass musicians and their fans, but dropped out of sight for almost everyone else. If you ever did hear it on the radio at that time, it was likely to be on a programme devoted to music for toddlers.
Pretty Polly has always had this parallel life as a children's song. Posting to the folk music board Mudcat in September 2001, Marymarymary recalled hearing a version called Little Molly during her own childhood. "When I was little, the woman who took care of us when my parents were at work used to sing it," Marymarymary says. "She was an older lady, and we kids were all terrified of her, but she was the only woman around who would babysit that many kids until midnight every night."
The lyrics she quotes on Mudcat include all of the song's goriest details, complete with the waiting grave, the stabbing and the heart's blood. In this version, throwing a little dirt over the girl is not callous enough for Willie, so he chooses an even crueller blanket:

He buried her deep, and he strew the grave with thorns,
He buried her deep and he strew the grave with thorns,
And left no-one behind but the wild birds to mourn.

That's the tradition Jill Trinka was following when she included Pretty Polly on her 2006 album Bought Me a Cat. "Folk songs, singing games, and play parties for kids of all ages," the album's sleeve promises. "Enrich children's lives with this delightful collection of traditional music." To her credit, Trinka makes no attempt to censor Pretty Polly's tale, cantering through its every murderous detail in her sweet, high-pitched and very folky voice. For all the feeling she imparts to its lyrics, however, she might as well be singing about puppy dogs and rainbows.
Just this once, it's Willie who ends up in a shallow grave, and Polly who gets to walk away
Kristin Hersh's version on her 1998 album Murder Misery and Then Goodnight is much more successful. Mixing murder ballads and lullabies in equal measure, the album springs very much from Hersh's own childhood. "My father and grandparents taught me all the folk songs I know," she told me. "Pretty Polly was in my dad's repertoire of songs he'd play me waiting for the school bus and on the front porch in the afternoon.
"When I made Murder Misery and Then Goodnight, I sat my kids down and gave them a Looney Tunes style lecture on the realities of violence versus impressionistic violence, and they looked at me as if I was nuts. They then went on to sing along, bang on the piano, play the mayonnaise jar and anything else they could get their hands on.
"They had a ball. Really, they made that record with me, rather than dozing off on the studio couch which is what they usually do when I'm working. Kids grasp the value of story, I think." (34)
Indeed they do. For Hersh, though, Pretty Polly's tune is just as important as its words. "It's the dark lyrics in contrast to that bright melody," she told me. "I always like to hear inherent sadness beneath a brave front." Jon Boden made a similar point on his website last year. "Of all the girlfriend murdering songs, this must be the one with the most inappropriate tune," he wrote. "Somehow, that makes it all the more horrific." (38)
Bluegrass music returned to mass attention when the Coen Brothers released their movie O Brother Where Art Thou in 2000. Its accompanying soundtrack album sparked a brief craze for any vintage recording with a banjo and a fiddle on it, but also helped to fuel the growing Americana/alt.country movement and its fascination with murder ballads. "I've spoken to many happy listeners who thought they didn't like folk music because they only knew protest songs," Hersh told me. "Songs like Pretty Polly are so creepy and cool in comparison."
This realisation led Americana fans to form a whole new sub-genre called Hillbilly Noir, which encompassed not only music, but crime novels and movies too. Bands playing every level of venue from a neighbourhood bar to the local sports stadium realised that adding an old murder ballad to their set could add that crucial whiff of sulphur mainstream rock had lost long ago.
And audiences responded well. The London rock band Queenadreena's average fan must have been 30 years younger than most Ralph Stanley listeners, but the reception they give Pretty Polly on the band's 2005 live album marks it as a crowd favourite. "It never failed to get a great response," Crispin Gray, the band's guitarist, told me. "We often used it as the last song in the set or as an encore - the song the whole gig would build up to. It was one of the very few songs that we played right from the outset to the last Queenadreena performance in 2009."
Since O Brother's release, we've had other rock treatments of Pretty Polly from the likes of Throttle and Bone Orchard, plus indie ones from The Anarchist Orchestra, Black Strap Molasses Family and Muleskinner Jones. Little Toby Walker and Beate Sampson have both given the song a blues favour, and Bill Frisell's jazzed it up as highly-polished instrumental. The Crooked Jades, The Elkville String Band, Sarah Elizabeth and Mark Erelli have all ensured its folk and country roots are regularly refreshed.
The Gosport Tragedy and its many aliases haven't been forgotten either. Jackie Oates included The Cruel Ship's Carpenter on her 2006 debut album, as did Damien Barber and Mike Wilson on their 2011 CD The Old Songs. Waterson:Carthy cut an excellent version of Polly's Love on their 2009 album Common Tongue, and Jon Boden revived those old Sam Larner/Peter Bellamy lyrics for his own rendition of The Ghost Song in 2011.
A few songwriters have taken things a step further, and penned their own response to Pretty Polly rather than simply covering the original track. Josh Ritter took this route in 1999, as did Sweet William in 2003 and Fred Burns in 2011. Ritter and William both call their own songs Pretty Polly, but Burns opts for Pretty Polly's Revenge. "What if the seemingly helpless Polly had been packing heat that fateful day?" he asks.
It doesn't take long to find out. Burns, deftly accompanying himself on eight-string guitar, sets the scene with a couple of Ralph Stanley's verses. But when Willie shows Polly her waiting grave, he gets a response he didn't expect:

"My Momma warned me, Willie, you had evil in your eyes,
She warned me, Willie, you might try to take my life,
So she packed me this pistol, she packed me a pistol,
In my purse last night."

Well, Willie pulled his dagger, but Polly grabbed her gun,
He pulled his dagger to kill her, but Polly grabbed her gun,
She shot him through the heart, Lord, the bullet pierced his heart,
And his evil blood did run.

In the grave he dug for Polly is where Willie fell,
In the grave he dug for Polly is where Willie fell,
Now he lies in Polly's grave, Lord, he lies in Polly's grave,
He's dead in Polly's grave, but his soul burns in hell. (39)

It's a neat twist, and one which returns Pretty Polly to the vengeance her older sister's ghost wrought on Willie three centuries ago. It took us 100 years from those beginnings to give the murdered girl a hands-on role in Willie's death, and another 200 after that to produce a version of the song she's allowed to survive all the way through. Just this once though, thanks to Fred Burns, it's Willie who ends up in a shallow grave, and Polly who gets to walk away.
Whisper that news to the mud of a Gosport churchyard, as I did just a few days ago, and your answer will be Molly's sigh of gratitude from far below: "That's for the murder of my baby and me".



For more on
Pretty Polly
, please go to this Amazon Kindle page (
US
/
UK
). The version of my essay there adds an exclusive interview with The Handsome Family's Rennie Sparks, who delves deeper into the song's strange sexual charge and nominates what she believes is its creepiest recording ever. The price is just £1.49 ($1.85 in US). Amazon has a free app allowing its Kindle titles to also be read on smartphones, tablets and computers.