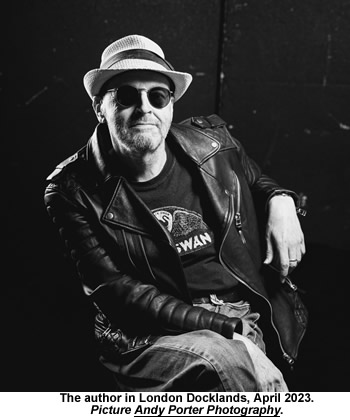 Hello. My name's Paul Slade, and I've been a journalist here in London since 1982. During that time, I've written for The Daily Telegraph, The Independent, The Guardian, The Times, The Observer, The Sunday Telegraph, The Independent on Sunday, The Sunday Times, Mojo, Fortean Times, The Idler, Time Out and a host of other publications. In 2005, I started making occasional documentaries for BBC Radio 4, covering subjects like a forgotten radio hoax of 1926 and the craze for "dirty blues" lyrics in pre-war America.
I've developed a taste for writing long essays, a form very few magazines will consider buying
Like any hack who's been working for that length of time, I've accumulated a fair number of pet projects over the years. These are subjects which I've become passionately interested in myself but which, for one reason or another, I've never managed to sell as a commercial proposition. It doesn't help matters that I've recently developed a taste for writing longer essays - running anywhere up to 15,000 words in length - which is a form very few modern magazines are prepared to consider.
Hence this website. Here you'll find my guide to some of the world's most fascinating Murder Ballads, a series of Secret London's forgotten mysteries and, in the section I've cunningly titled Miscellany, anything else I damn well feel like including. My aim is to combine the old-fashioned virtues of traditional journalism - proper research, clear writing and a habit of checking my facts - with the global distribution and ease of access which only the internet can provide. I hope you find something here to take your interest.
- Paul Slade, London, April 2009
Follow PlanetSlade on Twitter @PlanetSlade
PlanetSlade's main Twitter account gives you announcements of all new additions to the site, a heads-up on significant aniversaries, capsule theatre reviews, tips on my cultural discoveries and anything I think might make people laugh. Join our merry band by clicking the button below.
Tweets by @PlanetSlade