May: Staging the Gallows Ballads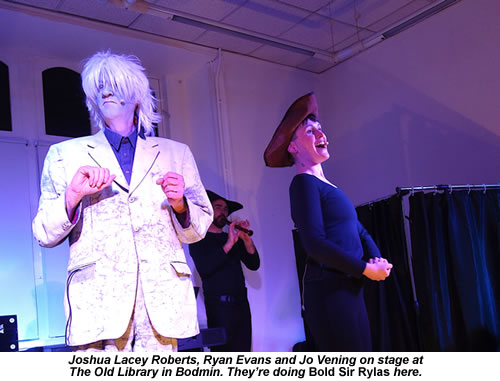 I first heard from The Hamoaze Band in June 2018, when they dropped me a line from Cornwall inviting me to see their touring murder ballads show. They'd chanced across PlanetSlade's British Broadsides page and plucked out four of the Victorian gallows ballads there to include in the set. Would I like to come along and hear the result?
Well, yes. Yes I would. The only snag was that all their dates for Plump Dead Thighs & Pretty Blues Eyes – as they called the show – were deep in the West Country, so it'd be a few months before I got a chance to make the trip. The stars finally aligned on April 13 2019, when I set off from Paddington to catch their Bodmin gig at the town's Old Library.
They played each song with gleeful relish & never a hint of apology for its gory content
It was a great night, featuring not only the four gallows ballads I'd come down to hear, but also three songs from Nick Cave's classic 1996 Murder Ballads album, a handful of homicidal old English folk songs and a well-chosen blast of Jimmie Rodgers. They presented the songs with a lot of theatrical flourish. Joshua's macabre narrator tied everything together from song to song, while the band's other three members each leapt from character to character as the night progressed.
Often, they found a new angle in their interpretations. Their take on The Two Sisters, for example, was based on a work song version once used by women making besom brooms in the North East of England. Best of all was their decision to perform The Old Baby Farmer's infanticide story as a playground song, with the band's two women slapping out a pat-a-cake rhythm back and forth on their hands as they sang. Throughout the evening, they tackled every song with gleeful relish and never a hint of apology for its gory content.
The band's planning to record the show's four PlanetSlade tracks soon, which I'll be sure to link from our Gallows Ballads Project page, but for the moment you'll have to make do with my photographs and captions below. Click on any pic to discover more about the true story behind that song and to see its original ballad sheet.

To find out more about Plump Dead Thighs & Pretty Blue Eyes, visit The Hamoaze Band website here. They also have details of the tour's remaining gigs and where to buy tickets. Should you be wondering (as I was) how to pronounce their name, it's "Ham-owes".

STOP PRESS: The promised tracks are now up online at Soundcloud. Click this link to hear the band's recordings of Nathanial Mobbs, Son David, The Old Baby Farmer, Streams of Crimson Blood, Two Sisters and other songs from their 2019 show.
*****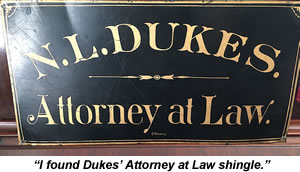 April 1, 2019: Dana Dukes of Ohio writes:
"I just read Demon in a Bottle, your article about the Dukes/Nutt affair. Nicholas Lyman Dukes was my great great great uncle (I think – that's a lot of generations!)
"The story that was passed down in the family was that he was a lawyer who had put a man in jail. The jailed man's brother hunted Nicholas down and shot him on the courthouse steps - nothing tawdry or devilish for sure. You can imagine how surprised I was when I read your story and began doing additional research on my own.
"I named my oldest son after Nicholas's father, who built the family homestead I grew up in. It's housed many generations of the Dukes family, from the first in 1865, who built the house, through to my father, who passed away in 2018. I actually found Nicholas Lyman Duke's 'Attorney at Law' shingle as we were cleaning out the house, the first time it had been purged in over 150 years. Thank you again for your excellent storytelling. It was a great read!"

Paul Slade replies: Thanks very much for getting in touch. That essay was a lot of fun to write, so I'm really pleased you enjoyed it.
It's amazing how much a story can change as it moves down the generations of family legend, isn't it? Our ancestors were often determined to conceal anything in the family's past that seemed less than 100% respectable, but I think our own generation tends to treasure any rogues in the family.
The real story of the Dukes/Nutt affair, as you hint in your letter, is colourful enough for anyone. There's the sexually-explicit letter calling a beloved daughter's virtue into question for a start, followed by the outraged father gunned down while defending her honour, his killer walking free from court and lynch mobs pursuing the jury. Act Two brings us the dead man's son taking revenge, a determined bending of the law to ensure he escapes punishment and an innocent woman shot dead in the violent aftermath. All that, plus some high rhetoric from one of the era's most famous lawyers and a distinct whiff of corruption from the governor's mansion.
That's a tale which even the most lurid daytime soap opera might regard as ridiculously implausible. Most unbelievable of all is the fact that the whole story happens to be true!
*****
April 23, 2019. Kevin Olson of New Jersey writes:
"I enjoyed True Lies: The Lonesome Death of Hattie Carroll very much. Just one observation regarding the Afro-American story you cited:

"Zantzinger is charged with murder generally," the Afro reported, "which could result in conviction of first or second degree murder or manslaughter. [...] Whether a general murder charge is reduced to second-degree or manslaughter is determined by the judge or jury after hearing the facts of the case."
"Assuming this is accurate, it implies that a "murder generally" charge defaults to first degree but may be reduced at trial. My suspicion is that a good lawyer would have little problem justifying Mr. Dylan's lyrical use of 'booked...for first degree murder' as the effective original charge."

Paul Slade replies: Thanks for the kind words, Kevin - glad you liked the essay. For those who haven't read it, one of the things I consider there is how Dylan's song diverges from the strict facts of the case, and what might have happened if Zantzinger had followed through on threats to sue him for libel.
I've checked my photocopy of the original Afro-American story, and I can confirm that both my essay and your quote of it above give exactly the paper's own words. Other newspapers of that era, including the New York Times, agree that Zantzinger was charged with murder, but give no indication of that being in any particular degree. As he we know, Zantzinger's eventual conviction was for manslaughter only.
You raise a good point about the Afro's choice of the word "reduced", the possible significance of which hadn't struck me until now. It could be no more than a bit of careless phrasing from the paper's reporter, of course, but I'm sure you're right in saying any decent lawyer would have seized on it in preparing Dylan's defence.
*****
April 21, 2019. William Stribling of New York City writes:
"Can you give me the name of this traditional ballad: A rapist takes a young girl out to a secluded area (in a car I believe) and prepares to rape her, but she pulls a knife and kills him.
"It's got very grim-sounding lyrics - you think the worst is going to happen - but with a surprise happy ending. Very similar to Pretty Polly but not an actual murder. I've heard it but can't come up with the title. Kind of a 'Me Too' thing. Very trippy. Thanks, Dude."

Paul Slade replies: It doesn't ring a bell, I'm afraid. The closest song I can come up with is Fred Burns' Pretty Polly's Revenge. That's got Polly defending herself with a gun rather than a knife, but does have the same twist ending.
When you say the song you're looking for is a traditional ballad, do you know that for a fact or do you mean it's just generally in that kind of style? I ask because it seems odd to find a car included - though maybe that just means it was a modern interpretation of an old song?
If it does have its roots in traditional folk music, it might be worth posting a query on Mudcat's message board. They're a pretty knowledgeable bunch over there. I'll run your note on PlanetSlade too and ask my own readers to weigh in.
[After replying to William, I put his query out to PlanetSlade's Twitter followers. The most promising suggestion came from Bruce Triggs @AccordionBruce, who thought the song in question might be Gillian Welch's Caleb Meyer. Some of the plot details differ, but the song's vibe is just as William describes and it would easy to mistake for a traditional ballad. Cracking song, anyway.]
*****