December: A Secret Policeman writes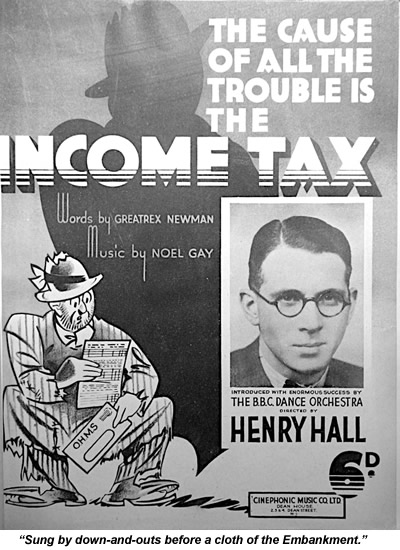 November 3, 2019. Martin Lewis of California writes:
"Martin Lewis dropping you a line from Hollywood. I'm an ancient British film producer in self-exile. For my many sins I co-created/produced the Secret Policeman's Ball series of benefit shows/movies/albums a few million years ago.
"I arrived at your fascinating website by way of my research into an obscure 1930s music hall song you referenced in a story that you wrote for the Indie over 20 years ago. There's no reason why you should recall the story, but if you do have any recollections - or better still contact info for your interviewee - I'd be thrilled .
"Ultimately I'm trying to track down more info: eg name of the artist who originally popularized the song, the full lyrics - and best of all a copy of the sheet music. Here's the song title: The Cause of all the Trouble is the Income Tax. And here's your story.
"I heard the song sang at the 90th birthday party for my Mum, for which I'd hired a team who specialized in Victorian music hall. Till I read your story I'd thought it was a Victorian tune. But it's apparently a 1930s number co-written by Noel Gay. Not a bad little ditty as novelty tunes go, and it beat George Harrison by 30 years in griping about taxation!"

Paul Slade replies: Thanks for getting in touch. I have a vague memory of making my way down a concrete stairwell to the Somerset House basement where this exhibition was held, but can remember no more about it than that. I assume Nigel East, my interviewee, must have been an Inland Revenue employee. Whether he's still there after all this time is anybody's guess.
I earned my living in those days by churning out personal finance copy for the Sunday Telegraph and the Independent, which paid well but was often fairly dry stuff to write. As a result, I was always delighted to find a quirky little story like this which I could shoehorn into the papers' money pages. Twenty years on, I'm glad to report I still made myself laugh with that final paragraph!
Anyway: the song. I've had a root around in one of two of my favourite databases this morning and here's what I've found. The British Library has a copy of the sheet music, which it's safe to assume will also give the full lyrics. I can't access that item online, but I'll be stopping by the library next week and should be able to send you over a copy of the sheet music then. The British Library's catalogue dates it to 1936, and credits the authors as Greatrex Newman (words) and Noel Gay (music). Gay, of course, was a very prolific songwriter of that era while Newman, I see, also wrote comic monologues.
I've also done a search of the British Newspaper Archive and found a handful of clippings mentioning the song. Here's what they tell us:
* The song featured in February 1935's
Stop Press
revue at the Adelphi Theatre in London. A reviewer for
The Era
singled it out as one of the show's best numbers. It was "sung by down-and-outs before a cloth of the Embankment," he adds – the rail bridge at Embankment then being a major gathering place for London's homeless.
* Cinephonic Music, the song's publishers, mention it in their November 1936 ads, where they list it among the year's biggest sellers. Also mentioned in the ad are Gay's
Let's Have a Tiddley at the Milk Bar
("THE comedy chorus song of the year!") and
This'll Make You Whistle.
* The song pops up in another revue of January 1937, this one staged by residents at The Actors' Orphanage, where
The Stage
rated it "among the most successful" numbers in the show. Its young performers there are given as "Duke & Mate", but I can find no sign that this duo ever worked together again.
* Finally, I've found a clipping from
The Stage
of August 18, 1977, this one reviewing a show called
The Fol de Rols
at the New Theatre in Cardiff. "There are some very amusing sketches, the most impressive being
The Cause of all the Trouble is the Income Tax
and a zany potted panto
Come Dancing Cinderella,"
it says.
I'll
be in touch again next week to let you know how I got on with the sheet music. Are you planning to get someone to record it? If so, I'd love to hear the result.
[I found the sheet music at the British Library a few days later and passed copies on to Martin. The pic above shows my photo of its cover after a digital clean-up by one of his computer-savvy friends.]
*****
October 25, 2019. Mary Katherine Goode of Boston, Massachusetts, writes:
"I've perused your website and am glad to find a fellow murder ballads aficionado. I thought I was the only one!
"It's a few days yet until Halloween and, as per usual, my sister tells me that the country music stations down South are gearing up to play songs like Pretty Polly. Yep, those old Southern ballads are still sung in 2019 and normally around this time of year. There is really no other time of year to sing them when you stop to think about it - warbling about the decapitation of innocent children in the middle of the town square, no matter where you live, will get you picked up by guys who think you have gone full butterfly net zone.
"In particular, there's a bluegrass version of Pretty Polly by a Virginia band called Vandaveer. As you can see, Polly's evolved some since Dock Boggs recorded his banjo version of the song about a hundred years ago.
"The tradition of murder ballads has never totally gone away. Look at Tom Jones' Delilah. Weirdly, that is a football anthem of at least one team - and it's about a crazed boyfriend who thinks 'If I can't have her, nobody can'. How this is possible, I don't know. What I do know is that songs like Smooth Criminal by Michael Jackson, Two Black Cadillacs by Carrie Underwood, The Night the Lights Went Out in Georgia by Reba McEntire and, my favourite, Janie's Got A Gun by Aerosmith all qualify under the banner of modern murder ballads, way outside the 1960s folkie stuff my mother used to love when she was young.
"Hope I have not overwhelmed you, and keep up the good work.

"PS. A bonus for you: here is a link to a ballad that crossed the sea and is originally a Child Ballad. But I doubt it was ever intended to be performed quite like this: Lord Randall by Jean Ritchie. I am also including an upbeat modern murder ballad by the Dixie Chicks: Goodbye Earl."

Paul Slade replies: Thanks very much for your recommendations, Mary. I knew some of the songs you mention, but by no means all, so there's plenty there for myself and PlanetSlade's readers to discover. Goodbye Earl's a particular favourite of mine, not least because the great Dennis Franz – who played Andy Sipowicz in NYPD Blue - has a big role in its video.
I looked up the football team you mentioned, by the way, and it turns out to be Stoke City. Here's a fanzine piece explaining how their fans came to adopt the song.

[Mary sent me the lyrics for a bunch of other murdery songs in her letter's attachment. These were Ghost of John (which she tells me is still taught to children in the US); Young Florilla (another of Knoxville Girl's sister songs) and; The Brown Girl (a Kentucky version of Lord Thomas & Fair Eleanor). They're all worth a listen.]
*****
October: Otis Reading & Bella Fitzgerald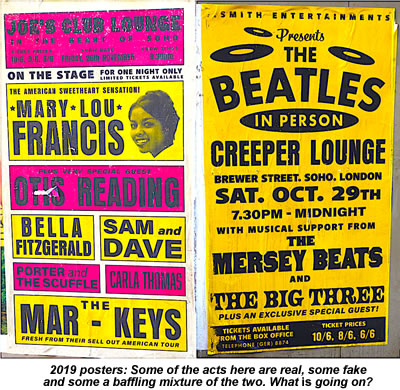 I spotted these two posters in an alleyway just south of Soho Square on September 11 and was curious enough to take a couple of photographs. What caught my attention was the strange mixture of fact and fiction they contain.
Some of the acts mentioned are real ones (The Beatles, Sam and Dave, Carla Thomas), some are fake (Mary Lou Francis, Porter and the Scuffle) and some a baffling mixture of the two (Otis Reading, Bella Fitzgerald). Their vintage 1960s design is authentic enough, and broadly matches the heyday of all the genuine acts mentioned, but how come no-one's ever heard of the two clubs they're supposedly playing?
I did a bit of online research that evening, but could find no evidence that any of the suspect bands or venues ever existed. None of my music reference books mentioned them either. The 1960s is perhaps the most exhaustively documented musical era in history – nowhere more so than in London – so that seemed odd. If The Beatles really had played a little Soho joint called The Creeper Lounge, I was pretty sure someone would have written about it.
I dug around on an internet calendar site next, discovering that the day and date combination on the Beatles poster meant its alleged gig could only have taken place in 1966. By that time, The Beatles were filling US sports stadiums, not tatty little Soho clubs, and The Merseybeats (more usually spelt as one word, not two) had already split up.
Switching to an image search, I unearthed the two genuine posters below, which seem to have inspired much of the new ones' design. In the case of the Beatles poster, it's only that "In Person" flash which has been lifted directly, but you can see the resemblance all the same. The Mary Lou Francis poster has copied 1967's Otis Redding original more or less wholesale: the boxy layout, the colour scheme and even many of the bands selected are identical.
Attempting to puzzle this out, I wondered first if the posters might be part of some convoluted advertising campaign. Perhaps a record label somewhere had a new soul diva called Mary Lou Francis who they wanted to market in the context of these 1960s greats? But if that was the case, surely I'd haver found some trace of her online. An art student's prank of some kind then? It seemed unlikely. My only remaining theory was that they might be leftover props from a filming project in that alley. Not necessarily a feature or even a TV show – perhaps just a commercial or even a high-end fashion shoot with a '60s theme to the clothes?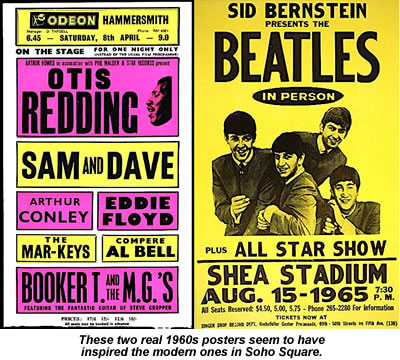 That was about as far as I could take the investigation on my own, so I sent all the details to The Londonist's Matt Brown, who was kind enough to put my query to the site's readers. It wasn't long till Karen Myers there gave us the vital clue. "Edgar Wright's new film Last Night in Soho shot around Soho Square very recently," she pointed out. "Part of the film is set in the '60s as well, so maybe?"
Wright is the acclaimed British director behind movies like Shaun of the Dead, Hot Fuzz and Baby Driver. This new project, due out next September, is a psychological horror story with Terence Stamp and Diana Rigg in its cast. There's your Swinging Sixties connection right there. And look! Here's a photo from one of Last Night in Soho's locations showing a modern Soho building's exterior dressed to become … The Creeper Lounge. Result!
I've got a query in with Wright asking if he'd like to comment on any of this, but his movie's now in post-production so I don't suppose he'll have either the time or the inclination to reply. I guess I'll just have to wait till next September to find out if the posters show up on screen at all and, if so, why the soul revue one required such a quite perplexing mixture of names.

The Londonist is an essential site for anyone who wants to make the most of this fascinating city. For its own story about our poster investigations, click here.
*****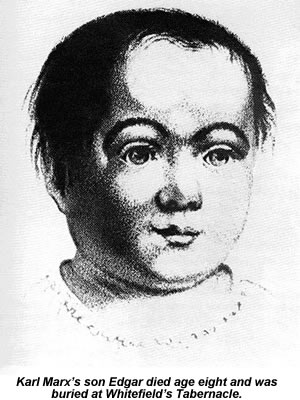 August 12, 2019. Jonathan Miller of Whitefield's Tabernacle in London writes:
"[Whitefield's Soul Trap] is an amazing piece of research. Congratulations and thanks are due to you for synthesizing so much history and information into such an accessible account. I have already shared it with the rest of our office staff, and they have read with fascination and deep interest.
"And thank you for sparking my interest in engaging more with our church's history through the stories of its buildings and grounds. […] One of the interesting tidbits that has come out of my own research is that three of Karl Marx's children were buried here. The first two children - Henry Edward Guy ("Guido") and Jenny Eveline Frances ("Franziska") - both died at around a year's age, in 1850 and 1852 respectively. Various accounts mention the family being lent money from their fellow immigrant neighbours to avoid a pauper's burial.
"As hard as these losses were, it was the death of Marx's oldest son, Edgar ("Moosh"), at the age of eight which left him absolutely devastated - friends held him back for fear he would jump into the grave with Edgar. What is odd is that this was in 1855, [two years] after the burial ground was closed; yet multiple sources refer to the burial taking place at Whitefield's Tabernacle. I'm not sure if there is a larger story there, but figured you might be interested to know."

Paul Slade replies: Thanks very much for passing that on, Jonathan – it's just the sort of nugget I was hoping your continuing research might turn up. I had no idea about the Marx connection till I saw your letter, but I've now dug out a couple of the sources of you mention for the benefit of other PlanetSlade readers.
Just to give a bit of context, Marx and Engels published The Communist Manifesto in 1848 but it achieved little impact until 1870 or so. Marx moved to London with his wife and three children in 1849, where they rented rooms in Soho's Dean Street, a short walk from the Tabernacle. They lived there in conditions of almost Dickensian poverty, alleviated only by Marx's occasional income as a freelance journalist and some cash injections from Engels. It wasn't unusual for the children of London's poor to die in infancy at this time and the Marx family were no exception.
Francis Wheen's excellent 1999 biography of Marx confirms that Edgar died on April 6, 1855, and then has this paragraph:
"The funeral took place two days later at the Whitefield Tabernacle in Tottenham Court Road, already the final resting place of Fawksey [another nickname of Guido's] and Franziska. During the short coach journey to the graveyard Liebknecht stroked Marx's forehead and tried, rather fatuously, to remind him of how many people still loved him – his wife, his daughters, his friends. 'You can't give my boy back to me!' Marx howled, burying his head in his hands."

Wilheim Liebknecht was an old friend of Marx's from his days in Paris. In her 1983 article Karl Marx's Children, published in the New Left Review, Yvonne Kapp quotes one of his letters describing the funeral. "As the coffin was about to be lowered into the grave, Marx became so agitated that I went and stood next to him, afraid that he would leap into the grave," Liebknecht writes. Kapp gives all the same basic facts about Edgar's death as Wheen does, adding that the child was "buried in the graveyard of Whitefield Tabernacle […] where also Guido and Franziska were thought to have been buried".
I can't explain how Marx was able to bury his son at Whitefield's Tabernacle in 1855, when all the sources we've both consulted agree the graveyard was closed down two years earlier. The only clue I've been able to find – and it's a pretty meagre one – lies in Wheen's passage about Franziska's 1852 death, where he quotes from an article by Franziska's mother Jenny.
"At first the Marxes couldn't even afford to hire an undertaker, but a French neighbour in Dean Street took pity on them and lent them two pounds," Wheen writes. He then moves into the quote from Jenny's article: "That money was used to pay for the coffin in which my child now rests in peace. She had no cradle when she came into the world and for a long time was refused a last resting place."
That final phrase – "refused a last resting place" - makes me wonder if the Marxes may have been unable to find a burial ground willing to accept Franziska's body without demanding a burial fee the family simply didn't have. If so, perhaps Whitefield's Tabernacle took pity on them, both in Franziska's case and by permitting an unofficial burial for Edgar in the closed burial ground of 1855? That's pure speculation, of course, but it would have been a true act of Christian charity to give the family that dispensation.
*****
May 2, 2019. Australian folklorist Keith McKenry writes:
"I have read your [Bushranger songs] essays with interest. You have done a lot a research and I commend your efforts.
"Seeing your list of references is interesting to me. Obviously ,you have been referring to editions of relevant books available to you in the UK, and this has constrained your efforts. I urged you previously to try to access Ron Edwards' monumental 12 Volume Index of Australian Folk Song. I do so again. Given the topics of your essays, two other books you really should try to see are John Meredith's Gallant Peter Clark (Popinjay Publications, 1988) and Ron Edwards' Donahoe and Doolan, Two Wild Colonial Boys? (Rams Skull Press, 2004).
"By the way, you should amend the citations for two of your references, for 'Great Australian Folk Songs, 1976' does not exist, nor does 'The Story of Australian Folksong, 1954'. These two books' titles were changed by the publishers of later editions. The original titles are The Big Book of Australian Folk Song (Rigby, 1976) and Colonial Ballads (Rams Skull Press, 1954). Alternatively, you could retain the titles you have used, but give the years of publication as 1991 and 1970 respectively."

Paul Slade replies: Thanks for your letter and your tips for further reading, Keith.
It's certainly true that I'd have a wider choice of hard-copy sources for these essays if I was writing them in Australia rather than London. I did what library research I could during my few weeks in Melbourne and brought a stack of books and photocopies back with me, but obviously I could carry only so much. I've had no luck so far in trying to track down a set of Edwards' index volumes in a UK library, but I have consulted a couple of his other books, so I'm hoping at least some of the larger work's findings are distilled there.
I never know what to do when citing re-titled books like the two you mention. Using the original title and date makes the book harder to track down for anyone who might want to do so, but using the new date and title misleads people about when the book was written. The only real answer seems to be to give both sets of titles and dates, which gets a little cumbersome. That said, I clearly got myself completely confused in this case, so I've changed the two references you mention to give the re-titled versions' dates.
*****
May: Staging the Gallows Ballads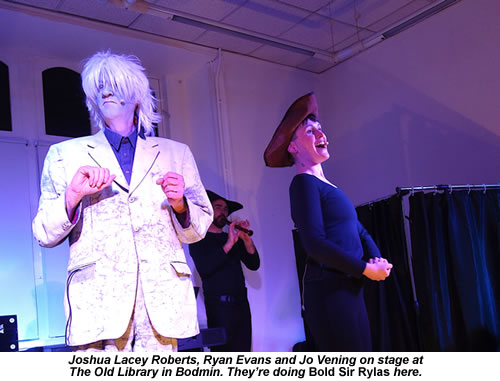 I first heard from The Hamoaze Band in June 2018, when they dropped me a line from Cornwall inviting me to see their touring murder ballads show. They'd chanced across PlanetSlade's British Broadsides page and plucked out four of the Victorian gallows ballads there to include in the set. Would I like to come along and hear the result?
Well, yes. Yes I would. The only snag was that all their dates for Plump Dead Thighs & Pretty Blues Eyes – as they called the show – were deep in the West Country, so it'd be a few months before I got a chance to make the trip. The stars finally aligned on April 13 2019, when I set off from Paddington to catch their Bodmin gig at the town's Old Library.
They played each song with gleeful relish & never a hint of apology for its gory content
It was a great night, featuring not only the four gallows ballads I'd come down to hear, but also three songs from Nick Cave's classic 1996 Murder Ballads album, a handful of homicidal old English folk songs and a well-chosen blast of Jimmie Rodgers. They presented the songs with a lot of theatrical flourish. Joshua's macabre narrator tied everything together from song to song, while the band's other three members each leapt from character to character as the night progressed.
Often, they found a new angle in their interpretations. Their take on The Two Sisters, for example, was based on a work song version once used by women making besom brooms in the North East of England. Best of all was their decision to perform The Old Baby Farmer's infanticide story as a playground song, with the band's two women slapping out a pat-a-cake rhythm back and forth on their hands as they sang. Throughout the evening, they tackled every song with gleeful relish and never a hint of apology for its gory content.
The band's planning to record the show's four PlanetSlade tracks soon, which I'll be sure to link from our Gallows Ballads Project page, but for the moment you'll have to make do with my photographs and captions below. Click on any pic to discover more about the true story behind that song and to see its original ballad sheet.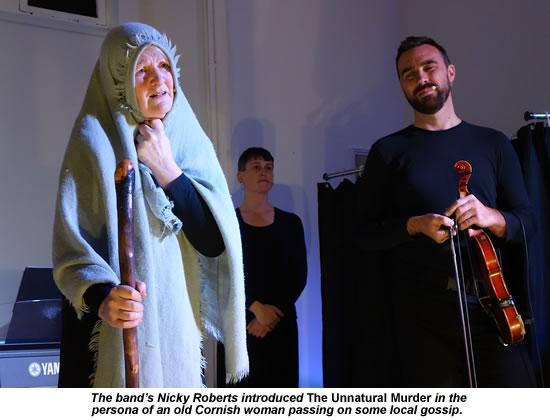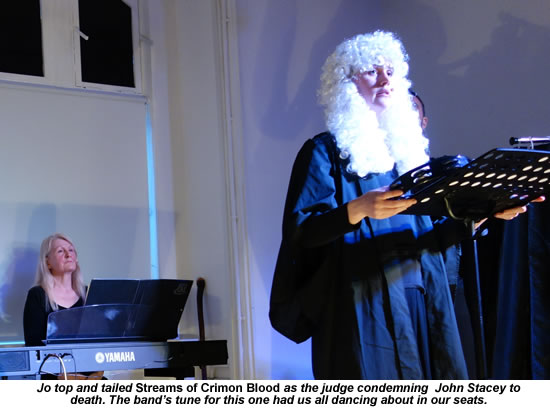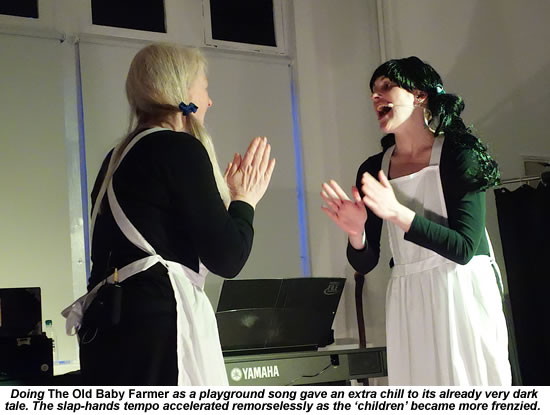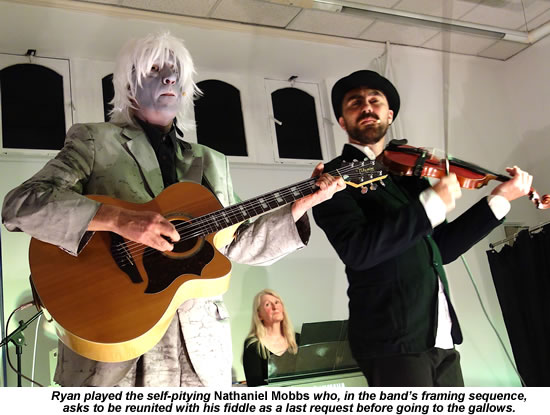 To find out more about Plump Dead Thighs & Pretty Blue Eyes, visit The Hamoaze Band website here. They also have details of the tour's remaining gigs and where to buy tickets. Should you be wondering (as I was) how to pronounce their name, it's "Ham-owes".

STOP PRESS: The promised tracks are now up online at Soundcloud. Click this link to hear the band's recordings of Nathanial Mobbs, Son David, The Old Baby Farmer, Streams of Crimson Blood, Two Sisters and other songs from their 2019 show.
*****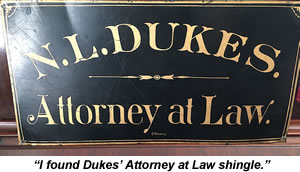 April 1, 2019: Dana Dukes of Ohio writes:
"I just read Demon in a Bottle, your article about the Dukes/Nutt affair. Nicholas Lyman Dukes was my great great great uncle (I think – that's a lot of generations!)
"The story that was passed down in the family was that he was a lawyer who had put a man in jail. The jailed man's brother hunted Nicholas down and shot him on the courthouse steps - nothing tawdry or devilish for sure. You can imagine how surprised I was when I read your story and began doing additional research on my own.
"I named my oldest son after Nicholas's father, who built the family homestead I grew up in. It's housed many generations of the Dukes family, from the first in 1865, who built the house, through to my father, who passed away in 2018. I actually found Nicholas Lyman Duke's 'Attorney at Law' shingle as we were cleaning out the house, the first time it had been purged in over 150 years. Thank you again for your excellent storytelling. It was a great read!"

Paul Slade replies: Thanks very much for getting in touch. That essay was a lot of fun to write, so I'm really pleased you enjoyed it.
It's amazing how much a story can change as it moves down the generations of family legend, isn't it? Our ancestors were often determined to conceal anything in the family's past that seemed less than 100% respectable, but I think our own generation tends to treasure any rogues in the family.
The real story of the Dukes/Nutt affair, as you hint in your letter, is colourful enough for anyone. There's the sexually-explicit letter calling a beloved daughter's virtue into question for a start, followed by the outraged father gunned down while defending her honour, his killer walking free from court and lynch mobs pursuing the jury. Act Two brings us the dead man's son taking revenge, a determined bending of the law to ensure he escapes punishment and an innocent woman shot dead in the violent aftermath. All that, plus some high rhetoric from one of the era's most famous lawyers and a distinct whiff of corruption from the governor's mansion.
That's a tale which even the most lurid daytime soap opera might regard as ridiculously implausible. Most unbelievable of all is the fact that the whole story happens to be true!
*****
April 23, 2019. Kevin Olson of New Jersey writes:
"I enjoyed True Lies: The Lonesome Death of Hattie Carroll very much. Just one observation regarding the Afro-American story you cited:

"Zantzinger is charged with murder generally," the Afro reported, "which could result in conviction of first or second degree murder or manslaughter. [...] Whether a general murder charge is reduced to second-degree or manslaughter is determined by the judge or jury after hearing the facts of the case."
"Assuming this is accurate, it implies that a "murder generally" charge defaults to first degree but may be reduced at trial. My suspicion is that a good lawyer would have little problem justifying Mr. Dylan's lyrical use of 'booked...for first degree murder' as the effective original charge."

Paul Slade replies: Thanks for the kind words, Kevin - glad you liked the essay. For those who haven't read it, one of the things I consider there is how Dylan's song diverges from the strict facts of the case, and what might have happened if Zantzinger had followed through on threats to sue him for libel.
I've checked my photocopy of the original Afro-American story, and I can confirm that both my essay and your quote of it above give exactly the paper's own words. Other newspapers of that era, including the New York Times, agree that Zantzinger was charged with murder, but give no indication of that being in any particular degree. As he we know, Zantzinger's eventual conviction was for manslaughter only.
You raise a good point about the Afro's choice of the word "reduced", the possible significance of which hadn't struck me until now. It could be no more than a bit of careless phrasing from the paper's reporter, of course, but I'm sure you're right in saying any decent lawyer would have seized on it in preparing Dylan's defence.
*****
April 21, 2019. William Stribling of New York City writes:
"Can you give me the name of this traditional ballad: A rapist takes a young girl out to a secluded area (in a car I believe) and prepares to rape her, but she pulls a knife and kills him.
"It's got very grim-sounding lyrics - you think the worst is going to happen - but with a surprise happy ending. Very similar to Pretty Polly but not an actual murder. I've heard it but can't come up with the title. Kind of a 'Me Too' thing. Very trippy. Thanks, Dude."

Paul Slade replies: It doesn't ring a bell, I'm afraid. The closest song I can come up with is Fred Burns' Pretty Polly's Revenge. That's got Polly defending herself with a gun rather than a knife, but does have the same twist ending.
When you say the song you're looking for is a traditional ballad, do you know that for a fact or do you mean it's just generally in that kind of style? I ask because it seems odd to find a car included - though maybe that just means it was a modern interpretation of an old song?
If it does have its roots in traditional folk music, it might be worth posting a query on Mudcat's message board. They're a pretty knowledgeable bunch over there. I'll run your note on PlanetSlade too and ask my own readers to weigh in.
[After replying to William, I put his query out to PlanetSlade's Twitter followers. The most promising suggestion came from Bruce Triggs @AccordionBruce, who thought the song in question might be Gillian Welch's Caleb Meyer. Some of the plot details differ, but the song's vibe is just as William describes and it would easy to mistake for a traditional ballad. Cracking song, anyway.]
*****