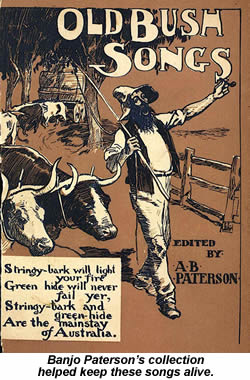 Bushranger ballads are 19th century Australian songs praising the defiant spirit and bold exploits of the colony's highwaymen. I've written a background essay about the ballads themselves and the men who inspired them here.
This page is a window into some of my favourite individual songs from the genre. Under each of the title links below, you'll find the song's full lyrics, the true story behind it (which I've researched from the era's newspapers) and a Spotify playlist pointing you to some of its best recordings.


Part One (May 2019)

Bold Jack Donohoe
Donohoe was the first bushranger to win fame for his exploits. His song remains a template for every bushranger ballad that's followed.

The Wild Colonial Boy
AL Lloyd said this song vies with Waltzing Matilda for the role of Australia's unofficial national anthem. But who's it about - and can Ireland really claim him as its own?

The Death of Peter Clark
Most bushranger ballads celebrate the bandits rather than their victims. This New South Wales song is an exception.

Part Two (June 2020)

The Death of Ben Hall
It's always easy to romanticise Australia's bandits as good men, driven to crime only by the persecution of their unjust British rulers. In Ben Hall's case, this actually seems to be true.

The Streets of Forbes
Ben Hall inspired a whole host of ballads, but this is by far the most famous. A 1971 recording by Trevor Lucas produced cover versions by some of the biggest names in UK folk.