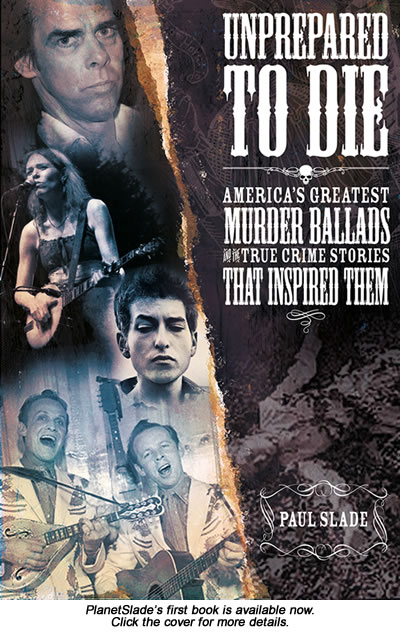 PlanetSlade's first book is now available for purchase from Soundcheck Books, Amazon and all the usual outlets. Just click the book's cover here or the banner ad above for a direct link to Soundcheck's orders page.
The book includes two new full-length exclusive essays covering songs never discussed on PlanetSlade itself: Poor Ellen Smith and Murder of the Lawson Family. I'm particularly proud of the Poor Ellen Smith essay, as I managed to trace a previously-unknown text of the song's first-ever lyrics and identify the 19th century mule thief who wrote them.
I've also rewritten and expanded six earlier PlanetSlade essays for the book, adding a host of new musician interviews. These include Billy Bragg on The Lonesome Death of Hattie Carroll, The Bad Seeds' Mick Harvey discussing Stagger Lee and Ralph Stanley II on Knoxville Girl.
We also have The Handsome Family's Rennie Sparks addressing Pretty Polly, The Kingston Trio's Bob Shane on Tom Dooley, Laura Cantrell on Poor Ellen Smith, Snakefarm's Anna Domino discussing Frankie & Johnny and Dave Alvin on The Murder of the Lawson Family. Again, this is stuff you'll find nowhere on PlanetSlade itself.
We've got a number of events and promotions planned to help ensure the book finds its audience, so look for more announcements on that front soon. I'm planning to use the box copy to your right as a "Stop Press" section carrying all our breaking news. This is a hugely exciting project for me, so I'd really appreciate all the help I can get from the PlanetSlade Massive in spreading the word via every means possible.
The book includes two new full-length essays which will never appear on PlanetSlade itself
We don't have a big promotional budget for the book, so I'm relying on you guys to social media this sucker till the pips squeak. If you've ever enjoyed my Murder Ballads writing here on PlanetSlade, then please use Twitter, Facebook, Instagram and whatever other sites you frequent to let people know Unprepared To Die is out there. Please include a link to this page or my Soundcheck Books page whenever possible. Kindle reviews (US / UK) are always a big help too.
You may also like to direct people to this section's Bonus Material page, which offers both a "DVD Extras" section for buyers of the book and some tasty teaser content for those yet to commit. I'm always happy to make myself available for interviews and the like, so if that's of any interest for your own blog, magazine or radio station, just contact me via the brown button at the top of this page. Finally, I need hardly add that I hope you'll buy a copy of the book yourself, and consider its many virtues as a Christmas present for all your friends. You know it makes sense!
- Paul Slade