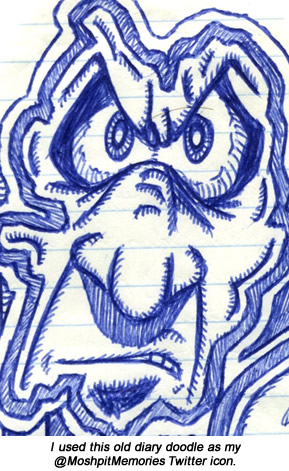 Throughout 2014, I maintained a daily Twitter feed giving extracts from my old diaries as a music fan. These cover the period from 1975 to 1981, an era which included the heyday of UK pub rock, punk and ska.
I started the diaries as a callow 16-year-old and ended them as a mature sophisticate of 23. Along the way, I saw many of that era's best bands playing live in sweaty little clubs, bought a great many of their invigorating records and drank a ocean of beer. When I couldn't get to the gigs themselves, John Peel's nightly radio show and the ever-acerbic NME kept me up to speed.
The Twitter feed containing this material never picked up a lot of followers, but I enjoyed doing it and I think other old farts of about my age may find some nostalgic pleasure in it too. That's why I've decided to give Moshpit Memories a more permanent home here. This version allows me to present the tweets in proper January-December chronological order, reinstate some of the missing punctuation which Twitter had forced me into and add whole host of bonus material too.
Twitter allows for no more than the briefest snippets recalling each gig, but here I've been able to add full write-ups of concerts I attended by the Clash, the Rolling Stones, Kilburn & the High Roads, the Ruts, the Specials, Eddie & the Hot Rods, Eric Clapton, Ian Dury & the Blockheads, Slade, Elvis Costello, Lynyrd Skynyrd, Chilli Willi & the Red Hot Peppers, the Undertones, Sam & Dave, Kevin Coyne, the Stiff Records revue, Richard Hell and a good few others.
As you'll see, I leapt around pretty freely from one year to the next when choosing what to tweet about. The beauty of this format is that it allows me to pack a full seven years of events into just one year's tweets, which makes my life at the time look seven times more fascinating and fabulous than it really was. Seinfeld's George Costanza once remarked: "If you take everything I've ever accomplished in my life and condense it down into one day, it looks decent" - and that's exactly the principle I've followed here.
In the interests of full disclosure, I should also add that squeezing the diary's original observations into the strict 140-character limit demanded by Twitter often required some rewording and cuts. Where you see quotation marks surrounding a tweet, it's been subject to no more than these minor tweaks. If there's no quotation marks, then that means the original remark rambled on so much I had to rephrase it from scratch to make it tweetable.
What I haven't done is rewrite the past to make myself look any cooler than I really was. It makes me cringe a bit now to remember some of the bands I loved in the first half of the seventies - Uriah Heep and Budgie spring to mind - but there it is. My listening during this period ranged all the way from the Gang of Four to Joseph & his Amazing Technicolour Dreamcoat and I've included my embarrassing choices here right alongside the NME-approved ones. Feel free to laugh and point, but spare a shudder for your own teenage lapses in taste too.