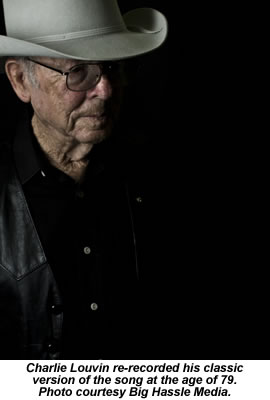 "She fell down on her bended knees,
For mercy she did cry,
'Oh Willie dear don't kill me here,
I'm unprepared to die',

"She never spoke another word,
I only beat her more,
Until the ground around me,
Within her blood did pour."

- The Knoxville Girl, Charlie Louvin (2007).

It's the fragility of Charlie Louvin's voice that does it. He was 79 years old when he entered a Nashville studio to re-record Knoxville Girl for his self-titled 2007 album, and he sounds like a breath of Tennessee wind could blow him away. There's a palpable sadness in his voice as Louvin's character confesses his old crime, but absolutely no attempt to excuse what he's done. The result is one of the most exquisite readings the song's received in its 80-year history on disc.
Like almost every other version, Louvin's sticks closely to the template set by Arthur Tanner on the song's first commercial release in 1925. Knoxville Girl was already well-known in the South by the time Tanner's record came out, but it was his Columbia 78 which froze it in its enduring form. The version of events Tanner gave us has been adhered to by almost every singer who followed him, and it goes like this:
One minute they're walking quietly along, the next he's beating her with a makeshift club
The narrator meets a girl in Knoxville and spends every Sunday evening at her house. One day, they go for walk and he begins beating her with a sturdy stick. She begs for her life, but he ignores her pleas, continues the beating even more viciously, and doesn't stop till the ground is awash with her blood. He dumps her dead body in the river, then returns home, fending off his mother's queries about his stained clothes by insisting he's had a nosebleed. After a tortured night, he's thrown in jail for life. His last words before the music fades out are to assure us that he really did love her.
Louvin first tackled this grim little tale with his brother Ira in 1956, when they worked as a bluegrass duo called The Louvin Brothers. But Ira's long-dead now, and Charlie's partner for the 2007 session was Will Oldham, better known as Bonny "Prince" Billy, who wasn't even born until 14 years after Charlie and Ira first put the song to disc. Wisely, Oldham doesn't try to mimic the blood-born harmonies the brothers produced then, contenting himself instead with some restrained background singing and few lines of the lead vocal when Charlie takes a breather.
Despite the 43-year difference in their ages, the two men clearly see the song through very similar eyes, and that's one clue to why it's survived so long. Like a shark, Knoxville Girl seems to have reached a peak of evolution many generations ago, finding an unchanging form which suits each new decade as well as the last. Young singers find the song just as irresistible as their grandfathers did, and show just as little inclination to meddle with its established form.
For evidence of this point, just check iTunes. Apple added five brand new versions of the song to its stock in the first six months of 2009 alone, from artists as young as the twenty-something Rachel Brooke, as unexpected as former London punk JC Carroll (late of The Members) and as telegenic as the country singer Ruth Gerson. Most stick closely to the song's classic form, with Brooke adding a layer of faux surface noise to underline her respect for its roots, The Fox Hunt producing a faithful string band version, and Gerson refusing to water down its sheer nastiness.
Knoxville Girl's long back-catalogue continues to find new buyers too, with the same six months bringing re-released versions by The Wilburn Brothers from 1958, Mac Wiseman from 1975 and The Louvins themselves. And if iTunes alone has all that, then how many other versions must have been recorded in the same period without ever reaching Apple's virtual shelves?
So, nearly a decade into the 21st Century, and it's clear that everyone still wants a piece of this unfortunate lass. Even now, though, when you play the song to someone who hasn't heard it before, they all ask the same question: why did he kill her?
The song certainly doesn't spell out any motive, moving from an innocent country walk to the start of the beating in two consecutive lines. The Louvin Brothers' 1956 lyric – which I'm going to use as my model throughout this piece – puts it like this:

"We went to take an evening walk,
About a mile from town,
I picked a stick up off the ground,
And knocked that fair girl down." (1)

It's as simple and as brutal as that: one minute they're walking quietly along, the next he's bludgeoning her with a makeshift club. To see why he's doing this, we have to consider some clues from the rest of the song. Take this couplet from the opening verse:

"And every Sunday evening,
Out in her home I'd dwell."

Then there's the victim's words as she begs for mercy:

"Oh Willard dear, don't kill me here,
I'm unprepared to die."

And finally, this verse:

"Go down, go down, you Knoxville Girl,
With the dark and roving eye,
Go down, go down, you Knoxville Girl,
You can never be my bride."

Put these three fragments together, and things begin to get a little clearer. The killer didn't just visit this girl's home on Sunday evenings, he dwelt there, which carries a definite suggestion that he stayed the night. Faced with imminent death, the girl says she's "unprepared to die", which tells us she's not yet had a chance to make her peace with God about some recent sin that's troubling her mind. Her "dark and roving eye" hints that - in the killer's mind at least - she's a bit of a temptress. Although she can now never be his bride, that possibility's evidently been raised, or why else would he mention it?

So, we've got a young man who's slept with his girlfriend, come under some pressure to marry her, and then kills her instead. To see how he reached that extraordinary decision, we need to rewind the clock to 17th Century Shropshire and two of that century's English diarists.