November: Mystery rockers identified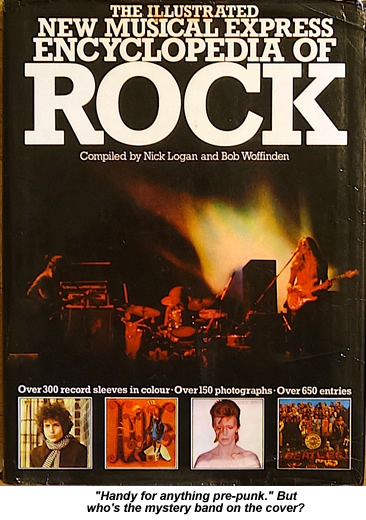 I've had this book on my shelves ever since the middle of 1976, when I persuaded my parents to buy it for me as a birthday present. I've used it occasionally as a reference volume ever since – it's very handy for anything pre-punk – but never known who the band on the cover is.
Every time I consulted the book, I'd wonder about this for a second, then push it to the back of my mind again as I returned to the task at hand. What made the question particularly puzzling was that the mystery band had evidently been quite a big deal in their day, playing major venues with stacks of kit and what looked to be their own light show. And yet, despite the mountain of nerdy rock info I'd accumulated through the years, I still couldn't place them. In May 2020 I finally decided to put that right.
I already knew the book itself wouldn't be much help. The band's not identified anywhere inside and there's no matching photo in any of its entries. Its sole clue was a line of tiny print on the copyright page crediting the cover pic to Robert Ellis who, as I've since discovered, is best known for his 1970s photographs of Led Zeppelin.
My first move was to contact Fred Dellar. Fred writes a rock trivia column for Mojo, answering whatever obscure questions its readers care to throw at him. I sent him an e-mail telling him what I've just told you (together with the photo, of course) and got a reply saying he didn't know who the band was either, but had contacted Ellis to ask him. "Sutherland Brothers & Quiver," Ellis replied a few hours later. "Support act for The Who on the opening night of the London Rainbow".
I was a bit sceptical about this at first, because I remembered watching The Sutherland Brothers & Quiver on Top of the Pops back in 1973 and they certainly hadn't looked anything like this lot. Checking the NME book itself, I learned that the two bands joined forces in 1972, and that both had been working independently till then. "Quiver gained a place in the annals of British rock as the band who played the very first set at Britain's first full-time rock venue, the Rainbow in Finsbury Park, London," it added. "They were supporting The Who."
Digging out my copy of The Who Concert File, I discovered that gig had taken place on November 4, 1971, with (it confirmed) Quiver as The Who's support act. The building had previously been Finsbury Park's struggling Astoria cinema, but now it was a full-time music venue. Pete Townshend marks this transformation in his 1972 lyrics for The Who's Long Live Rock: "Down at the Astoria the scene was changing / Bingo and rock were pushing out x-rating / We were the first band to vomit at the bar / And find the distance to the stage too far."
In the same WCF entry, Quiver's Willie Wilson recalls getting "rat-arsed drunk" with Keith Moon in his dressing room before going on. "We'd rented a brand-new Ford Escort to get us to and from the gig," he says. "On the way home, I was so out of it I turned the car over on Ealing Broadway, spilling me and the rest of the band out onto the street. Tim Renwick, our guitarist, was carrying the band's bag of Mandies and in a moment of panic hid it in a pelican crossing sign, coming back the next day to pick it up!"
By now I was thinking of my own visit to the Rainbow to see Frankie Miller in 1977. As I can recall of the gig now is that the whole place fell into a moment of unexpected silence just as I happened to be bellowing a request for Miller to sing John Lennon's Jealous Guy, and he responded by turning to glare at me with an expression that clearly read "Who's that prick?" Most of the other people there were sitting cross-legged on the floor but I was contemptuous enough of this hippy practice to stand instead, so there was no use pretending it hadn't been me.
By the time I moved to Finsbury Park in the late eighties the Rainbow itself had already closed but a wonderfully tatty little pub opposite called the George Robey still survived. Named after a London music hall star, this place had become a great little music venue in its own right. It always seemed to be a psychobilly band on when I went in, which suited me just fine.
Anyway: back to Quiver. All that remained was to send another copy of the pic to Wilson himself, who I tracked down playing in a Cornish band called The Hoodle. He now recalls Renwick's 1971 contraband as being a bag of grass rather than pills, but was happy to confirm all my other information. "Yes, indeed it is Quiver," he told me. "Tim Renwick on the right and myself behind the drums. And it was supporting The Who at the Rainbow for three nights, the end of a UK tour with them. There were plenty more stories from that tour."
I'll bet there were – and one day I hope we get a chance to hear them. For the moment, though, I'm happy just to have solved my own small mystery.

[Dellar went on to use my query in September 2020's Mojo. You can find the clipping here.]

*****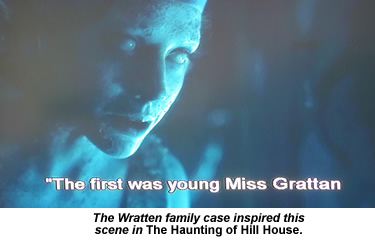 August 24, 2020. Elizabeth Miles of Texas writes:
"I am a direct descendant of the Wratten Family. The name Elizabeth has been passed down through my family ever since Elizabeth Wratten's death in 1893. My grandmother (also an Elizabeth)'s family is from Indiana and that is where my mother grew up.
"My great grandmother was Elizabeth Pershing (her married name). If you know anything about military history, then you have probably heard of General John J 'Blackjack' Pershing, another ancestor of mine. The Wrattens are on my grandmother's maternal side and the Pershings on her paternal side. Ancestors both with a very scary and gruesome past. Yep, that's my family!
"I am now 39, and I have heard about the story [of the Wratten Family Murders] ever since I was a little kid. I knew about the history long before the Netflix series or first hearing the song. Somewhere I have photos of my grandmother and some other [family members] standing by the gravestones in Indiana. I also have an article that was published a long time ago that has been handed down through my family. I will have to do some digging to find out where my mom has it and I will send it to you.
"My grandmother Elizabeth Josephine is still alive. She is 92 and lives here in Texas now. I read a book in high school that she told me was oddly similar to the history of the Wrattens: Truman Capote's In Cold Blood. Some of the details and of course the names are not the same, but there are still a lot of similarities. Reading that book was the first time I remember really having a shock factor. That was the first time I really felt creeped out and horrified by the history of it all."

Paul Slade replies: Thanks so much for getting in touch, Elizabeth. It's always great to hear from someone with a family connection to one of the songs I've written about.
In Cold Blood, as I'm sure most PlanetSlade readers already know, is Capote's account of a 1959 family massacre in Kansas. It's a real masterpiece of the True Crime genre, a milestone in the 1970s' New Journalism movement and perhaps the single most beat-up paperback anywhere on my shelves. As with the Wratten family case, the Kansas victims were a rural American family whose killers were searching for what turned out to be a non-existent hoard of cash in their home.
I've never seen any evidence of a specific Wratten connection there, but I'd need to reread the book to be sure. Everyone now seems to agree that Capote's "non-fiction novel" (as he called it) wasn't quite as strictly factual as he claimed at the time, so who knows what back-of-the-mind influences may have fed into his writing of its more novelistic passages?
*****
October 10, 2020. Bill Doggett of California writes:
"Your Black Swan Records research and story was absolutely a goldmine discovery. It is October 10th 2020, late evening in California and I just happened to do a search on Google and landed on your site for the first time. I am totally enthralled - for many reasons as I share below. That you had correspondence with Mr. Pace's grandkids is huge for me.
"I am Bill Doggett, the nephew of the famed jazz/pop organist of the 1950s Bill Doggett of King Records' Honky Tonk. I am a race and early sound archivist and lecturer. In 2015, I was commissioned by the recorded sound division of The Library of Congress to create a pilot project titled #BlackVoicesMatter: Race, Message and Music at The Dawn of Early Recorded Sound. Sadly, the rise of Donald Trump and white supremacy canned it. However, I have continued to lecture and teach on this subject widely.
"I am teaching a course for a famous New York City music school in February on Harlem at the End of WW1 & The Black Swan Record Label as Paradise for Classically Trained Black Musicians 1918-1925. I have a notable small collection of Black Swan discs that are more in the classical vein - part of the harder to find red-label Concert Black Swans.
"During the Covid-19 lockdown, I did a few trial mini-lectures that are now archived on You Tube. Here are samples of three:
* Hattie King Reavis: https://www.youtube.com/watch?v=hlpO-eercbw&t=317s
* Antoinette Garnes: https://www.youtube.com/watch?v=D0MCjZsyrOc&t=96s
* Harrod's Jubilee Singers: https://www.youtube.com/watch?v=z-WcpSeletI&t=29s "


Paul Slade replies: Thanks so much for getting in touch, Bill – I'm really glad you found my Black Swan material useful. I've always focussed on the label's blues sides in my own research, so it was good to learn a little more about its classical artists from your videos. Poor old Harry Pace – he was so determined to win people over to Black Label's classical output, but all they'd ever buy was blues, blues, blues!
I must admit your uncle's name didn't ring a bell with me at first, but of course I recognised Honky Tonk the minute I clicked your link. It turns out I do have a handful of his tracks in my collection, most of them garnered from an excellent old Ace compilation called Honky Tonk! The King & Federal R&B Instrumentals. Like everything Ace puts out, it's a real treasure trove, and they give Bill Doggett the star billing throughout. He gets more tracks on the record than anyone else (including Freddy King), plus its first two songs and a cover photo showing off Honky Tonk's 1956 Gold Disc.


*****
September 30, 2020. Carolyn Bacon writes:
"I'm a singer and writer in Brooklyn, New York who encountered your Murder Ballads book through Dolly Parton's America. I'm working (slowly) on writing a musical/revue that uses American folk tunes and murder ballads. I'm hoping to connect these old tales to the very contemporary reality of violence against women.
"Your work on PlanetSlade tracing the roots of these songs is so wonderfully detailed. I just finished reading your account of Frankie and Johnny, which I knew only from the Sam Cooke version, and that history is fascinating. I'm from Oregon myself and am eager to look into Frankie's life there (Oregon seems to have an interesting history with mental institutions specifically). And that Immortalia anthology you mention is really something!
"There is so much more I am eager to explore in these essays. I am especially interested in the female ballad sellers (from your talk on Burke and Hare) because I was hoping to include such a character in my piece. Thank you for sharing your work with me!
"PS: In case it interests you, here's a piece I wrote about the murder ballad Little Sadie. "

Paul Slade replies: Thanks for reaching out. Your project sounds fascinating - and very much a show I'd like to see one day. Good luck with it all. Whether it ultimately comes to fruition or not, I'm sure you'll have a fascinating time working on it. Have a look at my May 2019 review of The Hamoaze Band's show here for a recent British play/revue/gig using our own homicide songs.
As you're interested in female ballad sellers, you should definitely check out Hallie Rubenhold's book The Five, which restores some long-denied humanity to the real women who became Jack the Ripper's five canonical victims. The chapter on Catherine Eddowes includes a few pages on the real Catherine's time peddling (and perhaps also composing) gallows ballads on the streets of Wolverhampton. It's a British setting rather than an American one, of course, but I think you'd find it interesting all the same."


*****
September 24, 2020. Julie Huff of somewhere in cyberspace writes:
"Reading accounts of Tom Dula's trial, I had no idea what a 'mattock' was and couldn't find any information. I was glad to see that you call it out as a shovel.
"Another linguistic anomaly is the term that Laura's cousin Pauline Foster uses when referring to her affair with Dula. On page 19 of the trial transcript she says: 'One day when a woman come to James Melton's, Dula caught me and pulled me into his lap. I also slept with Dula for a blind at Anne Melton's insistence. I stayed out at the barn one night with him at her request.'
"I don't think that's the only mention of the term 'for a blind' in that report. What does this mean? Language fascinates me and I'd never heard that slang term before."

Paul Slade replies: Thanks for your letter, Julie. There's actually a second instance of the word on that same transcript page, where Pauline confirms she'd "sat in Dula's lap for a blind". Judging by the context of these two examples, I've always read it as meaning "for a lark" or something similar to that. I can't offer any concrete evidence for this idea, but it still rings true to me.
There is one other possibility, which I found in Cassell's Slang Dictionary. One of the 19th century meanings they give for the noun "blind" there is "night" – deriving from the fact that night is a time when everyone's blind, I suppose. Maybe Pauline was meaning to say that, on each of those occasions, she'd spent just a single night with Tom?
Either of these substitutions would seem to make sense when slotted in to our examples from Pauline's testimony: "I sat in Dula's lap for a lark" for example, or "I slept with Dula for a night at Anne Melton's insistence".

*****
April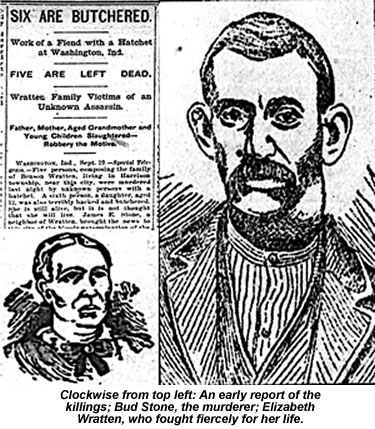 February 6, 2020. Matt Aukamp of Pennsylvania writes:
"Hello! I run a podcast called Every Folk Song where I dissect the history, evolution and meaning of various folk songs: one per episode, in order of Roud Number. Lately, I have been brushing up against your research a lot, so I wanted to reach out and see if you'd be willing to talk to me on the show! The things that Id love to interview you about are:
"First, the Wratten Family Murders. I've been working hard on research into the ballad, and I believe you may be the first to have drawn a connection between the ballad and the actual murders. I'd love to talk to you briefly about that.
"Second, it seems that you've done a dive into Pretty Polly (the next song on my list) - so deep that there's barely anything left to research! After reading your article on the ballad, I realized that I had two options: 1) produce a nearly identical piece of research, turning up the same details and almost definitely citing you heavily throughout. Or 2) invite you on the show to walk through the details yourself! I thought of all the people to tell that story on a podcast, it'd be you. Please let me know if you'd be interested in this."

[Matt and I duly did the interview he mentions, the results of which you can find in his Wratten Family episode here. He was kind enough to send me a couple of recordings he'd arranged of the song – the first ever made as far as I know. One of these is by a Philadelphia band called The Windfarmers and the other by Adam Gordon, a fan of Matt's podcast. You can hear them both on the episode's webpage. In the course of our conversation, Matt also mentioned that he was just about to go on a field trip to the Daviess County Historical Society in Indiana to examine their material on the murders. When he got back, he dropped me a line again to let me know how he'd got on.]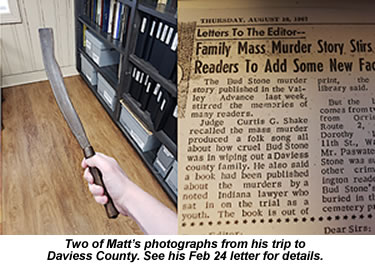 February 24, 2020. Matt Aukamp writes:
"I just got back from my trip to Indiana and your book was waiting for me! Thanks so much for sending that along; I can't wait to read it. As for the trip, I learned a ton of stuff but the two things I thought would be the most interesting to you personally are as follows:
"1) The corn knife! Grisly as it is, I got to hold the actual 20-inch corn knife that was used by Bud Stone. It was held by their county coroner until he passed away and then hung in the offices of the jail for several decades until they tore it down and gave it to the Daviess County Historical Society. Gave me chills to see it - and then they were like 'You wanna hold it?' Super eerie.
"2) This news clipping from the Vincennes Valley Advance newspaper. On August 3rd, 1967, they posted an article about the Wratten Family murders. In the following week's letters column, they posted a small reference to a folk song about the Wratten Murders: 'Judge Curtis G. Shake recalled the mass murder produced a folk song about how cruel Bud Stone was in wiping out a Daviess county family'.
"As your research had been the only thing I'd ever seen connecting the song to the murders (as likely as the connection seemed) I think this reference from 50 years ago all but proves your theory! I thought you'd like to know."

Paul Slade replies: Wow! Takes me back to my 2010 visit to Kentucky and examining the Pearl Bryan relics they had in a small museum there. It's impossible to say this without sounding disturbingly ghoulish, but getting up close and personal like this with the artefacts of a case you've been immersed in researching is always an unforgettable experience. Can't wait to hear your Wratten Family podcast episode!

[Matt's work on The Wratten Family Murders reignited my own interest in the case, so I did a bit of additional research after speaking to him. This uncovered some new information about both the crime itself – including a big twist concerning Ethel Wratten's death - and about Bud Stone's execution five months later. To find these details, visit the brand new PlanetSlade page here.]
*****
April 5, 2020. Mike Bodner (aka Uncle Sinner) of Winnipeg in Canada, writes:
"I just wanted you to know that my son Dylan and I have done YouTube playlists of Trouble of This World's influences/source material. If you go to my channel and click on playlists you'll find them. Might be a couple things you haven't heard. I'm not a living treasure trove of obscure folk music by any stretch, but some of it is less common.
"Today, with permission from the artist, I'm releasing a video of a cover of one of my favourite songs - Sharecropping by Fred Eaglesmith, a Canadian country-ish songwriter. I actually bought his Things is Changing tape in 1993, the same day I bought West of Rome by Vic Chesnutt, and both had a profound impact on me. My interest in the border country between blues and country that started with Bob Dylan's Hollis Brown expanded when I heard Fred.
"This might be part of a quarantine series - I need stuff to do in my coronavirus isolation. Accepting requests might boost engagement, so if your readers can think of any songs that might suit the Uncle Sinner treatment, tell them to contact me here: unclesinner@gmail.com."

Paul Slade replies: That's great, Mike – thanks very much. I threw together a Spotify playlist with much the same idea, so people might want to check that one out too. I've a couple of Fred Eaglesmith CDs myself, and I agree he is a terrific songwriter. I found him via Dave Alvin, Tom Russell and Ian Tyson, each of whom led me on to the next link in that chain by mentioning a favourite songwriter in the music press. I've discovered a lot of good music that way.

[Mike's letter came in the wake of PlanetSlade's March 2020 interview with him about his new Uncle Sinner album, Trouble of This World. You can read the interview here.]
*****
January 10, 2020. David Longoria of Austin, Texas, writes:
"I wanted to share with you a murder-suicide ballad I wrote and recorded in the studio. It was written shortly after the event and has details that are more interior than most ballads, as I am separated by only two degrees from the victims. I almost felt like I violated a boundary, but my intentions were of a more compassionate nature, so it helped with the struggle.
"The song was also prompted by a conversation with a scholar friend in which she said that tragedy in literature and music has the possibility of helping us cope with tragic events in our own lives that we can't make sense of. I'm not sure if that is true, but it helped with the writing. Jefferson Lane is a reference to the state of Virginia where Thomas Jefferson lived.
"Here is Into the Night a third-person, waltzing ballad."

Paul Slade replies: Thanks very much for getting in touch - glad you've been enjoying my stuff. I like your song a lot. There's a lovely touch of melancholy about it, and also a sense of inevitability in the way events play out.
I know exactly what you mean about the fear of crossing a boundary when composing something like this. I had a similar dilemma when writing my PlanetSlade essay about the death of Nasra Ismail, a Somali sex worker murdered near my north London home back in 2004. I agonised over whether writing about her death so soon after it happened was simply exploitative, but decided in the end that the prospect of memorialising her in some small way outweighed my doubts. It's a tricky line to walk, and it was only ten years later, when I got letters about the piece from a couple of Nasra's friends, that I felt a bit more confident I'd done the right thing.
On the question of murder songs helping us understand and cope with the darker side of life, the songwriter Dave Alvin had some interesting things to say when I interviewed him for my book. "These songs served a purpose for their community," he told me. "You have these events – a murder or a train wreck or a ship sinking – and then the balladeer comes in to be the shrink: 'Here's what happened. Here, let's make sense of this.' […] This was how people soothed their minds in the past, how they explained the world and its injustices and its mercies to themselves.'
*****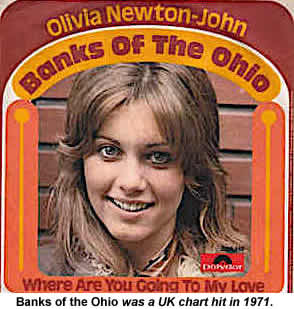 January 22, 2020. Andy Ferrell of North Carolina writes:
"I am writing with interest in regards to purchasing your book Unprepared to Die. Having grown up in western North Carolina playing and listening to old time, folk, bluegrass and country music, naturally I was taken with the topic of this book. All of the songs in your book are ones I have been listening to and enamoured with for the last 27 years, especially since I have begun making a living performing traditional and original Appalachian inspired music over the last 7 or so years.
"I wanted to thank you for writing about the true stories behind some of the famous murder ballads that have been a constant source of inspiration and conversation to me and many others for countless years. I do wish you had included a chapter on Banks of the Ohio, but I get there are just too many to cover in one book."

Paul Slade replies: I did quite a bit of the research for my book during a couple of trips to NC - principally in and around Winston-Salem. So many of these songs seems to have their roots there that I've come to think there must be something in the water!
As far as Banks of the Ohio goes, I tend to think of it as a member of Knoxville Girl's song family, and that's the context in which I discuss it in the book. I'm not sure there'd be enough there to justify a full chapter on Banks alone. I agree it's a great song, though. Olivia Newton-John's version was a top ten chart hit here in the UK in 1971, and I can remember watching her sing it on the BBC's flagship pop programme when I was a kid. That must have been one of my first exposures to a genuine old murder ballad, in fact.

[Andy's letter was one of nearly 40 I received asking about the book's availability after hearing me mention it on Radiolab's recent Dolly Parton podcast. It is now very hard to find, though I was able to hook up some of my enquirers with a copy from my personal stash (which is now exhausted, I'm afraid). Another effect of the podcast was to send the handful of used copies held by Amazon Marketplace vendors on a wild price ride. Would-be UK buyers there were asked to pay anywhere from a low of £75 (Jan 22) to an eye-watering high of £1,223.20 (Feb 10), stopping off at every point inbetween. Even on the unlikely assumption that anyone was actually paying those prices, none of their money was ever going to find its way to either me or the book's publisher, of course, but the dramatic overnight changes were fun to watch for a few weeks. As I write this (April 7), Amazon US and Amazon UK are listing used copies at $43.97 and £124.99 respectively. ]

Update (October 2020): A few weeks after posting the above, I asked the good people at Metafilter to help me understand how these ridiculous prices arise on Amazon Marketplace and why they move in such apparently illogical ways. Their replies were very enlightening. Essentially, the answer seems to be that pricing like this is driven partly by botwar loops, partly by a process called drop shipping and partly by sellers who'd rather inflate an out-of-stock book's price beyond all reason than simply drop its listing altogether.
*****
Feb 12, 2020. Ciara Considine of Dublin writes:
"I'm a singer/songwriter currently undertaking research for a musical project. I'm fascinated by your work and grateful for it too - well done on compiling such a great resource. I had a listen to the radio documentary too: excellent stuff.
"I've long been fascinated with the stories behind songs, and grew up in a singing tradition. One of my grandmother's staples was Frankie & Johnny. When singing it, she'd point her finger, to the beat, at all the men in the room for the line: "There ain't no good in men". Her uncle Peadar Kearney wrote the words to the Irish national anthem, and we sung his ballads alongside American cowboy songs and murder ballads.
"I'm really interested to see you've covered F&J in such depth. I've also been researching its story, which like many of these songs I'm currently researching, contains an element which changes the complexion so much - in this case, that of self defence. Very grateful for your insights on it too.
"My own project, working title The Woman Speaks (from a phrase in an Alan Lomax songbook), is around women's perspectives in the folk canon, so not confined to murder, though there's a fair amount of that, right?! I'm looking to create a body of songs inspired from what I'm finding: the hidden histories, narrative gaps/spaces, stories behind the stories.
"I have to say I'm finding the research fascinating, even if I'm somewhat limited in terms of life commitments, job, budget etc- ideally I'd take off to the States and plant myself in the Library of Congress for a few months. But with the gift of digital repositories of songs, field recordings and other ethnomusicological riches, there is a lot I can access from my home desk. It strikes me that this is an incredible era to live in from the lay researcher's POV."

Paul Slade replies: Couldn't agree more. I'm really glad you've found my work useful. As far as your own research is concerned, don't forget the Vaughan Williams Memorial Library at Cecil Sharp House here in London. They have a terrific online repository of old song texts in The Full English, and a roomful of otherwise-unfindable folk music books and journals at their building in Camden Town. Well worth a day of any researcher's time, I'd say.

[Ciara is an acclaimed Irish musician with two albums already to her credit. Check out her music online here.]
*****
January 16, 2020. Ruth Weinberg of Illinois writes:
"I've enjoyed your website and book more than I can express. Poor Ellen Smith was the first tune I learned to play at a brisk tempo on banjo and your reporting enhanced it for me immeasurably. Do you think that Little Sadie is about an actual murder? The lyrics seem so specific about how, who, and where."

Paul Slade replies: I've never done any research on Little Sadie, I'm afraid, but as far as I'm aware no-one's ever been able to pin its origins down to a real murder. I've done a quick search of the US newspaper archive for you and glanced through my shelf of reference books on this subject, but with no luck on either count.
The best online information I can find about Little Sadie's history is this three-part discussion from Murder Ballad Monday's blog. That dates the song back to 1885, saying it seems to have started life as an African-American ballad.
One difficulty in researching this one is the fact that there are so many different versions, under so many different names, sung over such a long period of time. Place names and people's names are often changed very casually from one singer to the next, so it's always difficult to know which are historically reliable and which aren't.
Changing the place where Sadie's killer gets captured from "Jericho" to "Juarez, Mexico", for example, may have first been done by a Texas singer who simply wanted to make the song sound more relevant to his audience near the border. Even today, bands will sometimes slip a local place name into one of their songs when playing live, knowing that half the audience will cheer on those grounds alone. I'm sure the same trick worked just as well whenever the Jericho/Juarez switch first appeared.