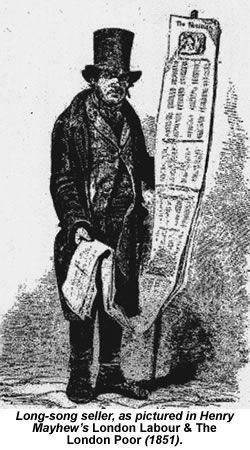 The menu below lists a few of my favourite ballads from the British Library's collection and elsewhere. Click on any title to find the full lyrics and my account of the case that inspired them.
Click on any title to find the ballad's full lyrics and my account of the case that inspired them
I've cheated slightly with the first installment by including two songs that aren't strictly murder ballads at all. Mary Arnold maimed her baby rather than actually killing it, and The Gallows Child's Charles Elliot was condemned for nothing more serious than a little light shoplifting. Even so, these are such splendidly creepy and poignant stories that I couldn't resist including them here.
The 16 songs below complete the list of ballads I set out to cover a year ago. If you haven't already done so, please take a look at my background essay describing the London street trade which produced them.




Part One (April 2010)

Mary Arnold, The Female Monster (1843)
Former prostitute uses carnivorous beetles to blind her own infant child. Hopes to increase its value as a tool for begging, but wins only prison and transportation.

The Execution of Nathaniel Mobbs (1853)
Drunken bully cuts his wife's throat in a fit of jealous rage. Bungles his own suicide attempt, and lives long enough to be hanged at Newgate.

Mrs Dyer, The Old Baby-Farmer (1896)
Reading woman takes in illegitimate babies for cash. Strangles 40 or more, then dumps their bodies in the Thames.

The Gallows Child (1820)
Nine-year old boy is condemned to death for stealing six handkerchiefs from an Oxford Street shop. Shopkeeper had paid five shillings each for them.


Part Two (June 2010)

The Life and Trial of Palmer (1856)
Boozy, gambling doctor poisons family and friends to clear his debts. Hanged at Stafford Gaol, but survives as footnote in the Sherlock Holmes stories.

The Silent Grove (1838)
Young man gets his girlfriend pregnant, then kills both her and the baby to avoid responsibility. One of many Bloody Miller/ Berkshire Tragedy variants - a combination of which eventually became Knoxville Girl.

The Liverpool Lodger (1849)
Evil lodger slaughters family and robs them. Victims include pregnant mother and two very young boys.

The Unnatural Murder (1618)
Disguised sailor returns home to his parents, hoping to surprise them with his new-found wealth. They mistake him for a stranger, kill him, and steal his gold.


Part Three (October 2010)

Murder at Westmill (1848)
Nine-year-old boy brutally murders his infant sister. Mother driven mad by the crime.

Streams of Crimson Blood (1829)
Burglar breaks into rich old couple's house and kills them both.

The Murdered Maid (1832)
Poverty-stricken yokels kill lodger for her savings. But it's really their own daughter.

Cruel Lizzie Vickers (1853)
Housekeeper bullies her way into elderly employer's will then beats him to death for the £1,000 involved. That's the ballad's version, but the Old Bailey jury found her not guilty.


Part Four (February 2011)

Jones and Harwood (1851)
Two Surrey men repent on the scaffold after a local clergyman is killed while they're burgling his house. But did the real murderer escape?

The Sister and the Serpent (1850)
Cambridgeshire woman is murdered by her husband and her sister, who are already conducting an affair. They both hang.

Jealous Annie (1848)
Annette Meyers shoots dead her soldier boyfriend because she's convinced he's seeing someone else. That's the ballad's version, but Annette's real motive was rather different, and a sympathetic jury helped her escape execution.

The Foreigner's Downfall (1857)
Serbian soldier stationed in England gets dumped by his Kentish girlfriend, and kills her in revenge. Her sister's there at the time, so he has to kill her too, and is later hanged for the double murder.


Bonus (February 2019)

The Tyburn Jig
PlanetSlade's own rewrite of Noel Gay's 1937 song The Lambeth Walk.


Bonus II(June 2022)

Corkery's Farewell (1875); A Peaky Blinders ballad
Jeremiah Corkery and his gang murdered PC William Lines on the streets of Birmingham in 1875. Four months later, Corkery's hanging produced this ballad sheet.