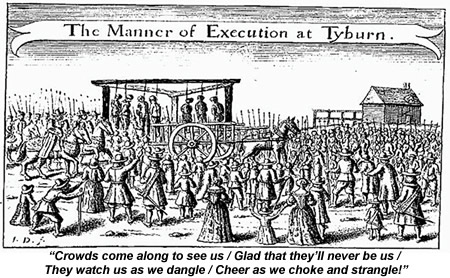 I was sitting around at home minding my own business the other evening when it suddenly occurred to me that the phrases "The Lambeth Walk" and "The Tyburn Jig" are both pronounced with exactly the same rythym and syllabic stress.
Beyond that, the two phrases have little in common. The Lambeth Walk is a showstopping number from Noel Gay's 1937 musical Me & My Girl, featuring lots of jolly cockernees describing their trademark South London dance and its role in local mating rituals.
The Tyburn Jig, on the other hand, is a very old bit of London slang, deriving from the fact that Tyburn, near what's now Marble Arch, was once the site of all the city's public hangings. To do the Tyburn Jig was to dance at the end of a rope, and this phrase persisted in London speech long after the hangings themselves had moved to Newgate Prison. There, as at Tyburn, the spectacle attracted huge crowds, who treated the hangings as a form of public entertainment.
I always like songs which combine dark, sinister lyrics with very sunny music, so I spent the next hour or so composing my own words to The Lambeth Walk's tune. One day, I'd love to hear someone performing the resulting song, perhaps on stage with some appropriately gruesome choreography and an audience singalong. The "Urghh!" at the end, of course, replaces The Lambeth Walk's climactic "Oy!", and comes just as the trap door is released.
The Tyburn Jig
Any time you're Newgate way,
Any evening, any day,
From gaol cell or brig,
We're doing the Tyburn Jig!

For every little Newgate gal,
And her little Newgate pal,
Justice is rigged,
We're doing the Tyburn Jig!

Crowds come along to see us,
Glad that they'll never be us,
They watch us as we dangle,
Cheer as we choke and strangle!

Once you get down Newgate way,
You'll see us 'most every day,
Strung up like pigs,
And doing the Tyburn Jig. Urghh!