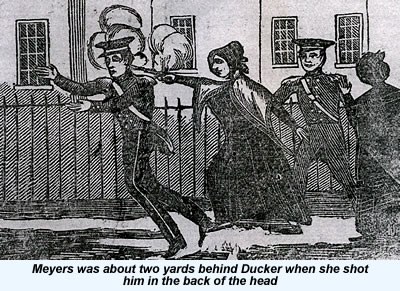 Annette Meyers shoots dead her soldier boyfriend because she's convinced he's seeing someone else. That's the ballad's version, but Annette's real motive was rather different, and a sympathetic jury helped her escape execution.





The Broadside
This A3 sheet from Paul's print shop in Seven Dials gives an accurate account of Meyers' crime and trial in its prose section, but gets everything wrong in the ballad verses alongside.
Both Meyers' and Ducker's surnames are mis-spelt in the original ballad - though I've corrected them here - and her true motive omitted altogether. I've stuck to the ballad's own sentiments in giving the song this name, but Vengeful Annie might have been more fitting.
Unusually for a case where the killer attracted so much public sympathy, the ballad makes Meyers an unabashed villain. Paul was confident enough of the sheet's appeal to splash out on a new illustration showing the moment she pulled the trigger.

The Ballad
In Newgate jail there does bewail,
In sorrow, grief and shame,
A sad young woman doomed to die,
Anne Meyers is her name,
For murder in the prime of life,
A dreadful sight to see,
Poor Annie is to end her life,
Upon the gallows tree.

CHORUS
In grief and shame she does complain,
And for forgiveness cries,
For murdering her soldier boy,
She is condemned to die.

Anne Meyers was a servant girl,
As we can understand,
The soldier Henry Ducker,
Was aged just twenty-one,
Belonging to the Coldstream Guards,
Of character refined,
He loved this maid, though jealousy,
Was poisoning her mind.

She and the soldier loving words,
Did to each other talk,
As they were walking arm-in-arm,
Along the Birdcage Walk,
When suddenly a gun she placed,
Against her lover's head,
The trigger drew, the soldier slew,
And Henry fell down dead.

Long time they had been courting,
So loving and so kind,
Until that fatal jealousy,
Had entered in her mind,
Then she prepared the pistol,
To take his life away,
While strolling on the Birdcage Walk,
Upon that fatal day.

When she had fired the pistol,
She prepared to get away,
But an officer detained her,
And this to her did say,
'Did you fire the pistol?'
"I did,' she said, 'indeed,
And I am now quite satisfied,
As you may plainly see'.

The soldier's blood in streams did flow,
'Twould make a lady swoon!,
And Annie Meyers confessed that she,
Had dealt the fatal wound,
To answer for this sad affair,
They took her speedily,
This dreadful deed as we may read,
Occurred through jealousy.

Great consternation it has caused,
As we can understand,
The soldier, twenty-one years old,
A sprightly, gay young man,
Henry Ducker was his name,
A Coldstream Guard was he,
What dreadful tidings to convey,
Unto his family.


The Facts
Henry Ducker, a young private in the Coldstream Guards, was walking though St James's Park in the centre of London one Friday afternoon in February 1848, when Annette Meyers stepped up closely behind him and fired a single pistol ball into the back of his head. A minute or two later, Ducker was dead and Meyers under arrest.
Ducker had left Wellington Barracks, on the edge of the park. at about 4:30 that afternoon, walking west along Birdcage Walk towards Buckingham Palace. He was about ten minutes into his stroll, near what's now Queen Anne's Gate, when Meyers killed him.
Sarah Sexton, a servant girl from Pimlico who happened to be nearby at the time, saw Meyers with the pistol in her hand. "She was about two yards behind him and, raising her hand, aimed it at the back of his head," Sexton told the court at Meyers' trial. "The soldier fell forwards, and she threw the pistol down by his side. The soldier did not utter a word. The prisoner said nothing either, but walked in the direction of the palace. I was too frightened to follow her, but she was soon overtaken and stopped." Henry Killington, another witness, added that Meyers had not seemed to be fleeing, but walked away "quietly and not at a fast pace".
Ducker was said to be 'very racketty', a Victorian term for someone of sordid or distasteful ways
Also on the spot that day were Christopher Richards and Thomas Paul, two police constables who heard the pistol fire. "I immediately turned round and saw the smoke," Richards said. "At the same moment, the deceased fell forward on his face and hands. I went towards him directly, and found him bleeding from a wound in the back of the lower part of his head. I then heard someone say 'Stop that woman, that is the woman who did it'. [...] She was about 30 yards from the soldier when I overtook her."
John Garwood, another private in Ducker's army company, was walking separately along Birdcage Walk, a few yards ahead of Ducker, on the fatal afternoon. "As I came out of the barracks, I saw the prisoner standing against the railings," Garwood said. "A private soldier with whom I was walking remarked to me as we passed her 'That is Henry Ducker's mistress'."
Ducker was about ten or 15 yards behind Garwood when the shot was fired. "I heard the report of the pistol and saw what the previous witnesses have described," he told the court. "I went towards the deceased and, while he was on the ground, he tried to extend his arms and made an effort to speak to me, but was unable." When someone tried to raise Ducker up, he breathed heavily once or twice, and died.
Richards handed Meyers over to PC Paul, and then went back to find the pistol she had dropped. "I took hold of her left hand and put my arm round her," Paul said. "She threw back her head and said 'I did it'. Those were the exact words. While proceeding to the station, she again said 'I did it. I intended to do it. I have intended to do it for a long time.' She also asked me if the deceased was dead. I told her I believed he was. She made no reply."
Meyers was duly arrested. At the station she produced a pistol bag and handed it over to Inspector Beckerson, who'd been given the job of processing her paperwork. She also gave him a bundle of three letters she'd written to Ducker, requesting him particularly to read the long one. The pistol, which Richards had been unable to find, was later handed in by a member of the public.
Ducker's body was taken to the barracks, where Joseph Skelton, the assistant surgeon, confirmed that death would have been almost instantaneous. "There were two wounds," he said. "One at the back of the head, and a corresponding one in front. It was such a wound as would be produced by a ball passing from the back of the head to the front."
Initial reports of the killing described Meyers as a well-dressed young woman, short in stature, 26 years old, and wearing her hair in long ringlets "of decidedly French cultivation". She was Belgian by nationality, but spoke excellent English, and worked as a live-in servant for the Curtis family in Hyde Park Gardens.
Ducker was said to be a handsome man of nearly 21, who'd been in the regiment for about three years. The Times hinted that he may have been married, but with an estranged wife and as many as six or seven girlfriends on the go. His comrades said he was "a good sort of fellow" but "very racketty" - a Victorian term for someone with sordid or distasteful ways.
Meyers was brought before the magistrates on Saturday morning, the day after she'd shot Ducker, where all the evidence above was heard. Her case was already drawing a lot of attention, and the court was packed with what The Times said was enough reporters to represent twice the papers in London.
Meyers had refused all nourishment but a little tea during her night in the cells, and seemed dog-tired at the hearing. He only contribution to the evidence was to say that she had never tried to flee the scene, but only walked away in a daze, and that she'd dropped the pistol accidentally when the shot made it jump in her hand. She made no attempt to deny her guilt, however.
"Her demeanour at the bar, when before the magistrate, was that of a person of strong determination, wholly abandoned to her fate in the consciousness that she had been justified in the dreadful act she had committed," said The Times. With so many witnesses all agreed on what happened and Meyers' own confession at the scene, the hearing's outcome was never in doubt. She was committed to be tried for wilful murder at The Old Bailey.
A few days after the magistrates' hearing, Inspector Beckerson called at the Curtis family's house, and was shown to the room Meyers had occupied there. Searching her writing desk, he found several more letters, which he added to those police had found in Ducker's knapsack after his death.
We don't know exactly when Meyers and Ducker started going out, but she was evidently besotted with the young man. "My happiness or misery depends entirely on your conduct," she tells him in one letter. "My very existence [is] interwoven with your well-being and your general prosperity." In another, she says: "Dear Henry, shall we soon have a home of our own? Oh, how happy I should be to tend and cheer you! With the blessing of God, I hope that happy day may come, when we shall meet to part no more till death parts us!"
Soldiers at the barracks were already used to seeing Meyers and Ducker together by January of 1848. They seemed on good terms then, but were spotted arguing at the beginning of February, when she seemed very angry with him. It's clear from her letters that Meyers had genuinely loved Ducker, hoped that he felt the same way about her, and agreed to start sleeping with him only on that understanding. But now something had gone badly wrong. In one of her letters from around this time, Meyers chides Ducker for being so cold towards her the previous Sunday and reminds him that he'd threatened to "go and see that young woman, and you would get some money".
"I do not like such ways," she continues. "You say if she had not got any money, she would lend her things. More fool her. No young man would make me do such a thing. [...] If any young man wished a young woman well, and his meaning is good to her, he would not wish anything of that kind from her. Henry, for you or any other young man, I would not do such things - and if you are not ashamed of it, I am.
"Look back from Christmas, how much you had from me. If that is all the love you have for me, then I do not care for such love. I know you care more for that young woman than you do for me, because she can give you more money than I can. She gets it easier than I can. She does not get it in service. [...] I did not let you do what you liked to me because I thought of getting some money. No! It was because I kindly loved you."