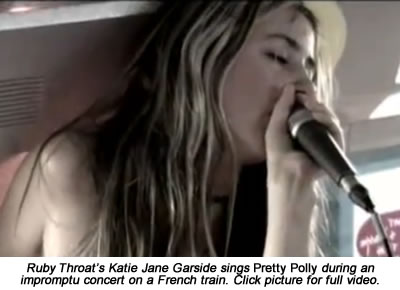 This refers to the belief, common among seamen at the time, that sailing with a murderer on board your ship put the whole vessel in great danger. We have evidence of this from several other 18th Century ballads, including William Glen, which is set aboard a ship beset by inexplicable storms. Discovering their captain committed murder before leaving port, the crew throws him overboard, at which point the storms instantly subside and they sail safely on. "All young sailors, I pray beware," the ballad concludes. "And never set sail with a murderer".
The Gosport Tragedy's own supernatural scenes may have been inspired by an 18th century ballad called The Dreadful Ghost. This tells the story of girl who hangs herself after being impregnated and abandoned by her boyfriend. He flees to sea in hopes of escaping the girl's vengeful spirit, but she follows him on board and tells the captain to hand him over:

"And if you don't bring him up to me,
A mighty storm you soon shall see,
Which will cause your gallant men to weep,
And leave you slumbering in the deep".

The terrified crew drags her former boyfriend on deck, and the ghost forces him into a row-boat which promptly bursts into flames and sinks with him in it. The ghost then ascends to heaven, giving this final warning: "You sailors all who are left behind / Never prove false to young womankind". Many versions of The Gosport Tragedy close with a light re-phrasing of exactly that moral. (9)
Returning to our own ballad, the Bedford's captain knows their departure date is drawing near, so he calls all the men into his cabin one by one and confronts them with his suspicions. Soon, it's William's turn:

Then William, afrighted, did tremble with fear,
And began by the powers above to swear,
He nothing at all of the matter did know,
But as from the captain he went to go,

Unto his surprise, his true love did see,
With that, he immediately fell on his knee,
And said "Here's my true love, where shall I run?
O save me, or else I am surely undone."

Now he the murder confessed out of hand,
And said "Before me, my Molly doth stand,
Sweet injur'd ghost, thy pardon I crave,
And soon I will seek thee in the silent grave".

No-one but this wretch did see this sad sight,
Then, raving distract'd, he died in the night,
As soon as her parents these tidings did hear,
They fought for the body of their daughter dear.

Near a place called Southampton, in a valley so deep,
The body was found, while many did weep,
At the fall of the damsel and her daughter dear,
In Gosport churchyard, they buried her there.

The ghost forces him into a row-boat which bursts into flames and sinks with him still in it
Southampton's just 14 miles north-west of Gosport, and only 17 miles from Portsmouth, so all the locations given in the Roxburghe Gosport are consistent with one another. It offers a couple of other important clues too, telling us that the ship involved was the Bedford and that it was moored in Portsmouth harbour when the murder took place. William and Molly are both generic names, used in countless ballads of the time no matter what the real individuals were called, so there's not much to be learned there. Charles Stuart looks a bit more reliable, though, and the ballad is clear the Bedford's crew included someone of that name when the ghost appeared.
Armed with this information, the University of Washington's Professor David Fowler set about researching Royal Navy records to see how many of the Roxburghe Gosport's details he could confirm. The resulting essay, which appeared in a 1979 volume of Florida University's Southern Folklore Quarterly, provides our best account of the ballad's background yet. (10)
Fowler's first problem was to decide which decade - or even which century - to begin his search. The British Library gives two different dates as its best estimate for the Roxburghe Gosport's printing, opting for 1720 in its General Catalogue (GK), but for 1750 in its English Short Title Catalogue (ESTC). Both carry a cautionary question mark to indicate they're only approximations. (11)
Fowler took the first of the British Library's two dates as his starting point and quickly discovered that there really was an HMS Bedford at this time. She was the first of three Royal Navy warships to bear that name, and launched from Woolwich Dockyards in September 1698. This Bedford was what Fowler calls "roughly the equivalent of a destroyer in the modern navy", measuring 150 feet long by 40 feet wide, with 70 guns on board and a full complement of 440 men. (12)
The ship survived in that form until 1736, when orders came to demolish and rebuild her in accordance with new Navy standards. This process was not completed until 1741, when she was relaunched from Portsmouth in her new form. The Bedford was reduced to a hulk in November 1767, and sold off 20 years later. Fowler discovered from Navy records that, except for short stays in Chatham and Woolwich, she was based at Portsmouth from 1710 until 1740.
Let's assume for the moment that The Gosport Tragedy really was inspired by a real crime. HMS Bedford wasn't built until 1698, so that's the earliest that any real-life murder matching the ballad's description could have occurred. The British Library's dates suggest around 1750 as the latest possible date for any such crime, and that rules out all but the first warship to bear the Bedford's name. So far, so good: we've got the right ship in the right port at the right time.
Fowler's next step was to dig out the Bedford's pay books, muster books and captain's log from the crucial period - all of which can still be found at the UK's National Records Office in Kew. Starting in 1699, he read down the long lists of every crewman's name, looking for a Charles Stuart, or some alternative spelling of the same name. He hit paydirt with the entry for January 27, 1726, when the muster book notes that one "Charles Stewart" has joined the crew. Stewart remained on board the Bedford for at least two years, and he's the only man of anything like that name Fowler was able to find on-board.
"The existence of the Bedford, and the confirmation that she was indeed in Portsmouth, as the ballad says, provides justification for taking seriously the name of Charles Stewart, the third piece of evidence from the ballad thus confirmed by Admiralty documents," Fowler says in his essay.
The ship's carpenter when Stewart signed up is listed as John Billson, who joined the Bedford in that post on May 1, 1723, and remained there till his death on-board in September 1726. That means Stewart and Billson were shipmates there for eight months. "Billson's first name is not William, but William and Molly are common names in balladry," Fowler reminds us. "Enough so to at least justify pursuing Billson a bit further."
For the two-and-a-half years before Stewart signed up, the Bedford had been serving as a guard ship in Portsmouth harbour, with a skeleton crew of about 80 men on-board. Quiet periods like this were a golden opportunity for Billson and his gang of eight to twelve junior carpenters to carry out any repairs the ship needed. "The work of the crew, and particularly the carpenters, was primarily a matter of maintenance, which in a wooden sailing vessel of this date was a constant problem," Fowler says. "The ship's crew worked during the day, but had shore leave on a fairly regular basis."