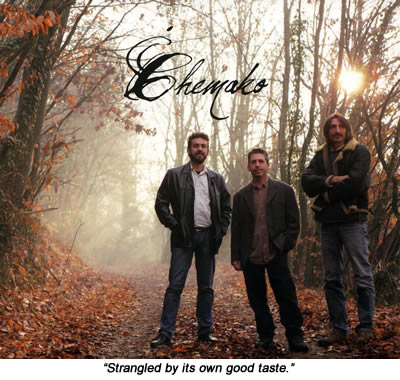 Chemako: Chemako
Red beans and . pasta?
Chemako are an Italian blues band built round guitarist Gianfranco Scala, bassist Roberto Re and drummer Stefano Bertolotti. Scala writes the songs with lyricist Gianni Rava, and the band has worked with a handful of US blues and gospel giants, including Guy Davis, Eric Bibb and Charlie Musselwhite. They've recently added Marcello Milanese as what seems to be a permanent lead vocalist, but he's no more in evidence here than are the CD's seven guest singers.
Perhaps that's why the band fails to establish much of a distinctive personality. On Gayla Drake Paul's The Ocean Song and Martell Walton's Momma's Words, they're simply acting as a back-up band for the two writer-performers involved. The cover of George Harrison's All Things Must Pass, sung by Angelica Depaoli, lets Scala show off his slide skills, but adds nothing to the original.
Scala and Rava's eight compositions are all slow, understated and silky. There's added colouring by a host of guest players on piano, harmonica and horns, but everyone's content to ape US blues rather than add anything uniquely Italian to the mix. As a result, the whole album's a little strangled by its own determined good taste, slipping from your memory the second it's finished. It's a warm, comforting latte rather than the jolt of expresso many fRoots readers might prefer.
The most successful tracks, I think, are Red Diamond Train and Lost My Way. The first offers a Cooder-esque landscape of barbed-wire banjo, echoey harmonica and dusty Dobro, while the second has a nice stuttery organ pattern driving it along and throaty, world-weary vocals from Milanese. He's one of the only two singers here who brings any real character to his track, and that bodes well for the band's future if he's to be a permanent member.
One impression the album does leave in your mind is that the band's lyricist may not be entirely familiar with the idiomatic American English he's determined to use. I could name a dozen examples of the slightly odd phrases Rava produces, but it's Save The Moon which has the highest concentration: "She sent me her smile and a call from LA / She was under arrest and she needed a bail / I still remember her eyes flappin' like butterfly wings / But her strongest weapon was her hidden thing." Bellissimo!

This review first appeared in fRoots 355/356. For more details, visit the magazine's website here.