Paul Lamb & The King Snakes: The Games People Play
There's two schools of thought on live albums. Do you aim to simply document the warts-and-all excitement of a single gig, slap it down as fast as possible and move on? Or do you carefully select a number here and a number there from a whole tour, add a bit of careful studio polish and patch the disc together months later?
PaulLamb, Britain's king of the blues harmonica, has tried both approaches now, and it has to be said that 2002's Live At The 100 Club was far more successful. That record, drawn entirely from his band's May 14 appearance in London's favourite sweaty cellar, was thrown together fast enough to be released just a couple of weeks after the gig itself . From the moment the band arrives on-stage, the audience is a boisterous presence on that disc, and listeners at home placed squarely in their midst.
This year's entry, however, draws from three different venues on a 2011 tour - one of them an outdoor festival - and hardly even acknowledges the audience is there. There's a couple of toe-curling attempts at banter from Lamb - neither of which spark much of a reaction - and a call-and-response section on Ya Ya Blues which leaves the audience so under-miked as to be nearly inaudible. With the earlier album, you can practically smell the spilt beer sticking your feet to the floor, but Games never conjures a trace of that atmosphere.
That said, the King Snakes remain a good, solid blues five-piece. Lamb may be the man with his name above the title, but he never abuses that privilege by demanding all the spotlight for himself. Ryan Lamb, Paul's son, isn't quite in his predecessor Johnny Whitehill's class as a guitarist, but he's no slouch either. The overall sound is the sort of railroad chug you might get if the Tennessee Three had chosen blues instead of country.
The selection of songs leans heavily on standards by the likes of Ray Charles, Johnny Cash and Leadbelly. Best of the bunch are Easy (an old Walter Horton instrumental from the 1950s), Roosevelt Sykes' Ida May (handled by the two Lambs alone) and Come To The Conclusion, the most memorable of the band's own four compositions. It's all enjoyable enough, but what's missing is the best live albums' sense of raw, slapdash energy.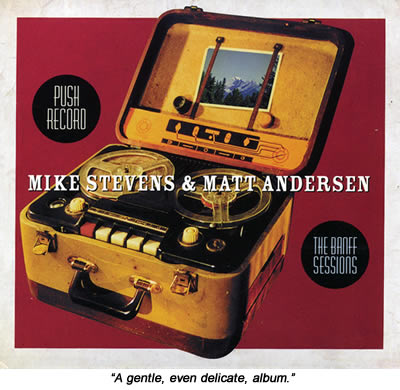 Mike Stevens & Matt Andersen: Push Record.
When blues guitarist Matt Andersen and bluegrass harmonica player Mike Stevens found themselves with a week to kill at an artists' retreat in the Canadian town of Banff, they figured they might as well make an album.
They wrote the 11 songs there and then and recorded them at The Banff Centre's in-house studio, aided by Grammy-winning engineer Thomas Geiger. "This album was written in five days, recorded in one day and mixed the next," the duo explains. "All recording was live off the floor - no headphones, no overdubs, no edits and no processing."
And no other musicians, either. All you'll hear on this album is Andersen's vocals and guitar plus Stevens' harmonica. Far from the gutbucket affair that may suggest, they've produced a gentle, even delicate, album whose prevailing flavour is as much country as blues.
Stevens' bluegrass roots show through in tracks like The Mountain, a tale of hard-scrabble mining life which recalls Steve Earle and Jim Ford songs on the same topic, and Last Letter Home, a dying soldier's farewell epistle to the family he's leaving behind.
The first of these two songs is driven by Stevens' chugging harmonica, which conjures a heavy-loaded coal train powering along the tracks, coupled with Andersen's fast acoustic strum. The second alternates between verses of unaccompanied vocals and a desolate solo harmonica echoing each stanza's phrasing as soon as the vocals drop out. Another highlight is Little Things, where Stevens steps back a little to let Andersen deliver a quiet plea of love from a man who seems to sense his wife's already half-way out the door.
Fortunately, the album does have a jollier side too. She Loves It All is built round a patter song listing all the many, many forms of alcohol the song's subject prefers to the guy who's singing about her. That Girl Is Like A Train takes blues and country's joint obsession with locomotive metaphors to deliberately absurd lengths: "She's got room for a hundred men / She only lets 'em on one at a time".
The album's eponymous closing track is preceded with 90 seconds of silence, separating it just enough to suggest Stevens and Andersen recognise it's no more than a generic blues jam. With or without this touch of filler, though, the 43 preceding minutes are well worth investigating.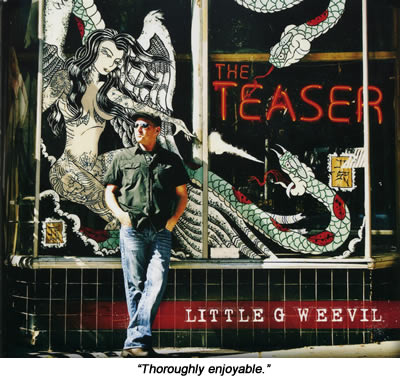 Little G Weevil: The Teaser.
There's a whole stratum of US bar bands which has no equivalent here in the UK. In such a huge country, with a live blues joint to fill in every sizable city and a host of local festivals too, any band worth its salt can rack up a steady 200 gigs a year. Those tough enough to survive the process emerge with a practiced showmanship and proven set-list which few British pub bands can match.
Somewhere at every one of those 200 gigs, you'll find a merchandise table selling CDs much like this one. They're expertly played and thoroughly enjoyable throughout, but stick rather too closely to the circuit's required formula to provide any real surprises. In Little G's case, that means 12 good solid blues songs, veering from John Lee Hooker to BB King in their style, and split eight/four between full band and solo arrangements.
Weevil himself provides guitar and vocals, offering up a solo in just about every number, but keeping these tight enough to avoid pointless pyrotechnics. The whole album's pitched very much towards the blues end of the blues-rock spectrum, with Bob Page and Maurice Nazzaro adding enjoyable texture on piano and harmonica respectively.
Page switches to organ for Big City Life, giving this London-inspired song a touch of soulful funk in keeping with the band's Georgia base. Other highlights among the full-band performances include the opening rocker Real Men Don't Dance, the brooding Highway 78 and Liquor Store's twitchy stop-start harmonica riff. I'm less keen on the slow blues of Apple Picker, the one track where Weevil does drift into a fancy-pants solo, but no doubt it keeps the casual Clapton fans in his audience happy.
Weevil acknowledges John Lee Hooker as one of his heroes, a fact we might have guessed from the solo tracks here. With their remorselessly hypnotic riffs and the metronome-steady tap of Weevil's foot for percussion, these four songs keep us firmly locked into their tales of good love gone bad. Losing Cool's sense of subdued violence and Which Way Shall I Go's bottleneck work stand out.
What we have here, then, is an accomplished, dependable blues album. It's a little short on innovation, perhaps, but get a couple of beers inside me at one of Weevil's gigs, and I'll be first in the queue at that merchandise table.

These reviews first appeared in fRoots 347, 348 and 353/354. For more details, visit the magazine's website here.