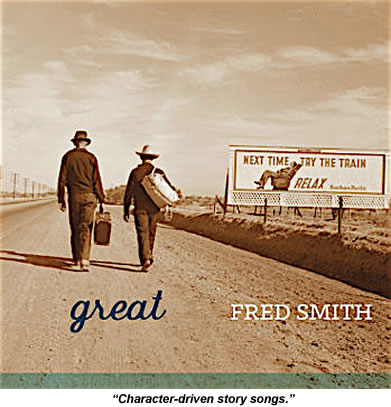 Fred Smith: Great.
If it weren't for the awkward fact that Fred Smith is an Australian (and remains based there), we could slot him neatly into the same Americana bracket as Steve Earle, James McMurtry and Townes van Zandt.
Smith's music has always carried the stamp of US folk and country influences, so it's natural enough that he's decided to fill this whole double CD with songs about America. The album as a whole amounts to a patchwork portrait of everything he finds most appealing and appalling about the place. It's never crudely polemical, though, relying instead on 24 of Smith's own character-driven story songs and wry humour to get its points across.
Along the way, he convincingly tackles every style of American music imaginable, from wah-wah soaked funk (Nice To Meet You) to hard, angry blues (Satisfied), Nirvana-style thrash (My Girlfriend) and late-night bass-and-congas soul (Frederique Q. Love). The narrators he conjures include a dustbowl farmer (Little Jimmy Boy), a Vietnam vet (Sister Sandinista) and a certain toxic dimwit named Trump (What Could Go Wrong).
Smith takes this opportunity to revisit five songs from his back catalogue too, using the extra musicians now at his disposal to give them a fuller, warmer sound. I miss the twangy baritone guitar which originally fuelled 2010's Zeebrugge FOB - it's replaced here by John Bedggood's violin - but that's my only quibble as far as these "retakes" are concerned. Texas, which dates from 2006, remains one of his most enjoyable songs, so it's good people get another chance to discover it here.
Other standouts include the atmospheric American Guitar, which extends Smith's own US wanderings to a telling metaphor of the wider immigrant experience, and Emily Rose's tender account of a daughter lost in infancy. Greezy Spoon's a treat too - thanks largely to some wonderfully snaky electric guitar - and so's the fast, ska'd up rocker Backwoods Bum.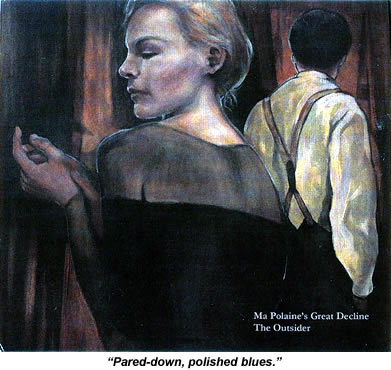 Ma Polaine's Great Decline: The Outsider
This newish London duo comprises guitarist Clinton Hough and singer Beth Packer, who also contributes some tasty harmonica to the album. The sound is pared-down, polished blues, set at a languid tempo throughout.
There's a lot to enjoy here, but also a couple of hurdles to overcome first. Packer's breathy vocals initially struck me as being rather mannered, sparking an irritation which didn't fade until my fourth or fifth listen. And, while that languid pace I mentioned works perfectly well on a song-by-song basis, it can become a little wearisome when applied so relentlessly to a whole set.
That said, the album's a definite grower. That's thanks mostly to its gorgeous instrumental work, led by Hough's snaky, atmospheric guitar licks. Packer's smoky harmonica is another of the disc's musical highlights - particularly on Old Fashioned Goodbye, its closing track.
The band's earlier work has attracted comparisons to Tom Waits' Swordfishtrombones era, but that influence is pretty hard to detect here. There's the odd bit of clattery percussion, it's true, and a great deal of Waitsian imagery in the demimonde lyrics (oceans, carousels, sailors' graves), but that's about as far as it goes. A better comparison might be the Cincinnati husband-and-wife duo Over The Rhine, whose sound came to mind more than once for me.
The standout track is The Poison Sits, which relies simply on acoustic guitar and Packer's vocals. There's an enjoyable hint of late night cabaret in the way this song's performed, and none of the slightly overcooked elements which sometimes get in the way elsewhere. It also provides my favourite little touch of the whole album, when a perfectly-timed line of background vocals subtly swells its arrangement halfway through. It's one of those tiny, perfect moments.

These reviews first appeared in fRoots 418 and 422. For more details, visit the magazine's website here.