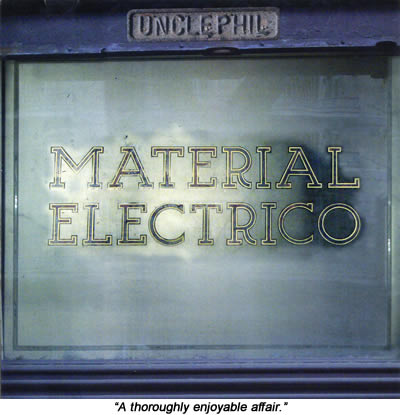 UnclePhil: Material Electrico.
UnclePhil's a new name to me – new to you too, I shouldn't wonder – but on the evidence of this CD, I'm quite glad to have made his acquaintance. It's a thoroughly enjoyable affair, and one which plants a flag in just about every area of the blues genre before it's done.
Opening track The Blues Moved In Next Door for example, gives us a full-band rockin' blues treatment, driven along by stride piano and hand-claps. Dark Brown Eyes takes us out west with the help of Dobro and mandolin, while Pictures of Food is all fuzzy guitar and earworm chorus.
All this jumping about could have made for a horribly choppy album, but UnclePhil manages to tie the whole thing together by underpinning almost all his songs with a touch of quirky humour.
Examples include the increasingly unlikely rhymes he challenges himself to find in Picture of Food (San Diego / manchego being my favourite), and the adroit, clever lyrics of ROYGBIV's faux Gregorian chant. "A mnemonic for a rainbow is his final memorial," the song reminds us of Richard III's carpark grave. "He'd have preferred to be interred somewhere more arboreal."
As far as I can tell from the somewhat oblique sleeve notes, UnclePhil plays all but the album's drums himself, and provides his own backing vocals too. He manages to sound thoroughly at home in every sub-genre he visits, not only on the various guitars, ukes and mandolins involved, but also on the couple of tracks where he bashes out some unfussy but effective piano.
There's the odd moment where the album's production feels a little thin – thin enough to make me wrongly think it was a home recording at first - but that's really no more than a quibble.

This reviews first appeared in fRoots 408. For more details, visit the magazine's website here.