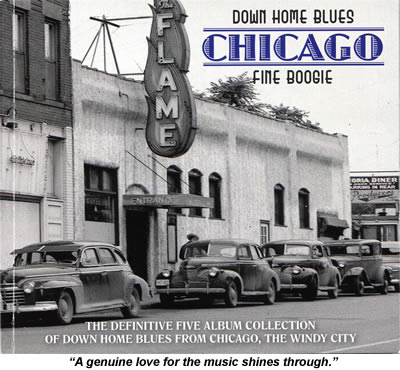 Various artists: Down Home Blues Chicago - Fine Boogie.
Great - another box set of vintage Chicago blues. Just what the world needs, right?
Hang on a minute, though, because this particular set turns out to be a far more attractive proposition than you'd think. Covering the period 1945-1958 over five CDs, it combines a deep dive into its big names' lesser-known repertoire with an expert trawl through the era's unknowns. I've got a pretty decent blues collection, but there's at least a couple of CDs' worth of first-rate stuff here I'd never heard before.
Let's start with the big names. There's nine tracks here by Muddy Waters, eight by Little Walter, six each by Elmore James and Jimmy Reed and five by Howlin' Wolf. Thankfully, though, the set's compilers have avoided the tracks we all know from a thousand greatest hits packages to excavate each man's lesser-known gems instead.
Most of us know Muddy Waters only from his Chess career onwards, for example, but half the Waters tracks here were recorded before Chess even existed. His opening 1946 session is a particular treat, its booming vocals and stinging guitar licks revealing a man already fully in command of his gifts. It's the same story with all the other blues stars here too: their talent is present and correct on every cut, but there's a good chance the track itself is one you've never heard.
The collection's host of forgotten musicians include Willie "Long Time" Smith (a pianist), Baby Face Leroy, Blue Smitty, Johnny Shines (all singer/guitarists) and a useful gob iron merchant called Dusty Brown. They'd be worth treasuring for their names alone, but I've singled them out here because they also supply some of the set's very best music. Given that one crucial bit of luck - or in Baby Face Leroy's case a few months off the gin - they could all have been stars themselves.
The collection's 88-page booklet has short but informative essays on all these gents, plus some background on the Chicago "Jew Town" neighbourhood where they played. Compilers Mike Rowe & Peter Moody clearly have a genuine love for this music, and that love shines through in every decision they've made here.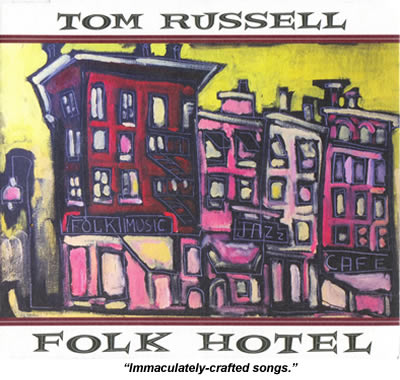 Tom Russell: Folk Hotel.
What we have here is another good, solid album of immaculately-crafted songs from one of America's greatest troubadour poets.
The record's tone of gruff nostalgia is set straight away by opening track Up In The Old Hotel, which hymns New York's Chelsea hotel in its bohemian heyday of the 1950s and 1960s. As in so many of this record's songs, Russell has dead writers he wants to salute - in this case Dylan Thomas and The New Yorker's Joseph Mitchell - and a wistful memory of better times to convey.
Thomas pops up again in a mournfully tender song called The Sparrow of Swansea. Leaving El Paso gives us Russell's farewell to a much-loved home town, while both Harlan Clancy and I'll Never Leave These Old Horses celebrate the old-fashioned, hard-working decency of a generation that's now almost gone. The latter is a tribute to Ian Tyson.
Musically, the focus is always on Russell's voice, his slow-picked acoustic guitar and the tale itself. There are plenty of other musicians on the album - including Eliza Gilkyson and Joe Ely - but their contributions are always carefully restrained, limiting themselves to a little careful colouring at the song's edge. The Tex-Mex flavour dominating some earlier Russell albums is less in evidence here, showing through on only two or three of the 13 tracks.
Best of all are two of the album's sprightlier numbers, both driven along by Max De Bernardi's fine guitar work. Rise Again, Handsome Johnny describes JFK's assassination and wishes he could return to us today. It's a perfect bookend song for Steve Earle's Christmas in Washington.
Scars on His Ankles - one of two bonus tracks you'll miss if you choose to stream or download the album - is even better. It relates the journalist Grover Lewis's drunken encounter with Lightnin' Hopkins in 1960s Texas. Russell's throaty spoken-word narration, backed by a solo bluesy guitar, lets you smell the sweat on Hopkins' skin and the "head tearing-up" bourbon tainting his breath. Great stuff.

Read my 2018 fRoots interview with Tom Russell here.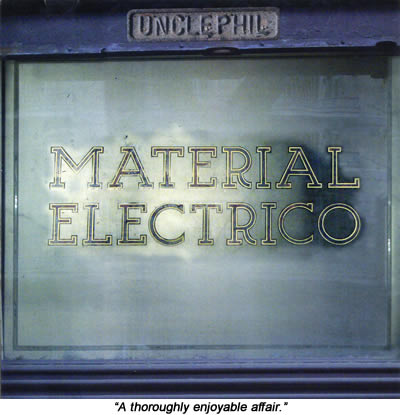 UnclePhil: Material Electrico.
UnclePhil's a new name to me - new to you too, I shouldn't wonder - but on the evidence of this CD, I'm quite glad to have made his acquaintance. It's a thoroughly enjoyable affair, and one which plants a flag in just about every area of the blues genre before it's done.
Opening track The Blues Moved In Next Door for example, gives us a full-band rockin' blues treatment, driven along by stride piano and hand-claps. Dark Brown Eyes takes us out west with the help of Dobro and mandolin, while Pictures of Food is all fuzzy guitar and earworm chorus.
All this jumping about could have made for a horribly choppy album, but UnclePhil manages to tie the whole thing together by underpinning almost all his songs with a touch of quirky humour.
Examples include the increasingly unlikely rhymes he challenges himself to find in Picture of Food (San Diego / manchego being my favourite), and the adroit, clever lyrics of ROYGBIV's faux Gregorian chant. "A mnemonic for a rainbow is his final memorial," the song reminds us of Richard III's carpark grave. "He'd have preferred to be interred somewhere more arboreal."
As far as I can tell from the somewhat oblique sleeve notes, UnclePhil plays all but the album's drums himself, and provides his own backing vocals too. He manages to sound thoroughly at home in every sub-genre he visits, not only on the various guitars, ukes and mandolins involved, but also on the couple of tracks where he bashes out some unfussy but effective piano.
There's the odd moment where the album's production feels a little thin - thin enough to make me wrongly think it was a home recording at first - but that's really no more than a quibble.

These reviews first appeared in fRoots 408, 413 and 414. For more details, visit the magazine's website here.