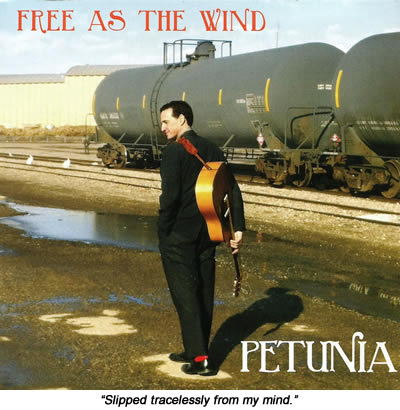 Petunia: Free As The Wind
And you thought Johnny Cash's Boy Named Sue had it tough.
Petunia, you see, is a bloke, Canadian by birth, and playing here with fellow guitarist Nathan Godfrey in an apparently nameless duo. We get an explanation of sorts for his unusual moniker in this album's seventh track Petunia Where'd Ya Get That Name? but I'm not going to spoil it for you. Hint: There was a woman involved (possibly his mother).
I liked this chap's music enough to buy 2011's band outing Petunia & The Vipers with my own money, but this disc's left me strangely cold. It's all jolly pretty and beautifully played, but also rather forgettable. There's the odd song in French or Spanish, a spot of discrete yodelling here and there and a totally superfluous cover of Cocaine Blues (here called Cocaine Kid and coupled in a medley with Jelly Roll Morton's I Hate A Man Like You). Godfrey brightens this track with some nice echoey work on his National Resonator guitar, but the song itself has been recorded far too frequently in recent years to make any impact.
The Cricket Song (cut to much better effect on that Vipers album I mentioned) here abandons its original lap steel guitar for a Spanish treatment which suggests a slightly cheesy crooner moving through crowds of foreign diners on a hot Marbella night. Free As The Wind adds a piano and violin to the core duo for a touch of welcome variation, but again fails to gain much purchase. There's nothing actually wrong with any of these tracks, and yet, with a single exception, every one had slipped tracelessly from my mind ten seconds after it ended.
The exception is a sprightly cover of Riley Puckett's 1934 song I'm Gettin' Ready To Go. Puckett's cheekily fatalistic lyrics and irresistible tune give the album a splash of technicolour, jolting Petunia and Nathan into sudden vivid life. It's like the sun coming out from behind a cloud, only to slip back out of sight again three minutes later.
"Imagine that David Lynch and Nick Cave had a hillbilly baby that yodelled," the press release accompanying this album suggests. "This is just one way of describing the man known as Petunia." Personally, I'd sooner imagine him sacking the PR who wrote that rubbish and getting The Vipers back together instead.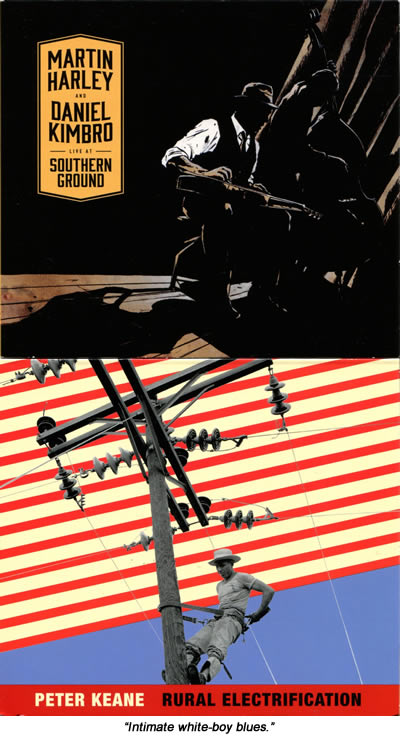 Martin Harley & Daniel Kimbro: Live At Southern Ground
Peter Keane: Rural Electrification
Two new albums of intimate whiteboy blues, both beautifully played, both tightly-focussed on the minimum possible instrumentation and both well worth your time.
First up we have Harley and Kimbro, a transatlantic guitar/bass duo who recorded this whole album in a single day at Nashville's Southern Ground studio. There was no audience present, but the title does convey the simple pleasure of listening in on some great acoustic playing with no overdubs or studio trickery to get in the way. Harley - the Brit in the equation - wrote eight of the album's 11 tracks himself and includes Tom Waits' Chocolate Jesus alongside his more conventional cover choices of Goodnight Irene and Blind Willie Johnson's Nobody's Fault But Mine.
Harley's performance is nimble and fluent throughout, particularly when he produces the hollow-necked Weissenborn guitar which makes him such an outstanding lap slide player. The Waits and Johnson covers each provide a showcase for this aspect of his talents. Elsewhere, there's light-speed picking to enjoy on Honey Bee and Love In The Afternoon. Kimbro adds huge atmosphere to tracks like Cardboard King and the (pointlessly) hidden closer Blues At My Window by bowing his upright bass like a cello. His backing vocals make a big contribution too. Automatic Life -the album's stand-out track for me - is a far better song for having Kimbro's voice swelling Harley's own in every chorus.
Why Harley isn't regularly mentioned alongside Ian Siegal in the very front rank of UK bluesmen beats me. He's got a couple of dozen solo gigs coming at small venues throughout England in November and December, and if he's in anything like the form this album exhibits, they'll be a treat.
Heading west, we come to Austin, Texas, and to Peter Keane. As he explains in his sleeve notes, Keane bought himself a Gretsch electric guitar about a year ago and found its deep, echoey tones perfect for the 1920s and 1930s blues songs he loves. Hence this album, which comes packaged with some illustrations of the striking Lester Beall posters used in the 1937 US Government campaign Keane commemorates in his album's almost spookily perfect title. If there's a better phrase to sum up this music's journey from Mississippi's cottonfields to the Chicago clubs, I've yet to hear it.
Keane's vocals and guitar are all we get on this album, and it's plain from the outset that nothing else is needed. His playing is admirably disciplined, rejecting any temptation to be flashy for the sake of it, but full of presence nonetheless. There's a touch of grit in Keane's voice which makes it well-suited to blues, and a gravity in his approach which ensures every song is given its due. He may have recorded this album all on his lonesome, but he never fails to fill the room.
Highlights include his cheerful embodiment of the killer in Thomas Ashley's Little Sadie, the wry humour he injects into Jimmie Rodgers' Nobody Knows But Me and Heart Of My Heart's very pretty instrumental. That last number's a 1926 tune by the vaudeville performer Ben Ryan. Skip James, Mississippi John Hurt and Frank Hutchison each contribute a song here too.
Almost Gone, the album's only original, is another of its best tracks, sporting some deft lyrics which suggest Keane should explore his own songbook more often. He leans a little too heavily on standards here, as his inclusion of tracks like Lonnie Carter's Sitting On Top Of The World and Willie Newbern's Roll & Tumble Blues demonstrates. Enjoyable as Keane's performances on these tracks are, their impact is inevitably blunted by the fact that the two songs themselves are so over-familiar.
So, more originals next time, please, Peter - or failing that, a little more adventure in the covers you choose. If Martin Harley can stretch his style to encompass the likes of Tom Waits, then I'm quite sure you can too.

Postscript: I made it to one of the Martin Harley gigs mentioned above, seeing him play at Rolleston Village Hall on November 20 - and very good he was too. Despite what his label's press release had assured me, Harley revealed, his Weissenborn guitar really isn't a Weissenborn at all. It's actually one of these, the brand name of which blazoned on a guitar case tends to raise eyebrows whenever he goes through airport security.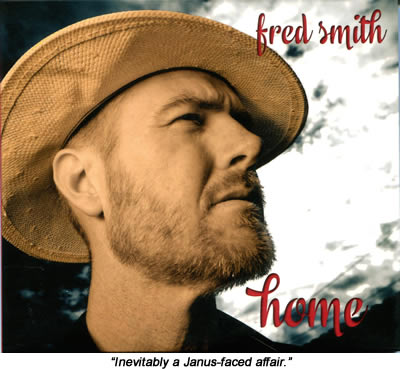 Fred Smith: Home
Smith's latest album finds the Aussie songsmith straddled between two worlds. His stunning 2011 offering, Dust of Uruzgan, drew on his time as a diplomat in Afghanistan, liaising between the coalition troops and tribal leaders, but now he's back home with his wife and their first child. Perhaps inevitably, the resulting CD is a Janus-faced affair, looking both backwards at old comrades and forwards to the rather different adventures now in store.
Among the retrospective songs, Going Home is a very literal farewell to Afghanistan, with Smith expressing the career soldier's nervousness at returning to family challenges as he boards the plane home. Darapet was written at the request of a Brisbane soldier who saw his friend Jared "Crash" MacKinney die at that battle in 2010. Like all the songs here, they put Smith's vocals and acoustic guitar firmly centre stage, often with no more than a restrained bassline or a bluesy harmonica solo to fill out the sound.
The great strength of Smith's soldiering songs lies in his utter rejection of melodrama, preferring a matter-of-fact tone which carries quiet authority and the troops' authentic voice. In a coda to MacKinney's tale, he acknowledges the vampiric role he himself must sometimes play in making art from other men's deaths: ". and Fred Smith got his song".
The album's other major strand has Smith looking back on old friends and lovers before turning to his new life as a father. The two key tracks here are Beautiful Girl, a rightfully soppy paen to baby Olympia, and Song So Uncertain, a tribute to his late friend David Branson. Branson played roughly the same role in Australian theatre which Ken Campbell played here, and Smith's affection and respect for the man are manifest. Shane O'Mara's electric guitar helps him pull off the risky Women In My Life with some aplomb, while Heel and Toe combines a celebration of the nomadic life with a love toast to Olympia's mum.
All in all, then, this is another strong collection from Smith - his eighth to date - and more evidence that he can match the best work any Americana troubadour has to offer. The point's underscored by his version of Townes van Zandt's Pancho and Lefty (this album's only cover) which he tells with such clarity I'll confess it's the first time I've ever really understood the nature of Lefty's sin.


Pokey LaFarge: Something in the Water
I reviewed an earlier Pokey LaFarge CD in these pages four years ago, when I described his persona on disc as "a sweet, slightly befuddled guy, happily chasing girls and innocent fun in a world as cheery as that of a PG Wodehouse novel".
It's hard to imaging that LaFarge singing about abusive partners, apocalyptic earthquakes or suicides leaping from the Mississippi River Bridge - but all three subjects raise their heads here. In I Wanna Be Your Man, the best he can hope for from a joint is that it will "take the pain away". Instead of being instantly besotted by every girl he sees in the street, the LaFarge of this album's Far Away is ready to give up on their whole sex.
Thankfully, these darker touches in the lyrics are generally counterpointed by his splendidly sunny music, which spans a range of pre-war US styles from western swing (Bad Girl) to smoochy crooners (When Did You Leave Heaven) and Harlem jazz (Knockin' the Dust Off the Rust Belt Tonight). The last track in particular is a belter, full of big band swagger and infectious optimism. "This ain't your momma and your daddy's midwest," LaFarge reminds the packed dancefloor. "We have what it takes to stand the test!"
Actin' A Fool is another highlight, dispensing with the 13 guest musicians gathered for this project to return us to the core band of LaFarge and his South City Three. Adam Hoskins' twangy guitar and Ryan Koenig's harmonica both shine here. The augmented band pulls off such a deft ending to its duelling-solos version of Tampa Red's All Night Long that LaFarge himself can't resist a laugh of delight in the studio.
There's a little electric guitar here and there, but every other instrument on the album is acoustic, giving it a warm, organic sound throughout. Despite the complex arrangements needed to accommodate as many as eight or nine musicians on some tracks, LaFarge stamps his own personality on the album just as firmly as he did on the SCT's less crowded releases.
All in all, then, what we have here is another 41 minutes of unalloyed pleasure from your ol' pal Pokey. If his lyrics now seem to view the world with a slightly more jaundiced eye than they did back in 2011, then perhaps that's just the price a maturing songwriter must pay. They grow up so fast.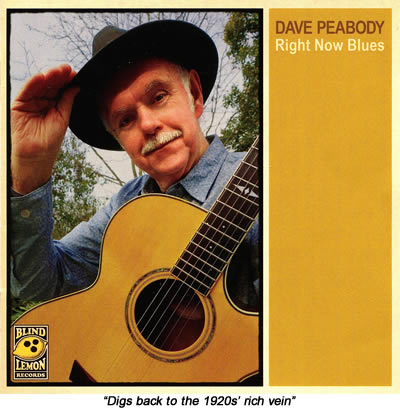 Dave Peabody: Right Now Blues
Southall's Dave Peabody has been performing the blues for 50 years, touring both as a solo artist and as a sideman with the likes of Honeyboy Edwards and Charlie Musselwhite. Few will be familiar with every playmate his sleevenotes list - Drink Slim, anyone? Big Boy Henry? - but we get the point: the man's got a long history in this music and he knows his stuff.
That expertise pays off on this enjoyable acoustic album, not only in Peabody's fine guitar playing and the soft burr of his voice, but also in his choice of less familiar blues songs for the CD's many covers. Only three of the 14 tracks are Peabody's own compositions, so he's clearly not a prolific songwriter, but he's had the good sense to dig back to the 1920s for most of the other songs. As he proves here, there's still a very rich vein of blues songs to be unearthed from that era.
Peabody's only partner on the disc is the classically-trained violinist Regina Mudrich, who joined the project as his temporary landlady and ended up playing on five tracks. The fact that her own background isn't in blues brings a useful outsider's approach to the songs, whether it's the rich, mournful tones she adds to Leroy Carr's Muddy Water or her jazzy fills on Stump Johnson's Ducks Yas, Yas, Yas. By dotting her tracks throughout the album, Peabody brings a welcome touch of variety to what could otherwise be a rather samey sound.
If there's a single touchtone for his own performances, it would have to be Mississippi John Hurt. He opens the disc with Hurt's Got The Blues, Can't Be Satisfied and you can hear a definite hint of Hurt on several other tracks. Fred McDowell, Frank Stokes and Isham Jones each contribute a song too.
The most successful of Peabody's own songs is Dark Side Of Town, where he shows a particularly deft hand in his lyrics. Often he grabs your attention by intruding on a standard blues scenario with a few words of suddenly formal English ("If you possess any deviant tastes / Welcome to the dark side of town") or a disconcerting 21st century reference, such as his mention of crack cocaine in You Can't Blame Me. In Rhythm Dance, he even adapts a couple of lines from William Burroughs.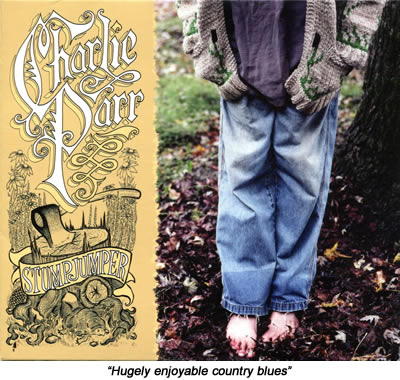 Charlie Parr: Stumpjumper
Charlie Parr's a Minnesota guitarist, adept on both the 12-string and the dobro, with an old-time authenticity which calls to mind Blind Willie McTell and John Fahey. His songs chronicle the eternal tales of damnation, family and hard times which still bedevil rural America today. One passing reference to a 4x4 aside, there's nothing in this CD's lyrics that wouldn't have rung equally true in the 1920s.
The result is a hugely enjoyable country blues album, recorded in the outbuildings of a North Carolina farm, with Parr's voice and guitar at the centre of every song. The primarily acoustic backing is provided by piano, fiddle and drums, which turbo-charge the rockingest tracks and edge others towards a hoedown sound. Parr's strong vocals add a touch of vibrato for emphasis on the bluesier numbers and a pleasing hillbilly yelp to the countrified tracks. Everyone has a good time.
The songs are driven not by riffs - that would be the wrong word - but by the nimble, intricate patterns Parr weaves on his guitar. Like Robert Belfour in a different setting, he can lock in on one of these patterns so relentlessly that it becomes utterly mesmerising. By resisting all but the briefest flourishes, he ensures the song's grip never loosens. James Wallace's metronome-steady drums intensify this effect, as does the whole record's sharp, hard-edged production.
For me, it's the album's trio of faster full-band tracks which provide its highlights: Falcon's tale of a white Victorian man raised by Native Americans, Over The Red Cedar's thoughts on aging and the title track's Springsteenesque narrator ("And I work when I can / And I ain't got no money / And I may look rough / But I'm an honest man").
Also worth singling out are the solo Resurrection, a very slow, very dark blues with nicely eerie backing vocals from Charlie's wife Emily, and the wry humour of Frank Miller Blues. In the latter song, Death comes to take Frank while he's sleeping off a few beers in his old pick-up truck, but gets talked into helping him get the hay in before they can leave together.
The fact is, though, there's really not a duff track on the whole album. Parr's released a dozen other records since 2002, and I have a feeling I'm going to end up buying all of them. He's that good.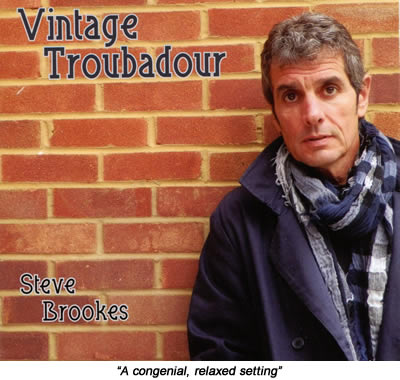 Steve Brookes: Vintage Troubadour.
Way back in 1972, Steve Brookes got together with one of his mates at school to form a band. That schoolfriend was Paul Weller, the band was The Jam and, although Brookes quit before their In The City debut, he's been sighted on-stage with the Modfather again in recent months. The two men have done several charity gigs together, and Brookes also plays guitar on Weller's upcoming new album.
You'd never guess any of that history from the CD I have here, however. It's a gentle, acoustic blues album, written very much from the perspective of a middle-aged man. In songs like Moments Wished Away, One Good Summer and Footnotes, Brookes reflects on whatever wisdom he's been able to gather along the way and emerges determined not to undervalue life's small pleasures. "One good summer's all you need to see your sail unfurl," he sings. "Feel the warmth and smell the breeze before your petals curl".
All 11 of the songs are Brookes' own compositions, and he performs most of them solo too. His warm, slightly throaty voice and expert playing give the songs a congenial, relaxed setting. Decoration's provided by quick, intricate little Spanish guitar patterns or a sudden flurry of notes in a well-deployed blues fill. At the end of almost every phrase, he adds a reggae-ish chop at the strings to keep the rhythm driving along. The only other musician present is Hugh Budden, whose snakey harmonica playing adds atmosphere and texture to the three songs where he appears.
Two of the Budden tracks - Tough Guys and Barfly Brotherhood - are among the album's best. In these songs and a couple of others (A Dog's Life, Vitamin M), Brookes employs a touch of sardonic humour which is absent eleswhere. This gives the songs a more vivid life that the more earnest numbers always achieve, and also helps to lift his lyrics from what can be a rather workmanlike level. Take this couplet from Vitamin M's hymn to the joys of marijuana: "Vitamin M when your outlook is bad / If it won't make you happy sure sweetens the sad".
Another highlight is the drowsily horny Feels So Good, whose late-night ambience and low-toned slide makes it an ideal make-out song for more mature listeners. A glass of wine, a roaring fire, someone you love and this song on the stereo - you could do worse.

These reviews first appeared in fRoots 382-390. For more details, visit the magazine's website here.