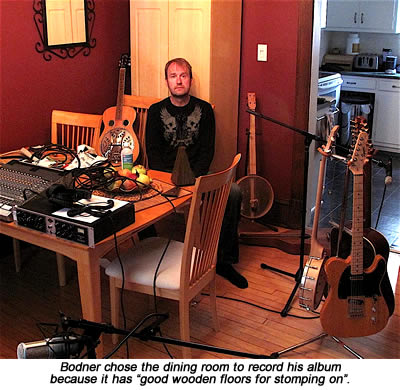 "The weirder a blues player is, the more interested I get," Mike Bodner told me from his home in Winnipeg. "If it's just 12-bar stuff, I lose interest pretty fast. I like the peripheries of the genre."
This will come as no surprise to anyone who's heard Let The Devil In, a splendidly primitive and sinister exercise in country gospel/blues which Bodner's just released under his performing name Uncle Sinner. It's an intimate, unsettling record, full of Old Testament fury and demonic infestation: everything you need for this music to work its dark magic on you. But why the alias?
"I chose 'Sinner' to provide some distance from the more overt religious material," Bodner explains. "Something to let people know they could like the songs even if they don't necessarily agree that God is going to come down and start kicking ass. The 'Uncle' part was just to give a sense of familiarity – a black sheep in the family, I guess."
The album marks Bodner's fullest realisation yet of his 40-year apprenticeship in the blues. "I guess it started with Elvis when I was three," he says. "I always liked his bluesier songs like That's All Right Mama the best, and I learned to read at age three so I could skip to those songs. Some of my uncles played guitar and they introduced me to stuff like Mississippi John Hurt when I was quite young. By age 13, I'd found artists like Robert Johnson and Blind Willie Johnson. I started playing guitar at 13 or 14. I can hear those blues notes in my head: I understand them.
"I first heard Blind Willie Johnson on a slide guitar compilation and was really moved by it, even though I've never been religious. That compilation also had Son House and Charley Patton, which led me to other oddballs of the blues like Skip James and King Solomon Hill."
"I wanted a swampy death-gospel blues sound, mixed with the occasional palette-cleanser."
Bodner's first Uncle Sinner LP was 2008's Ballads & Mental Breakdowns, which began as a free download, but was picked up for commercial release by the now-defunct Devil's Ruin Records. In 2014, he released an out-takes and rarities project to raise cash for further recording, and that's the money that helped make Let The Devil In a reality. Working with a few friends and his son Dylan, Bodner recorded the album in his own dining room, selected for the fact that it had "good wooden floors for stomping on".
"I booked a week off work and recorded between about 10:00 and 4:00, Monday to Friday," he recalls. "I didn't have a lot of time, so the vast majority of it is first takes. There are little imperfections here and there, but I doubt people want anything too polished from me. I wanted a swampy, death-gospel blues sound, mixed with the occasional palette-cleanser like This World Can't Stand Long."
That's a song most associated with its 1947 recording by The King's Sacred Quartette. The whole album's built round half-forgotten blues classics like that, drawing on songs by the likes of Reverend Gary Davis, Leadbelly and Kokomo Arnold. But Bodner is wary of preserving such songs in aspic, preferring instead to rebuild them as he goes along with new verses and fresh perspectives of his own. The result is a collection of intriguing hybrids – not quite straightforward cover versions, but not quite Uncle Sinner originals either.
"We can bring our own lives to the material when we listen to lines like 'I'm a poor boy and a long ways from home', and that importing of our own experience gives it poignancy," he explains. "The important thing is for me is to believe the song when I'm singing it, and changing the song can help with that. The project, I suppose, is to find these messages from the past and explore the ways they can still generate interest."
Uncle Sinner gigs have so far been fairly low-key affairs, staged mostly for friends and family in small venues. "The first CD release show went very well," Bodner says. "There were probably 100 people there and I sold a lot of CDs. But I've also played bars where almost no-one was listening."
Mike, who's Canadian, has just been forced to abandon plans for a shoestring US tour after delays and excessive charges in America's P2 work permit system made the whole thing impossible. "I'm going to play an artist showcase in Ontario instead and maybe find a booking agent who can get me some European shows," he says. "That's where I have more fans, anyway. Then it'll be time to think about a new album."
And what's that one going to be like, Unc? "Darker, slower, sludgier," he reples. "Into the abyss!"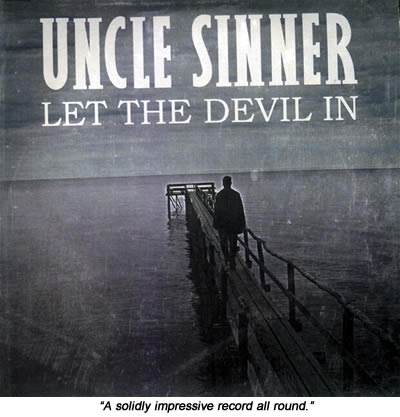 Uncle Sinner: Let The Devil In
Uncle Sinner is Mike Bodner, a Canadian bluesman whose music I've been following online for two or three years now. He's put out CDs before, but this latest album marks a real step up in class. It's the moment when a talented hobbyist suddenly finds everything clicking into place and proves he's ready to contend with the pros.
The disc is mostly a solo affair, populated just by Bodner's deep, throaty roar and his own guitar or banjo accompaniment. Where other musicians do step in, it's only to provide a little basic percussion ("floor, tambourine") or some minimal decoration from the mandolin.
The mood is dark and intimate, full of Old Testament ferocity and with hints of the supernatural creeping in at every song's edge. The Book of Revelations' vengeance can be expected any day now and strange, sinister stuff is happening all over. It's like a madman's whispered gossip: Black Betty's baby was born insane; The Devil's laid a black egg in Winnipeg. Hadn't you heard?
Bodner builds this world on favourite recordings of old blues songs, such as Reverend Gary Davis's Blow Gabriel, Charley Patton's Oh Death and This World Can't Stand Long by the King's Sacred Quartet. Rather than slavishly copying these tracks, he's used them as a jumping-off point, substituting his own arrangements and adding or rewriting lyrics as he goes along.
He's thought his way deeply enough into the old, poor, rural America to achieve these changes in an utterly convincing way. The mood of the original songs is always respected, and often intensified as a result. Bodner's own Let The Devil In – this album's only full original - inhabits the period's fears and superstitions with equal conviction as it details Old Nick's relentless approach through Canada.
Highlights include Bodner's fluent dobro playing on the aforementioned This World Can't Stand Long, the subdued electric boogie of Little Girl In Rome and the fine slide guitar work on that title track. Kokomo Arnold's Milkcow Blues raises the tempo of the music for a change of pace, as does Wabash Blues' nimble banjo instrumental.
This is a solidly impressive record all round, and one which I hope will let us hear plenty more from Bodner in the future. So step into the back room, kids – your Uncle Sinner's got something to show you.

For more of Uncle Sinner's music, visit his Bandcamp page. This review and interview appeared in fRoots 394 (April 2106) and 397 (July 2016) respectively. For more details, visit the magazine's website.