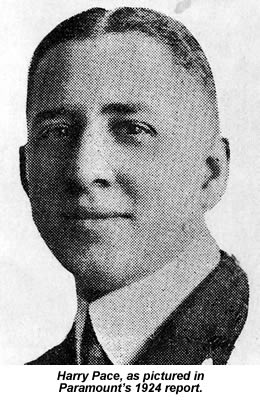 "Pace was frustrated. He observed as white recording companies brought the music and lyrics from Pace & Handy, and then recorded them using white artists. When they did employ blacks, they refused to let them sing and play in their own authentic style. Pace resolved to start his own record firm."
- Jitu K Weusi, The Rise and Fall of Black Swan Records.

"At the time, popular music was published and distributed by the major record labels. These were largely white-owned companies that promoted the 'pop' sound of white singers and overlooked the rhythm-and-blues and rock-and-roll songs by black performers. [...] Berry wanted to have more control over his own songs and earnings and to provide the same opportunity for other black artists."
- The History of Motown, by Virginia Aronson.

Who am I describing here? A young black American songwriter gets frustrated at the way white moguls treat his music, and sets up his own record label to fight back. He begins by recording nothing but black talent, promotes the label with a revue-style tour, and soon finds his records are selling to white as well as black listeners. His company is hailed as a ground-breaking success story for black America, but its stars face violence when they tour the segregated South. The label creates many new stars, only to find them poached by white-owned rivals, and responds by quietly adding white acts to its own roster. Eventually, its founder sells out to an industry conglomerate and quits the record business.
It's a trick question, of course. Everything in that paragraph is true of Berry Gordy, the man who founded Tamla Motown in 1959. But there's another man who did all those things too - and did them 38 years earlier than Gordy - with a blues label called Black Swan. That man was Harry Pace.
Black Swan's success was much shorter-lived than Motown's, but the label achieved its own triumphs in an era when black businessmen and performers faced even greater prejudice and violence. It's true that the Motown troupe had shots fired at them in Alabama in 1962, but that pales beside the 1920s incident in Georgia when the corpse of a lynched young black man was hurled into the lobby at a Black Swan show. In creating Black Swan, Pace had to overcome not only racist white rivals conspiring to block his distribution, but also the more physical threat of a bomb hidden in his pressing plant's coal supply.
It's become routine for even the best reference books to write Black Swan out of history
Black Swan is all but forgotten now, and it's become routine for even respectable reference books to write it out of history by casually claiming Motown was the first black-owned record company in the US (1). Gordy's label deserves every bit of praise it's received in this, its 50th anniversary, year, but that landmark birthday should not be allowed to blot out the story of an earlier and - I would argue - an even more significant pioneer.
Harry Pace, a blacksmith's son from Covington, Georgia, got his start in the music industry in 1907, when the song collector and musician WC Handy found him working at the Solvent Savings Bank in Memphis. Handy, now universally recognised as the father of the blues, was the man who first wrote down the blues tunes he heard everywhere he travelled in the US, stirring in his own compositions as he went, and giving classics like St Louis Blues its first publication in sheet music form.
Handy was in his mid-thirties when he met Pace, and Pace was not yet 25. Here's how Handy recalls their fateful encounter at the Solvent Bank in his 1941 autobiography: "The cashier of this Negro enterprise was Harry H. Pace, a handsome young man of striking personality and definite musical leanings. Pace had written some first-rate song lyrics and was in demand as a vocal soloist at church programs and Sunday night concerts. In 1907, we wrote In the Cotton Fields of Dixie , which was published by a Cincinnati firm. It was natural, if not inevitable, that he and I should gravitate together. We spoke the same language" (2).
Pace's own preference was for the sentimental parlour songs of the late 19th Century rather than the boisterous street music which Handy was already starting to document. But he had the business sense which Handy himself lacked, and so the two men joined together to form a music publishing firm called Pace & Handy. Gramophone records were starting to appear by then, but were restricted to operatic material and light classics. Record players were expensive novelties, and the records themselves seen only as a promotional gimmick to encourage equipment sales. Sheet music still ruled the market as Pace & Handy set up shop, but its glory days were already drawing to a close.
A few nostalgic songs for European immigrants started to appear on record as the 1910s got under way, but black artists were still allowed to record only the demeaning "coon songs" and comic numbers which people knew from the minstrel shows. Record companies were terrified that adding black singers to their rosters in any other capacity would lead to racist Southern distributors dropping those titles, or even refusing to deal with the label altogether.
That began to change with the outbreak of the First World War in 1914, when the threat from German U-boats choked off European immigration to the US. Factories in New York, Chicago and Detroit were forced to recruit black Southerners to man the assembly lines instead, prompting what Americans now call "the great migration".
The North was far from perfect, but still the new jobs offered former plantation workers their first chance to enjoy a little disposable income. They'd still find racism when they got there, of course, but at least it was a less pronounced in the North, and that opened many new opportunities to enjoy life a little, as well a chance to improve your own and your family's prospects. Half a million blacks flooded north between 1914 and 1916, with a million more joining them in the decade that followed.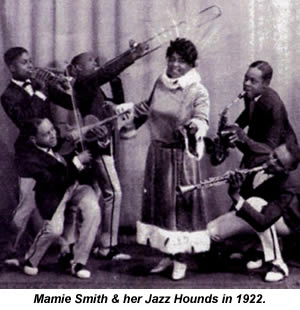 This was a big enough change to significantly alter the demographics of the cities where the new arrivals now lived, and to create a thriving new market for all sorts of modest consumer goods. Meanwhile, the record industry was still busy pushing black performers to the margin, taking hot compositions from the early black jazz bands but almost always using white bands to record them. The flood of comic minstrel songs continued, but even these were often recorded by white vaudeville performers who adopted crude "darky" accents as soon as they stepped into the studio and portrayed their black characters as either clowns or children. When blacks understandably declined to buy these records, it was simply taken as confirmation that the record companies had been right all along. Black people clearly didn't buy records, so why bother trying to cater for them?
St Louis Blues gave Pace & Handy their first really big hit when they published its sheet music in 1914, and the company moved from Memphis to New York four years later. The white-owned labels responded by refusing to let their artists record Pace & Handy songs, because they didn't want a black-owned publishing company to benefit from the record's sales. Even when Pace & Handy did succeed in getting a song recorded, its distribution was sometimes sabotaged for the same reason.
"It was my job as president of the company to contact all phonograph companies so that that our numbers might be recorded from time to time," Pace later recalled. "I ran up against a colour bar that was very severe" (3).
Give black listeners a taste of their own music, Bradford argued, and they'd strip the shelves
Handy faced the same attitude when he later tried to convince the labels to record one of his blues numbers with a black, female singer he'd found. "In every case, the managers quickly turned their thumbs down," he writes. "Viola McCoy, who was under contract with me, made test records for seven companies, all of whom turned her down. They said her voice would not record. I released her, and then the seven companies brought out records of Viola McCoy and praised her artistry in their catalogues. We were making too much money evidently" (4).
In 1918, a string of legal challenges led to Victor and Columbia losing their exclusive patent on the machinery needed to manufacture records, opening the way for a host of competing labels like Okeh and Gennett to enter the market. The time was ripe for a breakthrough, but it was one of Pace and Handy's black rivals who would snatch the prize.


Perry Bradford started as a pianist in the minstrel shows, and started writing his own blues songs when he arrived in New York in 1910. By the time the new labels started up, he was convinced there was a market for records in the black community, but knew these new buyers would not surface until the industry supplied something they wanted to hear. Give black listeners a genuine taste of their own music, Bradford argued, sung and played by black artists with all the raw glory of their live shows, and they'd strip the shelves bare.
Making this case to Victor and Columbia was a lost cause, because they already had too much invested in the old system to risk any upset. But the tiny new labels had nothing to lose. The two majors already had all the era's big stars signed up at rates their fledgling rivals could not hope to match, so it was essential for Okeh and the rest to find new talent wherever they could. In 1920, Okeh decided to take a gamble on Bradford's idea. His first suggestion of all-black ensemble - singer included - was still a bit too rich for the company's blood, but it did agree to let him record a black vaudeville performer called Mamie Smith with white musicians backing her. Even that was quite a bold move, because Okeh was already receiving hate mail threatening to boycott its records if it "had any truck with coloured girls in the recording field" (5).
Bradford gave Smith a song of his own to record with Okeh's all-white Rega Orchestra. That Thing Called Love, released in January 1920, is a conventional jazz record of the day, with a slight bluesy feel to it but breaking no new musical ground. It did have a black singer at its helm, though - the record is credited to Mamie Smith as a solo artist - and allowed her to perform with none of the demeaning comic tricks white listeners were used to.
It sold in respectable numbers, but Okeh assumed this must be thanks to the quality of Bradford's songwriting rather than Smith's performance, and suggested he use Sophie Tucker for his planned follow-up, Harlem Blues. Tucker was a former blackface singer, who'd continued to sing blues and ragtime numbers after abandoning the make-up. She was a big name, but a million miles from the authentic black voice Bradford wanted to capture, and he must have been secretly delighted when she turned out to be unavailable. Okeh allowed him to bring in Mamie Smith again as a replacement, but insisted he change the song's title to the more innocuous Crazy Blues.
Smith returned to Okeh's New York studio in August 1920, and this time Bradford took care to build a real black jazz band behind her, led by stride piano pioneer Willie "The Lion" Smith. He reflected the band's greater importance in this session by crediting the record to "Mamie Smith & her Jazz Hounds", and encouraged them to cut loose in the studio in a way that had never been permitted before.
The result is a vast improvement on Smith's previous outing, with her voice taking on a rougher, more abrasive edge, and the band lurching round every corner on two skidding wheels. Smith gets full value from Bradford's gritty lyrics, telling us her man's cruelty has led her to the brink of suicide and closing by threatening to kill a cop. Meanwhile, Dope Andrews' trombone honks like a goose behind her and clarinettist Ernest Elliot fills the top register with a swarm of urgent notes. It's as if everyone present has just kicked off a pair of tight shoes and decided that now, at last, is the time to have some fun. Crazy Blues is still recognised today as the first genuine blues record, and its November 1920 release was an essential precursor to everything that's followed.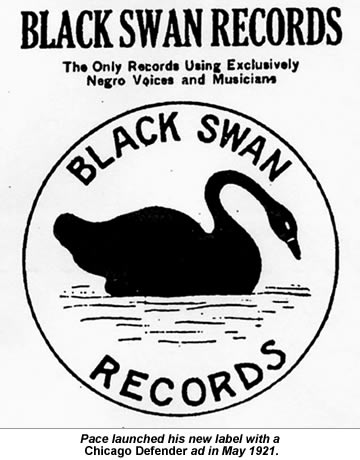 Okeh couldn't afford to spend much promoting any of its records, but articles in the black press made sure everyone knew what a ground-breaking release this was. By the end of its first month in the shops, Okeh's managers were stunned to discover Crazy Blues had sold 75,000 copies in Harlem alone. Sales of 100,000 were enough for a big hit in those days, and by Christmas Day Crazy Blues had passed that total too. Sales figures from this era are notoriously unreliable, but the best indications we have are that it racked up 120,000 sales by the end of January 1921, and perhaps as many as 250,000 before it was done.
"People said you could walk down the streets of any black neighbourhood in any city in the United States and you would hear that record being played," says blues writer Marybeth Hamilton. "You could hear it pouring out of the windows of every building. It was phenomenally successful" (6).
Even Perry Bradford hadn't expected sales like these. Delighted to see their voice and their tastes honestly represented on disc for the first time, blacks bought more copies of Crazy Blues than anyone could have imagined. Some bought the record even though they had nothing to play it on, content to carry it with them to a more fortunate neighbour's party or simply to treat it as a talisman that their place in American society was at last being recognised. "There's 14 million Negroes in our great country," Bradford pointed out, "and they will buy records if recorded by one of their own. We are the only folks who can sing and interpret hot jazz songs just off the griddle" (7).
Suddenly, every record company in America was wondering how to target the vast new market which Okeh had uncovered. A flood of new, cheap, record players was rushed into production, and salesmen began hawking these machines round the black neighbourhoods they'd previously spurned. Meanwhile, scouts from every label were scouring the cities' black vaudeville halls, jazz clubs and tent shows for the black talent they were now desperate to put on disc. Harry Pace watched all this unfold from Pace & Handy's Broadway offices and, as 1920 drew to a close, he decided he was ready to make his move.


The ten-year age difference between Harry Pace and WC Handy was enough to give the two men very different attitudes towards the new technology taking over their industry. Pace, at 36, could see that records were quickly replacing sheet music as the industry's stock in trade, and was determined to grab the opportunities this new medium offered. Handy, at 47, preferred to stick to the business he'd known all his life.
The split came in March 1921, when Pace used his old contacts in the finance industry to borrow $30,000 of capital and start up The Pace Phonographic Company. PPC would release its records on a new label which Pace christened Black Swan after the elegant African-American concert singer Elizabeth Taylor Greenfield. Pace set up the first Black Swan offices in his basement and hired bandleader and pianist Fletcher Henderson as his recording manager. William Grant Still would bring his experience as a classical composer to writing Black Swan's arrangements. The admin staff were mostly recruited from Pace & Handy, where Pace knew the younger employees would be unable to resist his new venture.
'Pace was the first African-American to make a real go of it in the industry as a businessman'
"Pace was the first African-American to make a real go of it in the record industry as a businessman," says the music historian Elliott Hurwitt. "In fact, his entire operation was African-American. He had William Grant Still writing arrangements, he had Fletcher Henderson playing piano on all the records, and he had clerks and accountants. They were all African-American, right down to the stockroom and the girls licking stamps for the mail.
"Many of them had essentially been stolen from the Pace & Handy office with terrible repercussions for the Handy Brothers business when it first started up, because they'd lost so many skilled and talented staff all at once. But the record industry was sort of like the internet start-ups of that day and it was tremendously attractive. You couldn't get a 20 or a 25 year old man to stay in a paper music printing house if somebody was starting up a record company in Harlem, and Pace did that" (8).
Handy was left to rebuild the business as best he could, renaming it Handy Brothers and working long hours to replace the lost staff. "With Pace went a large number of our employees, persons especially trained for the requirements of our business and therefore hard to replace," he recalled in his autobiography. "Still more confusion and anguish grew out of the fact that people did not generally know I had no stake in the Black Swan record company."
The black newspaper New York Age greeted PPC immediately, calling it "one of the most important business organisations recently established by Negros in New York", but Pace's white rivals responded with their usual dirty tricks. A group of white labels got together to buy out the New York pressing plant Pace initially used, forcing him to use a Wisconsin firm instead. This harassment persisted for years, peaking in September 1922, when workers found a bomb hidden in the new Black Swan pressing plant's coal supply.
Handy found himself caught up in this early sabotage too. "The music publishers tried to make life very, very difficult for Handy," says vintage record collector Mark Berresford. "They claimed that he was behind Black Swan financially, that he was promoting Black Swan, that he was passing material to Black Swan first" (9). None of that was true, but Handy Brothers continued to receive angry letters threatening to boycott the company's songs.
Black Swan's first three releases, which came out in May 1921, were At Dawning by the soprano Revella Hughes, For All Eternity by baritone Carroll Clark and Blind Man's Blues by Katie Crippen. The first two releases were much closer to Pace's own taste, and prime examples of the self-consciously highbrow material which he hoped would elevate his people's taste. Blind Man's Blues would not have been a record Pace enjoyed himself, but Crazy Blues had shown everyone how well blues records could sell, and he was a savvy enough commercial operator to take notice of that.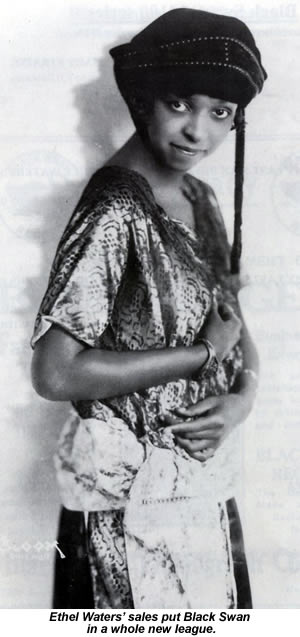 "Looking at the first few releases on Black Swan, I think Pace was hoping his own taste in music was going to be the way forward," Berresford says. "Almost semi-classical music, together with spirituals and popular songs of a more sentimental nature. I don't think for a moment he considered Mamie Smith's blues song success to be anything but another opportunity."
Fletcher Henderson was disappointed with the Crippen record, saying it "had not been done in blues style", but it sold well enough to prompt competing cover versions from both Columbia and Okeh. No-one was rushing out cover versions of Hughes' or Clark's songs, which must have given Pace an early hint that Black Swan might not end up developing in quite the way he'd hoped. He wasn't ready to give up his plans to elevate black people's tastes just yet, but it was already clear that blues records were going to be essential to the company's survival.
Right from the beginning, Pace promoted Black Swan as: "The only phonograph company owned and controlled by coloured people". It's discs were, he added: "The only records using exclusively negro voices and musicians". These words appeared on Black Swan's very first advertisement, and Pace continued to make the same point throughout the company's life. At a time when blues records were routinely promoted with crude cartoons showing the worst racial caricatures, Black Swan's sleeves stood out too. Dignified blocks of type not only flagged up the company's black ownership, but also stressed the high level of craftsmanship its engineers employed.
"It's made very clear from the sleeve that you're buying a product which is well-crafted and well-produced," Berresford says. "The only difference being that these records are made by black artists, pressed by black craftsmen and sold by a black record company to black record buyers. If you compare that to Paramount and Okeh, their ads use the worst possible racial stereotypes. You see these big-lipped, white-lipped, bulging-eyed faces, which pander to the white stereotype at the time of black people. It's quite amazing that they used this on their race records sleeves, which were sold exclusively to black people."
Okeh had been the first of the white labels to launch its own specialist imprint for black artists - known at the time as a "race records" label - which aimed to avoid trouble from distributors by bundling all of Okeh's black singers and musicians into a corral of their own. Not everyone who bought those records would be black, but that was definitely the core market Okeh had in mind. As Pace contemplated his first set of Black Swan sales figures, Paramount and Columbia were already preparing to set up race labels of their own, and to promote those labels with an advertising budget Pace could not hope to match. Fortunately, his first big hit was just around the corner.


Soon after recording Blind Man's Blues, Pace made a business trip to Atlantic City, where a friend suggested he hear a cabaret singer called Ethel Waters perform. Waters, then in her mid-twenties, had toured on the black vaudeville circuit, and Pace was impressed enough to offer her a deal with Black Swan. That's Pace's version of events anyway: Henderson claims to have discovered Waters himself at a Harlem nightclub, while Waters said it was a freelance talent scout who suggested she contact Black Swan.
Waters' first session began with a row over whether she should sing popular or 'cultural' numbers
Whatever the truth of the matter, Waters turned up in March 1921 at Black Swan's studio on West 138th Street. This was a tiny room with a serving hatch cut into one wall, where engineers placed a recording horn like those seen in the His Master's Voice ads. Everyone sang or played into the horn, which cut their music directly into a spinning wax master disc next door. This produced a long, curly shaving of discarded wax, which engineers would periodically sweep to the floor. Alberta Hunter, who would record in this room a few months after Waters, later recalled the great care which everyone at Black Swan took to ensure they got a good recording (10).
Waters' March 1921 session began with an argument between Pace and Henderson over whether she should sing popular or "cultural" numbers. "They eventually decided on popular, and I asked $100 for making the record," Waters later wrote. "I was still only getting $35 a week and tips, so $100 seemed quite a lump sum to me. Mr Pace paid me the $100 and that first Black Swan record I made had Down Home Blues on one side and Oh Daddy on the other. It proved a great success, a best seller among both white and coloured, and it got Black Swan out of the red" (11).
"Pace liked Waters' voice very much," says Hurwitt. "It was very light and sweet. It was not the heavy, growly sort of a voice which Bessie Smith had. So I think he found an artist who was sort of stylistically half way between what he liked and what the public might accept. And he struck gold with that."
Down Home Blues turned out to be not only Black Swan's first genuine blues release, but also the company's first big seller. Pace claimed to have sold 500,000 copies of the record in its first six months - a figure which everyone agrees is a vast exaggeration - but even the more probable total of around 120,000 is impressive enough. Suddenly, Black Swan was in a whole new league.
"They couldn't have gone on much longer in their present state," Berresford says. "In the first few months of trading, they were bringing in about $700 a month. After Ethel Waters came along and made her first record for them, they were bringing in $20,000 a month."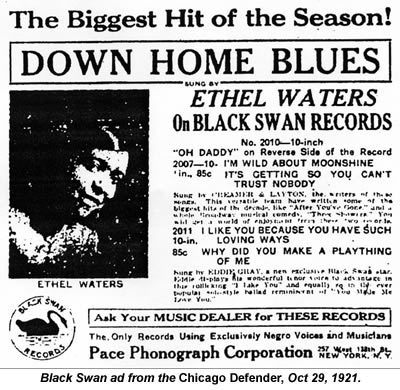 The extra income allowed Pace to expand production to issue about a dozen titles a month and to sell them over a much wider area. The white-owned companies continued to block his distribution whenever they could, but Pace responded by recruiting railway guards to sell the records at every stop they made, news delivery boys to tout them on their rounds and black shops of every description to find a corner where they could be displayed. Pool halls, barbershops and bars were pressed into service too, ensuring Black Swan records could be found anywhere there was a substantial black clientele. Every Black Swan ad included a plea for potential new distributors and salesmen to get in touch.
"He would use Pullman porters on trains passing down through the South," Berresford says. "They would take boxes of records and hand them out at stations - and they'd be taken up by the local black community with real verve and gusto. Anybody, basically, who would be travelling around, be it town to town or even within the city, would be promoting the records, either by selling them or just by talking to people about them. A lot of it was word of mouth advertising that pushed Black Swan forward, and it's something they had over their rivals in that respect."


Down Home Blues had put Black Swan on a much firmer footing, but Pace still had a long way to go if he wanted to make it a genuine national record label. The next step was to dispatch his biggest star on a major US tour. Fletcher Henderson's orchestra renamed themselves Ethel Waters' Jazz Masters to act as her backing band, and Pace recruited the black dancers Ethel Williams and Roscoe Whitman to perform as her support act. Theatres were booked in 53 cities, covering 21 states, and The Black Swan Troubadours left New York in November 1921 for an eight-month stint on the road.
"Pace saw Down Home Blues as an opportunity to build a show round Ethel Waters' talent and take it out," Berresford explains. "The band went through some pretty hairy times touring in the South, but they put the Black Swan name before far more people than would have initially gone out and bought the records. There was no commercial radio at the time, so it was only by doing events like this that artists could be promoted."
Lynchings were still a common sight all over the South, with 52 cases reported in 1921 alone
Waters had insisted that Southern venues be included on the tour, despite the fact that she knew full well what a rough reception they'd face there. Lester Walton, a prominent black journalist who acted as the Troubadours' tour manager, agreed to arrange civil rights meetings at every stop on the Southern leg of the tour and, when four of Henderson's musicians dropped out rather than step south of the Mason-Dixon line, they were quickly replaced. Travelling in a large group offered some protection from the routine harassment which black strangers could expect in the Southern states, but we shouldn't underestimate the courage it took for Waters and her companions to tour there.
Lynchings were still a common sight all over the South, with the Chicago Defender reporting 52 cases in the first 11 months of 1921 alone. Forty-eight of those involved a black victim, one of whom was a woman, and it was not unknown for the victims to be as young as 12. Mississippi led the field with 13 lynchings in the 11 months covered, then came Georgia with ten and South Carolina and Louisiana with five each. Often, these were carried out in a carnival atmosphere, with whites taking time off work to bring the kids along for a jolly day out. The "crimes" being punished could be as trivial as talking back to a white man, and the level of bestial cruelty displayed was quite sickening. Men were burnt alive or chained to a tree and used for target practice while the watching crowd jeered at their screams.
"Lynching happened all through the South in the 1910s, 1920s and into the 1930s," says Hamilton. "And they were often very public, very spectacular. They were reported in newspapers, they gave rise to souvenir photographs. It was turned into that kind of consumer spectacle."
Waters would brush against the families bereaved by mob justice soon enough, but first she had another problem. The classically-trained Fletcher Henderson had struck her as being a little snooty right from their first meeting, and now she was having trouble persuading him to play her songs in the down-and-dirty style they demanded. What she wanted was something more like James Johnson, the New York stride piano master who'd taught Fats Waller his trade.
"On that tour, Fletcher wouldn't give me what I call the damn-it-to-hell bass, that chump-chump stuff that real jazz needs," she writes in her autobiography. "When we reached Chicago, I got some piano rolls that Jimmy Johnson had made, and pounded out each passage to Henderson. To prove he could do it, Henderson began to practice. He got so perfect that he could press down the keys as the roll played, never missing a note." That practice stood Henderson in good stead, making him one of the era's most valued blues and jazz session men later in his career.
Walton used his contacts in the black press to ensure the tour was well-publicised everywhere it went, and Pace added fuel to the fire by arranging a publicity stunt around its headline act. Waters, he announced had signed a special contract with Black Swan agreeing not to marry for at least a year. She had received many proposals since the release of Down Home Blues, he gravely explained, and this clause was designed to guard against her abandoning her Black Swan career for a life of domesticity. The same contract, he claimed, made her "the highest-paid coloured phonograph star in this country".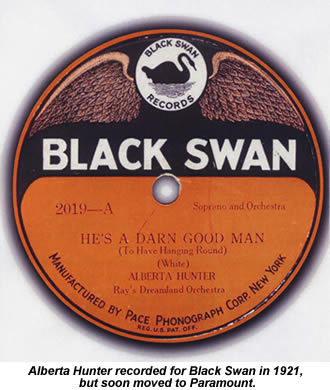 By this time, Waters had a good number of white fans as well as black ones, and that meant the Southern black theatres where the Troubadours played were often forced to make special arrangements. It went without saying that the races could not be allowed to mix, so special all-white shows were organised after the black audience had gone home. "We found ourselves applauded by the ofays in the theatre and insulted by them in the streets," Waters wrote.
The owner of the black theatre in Little Rock, Arkansas, refused to follow this practice, despite the fact that Waters' many white fans wanted to see her performance there. He finally agreed to admit white people at the main concert, but - much to Waters' delight - ensured they got a taste of how blacks were normally treated. "The manager finally agreed to set aside a section of the house for them," she recalled 30 years later. "But they weren't the best down-front seats. These were kept for the coloured patrons and, for once, the dominant race found itself segregated and in the rear." This was the section blacks called "the crow's nest" a no-frills area as far from the stage as possible, where white-owned theatres generally confined their black customers.
Everywhere it went, the Troubadours tour won rave reviews and full houses from black and white audiences alike. The Booker Washington Theatre in St Louis reported record business, and the Wilmington Dispatch said Waters "backed all coloured competitors who have ever appeared here completely off the boards". Louis Armstrong joined the Troubadours on-stage in New Orleans, where Waters became the first black woman - perhaps the first black artist - to sing on American radio. But still they were never allowed to forget that the South viewed them as second-class citizens.
This point was rammed home with particular brutality when Waters and her musicians reached Macon in Georgia, They made their way to the theatre, but found everyone there was strangely silent. "It was as though a sorrow too profound to express hung over them," Waters says. "We weren't there long before we were told the truth. A coloured boy had been accused of talking back to a white man. For that, he'd been lynched, and the white mob that murdered the youngster flung his body in the lobby of our theatre. They threw it there to make sure many Negroes would see it. As it turned out, the house I was boarding at was next to the house of that dead boy's family. [...] I sat with them, prayed with them, tried to comfort them. But what is there to say to the mother of a lynched boy?" (12)


The Troubadours completed their tour in July 1922, and returned to New York with Black Swan in robust financial health. The company's 1921 accounts had shown first-half sales of only $3,970 and a first-half loss of $38,763, but Down Home Blues changed all that. Second-half sales shot up to $100,658, producing a six-month profit of $41,763. Black Swan was still only about one-tenth the size of industry giants like Victor, but it had managed to end its first year with a small surplus of $3,000, and that was no small achievement. Particularly, as New York Age reminded its readers, when every step along the way was met with "keen, unscrupulous, malicious and persistent opposition" from its white rivals.
Like any small label, Black Swan was able to create stars, but often found it hard to keep them
There had been one other significant development while the Troubadours were on the road. In April 1922, Pace joined with a white businessman called John Fletcher to buy the bankrupt Remington Phonographic Company. This deal gave Black Swan its own Long Island pressing plant, which allowed Pace to increase production to 6,000 discs a day. This was the very pressing plant which Pace had been blocked from using in Black Swan's earliest days so the deal must have given him particular satisfaction (16).
Black Swan entered the Summer of 1922 with its own pressing plant, a newly-won national reputation, a headquarters building on Seventh Avenue, 30 staff, a full-time orchestra, seven district managers around the country and over 1,000 agents and dealers selling its wares. Competition from the white labels was fiercer than ever, though, as they became more and more determined to increase their own share of this lucrative new market. Paramount joined Okeh with a specialist race imprint of its own in 1922, Columbia the following year, and Edison in 1925. They all needed black talent, and they needed to find it fast.
Like any small label, Black Swan was able to create stars, but often found it difficult to keep them. Pace gave Alberta Hunter her first record deal, and saw her become one of the company's top sellers, but he was able to get only two discs out of her before Paramount poached her with a better deal. Trixie Smith, another discovery who sold well, managed 14 Black Swan sides, but by March 1923 she'd recorded her last session for the label too, turning up at Paramount the following year. Ethel Waters quit Black Swan a few months after Smith, recording briefly for Vocalion and Paramount before settling at Columbia.
"The major players were starting to sell records of black artists to black record-buyers," Berresford says. "And one of the ways they found of getting one over on Pace was to steal all his artists. Pace was always running the business on a shoe-string, so it didn't take much in the way of offers and overtures from other record companies to steal his best artists."
All this activity produced a dramatic shift in the industry's racial split. The author Ted Vincent has compiled a table showing that, in the period from July to December 1922, Black Swan had ten black blues artists on its books - as many as all the other labels combined (14). Just six months later, Black Swan's figure had fallen to eight, against its rivals' joint total of 31. Suddenly, the company's black artists were outnumbered four to one, and that was a situation which Pace felt he had to address.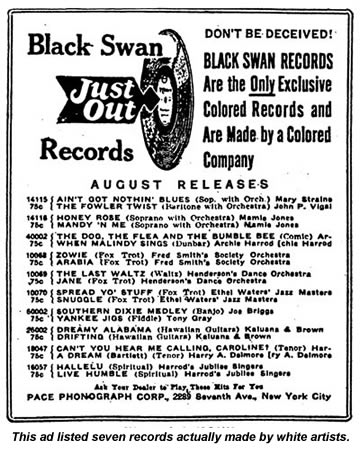 Pace's ads had always stressed the company's all-black ownership and talent base, but now he upped the ante even further. Starting in December 1922, he placed ads accusing the white-owned race labels of "passing for coloured" or operating a "Jim Crow annex" which would appeal to "only a few short-sighted coloured people". Black Swan, on the other hand, he boasted, had "the only records made and controlled exclusively by Negroes" and was a company where "all stockholders are Coloured, all artists are Coloured, all employees are Coloured". His were "The Only Records Using Exclusively Negro Voices and Musicians", with "Every One Made by Coloured Singers" (15).
The promise that all Black Swan's talent was black had been broken as early as 1921, when Pace began buying in the occasional side recorded by white musicians for another label and renaming the group involved to suggest they were black. The first example was Black Swan 2025, released in October 1921, pairing two Olympic sides by Irving Weiss & His Ritz Carlton Orchestra from a few months earlier and crediting them to "Henderson's Novelty Orchestra" (16).
"Initially, all the recordings that were produced and issued on Black Swan were indeed by black artists and selling primarily to black record buyers," Berresford says. "But it didn't last long."
No-one could have told from the music alone whether the Weiss/Henderson disc had been recorded by black or white musicians, but in the context of the time that distinction did matter. Not only had Black Swan made its "all-black" promise a key sales claim for the label, but some white artists did not take kindly to finding themselves reclassified as black.
The Allen Brothers were an early country act who sounded black enough for Columbia to accidentally release their 1927 song Laughin' & Cryin' Blues on its race imprint by mistake. The brothers threatened legal action unless the record was withdrawn, and promptly moved to Victor in retaliation. All it took was a single rumour that Okeh had advertised one of its Original Dixieland Jass Band discs as a black recording for band leader Nick La Rocca to cancel the band's contract.
Other white bands had the sense to treat race sales simply as a handy source of extra income. The Original Memphis Five, for example, recorded 50 sides for Gennett as "Ladd's Black Aces" and made no objection when an unidentifiable black band was pictured under that name in the label's catalogue.
Rudy Wiedoeft's Californians found themselves re-titled as 'Haynes Harlem Syncopators'
Pace avoided legal problems by making sure he renamed every white band before putting their record out on Black Swan. At first, the deception was rare enough to be forgivable, but things began to get out of control in June 1922. US Radio sales reached $60m in that year, beginning a steep climb which would take them to $358m just two years later. Record sales halved over roughly the same period and, as ever, it was small labels like Black Swan which suffered most.
Faced with a depleted talent base, falling sales and extra costs from his recent expansion, Pace had only one place left to turn. The Fletcher deal had brought with it his stash of masters from the defunct Olympic label: masters which had been recorded by white artists, but which Pace was now free to use at no extra cost. Telling himself it was only a temporary measure until the market improved, he sent Black Swan's renaming and reissue programme into overdrive. Often, the results were comical, as Yerkes Jazzarimba Orchestra became "Joe Brown's Alabama Band", Rudy Wiedoeft's Californians found themselves re-titled "Haynes Harlem Syncopators" and Margaret McKee was transformed into "Bessie Johnson".
All this time, Pace continued to advertise Black Swan as releasing nothing but black talent. One ad, placed in the Chicago Defender in July 1922, is headed in bold with the words "DON'T BE DECEIVED! BLACK SWAN RECORDS Are the Only Exclusive Coloured Records and Are Made by a Coloured Company". It then goes on to list ten new Black Swan releases, seven of which are re-attributed white recordings from the old Olympic catalogue. "Mamie Jones", for example is really Aileen Stanley, while "Ethel Waters' Jazz Masters" conceal both the Palace Trio on side A and the Van Eps Quartette overleaf.
Author and jazz guitarist Andrew Scott calculates that, over the course of Black Swan's life, about a third of the songs it put out were reissues of records made by white musicians for another company. There's no evidence either way whether these misleading titles damaged Black Swan's reputation, but both Berresford and Hurwitt are sceptical. "It has been suggested that, by clothing white artists in black pseudonyms, he alienated the black record-buying public," Berresford says. "But I don't buy that. You'd be hard-pressed to tell a black Black Swan band from a white Black Swan band in many cases, so I don't think that holds water."
"The fact is that the early jazz recordings don't sound very different depending on what race the players were," Hurwitt adds. "Some of the white players were quite hot and some of the black records were quite corny. It wasn't very honest of him, but it reminds me a great deal of things I read in the Wall Street Journal every day, and I'm less shocked by it all the time."
Others, like the writer Jitu Weusi, argue that Pace's partnership with Fletcher did dent Black Swan's credibility, but that it may not have been buyers who were the problem. "Pace began to lose the respect and confidence of the musician community, and it became more difficult to produce a quality product," Weusi writes (17). If nothing else, the Fletcher deal would certainly have provided cover for black musicians planning to desert Pace for more money, who could now argue they owed Black Swan no particular loyalty anyway. Like almost everything else at Black Swan, the black-for-white episode echoed at Motown decades later, when a funk singer called Teena Marie claimed Gordy's label had refused to use a photo on her album sleeve because it didn't want buyers to realise she was white (18).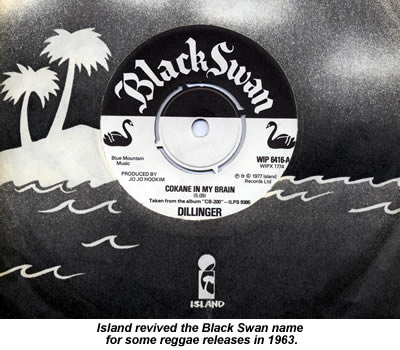 Black Swan managed a few good sellers in 1923, but only at the cost of moving even further away from the release policy Pace had originally envisioned.
In January of that year, he'd still been placing ads lecturing black readers to pull their socks up and buy some classical or opera records instead of that awful blues stuff. One ad, placed in the NAACP's monthly journal Crisis, instructed: "If you - the person reading this advertisement - earnestly want to Do Something for Negro Music, Go to your Record Dealer and ask for the Better Class of Records by Coloured Artists" (15). The Black Swan discs listed below included Mrs Antoinette Garnes' soprano rendition of Verdi's Caro Nome, and Florence Cole-Talbert singing The Bell Song from Delibes' Lakme. "You will enjoy these," Pace announced, "and you will Encourage Us to make more and more of this kind of A Record" (19).
He was wrong on both counts. Black Swan's buyers preferred a string of risque blues songs which the company issued that year, like Fae Barnes' Do It A Long Time Papa, Ethel Waters' You Can't Do What My Last Man Did and Trixie Smith's Take It Daddy It's All Yours. Another Smith song, My Man Rocks Me (With One Steady Roll) sold well enough to demand several re-pressings. Even so, Black Swan released far fewer "dirty blues" songs like these than the other labels did, perhaps because Pace found them even more distasteful than the standard blues fare he'd come to rely on.
The craze for dirty blues had been sparked partly by the record companies' need to supply something the growing medium of radio could not. But record sales continued to fall, and what little air time there was available for black performers was quickly monopolised by Black Swan's bigger competitors. As with internet downloads today, radio gave people their music for free, and no-one wanted to pay for a record when that alternative was available. A price war broke out among the record companies, eating into everyone's profits but hurting the small labels most of all.
Radio's new dominance came at the worst possible time for Pace, who had over-extended Black Swan in the good times and now saw it suffering as a result. When the company had been selling 7,000 records a day, with the new Long Island factory able to produce only 6,000, he'd ordered three new pressing plants which were now lying idle. "Before they were up and running, radio broadcasting broke and this spelled doom for us," he told author Roi Ottley. "Immediately, dealers began to cancel orders that they had placed, records were returned unaccepted and many record stores became radio stores. We found ourselves making and selling only about 3,000 records daily and then it came down to 1,000. Our factory was closed for two weeks at a time and finally sold at a sheriff's sale."
Even in 1923, Pace was still lecturing blacks to buy opera instead of that awful blues stuff
Pace pressed on for a year or so, getting what repeat orders remained pressed in Connecticut. Eventually, though, with no black buyer available, he was forced to lease Black Swan's catalogue of about 350 sides to Paramount. "The firm [...] retained its masters for a number of years, hoping there would be a revival of the business," he told Ottley. "Its property was finally foreclosed and it went out of business though dissolution of its charter."
The big labels struggled on through the sales trough which radio had produced, and then found themselves having to weather the still greater chill of the Great Depression. Race records offered them a higher profit margin than most, if only because the artists could be paid less for recording them and routinely cheated out of their royalty and publishing payments. It's estimated that some 15,000 titles were released on various race labels by the end of the 1930s, with blues accounting for about 10,000 of them, jazz for 3,250 and gospel for the remaining 1,750. As of the mid-twenties, the sector accounted for total US sales of around five to six million discs a year, or approximately one record for every three black people living there.
Many of Black Swan's stars went on to great success after the label's demise, with Alberta Hunter starring opposite Paul Robeson in the London premiere of Showboat, Ethel Waters scoring a 1949 Oscar nomination for her role in Ella Kazan's Pinky and Fletcher Henderson joining Benny Goodman's Orchestra as its first black pianist and arranger (20). Hunter enjoyed an unexpected renaissance in old age, thanks to a 1977 residency at New York's Cookery club, and Waters is now recognised as setting a style for later jazz stars like Ella Fitzgerald and Sarah Vaughan.
Pace himself returned to the insurance industry, founding Northeastern Life, which became one of America's largest black-owned businesses. After a $27m merger with Ohio's Supreme Life & Casualty in 1929, he became president and CEO of the joint company, which he named Supreme Liberty Life Insurance. He got a law degree in 1933, and set up his own legal practice in Chicago nine years later.
But, even after all this success, race never ceased to be an issue for the light-skinned Pace. Some disgruntled blacks accused him of "passing for white" when he moved to the Chicago suburb of River Forest, and threatened to demonstrate in front of his home there to embarrass Pace in front of his white neighbours. This bizarre echo of his earlier life hurt Pace deeply, and he withdrew entirely from the black community at that point. He died just a year later, at 59 years old (21, 22, 23).

* Since posting this essay, I've received letters from Harry Pace's grand-daughter and his great-grandson. To read their views on the family's history, click here.
*****
Appendix I: Pace's spat with Bessie Smith
There's one story about Harry Pace and Bessie Smith which I've always loved but - until February 2009 - found impossible to verify. It claims that, in the early days of Black Swan, Pace summoned Bessie Smith into a recording studio to assess how well her voice transferred to disc and consider whether she was an artist he wanted to sign.
Smith was still a club singer then, and would not actually cut her first disc until February 1923. She was a rough, crude and violent woman, who the fastidious Pace must have found very difficult to deal with. Her guttural voice made her one of the great blues singers of her age, but it also embodied everything that he found distasteful about the blues. Still, Mamie Smith's success had made it clear that blues records could be very big sellers, and if increasing Black Swan's profits meant Pace had to hold his nose for the length of Smith's audition session, then that was a price he'd have to pay.
All went well until Smith halted mid-song to clear her throat, announced her intention to spit and then hawked a generous loogie on to the studio floor. We're told the appalled Pace cut the session short there and then, leaving Smith to sign for Columbia instead, where she quickly became the label's biggest and most lucrative star.
I raised this story with several vintage blues experts while researching Black Swan, who all confirmed that Pace found Smith distasteful, but none of them could say for sure whether the spitting part was true or false. Eventually, I came to the reluctant conclusion that it was probably apocryphal, inspired perhaps by a similar sequence in Smith's 1929 movie St Louis Blues.
I was all set to write up the story in those terms when, during a recent trip to San Francisco, I stumbled across a copy of Michelle Scott's 2008 book Blues Empress in Black Chattanooga, a study of Smith and her world. Scott, a history professor at the University of Maryland, tells the Pace story just as I've set it out above, dating the session to 1921, and citing a 1948 letter from WC Handy as her source. She found this letter in the Smithsonian's WC Handy Collection. (24)
Even if the story's grown a bit in the telling - as it may well have done in those 27 intervening years - it would still be useful as a small lie that tells a bigger truth. In this case the moral is that, much as he liked to chase a profit, even Harry Pace would chase it only so far.
*****
Appendix II: A bomb in the coal supply
On September 1, 1922, police in the New York borough of Queens got a call telling them a bomb had been found in the coal supply at Black Swan's Long Island City pressing plant. The device was a three-inch diameter shrapnel shell powerful enough to kill many people.
The plant belonged to Fletcher Manufacturing Company, a business founded by Harry Pace and John Fletcher, the white businessman he struck a deal with in April 1922. Fletcher had sold his own Operaphone label to Remington's Olympic subsidiary at the beginning of 1921, and then joined with Pace to buy the company's old pressing plant when Remington went bust that December.
Business partnerships which crossed the colour line were then very rare, leading to still further racist resentment against Pace and Black Swan. Now Fletcher found himself targeted by that resentment as well.
Jacob Schmidt, a foreman at the plant, was watching workers prepare to load fresh coal into the furnaces when the bomb came to light. "Schmidt had directed his men to drop a hopper of coal in front of the furnaces, ready to be pitched in, and the shell rolled out," September 3's Brooklyn Daily Eagle reports. "The workmen nearby ran from the scene. Schmidt picked the shell up, carried it to the offices of the company and word was sent to the police."
Captain John Gallagher, head of the Queens detective squad, responded to the call, along with Dr George Koch, an explosives expert from Brooklyn's Fire Prevention Bureau. Koch examined the shell, saying it had "power enough to have blown up the building", and then took it away to be made safe.
The plant had taken two coal deliveries from local Long Island firms on the Friday the shell was discovered, but these both went straight into the same bunker, making it impossible to tell which firm's coal had concealed the bomb. "There were several hundred workers in the plant at the time the loaded shell was discovered, including a number of women," says the BDE. "Had the shell been fed into the furnace with the coal, a serious explosion might have followed."
The bomb had a rusty casing, with no cap or fuse attached. Most likely, it was an old WWI shell, the typical model of which would contain about 300 half-inch lead balls. When the shell detonated, these balls would explode out in all directions, killing anyone in their path.
I can find no record in the newspaper archive of any arrests or trial following the shell's discovery, which presumably means the bomber got away with it. The fact that he was willing to risk so many lives to damage Black Swan's manufacturing operation is a measure of the poisonous racial bigotry the label faced.


Sources
(1) The Oxford Dictionary of Phrase & Fable (Oxford University Press, 2006) makes precisely this claim (http://www.encyclopedia.com/doc/1O214-Motown.html).
(2) Father of the Blues, by WC Handy (Da Capo Press, 1985).
(3) The Negro in New York, ed Roi Ottley & William J. Weatherby (Oceana Publications, 1967).
(4) Viola McCoy's page on the Red Hot Jazz website (http://www.redhotjazz.com/mccoy.html) shows that Ajax, Columbia, Gennett, Pathe Actuel, Perfect, Starr and Vocalion all recorded sides by her between March 24, 1923 and February 1, 1924.
(5) Co-workers in the Kingdom of Culture: Black Swan Records and the Political Economy of African American Music, by David Suisman ( The Journal of American History, Vol 90, number 4.)
(6) Marybeth Hamilton is the author of In Search of the Blues: Black Voices, White Visions (Jonathan Cape, 2007). Interview conducted in March 2007.
(7) Jazz: A Film by Ken Burns (http://www.pbs.org/jazz/exchange/exchange_race_records.htm)
(8) Elliott Hurwitt is currently working on a joint biography of WC Handy and Harry Pace. Interview conducted in May 2007.
(9) Mark Berresford has a fine collection of vintage blues and jazz 78s, and is the co-editor of VJM's Jazz & Blues Mart. Interview conducted in March 2007.
(10) Alberta Hunter: A Celebration in Blues, by Frank C Taylor (McGraw-Hill, 1987).
(11) His Eye Is On The Sparrow, by Ethel Waters (Jazz Book Club, 1958).
(12) It's not clear whether this incident happened during the official Black Swan Troubadours tour, or Waters' later date there billed as "Black Swan's Ethel Waters".
(13) Chicago Defender, April 29, 1922.
(14) Keep Cool: Black Activists Who Built the Jazz Age, by Ted Vincent (Pluto Press, 1995).
(15) Ads from: Crisis, Dec 1922; Chicago Defender, May 12, 1923; Chicago Defender, Jun 2, 1923 and Chicago Defender, Oct 29, 1921.
(16) Black Swan: The Record Label of the Harlem Renaissance, by Helge Thygesen, Mark Berresford & Russ Shor (VJM Publications, 1996).
(17) Crisis, January 1923.
(18) Jitu K Weusi, The Rise and Fall of Black Swan Records (http://www.proaxis.com/~settlet/record/articles/BlackSwan.html).
(19) The History of Motown, by Virginia Aronson (Chelsea House, 2001).
(20) The Red Hot Jazz Archive (http://www.redhotjazz.com).
(21) African American Registry (http://www.aaregistry.com/detail.php?id=706).
(22) Unsung Black Business Giants, by Alex Poinsett (Ebony, March 1990).
(23) African-American Business Leaders, by John Ingham & Lynn Feldman (Greenwood Publishing, 1994).
(24) Blues Empress in Black Chattanooga, by Michelle R. Scott (University of Illinois Press, 2008).



*****
Added in October 2014: Extended Black Swan Blues
Since posting this essay here in 2009, I've done a lot more research on Harry Pace and the pioneering 1920s blues label he founded.
I've now published the fruits of that new research as a PlanetSlade Kindle title, which you can buy here. The Kindle edition is over twice the length of the essay here and includes a lot of new material. Think of it as the director's cut – or a reissued album with lots of bonus tracks.
Among the new subjects you'll find covered in the Kindle edition are:

* Pace's life before Black Swan, including his time running WEB Du Bois' ground-breaking black magazine Moon Illustrated Weekly.

* Biographies of both Fletcher Henderson and Ethel Waters, the two other most important figures in Black Swan's success.

* The full story behind the lynching incident in Macon, Georgia, which led to the corpse of a young black man being hurled into the lobby at a Black Swan show there.

* Fletcher Henderson's key role in developing both jazz and swing music after leaving Black Swan. Both Louis Armstrong and Benny Goodman benefited greatly from Henderson's early blues training at the label.

* Harry Pace's leadership in desegregating a white Chicago neighbourhood and the US Supreme Court testimony he gave in that precedent-setting case.

If you feel that $2.99 (or £1.88 in the UK) is too much to pay for all that new information, then you still have the option of reading this free essay instead.
If you are interested in the Kindle edition, though, please scoot on over to one of the Amazon pages linked below and buy a copy. Whichever version of the material you've read, please consider adding a review to its Amazon page too. Thank you.

Black Swan Blues (Amazon US)

Black Swan Blues (Amazon UK)