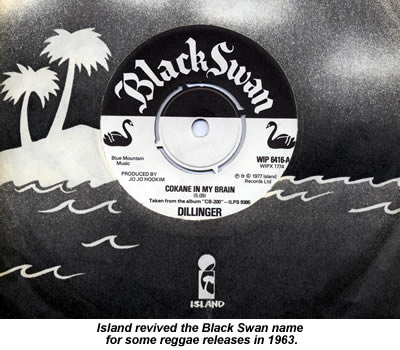 Black Swan managed a few good sellers in 1923, but only at the cost of moving even further away from the release policy Pace had originally envisioned.
In January of that year, he'd still been placing ads lecturing black readers to pull their socks up and buy some classical or opera records instead of that awful blues stuff. One ad, placed in the NAACP's monthly journal Crisis, instructed: "If you - the person reading this advertisement - earnestly want to Do Something for Negro Music, Go to your Record Dealer and ask for the Better Class of Records by Coloured Artists" (15). The Black Swan discs listed below included Mrs Antoinette Garnes' soprano rendition of Verdi's Caro Nome, and Florence Cole-Talbert singing The Bell Song from Delibes' Lakme. "You will enjoy these," Pace announced, "and you will Encourage Us to make more and more of this kind of A Record" (19).
He was wrong on both counts. Black Swan's buyers preferred a string of risque blues songs which the company issued that year, like Fae Barnes' Do It A Long Time Papa, Ethel Waters' You Can't Do What My Last Man Did and Trixie Smith's Take It Daddy It's All Yours. Another Smith song, My Man Rocks Me (With One Steady Roll) sold well enough to demand several re-pressings. Even so, Black Swan released far fewer "dirty blues" songs like these than the other labels did, perhaps because Pace found them even more distasteful than the standard blues fare he'd come to rely on.
The craze for dirty blues had been sparked partly by the record companies' need to supply something the growing medium of radio could not. But record sales continued to fall, and what little air time there was available for black performers was quickly monopolised by Black Swan's bigger competitors. As with internet downloads today, radio gave people their music for free, and no-one wanted to pay for a record when that alternative was available. A price war broke out among the record companies, eating into everyone's profits but hurting the small labels most of all.
Radio's new dominance came at the worst possible time for Pace, who had over-extended Black Swan in the good times and now saw it suffering as a result. When the company had been selling 7,000 records a day, with the new Long Island factory able to produce only 6,000, he'd ordered three new pressing plants which were now lying idle. "Before they were up and running, radio broadcasting broke and this spelled doom for us," he told author Roi Ottley. "Immediately, dealers began to cancel orders that they had placed, records were returned unaccepted and many record stores became radio stores. We found ourselves making and selling only about 3,000 records daily and then it came down to 1,000. Our factory was closed for two weeks at a time and finally sold at a sheriff's sale."
Even in 1923, Pace was still lecturing blacks to buy opera instead of that awful blues stuff
Pace pressed on for a year or so, getting what repeat orders remained pressed in Connecticut. Eventually, though, with no black buyer available, he was forced to lease Black Swan's catalogue of about 350 sides to Paramount. "The firm [...] retained its masters for a number of years, hoping there would be a revival of the business," he told Ottley. "Its property was finally foreclosed and it went out of business though dissolution of its charter."
The big labels struggled on through the sales trough which radio had produced, and then found themselves having to weather the still greater chill of the Great Depression. Race records offered them a higher profit margin than most, if only because the artists could be paid less for recording them and routinely cheated out of their royalty and publishing payments. It's estimated that some 15,000 titles were released on various race labels by the end of the 1930s, with blues accounting for about 10,000 of them, jazz for 3,250 and gospel for the remaining 1,750. As of the mid-twenties, the sector accounted for total US sales of around five to six million discs a year, or approximately one record for every three black people living there.
Many of Black Swan's stars went on to great success after the label's demise, with Alberta Hunter starring opposite Paul Robeson in the London premiere of Showboat, Ethel Waters scoring a 1949 Oscar nomination for her role in Ella Kazan's Pinky and Fletcher Henderson joining Benny Goodman's Orchestra as its first black pianist and arranger (20). Hunter enjoyed an unexpected renaissance in old age, thanks to a 1977 residency at New York's Cookery club, and Waters is now recognised as setting a style for later jazz stars like Ella Fitzgerald and Sarah Vaughan.
Pace himself returned to the insurance industry, founding Northeastern Life, which became one of America's largest black-owned businesses. After a $27m merger with Ohio's Supreme Life & Casualty in 1929, he became president and CEO of the joint company, which he named Supreme Liberty Life Insurance. He got a law degree in 1933, and set up his own legal practice in Chicago nine years later.
But, even after all this success, race never ceased to be an issue for the light-skinned Pace. Some disgruntled blacks accused him of "passing for white" when he moved to the Chicago suburb of River Forest, and threatened to demonstrate in front of his home there to embarrass Pace in front of his white neighbours. This bizarre echo of his earlier life hurt Pace deeply, and he withdrew entirely from the black community at that point. He died just a year later, at 59 years old (21, 22, 23).

* Since posting this essay, I've received letters from Harry Pace's grand-daughter and his great-grandson. To read their views on the family's history, click here.


Sources
(1) The Oxford Dictionary of Phrase & Fable (Oxford University Press, 2006) makes precisely this claim (http://www.encyclopedia.com/doc/1O214-Motown.html).
(2) Father of the Blues, by WC Handy (Da Capo Press, 1985).
(3) The Negro in New York, ed Roi Ottley & William J. Weatherby (Oceana Publications, 1967).
(4) Viola McCoy's page on the Red Hot Jazz website (http://www.redhotjazz.com/mccoy.html) shows that Ajax, Columbia, Gennett, Pathe Actuel, Perfect, Starr and Vocalion all recorded sides by her between March 24, 1923 and February 1, 1924.
(5) Co-workers in the Kingdom of Culture: Black Swan Records and the Political Economy of African American Music, by David Suisman ( The Journal of American History, Vol 90, number 4.)
(6) Marybeth Hamilton is the author of In Search of the Blues: Black Voices, White Visions (Jonathan Cape, 2007). Interview conducted in March 2007.
(7) Jazz: A Film by Ken Burns (http://www.pbs.org/jazz/exchange/exchange_race_records.htm)
(8) Elliott Hurwitt is currently working on a joint biography of WC Handy and Harry Pace. Interview conducted in May 2007.
(9) Mark Berresford has a fine collection of vintage blues and jazz 78s, and is the co-editor of VJM's Jazz & Blues Mart. Interview conducted in March 2007.
(10) Alberta Hunter: A Celebration in Blues, by Frank C Taylor (McGraw-Hill, 1987).
(11) His Eye Is On The Sparrow, by Ethel Waters (Jazz Book Club, 1958).
(12) It's not clear whether this incident happened during the official Black Swan Troubadours tour, or Waters' later date there billed as "Black Swan's Ethel Waters".
(13) Chicago Defender, April 29, 1922.
(14) Keep Cool: Black Activists Who Built the Jazz Age, by Ted Vincent (Pluto Press, 1995).
(15) Ads from: Crisis, Dec 1922; Chicago Defender, May 12, 1923; Chicago Defender, Jun 2, 1923 and Chicago Defender, Oct 29, 1921.
(16) Black Swan: The Record Label of the Harlem Renaissance, by Helge Thygesen, Mark Berresford & Russ Shor (VJM Publications, 1996).
(17) Crisis, January 1923.
(18) Jitu K Weusi, The Rise and Fall of Black Swan Records (http://www.proaxis.com/~settlet/record/articles/BlackSwan.html).
(19) The History of Motown, by Virginia Aronson (Chelsea House, 2001).
(20) The Red Hot Jazz Archive (http://www.redhotjazz.com).
(21) African American Registry (http://www.aaregistry.com/detail.php?id=706).
(22) Unsung Black Business Giants, by Alex Poinsett (Ebony, March 1990).
(23) African-American Business Leaders, by John Ingham & Lynn Feldman (Greenwood Publishing, 1994).
(24) Blues Empress in Black Chattanooga, by Michelle R. Scott (University of Illinois Press, 2008).