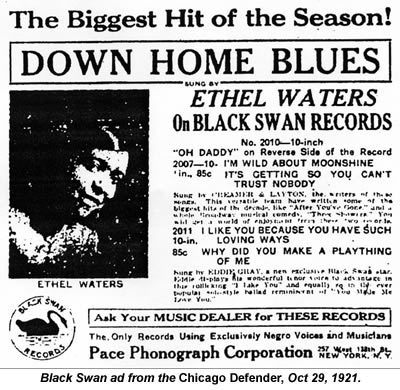 The extra income allowed Pace to expand production to issue about a dozen titles a month and to sell them over a much wider area. The white-owned companies continued to block his distribution whenever they could, but Pace responded by recruiting railway guards to sell the records at every stop they made, news delivery boys to tout them on their rounds and black shops of every description to find a corner where they could be displayed. Pool halls, barbershops and bars were pressed into service too, ensuring Black Swan records could be found anywhere there was a substantial black clientele. Every Black Swan ad included a plea for potential new distributors and salesmen to get in touch.
"He would use Pullman porters on trains passing down through the South," Berresford says. "They would take boxes of records and hand them out at stations - and they'd be taken up by the local black community with real verve and gusto. Anybody, basically, who would be travelling around, be it town to town or even within the city, would be promoting the records, either by selling them or just by talking to people about them. A lot of it was word of mouth advertising that pushed Black Swan forward, and it's something they had over their rivals in that respect."


Down Home Blues had put Black Swan on a much firmer footing, but Pace still had a long way to go if he wanted to make it a genuine national record label. The next step was to dispatch his biggest star on a major US tour. Fletcher Henderson's orchestra renamed themselves Ethel Waters' Jazz Masters to act as her backing band, and Pace recruited the black dancers Ethel Williams and Roscoe Whitman to perform as her support act. Theatres were booked in 53 cities, covering 21 states, and The Black Swan Troubadours left New York in November 1921 for an eight-month stint on the road.
"Pace saw Down Home Blues as an opportunity to build a show round Ethel Waters' talent and take it out," Berresford explains. "The band went through some pretty hairy times touring in the South, but they put the Black Swan name before far more people than would have initially gone out and bought the records. There was no commercial radio at the time, so it was only by doing events like this that artists could be promoted."
Lynchings were still a common sight all over the South, with 52 cases reported in 1921 alone
Waters had insisted that Southern venues be included on the tour, despite the fact that she knew full well what a rough reception they'd face there. Lester Walton, a prominent black journalist who acted as the Troubadours' tour manager, agreed to arrange civil rights meetings at every stop on the Southern leg of the tour and, when four of Henderson's musicians dropped out rather than step south of the Mason-Dixon line, they were quickly replaced. Travelling in a large group offered some protection from the routine harassment which black strangers could expect in the Southern states, but we shouldn't underestimate the courage it took for Waters and her companions to tour there.
Lynchings were still a common sight all over the South, with the Chicago Defender reporting 52 cases in the first 11 months of 1921 alone. Forty-eight of those involved a black victim, one of whom was a woman, and it was not unknown for the victims to be as young as 12. Mississippi led the field with 13 lynchings in the 11 months covered, then came Georgia with ten and South Carolina and Louisiana with five each. Often, these were carried out in a carnival atmosphere, with whites taking time off work to bring the kids along for a jolly day out. The "crimes" being punished could be as trivial as talking back to a white man, and the level of bestial cruelty displayed was quite sickening. Men were burnt alive or chained to a tree and used for target practice while the watching crowd jeered at their screams.
"Lynching happened all through the South in the 1910s, 1920s and into the 1930s," says Hamilton. "And they were often very public, very spectacular. They were reported in newspapers, they gave rise to souvenir photographs. It was turned into that kind of consumer spectacle."
Waters would brush against the families bereaved by mob justice soon enough, but first she had another problem. The classically-trained Fletcher Henderson had struck her as being a little snooty right from their first meeting, and now she was having trouble persuading him to play her songs in the down-and-dirty style they demanded. What she wanted was something more like James Johnson, the New York stride piano master who'd taught Fats Waller his trade.
"On that tour, Fletcher wouldn't give me what I call the damn-it-to-hell bass, that chump-chump stuff that real jazz needs," she writes in her autobiography. "When we reached Chicago, I got some piano rolls that Jimmy Johnson had made, and pounded out each passage to Henderson. To prove he could do it, Henderson began to practice. He got so perfect that he could press down the keys as the roll played, never missing a note." That practice stood Henderson in good stead, making him one of the era's most valued blues and jazz session men later in his career.
Walton used his contacts in the black press to ensure the tour was well-publicised everywhere it went, and Pace added fuel to the fire by arranging a publicity stunt around its headline act. Waters, he announced had signed a special contract with Black Swan agreeing not to marry for at least a year. She had received many proposals since the release of Down Home Blues, he gravely explained, and this clause was designed to guard against her abandoning her Black Swan career for a life of domesticity. The same contract, he claimed, made her "the highest-paid coloured phonograph star in this country".