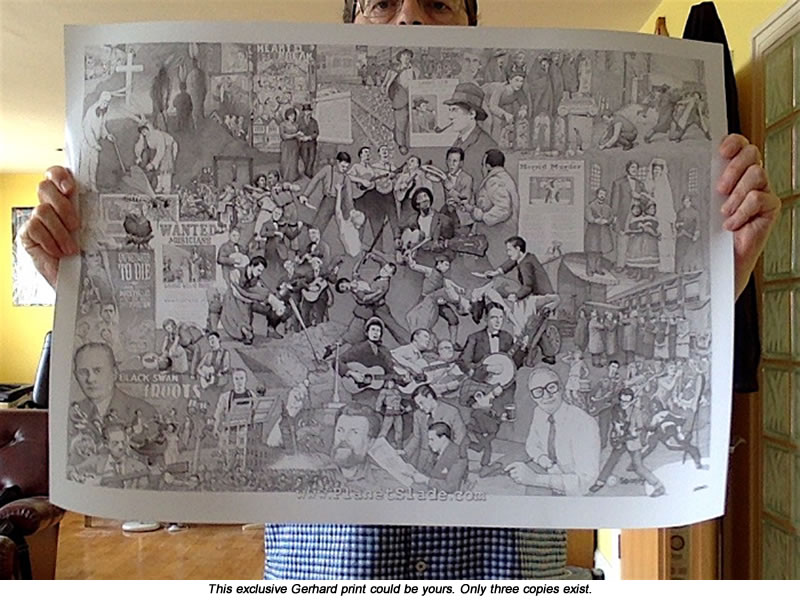 Earlier this year, I commissioned a PlanetSlade poster from Gerhard, the Canadian artist best-known for his work on Dave Sim's
Cerebus
. You can examine the original art in detail and read the story behind its creation
here
.
Gerhard's
finished art measures 30 inches by 22 inches (about 75cm x 56cm) and, before framing the original on my wall, I had three full-size prints made. Posters don't come much more exclusive than that - just three copies - and now you can win one of those three to beautify your own home.
The competition's a simple one: just retweet the PlanetSlade tweet below (including the flyer) to your own followers. Whichever retweet has most followers showing in the sender's Twitter profile wins.
The
competition closes at midnight London time on May 31. I'll announce the winner via Twitter on June 1, contact him or her with a private message and we'll make the rest of the arrangements from there. Wherever you are in the world, you're welcome to enter. I'll pack the rolled poster in a sturdy cardboard tube and mail it from London by June 5 at the latest.
I'll
be checking all the retweets as they come in, and noting the senders' follower numbers as I go. Multiple entries are fine, though only the retweet with the highest number of followers in your Twitter profile will count. If someone should retweet your retweet, that'll show up in my Twitter stats too, but the two entries will be counted separately. My decision on who's won the competition is final.
The
idea of all this, as you'll have gathered, is to help promote my murder ballads book by getting word out there of the many rave reviews it's received. If we sell a million copies as a result of this promotion, I'll even undertake to burn the other two prints!