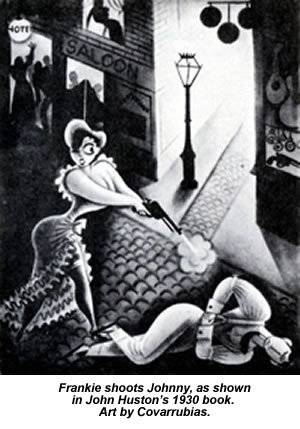 By Christmas of that year, Frankie had already started to hear "her" ballad sung on the streets. Ballad sellers would pick up on the most lurid news stories of the time, turn them quickly into verse and sell the resulting single-sheet copies at 10c a time on street corners. Often, they would stir up interest by singing the songs themselves to attract a crowd. Frankie Killed Allen, the first song to tell this particular story, was composed by Bill Dooley, one of St Louis' most prolific balladeers. By the evening after the shooting, it was already being performed and sold(3).
The first sheet music version was published in 1904 by Hughie Cannon, a black-face comedian who turned the song into a sequel to his earlier hit Bill Bailey Won't You Please Come Home. Cannon kept Dooley's tune and refrain "He done me wrong", but threw out everything else. By 1909, when the song collector John Lomax found a Texas version, Allen (or Al) Britt had become Albert. He was rechristened again in Frank & Bert Leighton's 1912 sheet music for their vaudeville song Frankie & Johnny, a name which has stuck ever since. A similar process turned Alice into "Nellie Bly", a name which singers may have found easier to remember and pronounce. The first version of the song recorded seems to be the Paul Biese Trio's jaunty 1921 reading.(4)
Huston's 1930 melodrama sticks closely to the ballad's plot, carefully including the $100 suit of clothes which Frankie buys for Johnny, their vow to remain as faithful as the stars and Johnny's dalliance with Nellie Bly. Frankie kills Johnny with the traditional three shots, giving him time to quote a verse from the ballad verbatim before he dies, and then goes uncomplaining to the gallows. Huston leaves the audience to decide exactly how Frankie's earned the money Johnny steals from her, but does nothing to deny that she's a prostitute.

24 hours after the shooting, Frankie's ballad was being performed and sold in St Louis' streets
Huston ensures that everyone speaks in heavy Yosemite Sam accents throughout ("I was a-goin' to turn it over to ye in one lump sum a cash like ye allus wanted") and canters through the whole tale in a brisk 60 pages of double-spaced dialogue. He saves his most macabre touch for the end, when Frankie addresses the crowd gathered round her gallows and offers to lead them all in one final dance. "I'll be showin' ye new steps in a minute," she promises as the hangman places the noose around her neck. "Steps ye've never seen before."
Just as with Stagger Lee, Frankie's tale also produced an underground "toast" version of the song, far too filthy to be published in any respectable journal or recorded commercially. Fortunately, the anonymous compiler of a privately-published 1927 anthology called "Immortalia" liked Frankie & Johnnie enough to include it in his daringly raunchy book. The 18 verses tell the same core story, but offer a far less squeamish account of what its two protagonists' lives must really have been like.
Frankie, we're told, is a "fucky hussy", who's whoring keeps her so busy that she "never had time to get out of bed". She gives all her money to Johnnie, "who spent it on parlor house whores", but still can't stop him "finger-frigging Alice Bly". She shoots Johnnie five times rather than the traditional three, and later boasts in court "I shot him in his big fat ass".
I've never heard a recorded version of these lyrics, but here's a couple of sample verses to give you the flavour. The first comes as Frankie takes a break from awaiting company - as Clay would have put it - to hand over the cash she's earned:

"Frankie hung a sign on her door,
'No more fish for sale',
Then she went looking for Johnnie,
To give him all her kale,
He was a-doin' her wrong,
God-damn his soul!"

And here's what happens when Frankie discovers the awful truth:

"Frankie ran back to the crib-joint,
Took the oilcloth off the bed,
Took out a bindle of coke,
And snuffed it right up in her head,
God-damn his soul,
He was a-doin' her wrong!" (5)

There's several variations on these lyrics, which add additional refinements such as Frankie shooting Johnnie in the balls or firing a bullet directly up his hole. In one version, she brings his penis back from the graveyard as a souvenir, explaining that it's "the best part of the man who done her wrong".
Brutal as these versions are, they may well be closer to the truth. We know from contemporary press reports that cocaine was a popular drug in 1890s brothels, so it makes sense to imagine Frankie using the stuff. Street-level prostitution in any age is likely to be a fairly squalid and violent affair, so it's hard to accuse the toast of being unduly lurid on those grounds. It certainly isn't pretty, but then Frankie's real life must often have lacked decorum too.


The real Frankie soon started to tire of her new notoriety, and left St Louis in 1900. She moved first to Nebraska and then to Oregon, but found the song followed her everywhere she went. After a few years working as a prostitute in Portland and several arrests, she opened a shoeshine parlour there around 1925. The ballad never quite went away - Mississippi John Hurt, Riley Puckett and Jimmie Rodgers all recorded it between 1928 and 1932 - and the first film adaptation came out in 1930, but for a while she was left in peace. In 1933, all that changed.
Paramount Pictures' She Done Him Wrong was Mae West's first starring vehicle, and also the film which kick-started Cary Grant's career. Based on West's play Diamond Lil, it contains many of her best lines, as well as West's own rendition of Frankie & Johnny. When the film reached Portland, Frankie found strangers gathering outside her home to point at her and stare. "I'm so tired of it all, I don't even answer any more," she told a reporter. "What I want is peace - an opportunity to live like a normal human being. I know that I'm black but, even so, I have my rights. If people had left me alone, I'd have forgotten this thing a long time ago."