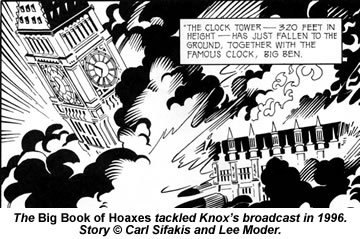 "Unemployed demonstration in London. The crowd has now passed along Whitehall and, at the suggestion of Mr Popplebury, Secretary of the National Movement for Abolishing Theatre Queues, is preparing to demolish the Houses of Parliament with trench mortars. [...] The clock tower, 320 feet in height, has just fallen to the ground, together with the famous clock Big Ben, which used to strike the hours on a bell weighing nine tons."
- Ronald Knox, Broadcasting the Barricades, January 16, 1926.
"Hundreds of people rang up amazed newspaper offices, asking for details and saying they had heard it from the BBC. In the West of England, rumours were still going round yesterday morning and anxious enquiries were made of the police as to the truth of the report."
- Daily Mirror, January 18, 1926.


The first reports came through just after 7:40 on Saturday evening. Listeners to the BBC's fledgling radio service heard the closing words of a talk on Gray's Elegy, then a plummy announcer's voice breaking in with news that an unemployment demonstration in Trafalgar Square had turned violent. The angry demonstrators were already sacking the National Gallery, he said, and they weren't finished yet.
It was January 16, 1926, and many listeners must been half-expecting news like this to break any day. Russia's 1917 revolution had left Britain's establishment nervous about proletarian revolt, the First World War had undermined all notions of working class deference and the Labour Party had just adopted Clause IV's call for common ownership. The first half of the 1920s saw the formation of the British Communist Party, two miners' strikes paving the way for a General Strike to come, and the election of the country's first Labour Government.
"There were great worries that deference was on the wane," explains Joanna Bourke, author of Fear: A Cultural History. "And that poor people, the unemployed, were not going to put up with being poor any more."
After a few minutes of live music from the Savoy Hotel's house band, the announcer broke in again. "The unemployed demonstration," he began. "The crowd is now pouring through the Admiralty Arch, and is advancing towards the back of the Government buildings in Whitehall in a threatening manner." (1)

The crowd had reached the Houses of Parliament, and was preparing to fire trench mortars
There followed some reports of demonstrators throwing empty bottles at the ducks in St James's Park, and then a shuffling of papers as fresh reports seemed to arrive on the announcer's desk. "Eh, what's that?" he asked. "One minute, please. From reports which have just come to hand, it appears that Sir Theophilus Gooch, who was on his way to this station, has been intercepted by the remnants of the crowd still collected in Trafalgar Square, and is being roasted alive. [...] He is now being roasted alive by a crowd in Trafalgar Square."
At this, the BBC cut to the Savoy band again. There was another burst of music, and then an announcement that the crowd marching down Whitehall had reached the Houses of Parliament, and were preparing to fire trench mortars at London's most famous landmark. "The clock tower, 320 feet in height, has just fallen to the ground, together with the famous clock Big Ben," the announcer told astonished listeners.
Worse was to come. "One moment, please. Fresh reports, which have just come to hand, announce that the crowd have secured the person of Mr Wotherspoon, the Minister of Traffic, who was attempting to make his escape in disguise. He has now been hanged from a lamp-post in the Vauxhall Bridge Road."
Once again, the BBC patched listeners through to the Savoy's band. But this time the music was quickly interrupted by a loud explosion. "Hello everybody," the announcer cut in. "London calling. The Savoy Hotel has now been blown up by the crowd. That noise which you heard just now was the Savoy Hotel being blown up by the crowd. [...] One moment, please. The more unruly members of the crowd are now approaching the British Broadcasting Company's London station with a threatening demeanour. One moment, please."
As the rioters reached BBC headquarters, accounts of their progress came to a close, replaced by an hour of assorted music.
The BBC's 2LO was then Britain's only radio station, television was still a decade away, and there would be no newspapers until the following day. All over the country, listeners switched off their sets in a stunned silence and tried to digest the information that the nation's art treasures had been looted, Parliament flattened, the Savoy Hotel bombed and a Government minister lynched in the street. For many, their first instinct was to telephone whatever authorities they could think of and demand more information.
"We had hundreds of serious telephone enquiries from all parts of the country," the Savoy Hotel's manager told reporters next day. "There were calls from Ireland, Scotland, Manchester, Newcastle, Hull, Leeds, and many other places. We must have had over 200 local calls. People wanted to know whether it would be necessary to cancel their rooms. Some made anxious enquiries as to the safety of friends staying at the hotel." (2)
Newspapers received hundreds of calls too, later saying they'd been "bombarded with enquiries asking for further details of the revolution and information on the state of the metropolis". Other listeners called the BBC itself, one complaining that his wife - who had a weak heart - fainted at hearing the broadcast. The Admiralty took calls from people demanding it send a Royal Navy battleship up the Thames immediately to quell the violence. The Mayor of Newcastle returned from an official dinner, where no radio reports had been available, to find his wife in great distress and a telephone message from the Sheriff of the County asking what he intended to do to safeguard his own city. (3, 4, 5, 6)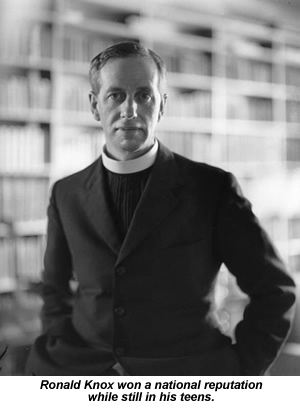 Bourke summed up reactions to the broadcast for a 2005 Radio 4 documentary I helped to make. "The immediate impact was really dramatic," she told presenter Ray Snoddy. "All over the country - particularly in rural areas and isolated areas - people became very, very frightened. [...] Newspapers were delayed that day, because there was heavy snow in London, and so lots of people didn't get their newspapers. This all seemed to confirm their belief that something must be terribly, terribly wrong." (7)
The Sunday newspapers may not have got through, but Monday morning's did, and many carried news of the broadcast on their front pages. Only then did some listeners discover that the BBC account of London's weekend riots had been a hoax dreamed up by a mischievous Catholic priest.


Ronald Knox was born in 1888, the son of a clergyman who went on to become Anglican Bishop of Manchester. His maternal grandfather was a Bishop too, and his eldest brother went on to edit the satirical magazine Punch.
Knox quickly established himself as a brilliant scholar, publishing his first collection of verse at the age of 18 and establishing what the Dictionary of National Biography calls "a nationwide reputation" by the time he left Eton for Oxford's Balliol College in 1907. He was elected president of the Oxford Union two years later, after winning many prizes for his Greek and Latin verse there. He left the university with a first in Greats and an even higher reputation for brilliance than he'd had before. In 1912, he became an Anglican priest and, later that year, the Chaplain of Oxford's Trinity College.

Knox had a wicked sense of humour, and often brought this to bear in his writing projects
Knox would sometimes exercise his formidable brain by setting himself additional little challenges in the writing he produced. Two of his earliest publications were theological works criticising modernist trends in the Church of England, which Knox spiced up - if only for his own benefit - by writing one in the style of Dryden and the other of Swift. Anything less, it seems, would have left him bored by the childishly simple task of detailed theological argument.
He had a wicked sense of humour too, and often brought this to bear in his writing. Growing irritated with conspiracy theories that insisted Shakespeare could not possibly have written his own plays, Knox concocted a few cryptograms from Tennyson's In Memoriam and used these to prove conclusively that the poem had been written by Queen Victoria.
This mischief showed again in his 1911 lecture Studies in the Literature of Sherlock Holmes, where Knox set out to parody the German School's influential Biblical analysis by applying its methods to a piece of popular entertainment. The German School picked apart the text of the Bible to fret over questions like why both Matthew and Mark's gospels choose to relate John the Baptist's death as a flash-back and ask what this implied about their authorship.
Knox mocked this approach by using minor inconsistencies in the Holmes canon to conclude that Dr Watson had clearly fallen prey to drink after Holmes' death at the Reichenbach Falls. No longer able to chronicle his friend's real-life adventures, Knox argues, Watson took to making up inferior new tales by stealing plots from authors like Guy Boothby (Dr Nikola), Edgar Allan Poe (The Gold Bug) and EW Hornung (Raffles).
"Watson has been a bit of a gad-about," he argues from evidence in the stories. "His brother, so Holmes finds out by examining the scratches on the keyhole of his watch, was a confirmed drunkard. He himself, as a bachelor, haunts the Criterion Bar. In The Sign of Four, he admits to having had too much Beaune for lunch. [...] What happens? His Eligah is taken away from him; his wife, as we know, dies; he slips back into the grip of his old enemy; his practice, already diminished by continued neglect, vanishes away: he is forced to earn a livelihood by patching together clumsy travesties of the wonderful incidents of which he was once the faithful recorder." (8)
By drawing such a fanciful conclusion from highly selective evidence - and resolutely ignoring Arthur Conan Doyle's role in the stories' declining quality - Knox hoped to make the German School's method look equally silly. Instead, many Holmes fans simply took the lecture at face value, making it a foundation stone for their own obsessive study of the stories. Even Doyle seemed to miss the joke, writing to Knox a few months after the lecture was published to take up its criticisms over four excruciating pages.
Thirty years later, Knox was still assumed to be an authority on Holmes, and was regularly approached by editors hoping he'd agree to review the latest Sherlockian tome. "I can't BEAR books about Sherlock Holmes," he replied to one such request. "It is so depressing that my one permanent achievement is to have started a bad joke." (9)
Knox taught at Shrewsbury school for a while during World War I, and then began working for the War Office. In 1919, he left the Church of England to become a Roman Catholic priest. The BBC launched its first radio broadcasts in November 1922, and Knox began his own radio career with a few short sermons the following year.
British radio in those days was regulated by the Post Office, which depended on the newspaper industry for much of its income. This gave newspaper owners the leverage to ensure the BBC's news service was severely curtailed. No news summaries were allowed before 7:00pm, to prevent broadcast news competing with the evening papers, and the BBC was banned from giving any sporting results for the same reason. As late as 1926, its live broadcast of the Derby went out only on the strict understanding that it must not reveal who won.
Despite these restrictions, and despite the fact that only a single station was available, radio quickly became a popular medium. In 1923, the BBC started producing Radio Times, a magazine listing its exact schedules for every day of the coming week, producing an extra surge of interest in the service. The following year's broadcast of cello player Beatrice Harrison dueting with a nightingale in her garden began an annual series which produced over 50,000 fan letters for her.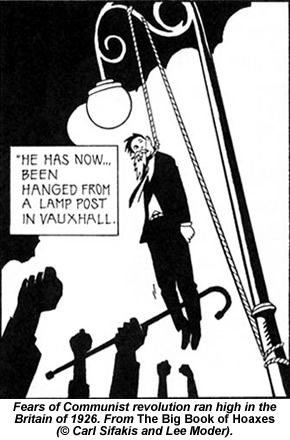 "Listening in", as radio fans called their hobby, was far from the casual business which transistors and DAB allow today. Most listeners received the BBC on their £3 crystal sets, teasing a fragile signal through the headphones required and shushing other members of the family at every tiny interruption. Programming then consisted of Reuters' strictly-policed news summary, classical concerts and several thousand live BBC talks every year. This was supplemented by live dance bands from the Savoy Hotel and whatever innovations managing director John Reith could get past the authorities.
Reith's efforts encouraged growing affection for the BBC, and gradually it began to take a place at the very centre of British public life. In 1923, Reith persuaded Parliament to let him broadcast Big Ben's chimes for the first time. In April 1924, King George V allowed his speech opening the British Empire Exhibition to be broadcast live. Large public speakers were placed along London's busy Oxford Street, and drivers there pulled over to hear him speak. The first purpose-built radio play, complete with sound effects, went out later that year.
Still there was considerable nervousness where BBC news was concerned - not least among Reith's own staff. The Reuters deal meant the BBC had to take this news agency copy as it had been written, and had no direct control over its content. One 1924 Reuters summary revealed that Princess Mary's babies were attended by two nurses, and that the younger child was carried about on a white silk cushion. "This information only helps to stimulate feelings akin to Bolshevism," BBC director of programmes Arthur Burrows complained. And there's that fear of a Communist uprising again.
Reith himself was always braver about these issues. In one Radio Times column, he recalled a 1923 BBC debate which had dared to include a Communist on its panel. "It produced not revolution, but an interesting discussion," Reith assured his readers. (11)

Knox copied BBC style, adding an extra element of deliberate confusion as reports came in
Still the Post Office seemed determined to block Reith at every turn, refusing his requests to broadcast even the most carefully-balanced political debates or any speech emanating from Parliament. Reith kept firing away, suggesting ideas like broadcasting the Memorial Day service at the Cenotaph or the Oxford Union's debates, but was almost always turned down flat or expertly stalled. Finally, the frustration started to show. "We urgently need to develop new lines and keep opening new fields," he told the Postmaster General in one exasperated 1925 letter. "The service is being badly prejudiced."
As that year drew to a close, the BBC had an audience of over ten million people, and the technology to reach 30 million more. The Government's Sykes Committee would soon recommend that "a modicum of controversy" be allowed on the BBC - a move the Postmaster General ultimately had to accept - but Ronald Knox already had something far more ambitious in mind.


It all looks so innocent in The Times' daily radio listings: "7;40: - The Rev. Father Ronald Knox - 'Broadcasting the Barricades', SB from Edinburgh."
Even there, though, there is a small clue to be uncovered. The broadcast itself, as we'll see in a moment, gave a distinct impression that it was coming from London and that the announcer was speaking from the very building invaded by rioters at his report's conclusion. In fact, the announcer - played by Knox himself - was sitting in Edinburgh. Knox knew George Marshall, the BBC's station controller at Edinburgh well, was accustomed to working with him, and found his the most convenient BBC studio to use.
No recording of the broadcast survives, but we do have Knox's original 17-minute script from the BBC archives, and Evelyn Waugh's account from his 1959 biography of Knox. Before the programme began, Marshall delivered a short announcement telling listeners' exactly what they were about to hear.
"It was prefaced by an explicit statement that it was a work of humour and imagination, enlivened by realistic 'sound effects', which were still a novelty," Waugh explains. "Read today, it seems barely credible that it could have caused a tremor of alarm in the most timid listener. (Ronald) had no idea of imposing on anyone. The intention was broad parody." (9)
Marshall's announcement gave way to a moment of deliberate static, and then Knox's voice imitating a lisping, elderly don in mid-lecture. This character - who Knox christened William Donkinson - concludes his remarks by mentioning "litewawy valuth and a higher thenthe of the poththibilitieth of human achievement", gives a prolonged cough, and then lapses into silence.
Like the faked news report that followed, Donkinson's contribution was written to copy the BBC's prevailing style, but to exaggerate all that style's distinguishing marks to the point of parody. BBC listeners at the time would have been well-used to hearing improving educational talks on the wireless, often delivered by academics who were only a little less eccentric than Donkinson seemed to be. Knox also took care to copy BBC style when composing his news copy, adding the extra element of deliberate confusion as fresh reports seemed to arrive on the announcer's desk or the story's unpredictable nature forced the BBC to cut in and out of its Savoy dance band transmission.
"The idea for this skit came to me while I was sitting at home listening to the results of the last election being broadcast," Knox later explained. "I endeavoured to visualise the breathlessness there would be throughout the country during a revolution, and I tried to imagine the news bulletins during such a time of popular excitement. I put my ideas on paper and then attempted to burlesque them." (12)
The resulting script is peppered with stylistic tics and outright jokes, which Knox evidently assumed would alert his listeners not to take it too seriously. I've rigorously excised all those jokes from the account of the broadcast opening this piece to try and duplicate the sensationalist impression most listeners seem to have taken away. But just look at the tip-offs they missed:

* Knox uses comedy names for all the characters mentioned in his report: Mr Popplebury, Sir Theophilus Gooch, Miss Joy Gush and Mr Wotherspoon. Any one of these names may be thought ridiculous enough, but taken together, they're a clear indication that something fishy's going on.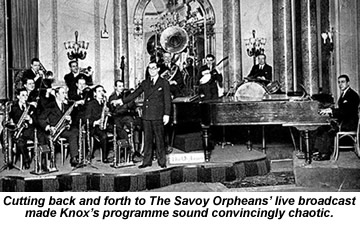 * Knox also gives his characters ludicrous jobs. The rioters' ringleader Mr Popplebury, for example, gets nine mentions in the report, and is described every time as "Secretary of the National Movement for Abolishing Theatre Queues". Why would such a trivial figure be leading this serious unrest? The unfortunate Mr Wotherspoon is described as "Minister of Traffic", a post which - as Knox later pointed out to his critics - did not exist.

* In parodying the BBC's news style of the day, Knox often gives the same piece of information twice, first in the active voice and then the passive. For example: "The crowd in Trafalgar Square is now assuming threatening dimensions. Threatening dimensions are now being assumed by the crowd which has gathered in Trafalgar Square". He pushes this to the point of absurdity by using it six times in a very short piece.

* In copying the BBC's determination to educate its listeners, Knox often slips in a passage of unwanted historical detail before returning abruptly to the subject at hand. On the Houses of Parliament, for example, he says: "The building is made of magnesian limestone from Yorkshire, a material which is unfortunately liable to rapid decay. At present, in any case, it is being demolished with trench mortars."

* Knox breaks up reports of the riot with parodies of other BBC news content, including the arrival of a spectacularly vacuous American film star at Southampton. He also includes a weather forecast which announces the weather will be "fine generally, with occasional showers in the South and a continuous downpour in the North". Winds, he adds, will be "violent" in England and "assume the dimensions of a hurricane" in Scotland. But otherwise fine.

* Sir Theophilus Gooch's death in Trafalgar Square - and the far more serious news that his BBC talk will now have to be cancelled - is followed by a short biographical sketch. "He very soon attracted the notice of his employers," Knox says. "However, nothing was proved, and Sir Theophilus retired with a considerable fortune."

* Following the collapse of Big Ben, Knox explains twice that Greenwich Time will instead be given from Edinburgh on "Uncle Leslie's repeating watch".

* After the sensational news that Mr Wotherspoon has been hanged from a lamp-post in the Vauxhall Bridge Road, Knox sets listeners up to expect a vital correction. Dragging their expectation out as far as he dares, and with fulsome apologies on behalf of the BBC, he finally admits that it was actually a tramway post.

* When Popplebury's mob reach the BBC, Knox announces breathlessly that they have entered the waiting room, where calm is instantly restored. "They are reading copies of the Radio Times," he explains. "Goodnight, everybody. Goodnight."

'Being a very clever, witty man himself, he didn't estimate how stupid other people can be'
With all those clues packed into a 17-minute broadcast, it's hard to see how anyone managed to mistake Knox's spoof for the real thing. Radio historian Paddy Scannell puts their credulity partly down to the fact that the wireless was so new, and partly to the fact that many probably didn't hear the full programme.
"At that time, radio was only about four years old," he told Snoddy for Radio 4's The Riot That Never Was. "There'd be about a million radio sets in the country, and people weren't really familiar with listening to the radio in the way that we all are today. [...] I imagine if they had listened all the way through, it would become progressively clearer that it was a joke. But if you just came in, as people often did, in the middle of a programme and you only heard a little bit of it, you might think it was real." (7)
Snoddy put the same question to the University of Kent's Alan Beck, who offered a slightly different explanation. "People who perhaps couldn't even afford gramophones, in all reaches of the country, were for the first time listening in," he explained. "People in country regions, not urban regions, were for the first time being reached. This was a much more popular audience - an audience that was not involved in reading high-class journalism such as Punch and the quality papers." (7)
People like this would have encountered nothing remotely like Knox's sophisticated satire anywhere else in their lives, and their limited experience of radio so far had done nothing to prepare them for a prank like this. "The idea of parodying a news broadcast!" Scannell exclaimed to Snoddy. "Nobody had done it before. It was very mischievous, I'd say. It's absolutely unsurprising that people were fooled by it. Why should they not believe this? It was the BBC after all!"
Father Ian Ker's grandfather was Ronald Knox's first cousin, and Ker has followed in the great man's footsteps by becoming a Catholic Chaplain at Oxford himself. When we questioned him about his relative's motives, he admitted Knox might have been a little naïve in imaging how the broadcast would be received.
"I think Knox was genuinely surprised by the reaction," Ker said. "Because it had been made so clear at the beginning of the broadcast that this was a practical joke. Being a very clever and witty man himself, I suppose he didn't estimate how stupid other people can be. He was used to growing up with clever and witty people, and I suppose he just didn't estimate the kind of audience who were likely to listen to this." (7)
Whatever the reasons, there's no doubt that a lot of people were fooled. Just 20 minutes after finishing the broadcast, Knox was sitting down to supper at Edinburgh's Caledonian Hotel when the waiter announced that a Mr Reith was on the phone. Reith passed on the news that staff at the BBC's Savoy Hill headquarters were already getting anxious enquiries about what was happening in London. By 9:00pm, the BBC was broadcasting this reassurance:

"Some listeners, who apparently only heard part of Father Knox's talk at 7:40 this evening did not realise the humorous innuendoes underlying the imaginary news items and have felt uneasy as to the fate of London, Big Ben and other places mentioned in the talk. The preliminary announcement stated that the talk was a skit on broadcasting and the whole talk was, of course, a burlesque. We hope that any listeners who did not realise it will accept our sincere apologies for any uneasiness caused. London is safe. Big Ben is still chiming, and all is well."
"Uneasiness" is a splendidly gentle word for an announcement like that, suggesting as it does that listeners were never more than mildly concerned. But it doesn't quite fit the experience of a BBC sound effects man called JCS MacGregor, who found himself fielding many of the calls that had made the announcement necessary. MacGregor was one of the technical team assisting with Knox's broadcast, and the switchboard evidently decided that was good enough reason to lumber him with the resulting complaints.
"I was one of those who worked the simple sound effects," he later recalled in an article for the BBC's house magazine. "An orange box to be hacked, torn and stamped to pieces, and a sack of broken glass to be dumped on the studio floor convinced listeners from Land's End to Berwick-on-Tweed that the Savoy Hotel was indeed falling in ruins: and it was on my devoted head that the storm broke." (4)

'Thousands of people were thrown into a panic, fearing that revolution had broken out'
The first caller of the night was convivial enough, but the second proved a far more awkward customer. "His wife had a weak heart and had fainted at the news," MacGregor recalled. "When he gathered from me that the whole thing was fictitious, he exploded. What, he asked with some vigour, did the BBC mean by it? Did we realise we had grossly misled the country and were playing into the hands of the Bolshevists?"
There followed a batch of other calls in much the same vein, and then one from a reporter at the Daily Mail. "My interrogator seemed to have a certain lack of sympathy with the BBC and a natural desire to make the most of a good story," MacGregor writes. "It was a trying experience."


MacGregor must have been relieved to see that Monday's Mail did not mention him by name, but quoted instead the official BBC statement regretting any confusion caused. "As there are so many 'talks' in the broadcast programmes, thousands of listeners did not switch on until they hoped the talk was over," the Mail helpfully explained. "As a result, they heard fragmentary statements, delivered in the manner of BBC announcers." (13)
After a quick summary of BTB's content, the paper describes the flood of calls its own office had received. "The callers were in a state of excitement and demanded to know what was happening in London," it says. "Was it true that Big Ben had been blown up? Had the National Gallery been sacked? Were the Government calling on loyal citizens? Many refused to be reassured. 'We have heard it on the wireless,' they declared. 'Why, we have even heard the explosions!'"
All that day's newspapers went to town on the story, not only because it made such a rattling good yarn, but also because it offered the chance to portray the BBC as a dangerously irresponsible organisation. Despite the press barons' financial stranglehold on the Post Office, Reith was gradually winning more and more concessions over what the BBC was allowed to do. A full-blooded broadcast news service - if that ever came - was sure to eat into newspaper readership, and so cut the advertising profits that readership generated.
The more pressure the papers could put on Government to hobble the BBC with heavy regulation, the less of a threat this huge new competitor was likely to be. No wonder they were so delighted to report a BBC broadcast which had panicked many innocent listeners.
"The BBC has unintentionally been responsible for the biggest scare known in Britain since the advent of broadcasting," trumpeted the Evening Standard. "Half the country over the weekend has been flooded with rumours of a great upheaval in London." The Times added that "many timid folk were genuinely startled by the news". (14, 15)
The Daily Express joined in too. "The British Broadcasting Company has leant itself to a practical joke of a particularly foolish character," it said. "Why it should seem funny to a priest to insult the working people of England by representing them in the act of dynamite outrages is one of those problems we do not pretend the ability to solve." The Express then quotes the former Liberal MP Leo Chiozza Money, who declares: "The item was utterly humourless. The BBC should be ashamed of having included it in their programme." (16)
"Much is permitted to the humorist," the Daily Graphic announced. "That the BBC should allow him to address his fooling to a nationwide audience is another matter." The Daily Sketch added: "Thousands of people who missed the introduction were thrown into a state of panic by the thought that a revolution had broken out in the metropolis." (3, 17)
Even the Catholic magazine The Tablet felt it must have its say - albeit with some rather bizarre logic. "There are in England groups of hireling Communists who must have been enormously encouraged by the fact that many Britons were badly scared last Saturday," it warned. "These Reds can now truthfully report to their employers that a red Revolution is not unthinkable in England, seeing that even a burlesque account of it caused widespread alarm." (18)
The papers in Scotland took a slightly different line, often using the story to tease their English neighbours a little. "Scottish people apparently saw the joke without need of surgical operation," the Weekly Scotsman announced. "It was English listeners who were mostly alarmed, and many enquiries from Ireland perhaps betrayed more interest than concern." (19)
Tempting as it was to simply blame the BBC for all this, a couple of papers did wonder about listeners' gullibility too. "A joke is never so dangerous as when it is a good joke," mused the Daily News. "In every population, even in Scotland, there is a large percentage of respectable, hard-working and a kind-hearted citizens to whom a funny story, especially if it is ironically funny, unless carefully annotated by a Government official, makes the single, direct appeal in evidential values of a police court narrative." (20)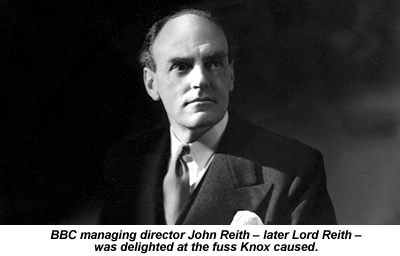 "Humour and satire are dangerous implements when they are applied to mankind in the mass," added the Irish Times. "The BBC will be wise if, in future, it takes no risk with its public's average standard of intelligence." Knox's brother made a similar point when speaking to the Daily Sketch: "I am inclined to think my brother over-estimated the people's sense of humour". (21, 22)
The BBC responded to all this fuss by calmly repeating extracts from its original statement, expressing regret that anyone was distressed, and reminding people again about all the warnings the broadcast had contained. Knox himself remained philosophical. "I had no idea that listeners would take what I said seriously," he told the Evening Standard: "Even now, I cannot quite see how anyone could have misinterpreted my remarks. I am sure that my 'news reports' were so far-fetched that no-one who thought them out could have been alarmed." (12)
Waugh confirms this. "Ronald himself was not much cast down by his reception," he writes. "His conscience was perfectly clear of any malicious intent, and he could not take seriously the annoyance of people so egregiously lacking in humour. [...] A colleague at St Edmund's remembers his unaffected delight in hearing himself roundly abused over their beer by two men in a fishing inn."


Far from being angry at the storm Broadcasting the Barricades had produced, Reith was delighted. This is a reaction which often surprises people today, who know Reith - later Lord Reith of course - only as the unbendingly stern and puritanical figure which his legend as the BBC's founding father portrays.

BBC figures show more than nine positive responses to the programme for every complaint
"Given that everybody thinks of Reith as a rather grim Scottish Calvinist, you might have expected him to be full of wrath and apologies for the broadcast," Paddy Scannell told Radio 4. "But actually, he was very pleased by it. What the BBC was above all concerned about at that time was building its audience. He was thrilled with the results, because it proved that people were listening and they were responding to it."
On February 11, 1926 - less than a month after BTB went out - Reith made his latest report to the BBC's directors. "The outstanding item of last month was unexpected," he told them "Father Ronald Knox's broadcast aroused much public attention, but press criticism only produced an increase in the number of appreciations received by us." (23)
Reith's figures show 2,307 appreciations for the programme, against only 249 criticisms, 194 of which were directed at Knox himself. With more than nine positive responses to the programme for every negative one received, he had every reason to be pleased. Five days later, the BBC's programme board decided to authorise its first April Fool's Day programme, suggesting: "a suitable hoax [...] somewhat on the lines of the Father Ronald Knox transmission".
Knox continued to make occasional BBC broadcasts after all the fuss died down - notably a spoof scientific talk claiming scientists had detected the sound of vegetables in pain - but concentrated mostly on his writing. This ranged from the light detective stories which he wrote for his own amusement to far more ambitious works such 1939's Let Dons Delight, which imagines a series of conversations in an Oxford Common room between Elizabeth I's reign and Knox's own time. Around 1936, he embarked on the mammoth task of producing a new translation of the Bible, the final fruits of which were published in 1950.
Somewhere along the way, Knox met Evelyn Waugh and the two men became close friends. Waugh, who considered Knox "the first prose writer of our time" agreed to serve as his literary executor and, when Knox died in 1957, set about writing his biography. According to Waugh's Times obituary, this was "of all his works the one by which he set the highest store". (24)
Knox died with many high honours attached to his name, having become a Catholic Monsignor, a Fellow of both Trinity and Balliol colleges, and a Protonotary Apostolic to Pope Pius XII. His own Times obituary calls him "the wittiest churchman in England since Sydney Smith", but he's now remembered for little more than a couple of entries in the dictionary of quotations. That crack about babies comprising "a loud noise at one end and no responsibility at the other" is one of Knox's, and so is the observation that a good sermon, like a woman's skirt, should be "short enough to rouse the interest, but long enough to cover the essentials". (25)
Let's leave the last word to Father Ian Ker, Knox's relative, and inheritor of his old job at Oxford. "He was a very clever, brilliant man, who enjoyed satirising things that he thought were potentially harmful," Ker told us for that Radio 4 programme. "He thought the power of the media in those early days of broadcasting was something that needed to be sent up a bit, and that he was giving a useful lesson to the public that you don't believe everything you hear on the wireless."
*****
Appendix I: Did Welles copy Knox?
It wasn't only the British newspapers that excitedly reported Broadcasting the Barricades' reception. The New York Times told readers all about Knox's programme in its January 19, 1926 edition, heading the article "We Are Safe From Such Jesting". (26)
The copy below this unfortunate headline explained that the foolish Brits' confusion had been possible only because the BBC had a monopoly on UK broadcasting. America, the NYT smugly pointed out, had a free market system which allowed listeners to flip through many rival stations, and so check the facts any one broadcaster was using.
"Large numbers of people were filled with anxiety," the paper said of Knox's programme. "Such a thing as that could not happen in this country."
Twelve years later, on October 30, 1938, Orson Wells' Mercury Theatre ensemble broadcast their adaptation of HG Wells' War of the Worlds, using many of the same fake news techniques which Knox had pioneered. "Radio Listeners in Panic, Taking War Drama as Fact," screamed that same New York Times. "Many Flee Homes to Escape 'Gas Raid From Mars' - Phone Calls Swamp Police at Wells Fantasy". (27)
The panic in America dwarfed anything that had happened in Britain, but was created by much the same means.
Like Knox, Welles used a series of breaking news reports to convey a sense of urgency in his story and, like Knox, he cut in and out of a pre-programmed dance band broadcast to mimic the on-air chaos of covering a sudden emergency.
What's less clear is whether Welles and his producers were consciously aping Knox's broadcast, or had simply hit on a very similar idea for themselves.
Speaking after Broadcasting the Barricades airing in 1926, a BBC spokesman claimed its impact as a definite British first. "Such a misunderstanding has never been created in any other country in which wireless is employed," he told the Birmingham Mail. (28)
Answering newsmen's questions after his own programme, Welles took exactly the opposite line. "The technique I used was not original with me, or peculiar to the Mercury Theater's presentation," he said. "It was not even new." (29)
That's interesting, but hardly conclusive. There's no record of Welles visiting Europe before his father's death in 1930, and nothing in that brief quote which ties his own production directly to Knox.
For that, we must turn to the June 29, 1967 edition of the Radio Times, where a BBC correspondent in America called Leonard Miall writes about War of the Worlds producer John Houseman.
"Houseman, as a boy had been in school in England," Miall writes. "And had remembered a production he had heard on April 16, 1926, just before the General Strike. This was Father Ronald Knox's famous broadcast about a fictitious riot of the unemployed in London.
"Houseman was therefore well aware of the kind of panic really effective broadcasting could create. As a result, he went to considerable lengths to announce before his production of The War of the Worlds that it was entirely a fictional account." (30)
I'd love to claim Miall's letter as definitive proof that Welles' hoax was directly inspired by Knox, but I think that would be a step too far.
The fact that Miall is three months out in the transmission date of Knox's programme is just one reason to doubt his reliability. War of the Worlds expert John Gosling insists Houseman was in England only between 1911 and 1918, and so couldn't possibly have heard Knox's programme. (30)
As we've seen, though, Broadcasting the Barricades did make headlines in America, and it's perfectly possible that Welles or Houseman saw these reports and filed the information away for future reference.
All we can say for sure is that Broadcasting the Barricades went out on the air nearly 13 years before War of the Worlds, and that it's therefore Knox, not Welles, who deserves to be recognised as the world's first great radio hoaxer.
*****
Appendix II: Ronald Knox the detective writer
For all his frustration at people missing the satirical point of his Sherlock Holmes lecture, Knox evidently had a lot of affection for the classic English detective story.
He wrote six such stories of his own between 1926 and 1937, eking out his modest stipend as an Oxford chaplain with titles like The Viaduct Murder, The Footsteps at the Lock and The Body in the Silo. These feature a private detective called Miles Bredon, whose work investigating suspicious claims for an insurance company drives the plots along. Often, Bredon's wife Angela is involved too, allowing Knox to demonstrate his wit as the couple affectionately banter with one another.
Breton's adventures fit the era's prevailing fashion for detective tales which set out a logical puzzle for the reader to solve, dribbling out clues as the genteel story proceeds through idyllic English countryside.
Agatha Christie remains the most famous writer in this style, which follows a set of conventions as strict and formal as any Japanese haiku. Knox's tales were no exception.
"Characteristically, his plots are mathematical, rather like Times crossword puzzles," says the Ronald Knox Society.
Evelyn Waugh makes a similar point in his 1959 biography of Knox, praising above all the stories' scrupulous logic. "Very few women have ever enjoyed them," he adds.
In 1930, Knox became a founding member of The Detection Club, joining writers like GK Chesterton and Dorothy Sayers on what was then the Mount Olympus of crime fiction. "Their books, in one form or another sold into the millions, and in a dozen languages," Raymond Chandler writes in The Simple Art of Murder. "These were the people who fixed the form and established the rules."
Knox made his own contribution to those rules in a tongue-in-cheek 1929 essay called Ten Commandments for Detective Fiction. He begins by giving his definition of what was then required for a true detective story.
"A detective story must have as its main interest the unravelling of a mystery," he writes. "A mystery whose elements are clearly presented to the reader at an early stage of the proceedings, and whose nature is such as to arouse curiosity, a curiosity which is gratified at the end.
"As with the acrostic, as with the cross-word competition, honourable victory can be achieved only if the clues were 'fair'." (33)
His commandments set out the various cheats an unscrupulous writer might employ to put his readers off the scent, and explain why each is unacceptable.
Number two, for example, rules out all supernatural intervention as means of solving the mystery. Number eight requires that all clues available to the detective be instantly produced for the reader's inspection too.
Number nine calibrates exactly how stupid the detective's slower friend - "the Watson", as Knox calls him - is allowed to be. The answer, it turns out, is just slightly stupider than the average reader.
Knox also cautions (in rule five) that no Chinamen must be allowed to feature in any detective story. "If you are turning over the pages of a book and come across some mention of 'the slit-like eyes of Chin Loo', you had best put it down at once," he very sensibly warns. "It is bad."

To hear all ten of Knox's rules enuniciated by Bob Sinfield - Radio 4's own voice of Ronald Knox - click the prompt at the bottom of this BBC page.
*****
Appendix III: Dealing with the complaints
Stuart Hibberd joined the BBC as a radio announcer in 1923, going on to become one of the corporation's most famous voices of World War II. In 1950, he published a memoir called This - Is London, which includes his account of dealing with frightened listeners' calls on the night Broadcasting the Barricades went out.

"I was on duty at Savoy Hill, and, as Knox was speaking from Edinburgh, I did not listen at the beginning, but soon so many 'phone calls from apprehensive listeners were coming through that I had to listen.
"Obviously the whole thing was a 'spoof'; you had only to hear sentences like 'the mob are now swarming into Hyde Park and throwing ginger-beer bottles at the ducks on the Serpentine' to realise this; after all, it was night, and bitterly cold, with ice and snow everywhere in the London area. But still the telephone calls came in, and we had to put out a reassuring announcement at the end.
"Sometime later that evening a call was put through to me from a commercial traveller, who told me that he had only just got home after a very long day. He found the wireless switched on, both his wife and his sister-in-law, who was staying with them, drunk in the sitting room, and his best bottle of brandy empty under the table.
"'What are you going to do about it?' he inquired."
Sources
1) Broadcasting the Barricades original script. (BBC archives).
2) Daily Chronicle, January 18, 1926.
3) Daily Graphic, January 18, 1926.
4) Ariel, June 1937.
5) Hoaxes and Scams, by Carl Sifakis (Michael O'Mara Books, 1994).
6) Daily Telegraph, January 19, 1926.
7) The Riot That Never Was (BBC Radio 4, June 16, 2005).
8) Studies in the Literature of Sherlock Holmes, by Ronald Knox (www.diogenes-club.com/studies.htm).
9) The Life of the Right Reverend Ronald Knox, by Evelyn Waugh (Chapman & Hall, 1959).
10) Sherlock Peoria (www.sherlockpeoria.net).
11) A Social History of British Broadcasting, by Paddy Scannell & David Cardiff (Wiley Blackwell, 1991).
12) Evening Standard, January 19, 1926.
13) Daily Mail, January 18, 1926.
14) Evening Standard, January 18, 1926.
15) The Times, January 18, 1926.
16) Daily Express, January 18, 1926.
17) Daily Sketch, January 18, 1926.
18) The Tablet, January 23, 1926.
19) Weekly Scotsman, January 23, 1926.
20) Daily News, January 18, 1926.
21) Irish Times, January 18, 1926.
22) Daily Sketch, January 19, 1926.
23) BBC archives.
24) The Times, April 11, 1966.
25) The Times, August 26, 1957.
26) New York Times, January 19, 1926.
27) New York Times, October 31, 1938.
28) Birmingham Mail, January 18, 1926.
29) Radio Guide, 1938 (quoted on www.wellesnet.com/?p=296).
30) Radio Times, June 29, 1967.
31) John Gosling's War of The Worlds website
(www.war-ofthe-worlds.co.uk/broadcasting_the_barricade_ronald_knox_2.htm).
32) The Simple Art of Murder, by Raymond Chandler (reprinted in Chandler's Pearls Are a Nuisance (Pan Books, 1980)).
33) Ten Commandments for Detective Fiction, by Ronald Knox
(http://gadetection.pbworks.com/Ronald-Knox's-Ten-Commandments-for-Detective-Fiction).