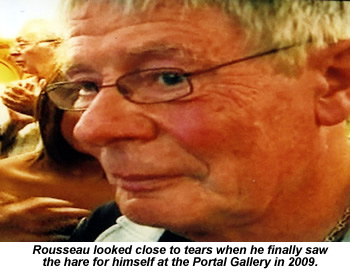 Speaking on the later BBC Four documentary, Williams explained that he'd decided to do their own programme because it promised to concentrate as much on his recent work as on Masquerade itself. But it had seemed churlish to speak to the television crew while turning us down, and now he was glad he'd changed his mind. "Whenever in the past any mention of it came on, in a quiz game on television or something like that, it would spawn lots of letters and so on," he explained. "I was always worried it would come to the surface again and disturb what I was doing. But no, it was really nice."
Our programme, titled The Grand Masquerade, went out on July 11, 2009, closing with an appeal from Mike Barker asking whoever now owned the hare to release it for an exhibition of some kind. Five days later, a news website called This Is Gloucestershire repeated Barker's words, but mis-attributed them to Williams himself. "Masquerade author appeals for hare," it headlined the story. The Independent picked up on this next day ("Author calls for owner of jeweled amulet that bewitched the nation to come forward"), and that started it bouncing round the internet again. (15, 16)
I followed all this with some amusement, happy to see that our little baby was still spreading its ripples in the media pond. The real shock came a month later, when the BBC's website carried a story announcing that the family who now owned the hare had heard The Grand Masquerade at their home in Egypt. The man who'd bought it at Sotheby's back in December 1988 had done so as a Christmas present for his wife, it emerged, and it was their grand-daughter who'd heard the programme and its appeal for the hare to be shown. (17)
Luckily, BBC Four was already working on its own Kit Williams programme, and this provided a perfect opportunity to fly the hare back home and reunite Williams with his creation for the cameras. This was duly done, and the medallion's return became not only a fitting climax for BBC Four's programme, but also a handy peg for the press conference launching the station's new season. "It looks great," Williams told the assembled reporters. "It's very emotional, because I had not remembered it being as delicate as it is. Then, when I picked it up, the little bells jingled. It sparkles in a way that I had forgotten as well. For 21 years, I had no idea where it was." (18)


After verifying the hare's authenticity at Durrants Hotel, Williams took it to the nearby Portal Gallery, where he planned to make it the centrepiece of his new exhibition. He saved this as a surprise for the guests packing the gallery that day, who had come expecting to see only a selection of the paintings Williams had done since dropping from the public eye. The BBC Four team invited Barker and Rousseau to attend the exhibition with their families, but deliberately gave them no clue that the hare would be there.
"All they said when they got me on the phone was that they would really like to have us at the gallery," Rousseau told me a few weeks later. "Mike absolutely couldn't go, as he and Celia had promised to look after his sister following an operation and there was no going back on that." The researchers dropped some heavy hints to Barker that something special was afoot, finally telling him outright that the hare was going to be there. Still he couldn't be budged. "I was sworn to secrecy that I should not tell John," Barker said. "And I didn't."
This secrecy almost scuppered his friend's plans to attend too. "When Mike told me he couldn't go, I said to him that I wouldn't go either, as we were partners in this thing," Rousseau said. "He persuaded me otherwise." (8)
It was only when the Rousseau clan got to London that the TV crew mentioned the possibility of an interview. When John reached the gallery he, like everyone else, saw only Williams' latest paintings and a shrouded glass display cabinet in the middle of the room. "The instant Kit went to that cabinet, I knew the hare would be in it," he told me. "I experienced a great wave of emotion when I thought of all the happy times my family and Mike and Celia had chasing the thing and how much my late wife Sheila would have loved to see it."
BBC Four's footage of this moment shows Williams standing next to the shrouded cabinet, calling for hush, and then giving his guests a quick reminder of the hare's history. "A member of the family who now own it contacted the radio programme and said 'We have it!'," he announces. "'It's on the other side of the world!'. So, yesterday it arrived by aeroplane, and," - whipping back the cloth - "tomorrow it goes back!" The camera zooms in to frame Rousseau's face as he leans forward to see the prize which had eluded him for so long. He looks close to tears. "It's overwhelming," he says. "It's just a bit of metal, after all, but it represented something quite enormous. The only thing I've regretted in the 30 years since then and now is not seeing it. Now I have seen it - and I'm so grateful."
"I was touched by the generosity of the hare's owners in responding to my appeal on the radio programme and allowing it to come to the Portal," Barker added later. "As for not seeing the hare personally; well, I told the lady from the BBC that I wasn't particularly interested in jewellery but more interested in puzzles. That's still true and I would dearly love to know for sure when, exactly, that hare came out of the ground." (8)


This piece completes my trilogy on remarkable 20th Century treasure hunts. You can find the other essays here (Treasure Hunt Riots) and here (Lobby Lud).

For more information on Masquerade, including a page-by-page guide to the book's paintings, visit Dan Amrich's website: www.bunnyears.net/kitwilliams/.

As I write this in February 2010, the Radio 4 Masquerade documentary is still available online via this BBC website. The RealPlayer prompt you'll need is at bottom of their story.



Sources
1) The Man Behind The Masquerade (BBC Four, December 2, 2009).
2) Publisher, by Tom Maschler (Picador, 2005)
3) Start The Week (BBC Radio 4, July 5, 1982)
4) Profile (BBC Radio 4, February 21, 1985)
5) Masquerade: Kit Williams Tells The Answer to The Riddle, by Williams Williams (Jonathan Cape, 1982).
6) Quest for the Golden Hare, by Bamber Gascoigne (Jonathan Cape, 1983).
7) The Grand Masquerade (BBC Radio 4, July 11, 2009).
8) E-mail correspondence, January 2010.
9) Friday Night Saturday Morning (BBC 2, February 22, 1980).
10) Personal interview, April 2009.
11) Nine O'Clock News, BBC 1, March 14, 1982.
12) Blue Peter, BBC 1, November 24, 1988.
13) The Sunday Times, December 11, 1988. The Sunday Times gives Veronica's surname as "Robertson" rather than the "Roberts" used elsewhere. I've changed their reference here to avoid confusion.
14) BBC Three Counties website, August 5, 2009
(http://www.bbc.co.uk/threecounties/content/articles/2009/08/05/masquerade_feature.shtml).
15) This Is Gloucestershire, July 16, 2009
(http://www.thisisgloucestershire.co.uk/news/Masquerade-author-appeals-hare/article-1168938-detail/article.html),
16) The Independent, July 17, 2009 (http://www.independent.co.uk/arts-entertainment/books/news/mysterious-golden-hare-still-casting-its-spell-30-years-on-1750107.html).
17) BBC News website, August 20, 2009 (http://news.bbc.co.uk/1/hi/entertainment/arts_and_culture/8212244.stm).
18) The Daily Telegraph, August 20, 2009 (http://www.telegraph.co.uk/culture/books/booknews/6059930/Masquerade-author-Kit-Williams-reunited-with-lost-golden-hare.html)
19) Evening Standard, February 1982.
20) The Observer, March 7, 1982.
21) The Daily Telegraph, April 4, 1982.
22) Evening Standard, April 2, 1982.