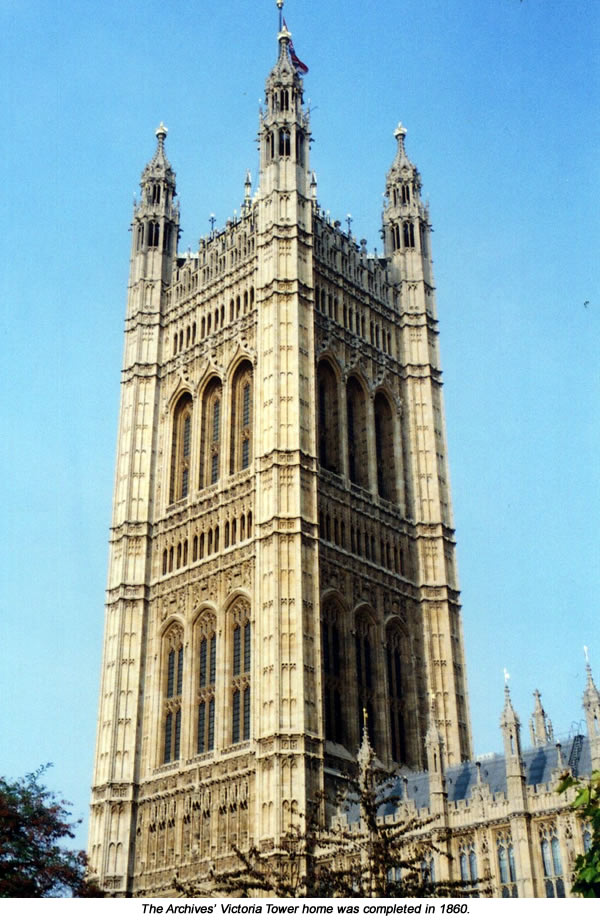 The Archives occupy 12 environmentally-controlled floors here in Victoria Tower, which stands at the opposite end of the Palace of Westminster from Big Ben.
It was designed following Westminster's catastrophic blaze of October 16, 1834, which was started by the disposal of old tally sticks like those discussed above. A large backlog of sticks no longer needed was taken to be burnt in the furnace below the Lords' chamber, but the heat from so big a fire set light to the chimney flues and that conflagration quickly spread through the building's wooden structure. Firemen and troops fought the blaze all night, but in the end only Westminster Hall could be saved.
Sir John Cam Hobhouse, then an MP, witnessed the fire. "The whole building in front of Old Palace Yard was in flames, and the fire was gaining ground," he later wrote. "I assisted in breaking open the entrance to Bennett's cloakroom and then, with several others, rushed upstairs to the Libraries above next to Bellamy's Eating Rooms. There I directed the men with me to bring down the books from the Libraries, and sent for cabriolets and coaches to carry them over the way to St Margaret's Church."
The House of Lords, House of Commons and all the surrounding buildings were reduced to ashes, along with most of the Commons' records to that date. MPs responded by ensuring the new Victoria Tower was built in cast iron and stone to provide a fireproof structure for Parliament to store its books and documents in future. It was completed in 1860, and features prominently in Claude Monet's 1904 paintings of Parliament.